Trucks are the "bones" and "axle" of your skateboard. They are the main part that allows you to turn, stop, and perform any movement. And if you are looking to upgrade your skateboard setup in 2023, you definitely need a pair of good quality trucks for desired performance. Here, we have reviewed the best skateboard trucks for street skating, cruising, and performing tricks.
I can confidently say that the Independent Stage 11 Polished trucks are the best trucks for all-purpose skateboarding. From cruising to shredding, and street skating to performing hardest tricks, these trucks will give you the stability and control you need to take your skating to new heights.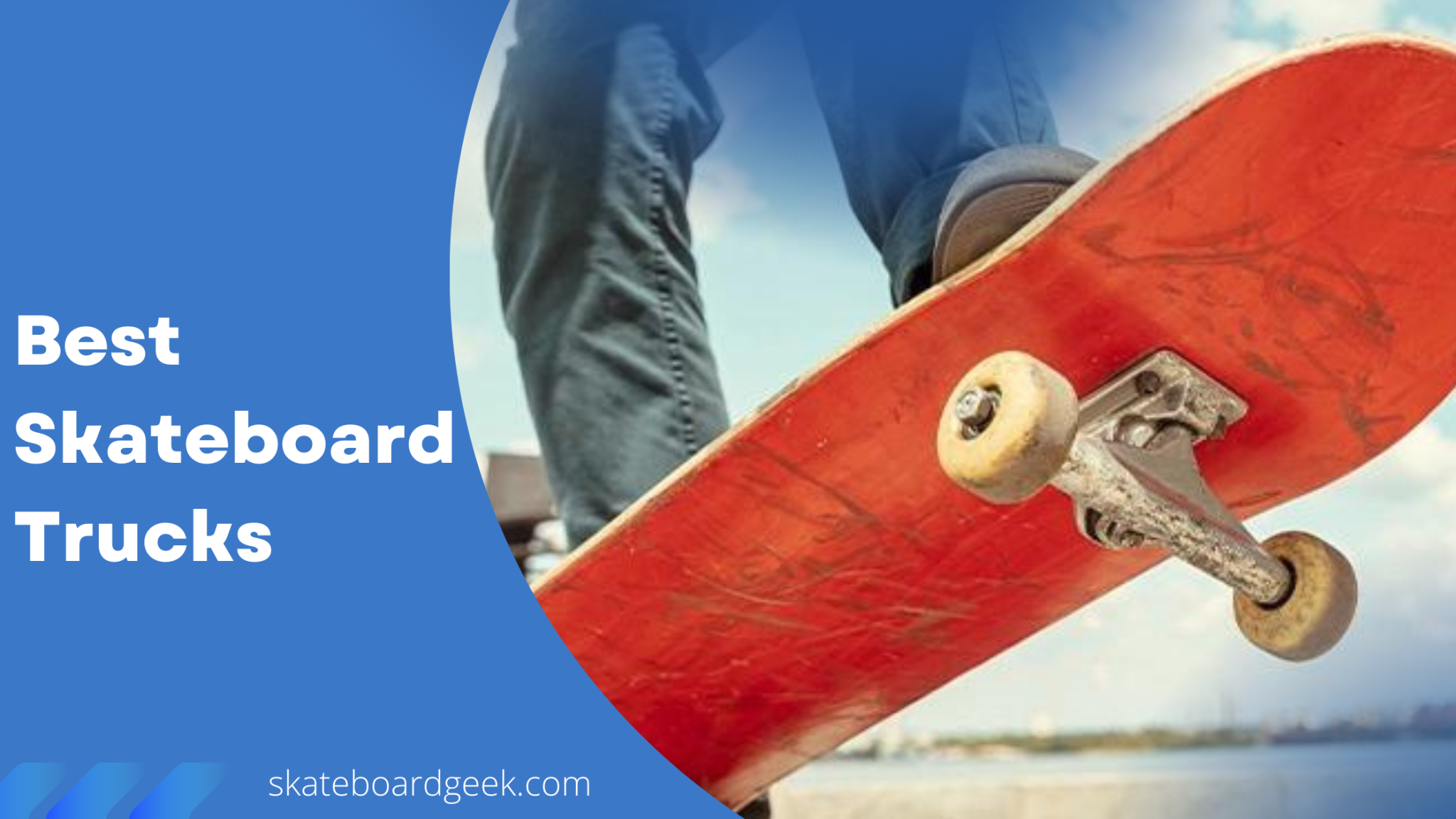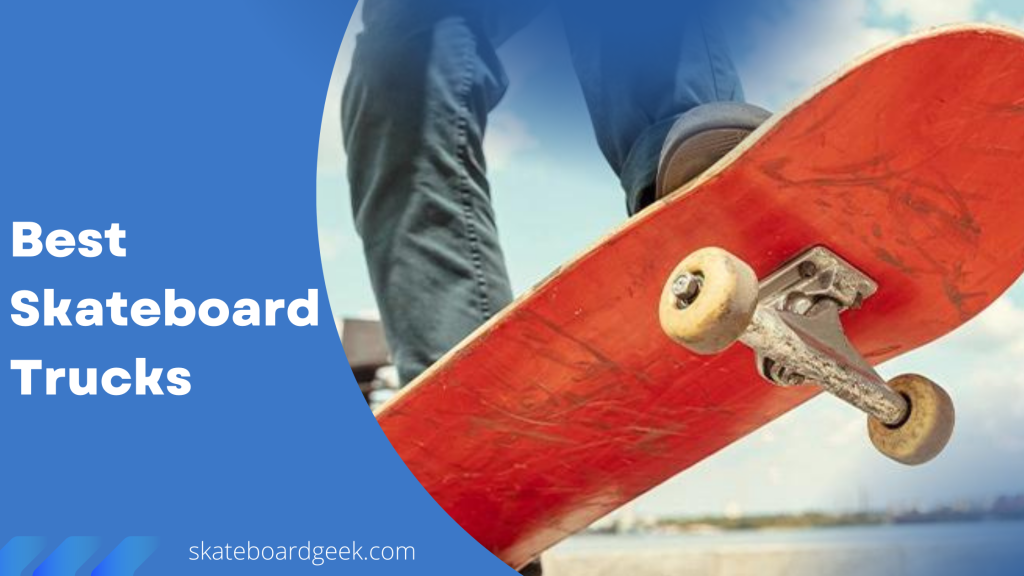 What are Skateboard Trucks?
Skateboard trucks are metal axles that attach to the underside of your skateboard deck. They house the wheels and provide the turning ability for your board.
**Think of it this way, a board is a vehicle, trucks are the engine, and the wheels are the tires. Choosing the right trucks is as important as choosing the right wheels.
Most trucks are made from aluminum or steel, although some high-end brands use titanium or other materials.
There are two main parts to a truck: the hanger and the baseplate. The hanger is the U-shaped part that the wheels are attached to. The baseplate sits underneath the hanger and attaches to the deck with screws.
Trucks come in a variety of sizes, from small (50mm) to large (145mm). The size you need will depend on the width of your deck, as well as your personal skating style.
Smaller trucks are good for street skating and doing tricks, while larger trucks are better for cruising and downhill fast rides.
Now that you know a little more about skateboard trucks, let's take a look at some of the best skateboard trucks on the market.
You can also read a guide on cleaning your skateboard trucks.
8 Best Skateboard Trucks for Beginners and Pro-Skaters
Here's a list of the best performance skateboard trucks of 2023 along with their qualities and prices.
We cannot call a single set the best truck, because it depends on your skateboarding style and personal preference. A few trucks are all-rounders but the rest are designed for specific types of skating like street, cruising, or hitting a skate park.
| No. | Skateboard Trucks | Quality | Price |
| --- | --- | --- | --- |
| 1 | INDEPENDENT Stage 11 | Best Skateboard Trucks for Street | |
| 2 | Thunder Polished Hollow Lights 2 | Best for Tricks | |
| 3 | Gullwing Sidewinder II | Best for Cruising and Carving | |
| 4 | Tensor Mag Light | Best for Beginners | |
| 5 | Paris V3 | Best for Heavy Riders | |
| 6 | Grind King Disruptor | Best for Grinding | |
| 7 | Ace Skateboard Trucks AF1 | Best Lightweight Skateboard Trucks | |
| 8 | CCS Skateboard Trucks | Best Cheap Skateboard Trucks | |
Top Picks
"Best Skateboard Trucks for Street"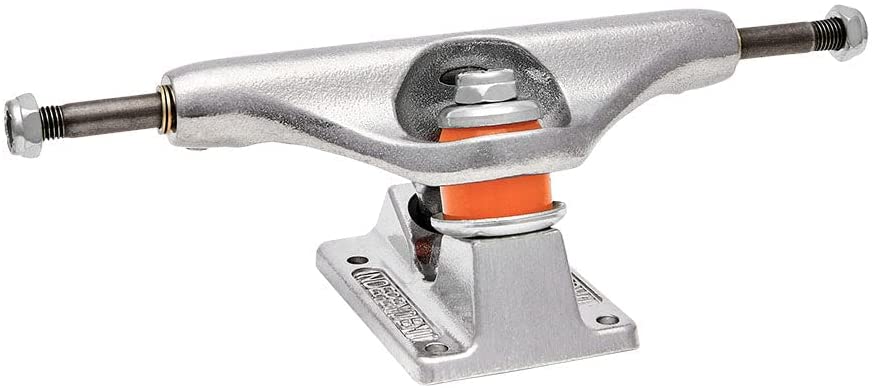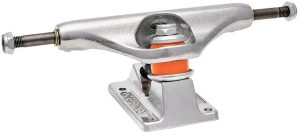 Without a second thought, the Independent Stage 11 Polished trucks are the best trucks for all-purpose skateboarding, especially for street skating.
They are made from durable cast aluminum with a solid Chromoly steel axle, and they feature Supercush bushings for a precision turning experience.
We found Stage 11 trucks very responsive with a great turning radius. The hangers and baseplates are perfectly sized, durable and can take a lot of abuse, making them perfect for riding on streets and doing tricks. They are well-made, look great, and ride smoothly and fast.
Best of all, these trucks are guaranteed for life, making them a great investment for any skater.
Specs:
Axle: 8″
Hanger: 137mm
Height: 55mm tall
Baseplate Style: Standard
A356 T6 Aluminum Hanger & Baseplate
Highest quality Chromoly Steel Axle
Bushing: 90a medium durometer
Grade 8 Kingpin
Weight: 0.376 kg
Available in different sizes!
Pros
Extremely solid, does not bend or break
Easy turning
Perfect for all types of skateboarding
Smooth, good for grinding
Come with a lifetime guarantee
Cons
They make some noise when new
Our Experience:
I personally love these trucks because of their high-quality construction, lightweight and performance. Some people complained that these are heavier but not really, their weight is ideal for the board's sturdiness, balanced rides and tricks.
We found these classic trucks butter smooth and durable, and they turn really well. We recommend Spitfire wheels with this pair for optimum performance.
"Best for Tricks"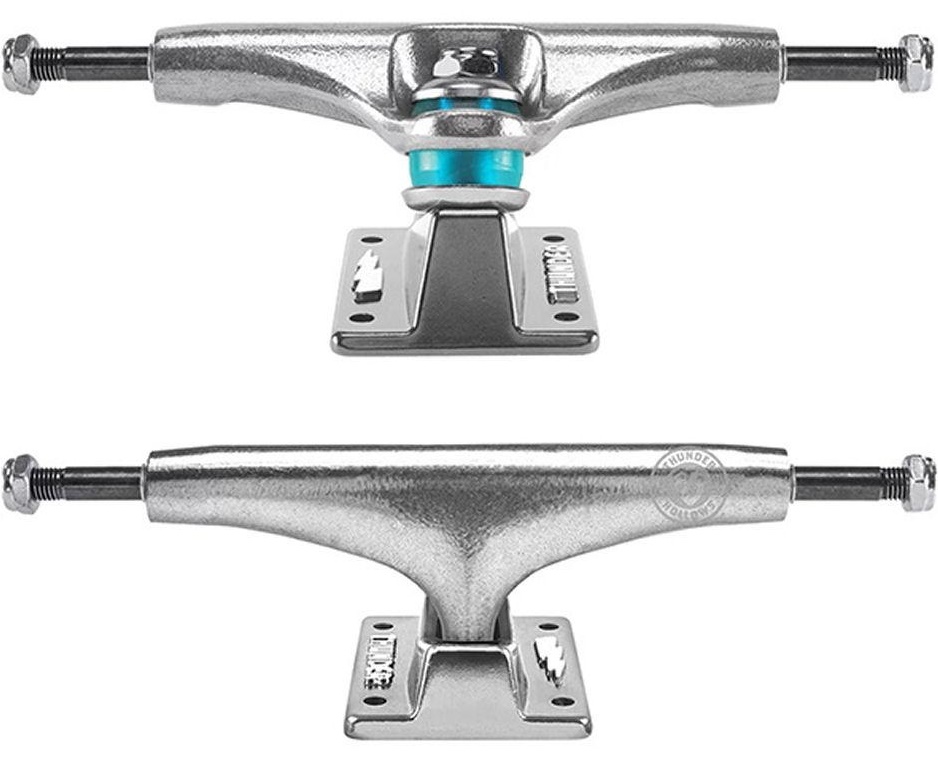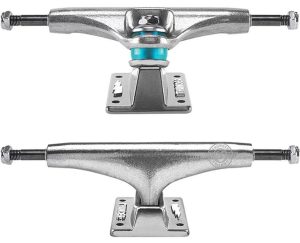 Originally, the Thunder Hollow Lights 2 trucks were designed for team riders to perform tricks. Keeping that in mind, these trucks were engineered without the added weight and sacrificing responsiveness.
They are made with hollow axles, a hollow kingpin, and a lightweight forged baseplate. These features make the truck lighter while still providing strength and durability.
Now riders who can kickflip consider themselves pro-skaters! And, if you want to enhance your maneuverability, we recommend the Thunder Hollow Lights 2.
Indeed, this set of trucks is a great choice for those who want to perform tricks and need a light yet durable truck. Plus, these trucks also come with polished kingpins for a smooth ride.
Specs:
Axle: 8″
Hanger: 137.6mm
Height: 49.78 mm
Baseplate Style: Forged
Bushing: 90a durometer
Weight: 0.29 kg
Hollow axels and low-set hollow kingpins
Available in different sizes!
Pros
Super lightweight trucks
Good for tricks
Responsive and turn pretty well
Offer a smooth grinding experience
Cons
We saw some wheel bites
Hollow design, perhaps won't be durable
Our Experience:
We were skeptical about their durability because of the hollowness, but found them holding up pretty nice after performing hard tricks and landings. I prefer their lowness. Thunder trucks' soft bushing makes the turning easy and nice. Best of all, we found these trucks super light, strong and best for grinding, slides, flips and catching.
"Best for Cruising and Carving"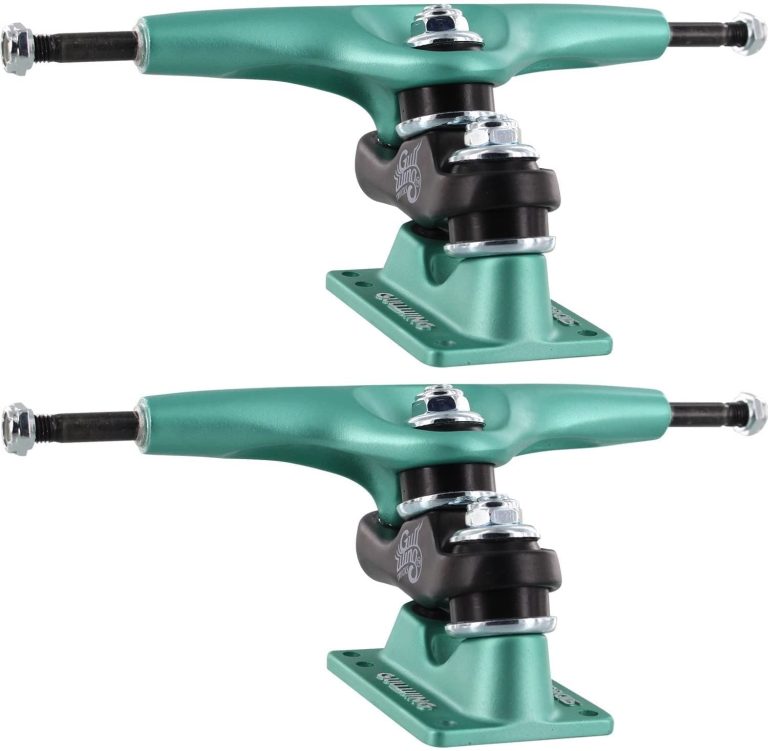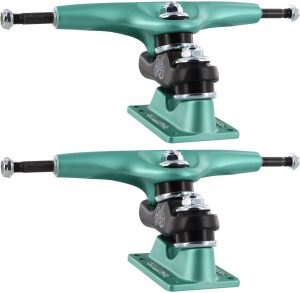 The Gullwing Sidewinder II trucks are the perfect choice for cruising and carving. With a double kingpin setup, these trucks offer tight turning and easy maneuverability through tight spaces.
You can generate momentum through turning and pumping, making it easy to carve the tightest lines possible.
These trucks are quite wide, and not compatible with street-style skateboards. With a 159mm hanger and 9″ axle, just be sure to set up these trucks on a wide-shaped deck with proper clearance to avoid wheel bite.
Here's why we love the Gullwing Sidewinder 2, they are prone to speed and extremely stable while fast rides. We recommend this set of trucks for smooth and effortless surfing. Plus, we found them efficient and responsive over hill rides.
Specs:
Axle: 9″
Hanger: 159mm
Height: 72mm
Bushing: 89a Barrel and Cone Combo
Baseplate: Double Staged
Hanger Style: Dual Pivot Hanger
Weight: 0.538 kg
Available in different sizes!
Pros
Perfect for longboard cruising
Easy to turn and maneuver
Well-built with great adjustability
Super smooth
Plenty of control and stability
Cons
A little heavy
Not suitable for tricks
Want to ride a hybrid board? Here's how to put longboard trucks on a skateboard and enjoy a multi-riding experience.
Our Experience:
Without a doubt, Sidewinder 2 are professional quality trucks for the price. These trucks are extremely smooth and make turns much easier. They offer plenty of control and stability. Particularly, we experienced smooth and sharp carving after installing 80mm big soft wheels – it felt as if we were riding a cloud.
A verified purchaser at Amazon "mark c." says, "These turn SO much. They're good for cruising around campus, and they handle the 12-story parking garage across the highway like they were made for it. If you have them loose enough the board will slide for you, but because of how much they turn (and how much the board tilts, it's almost 90 degrees!) And the way the rear slides out during hard cornering I wouldn't recommend these for beginners or if you don't have a good balance."
"Best for Beginners"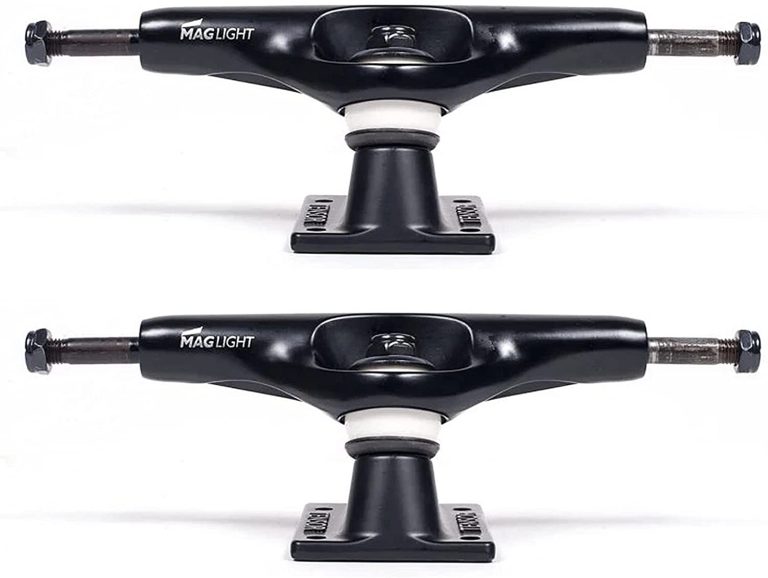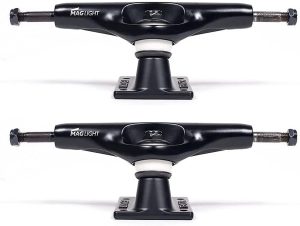 The Tensor Mag Light skateboard trucks are the best choice for beginners due to their tall height, which provides more control, tighter turning and less wheel bite. These trucks also have a refined geometry that makes them more responsive to turn.
In addition, the axle and kingpin are hollow to reduce the weight. The kingpin has been lowered 5mm to allow for more clearance and reduce grind hang-ups.
We found these trucks provide better control, that's perhaps due to the unique shape of the interlocking bushings that keep them perfectly centered.
Best of all, the Mag Light is 30% lighter than any other truck on the market, making it a great option for new or intermediate skaters who are looking for a lightweight truck.
Specs:
Axle: 8″
Hanger: 132mm
Height: 46mm
Baseplate Style: Standard
Magnesium hanger and baseplate
Hollow kingpin and axle
Bushings: 92a
Weight: 0.31 kg
Available in different sizes!
Pros
Lightweight construction
Suitable for streets and skate parks
Enhances sharp turns
Build with durable magnesium material
Cons
Not suitable for hardcore skateboarding
Our Experience:
As the name represents, these are lightweight trucks and offer excellent maneuverability. After testing these on multiple rides, we concluded that Tensor mag light trucks turn sharp almost like Indy's, perhaps it is because of the excessive kingpin clearance.
Even though they are built with superior quality material than usual brands, yet we do not recommend them for hardcore riding and tricks.
"Best for Heavy Riders"
The Paris V3 is the latest generation of longboard trucks from Paris Trucks. The V3s are designed to be even stronger and more durable than previous models, with a new alloy-forming process that provides increased strength and resistance to stress.


The trucks also feature improved bushings and pivot cups for an ultra-smooth turn, making them the perfect choice for riders who want the best performance out of their longboard.
After performing multiple rides and the hardest tricks on these trucks, we concluded that they can take a lot of abuse. Be it street skating, freeride, rail-to-rail carving, or axle stall, we found them smooth and well-built to resist the beatings. Perhaps the increased strength is due to the reinforced support beam between the hanger shoulders and baseplate.
Indeed, the Paris V3 trucks are the perfect choice for heavy riders who want the best performance and durability.
Specs:
Axle: 9.5″
Hanger: 180mm
Height: 64mm
Baseplate Angle: 50˚
Hanger Style: Offset Raked Hanger
Bushing Shape: Barrel/Cone
Bushings: 90a Urethane (Conical Shape)
Proprietary Alloy-Forming Process
Genuine T6 Heat Treatment
SCM440 Alloy Steel Axles
Weight: 0.47 kg
Available in different sizes!
Pros
Best for longboards
Very strong and can bear extra weight
Effortless turning and smooth carving
Available in multiple colors
Lifetime guarantee
Cons
Not designed for small boards
A little heavier
Our Experience:
Indeed, these are one of the best skateboard trucks for heavy riders – super solid, heavy and well-constructed. Paris trucks are popular among professionals, easy to install and sit considerably high for great support.
The only problem we felt was with the bushing – a little stiffer. As a result, they didn't carve as well as I thought. However, these wheels offer smooth rides and are very responsive.
"Best for Grinding"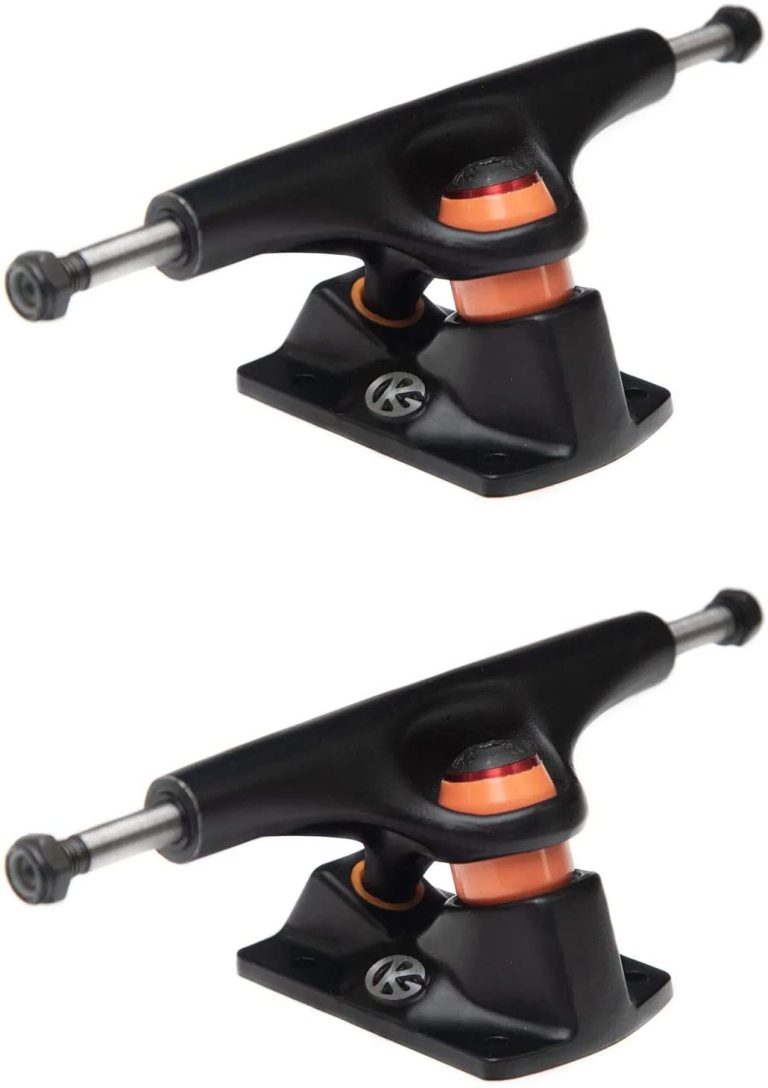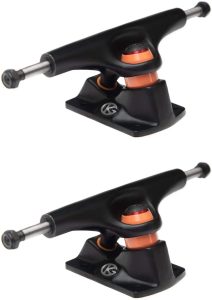 If you are aiming to improve your grinding skill, look no further than the Grind King Disruptor trucks. These high-performance trucks feature an inverted kingpin design that allows for smoother and longer grinds without any kingpin hang-ups.
The curved edge on the inside baseplate also helps to prevent your board from breaking.
And the Good news? These trucks have built-in washers and the lowest kingpin height for better control and stability. We found them smooth while performing feebles and smiths.
Along with great looks, they offer the optimum support that a skater expects from his trucks. We highly recommend this set of trucks for taking your skating to the next level.
Specs:
Axle: 8.0″
Hanger: 140mm
Height: 42mm
Super Low Set Inverted Kingpin
Anti-Focus Curved Baseplate
Power Core Bushings With Aluminum Sleeves
Concave Bushing Seat For Kingpin Stability
Weight: 0.77 kg
Available in different sizes!
Pros
Innovative design to enhance smoothness
Lowest kingpin for added stability
It offers longer grinds
Built-in washers
Curved edge baseplate for maximum support
Cons
These are heavy skateboard trucks
Not very good for carving due to stock bushing
Our Experience:
We mainly focused and grinding and control while testing these trucks and found them very responsive and easy to maneuver. Its low-style kingpin and power core bushing enhance free mobility for speedy powerslides. Also, keep in mind that these are heavy trucks and not good for beginners to learn tricks.
"Best Lightweight Skateboard Trucks"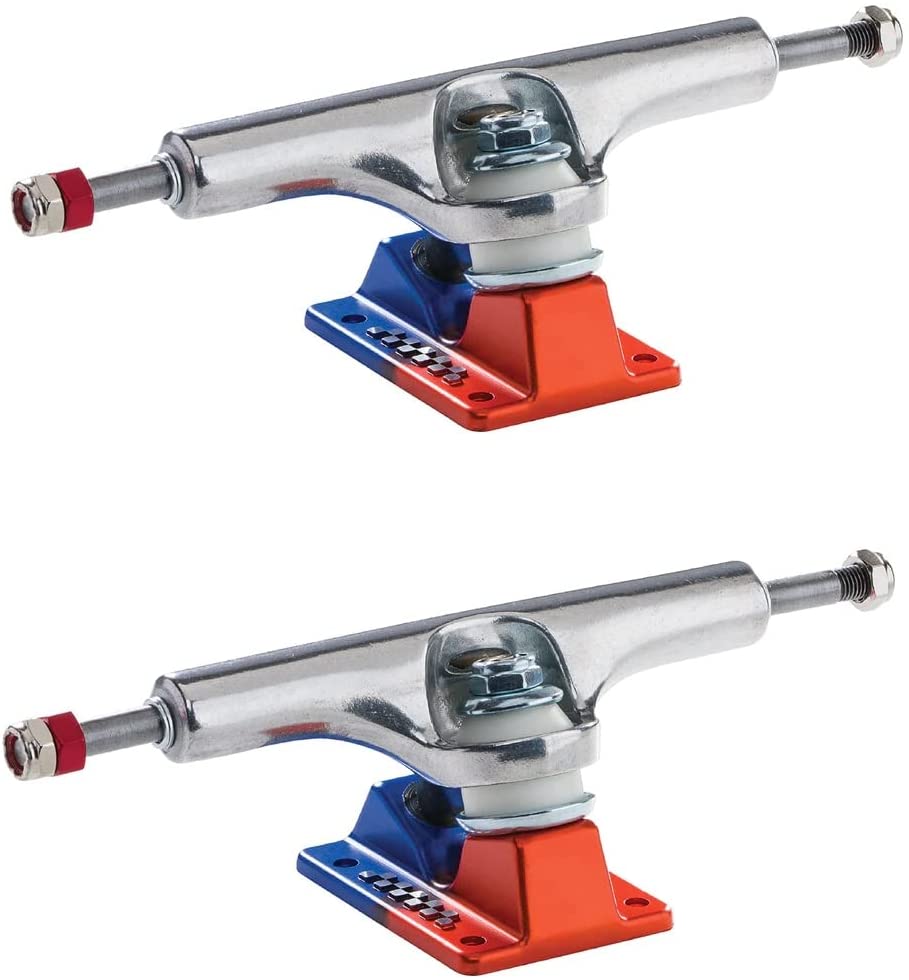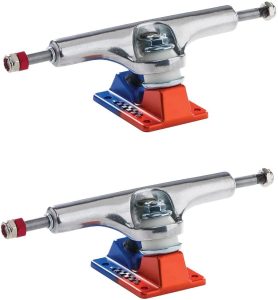 Ace AF1 skateboard trucks are one of the best skateboard trucks on the market that provides game-changing performance. The truck is carefully crafted using a proprietary casting process which makes it stronger than most other skateboard trucks.
It also features upgraded suspension, a refined baseplate, and an improved pivot cup.
Most of the trucks are available in limited sizes and mostly silver color. What we like about this set is that they are lightweight, suitable for every skill rider and available in various sizes and colors to accommodate different skateboarders.
It also includes a bonus re-threading die on each Ace AF1 Truck, which is an added advantage.
Specs:
Axle: 8″
Hanger: 143mm
Height: 53mm
Manufactured with high-quality AA 356.2 alloy using a proprietary casting method
True T6 heat-treated baseplates and hangers
Top Bushing: 91a hardness
Bottom Bushing: 86a hardness
Weight: 0.30
Available in different sizes!
Pros
Deep turning
Suitable for bowl skating and cruising
Requires no break-in period
Available in beautiful colors
No added weight
Cons
Difficult to replace bushings
Not so good for grinding
Our Experience:
I must say, the Ace trucks are the first copy of Indy's in terms of build and weight. Plus, the brand claims to deliver the same performance as well but we found these trucks a little too tight while grinding. They require a little break-in time – initially, they felt like a teeter-totter. A noticeable feature is that AF1 trucks turn smooth and deep.
"Best Cheap Skateboard Trucks"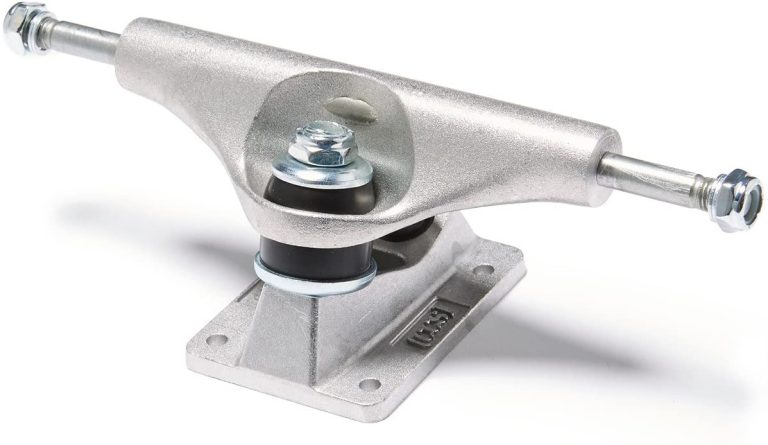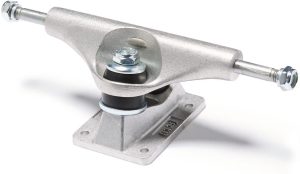 If you are searching for good quality budget skateboard trucks, the CCS trucks are perfect for beginner to advanced skaters. CCS trucks are made of durable steel and feature high rebound bushings for smooth, controlled turns.
The high-grade non-slip kingpin and premium high rebound bushings make these trucks perfect for any level of skater.
Irrespective of the low price, the brand did not compromise on the quality components. They seem lightweight and appear to be reliable, but cannot take harsh beatings.
With classic geometry for every kind of skateboarding, the CCS trucks are a great choice for any skater looking for quality trucks at an affordable price.
Note: if you are going to perform tricks on stairs and rails, these aren't for you. CCS trucks are good for basic tricks!
Specs:
Axle: 8″
Hanger: 139mm
Height: 52mm
Sturdy Steel Base Plate
Premium High Rebound Bushings
Available in different sizes!
Pros
Great quality for the price
Good turning radius
Suitable for basic tricks
Strong and reliable
Cons
Not good for hardcore riding
Our Experience:
One of the most popular skateboard trucks out there, probably because of the low cost. We tried and found them easy to install and adjust. After performing downhill rides, carving and some tricks, we concluded that these trucks are good for flat ground rides and basic tricks.
The bushings are bad but replacing them is still worth the price. Thicker baseplates offer good support and solid grip, however, they rusted quickly!
Best Skateboard Trucks Brands -Top 10
Skateboarding is popular among people of different age groups. Some people skate for fun, while others skate for business. Whatever your reason for skateboarding, you should invest in a high-quality skateboard truck from the best brands that will last for years and be more enjoyable to ride.
Read a detailed article on how long do skateboard trucks last.
Here is a list of the best brands of skateboard trucks in 2023; choose the right one for your needs – happy riding!
Not a fan of manual skateboarding? Here are the quality electric skateboards of 2023.
Guide to Choose the Best Skateboard Trucks
As we know there are plenty of different types of skateboard trucks in the market but not everyone is compatible with your deck. Right trucks will enhance your performance whereas the wrong pick will cause instability and poor performance.
Mainly there are two types of skate trucks, skateboard trucks and longboard trucks. The visible difference is that skateboard trucks have the standard kingpin whereas longboard trucks have a reverse kingpin.
We advise purchasing the medium profile skateboard trucks because they are versatile, and suitable for multi-types of skateboarding including street, park and bowl, etc.
Before you purchase a set of skateboard trucks, there are several important factors that you need to consider. These include:
P.S. – If you are looking for a complete skateboard too, be sure to check out our latest post on The 10 Best Complete Skateboards of 2023.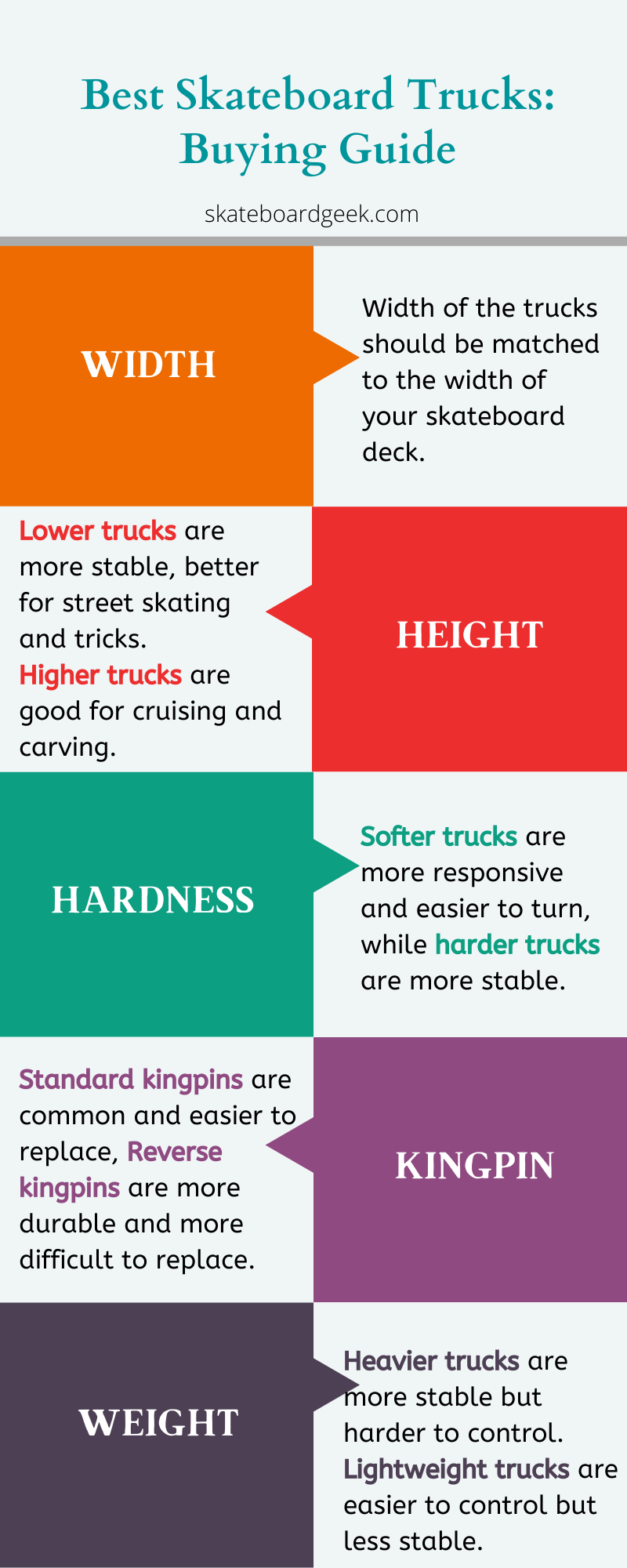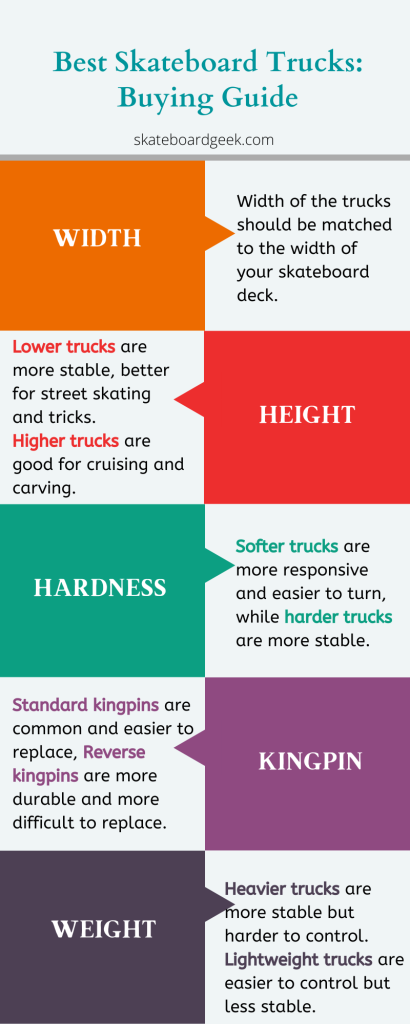 Width of the Trucks
The width of the trucks should be matched to the width of your skateboard deck. If the trucks are too wide, they will make your skateboard unstable and difficult to control. If they are too narrow, they will make it hard to turn and may cause you to wipe out.
Also, consider the width of the axles, wider axles are more stable, while narrow axles are more responsive.
Height of the Trucks
The height of the trucks is measured from the top of the deck to the ground. The height will determine how much clearance you have between the ground and your deck. Lower trucks are more stable and better for street skating and performing tricks.
On the other hand, the higher trucks are better for cruising and carving because they have more clearance between the deck and the wheels.
Hardness
The hardness of trucks will affect how responsive they are and how easily they will turn. Softer trucks are more responsive and easier to turn, while harder trucks are more stable and better for cruising and carving.
The Kingpin
The kingpin is the large bolt that attaches the truck to the deck. There are two types of kingpins: standard and reverse. Standard kingpins are more common and easier to replace, while reverse kingpins are more durable and offer better performance but are more difficult to replace.
It is advised to choose a truck with a high-quality kingpin that will not loosen over time.
Weight of the Trucks
We mostly forget the weight but it is necessary to keep it in mind before purchasing the best skateboard trucks for your board. The weight of the trucks will affect how your skateboard handles. Heavier trucks are more stable but harder to control. Lightweight trucks are easier to control but less stable.
Video Guide on Choosing the Best Skateboard Trucks
Conclusion:
There is no one perfect truck for everyone. The best truck for you will depend on your skating style and the type of skateboarding you want to do. If you are just starting out, it is a good idea to go with a mid-sized truck with a width that matches your deck.
For street skating, you might want to go with a low truck for better turning ability. For ramps and tricks, you will want a high truck for more stability. Ultimately, it is up to the skater to decide what works best for them.
Frequently Asked Questions: (FAQs)
What trucks do pro skateboarders use?
Many pro skateboarders use Independent trucks because they are known for being durable and high-quality. However, there are many other great brands that pro skaters use, such as Venture, Thunder and Gullwing.
How do I choose the right trucks for a skateboard?
The first thing to consider when choosing skateboard trucks is the width of the truck. The width should be matched to the width of your deck. Most decks are between 7.5 and 8.5 inches wide, so you will need trucks that are either 7.5 or 8.0 inches wide.
The second thing to consider is the height of the truck. The height is measured in terms of the kingpin, which is the metal bolt that holds the two halves of the truck together. The standard heights are low (51mm-55mm), mid (56mm-59mm) and high (60mm and up). The height of the truck will affect how well the truck turns. Low trucks are great for street skating, while high trucks are better for ramps and tricks.
Do good trucks matter on a skateboard?
Yes, good trucks definitely matter on a skateboard! The trucks on a skateboard play a very important role in how the board performs. The trucks provide the turning ability and stability for the skateboard. If you are looking for a good all-around truck, then you should look for a mid-sized truck with a width that matches your deck.
Are heavy skate trucks better?
There is no definitive answer to this question. Some skaters prefer heavy trucks for stability, while others prefer lighter trucks for better turning ability. Ultimately, it is up to the skater to decide what works best for them.