Skateboard clothing brands have revolutionized the way we dress. Skatewear has transcended its humble origins on the streets and ramps to become a powerful force shaping the trends and styles of today.
The common concept among non-skaters is that skatewear is just about wearing any old t-shirt or pair of jeans – but actually, it's not – it's a statement, a lifestyle, and an expression of personal style!
This article unveils the secrets of this influential culture, emphasizing the importance of selecting the perfect skateboard apparel brand that not only breathes style but also withstands the rigorous demands of skateboarding.
Need a guide to choose proper skating apparel, read a guide on what to wear when skateboarding.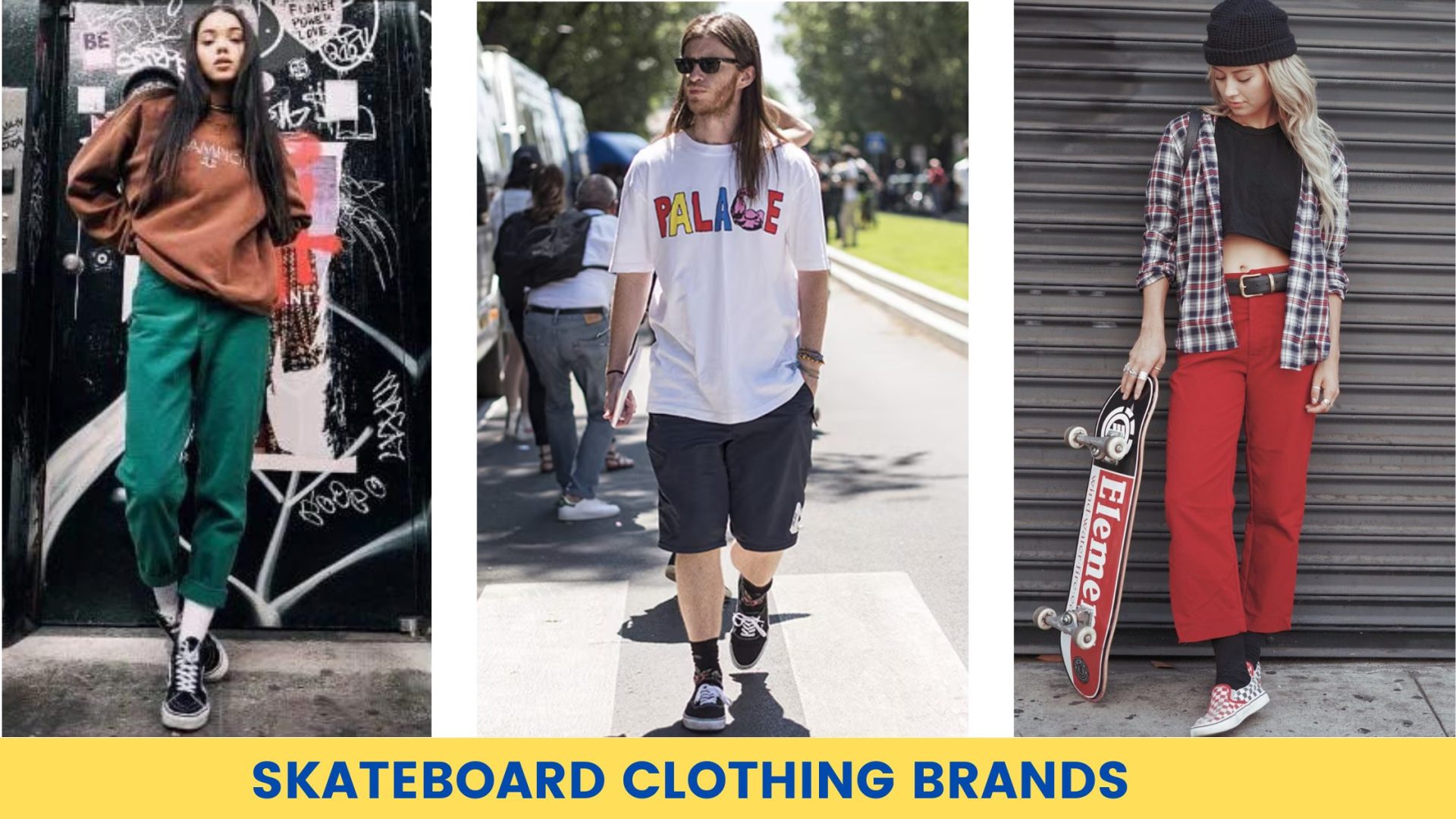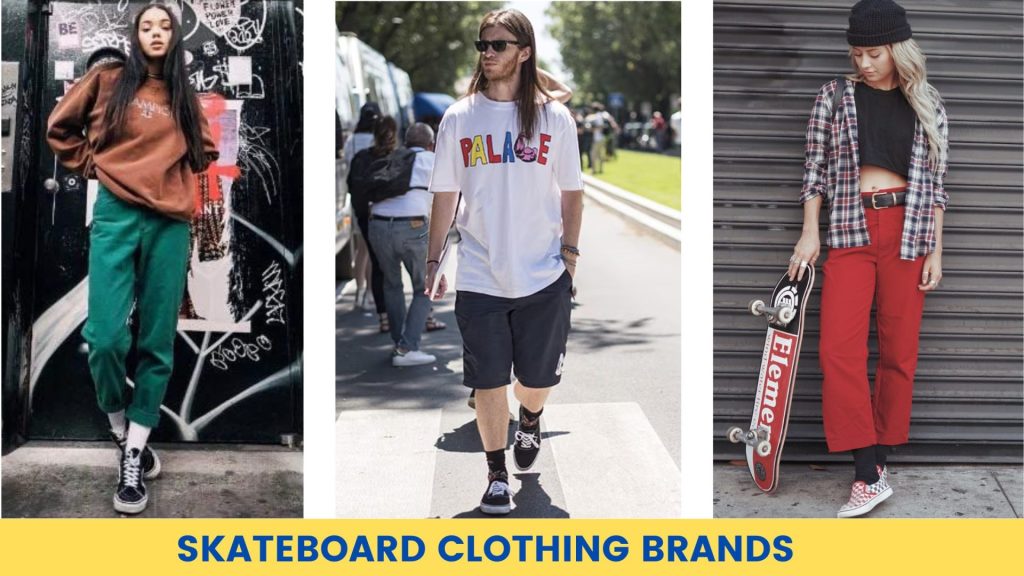 Best Skateboard Clothing Brands
When it comes to skateboard clothing brands, there are a few that have truly made their mark on skateboarding culture. These brands not only provide high-quality apparel but also embody the spirit and attitude of skateboarding.
Let's take a closer look at some of our top picks:
1. Supreme
"Redefining Streetwear with Supreme Confidence"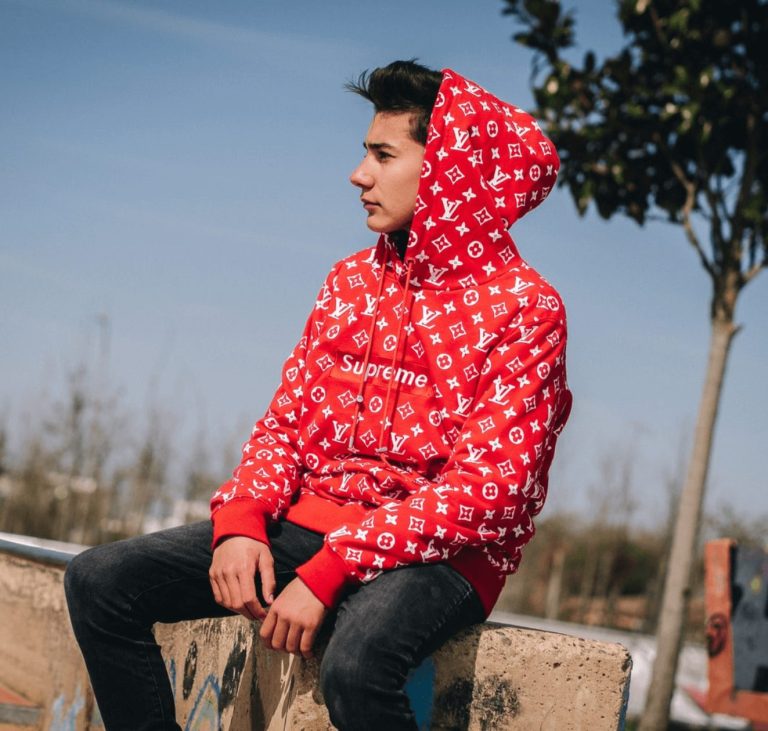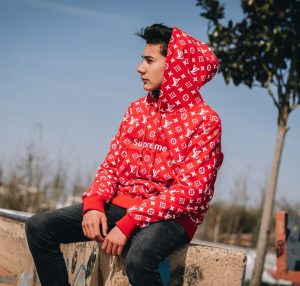 Don't get surprised if I say Supreme actually turned skatewear into global fashion. Born in downtown New York City, this iconic brand has cultivated a devoted following through its limited-edition drops and collaborations with renowned artists and designers.
As a personal experience, slipping on a Supreme piece feels like unparalleled coolness, where individuality is celebrated, and street pride is earned.
Not to mention, since the Supreme brand has revolutionized street fashion, it is collaborating with top fashion brands like Levis, Louis Vuitton, and Rolex.
2. Palace
"British Royalty Meets Skateboarding Subculture"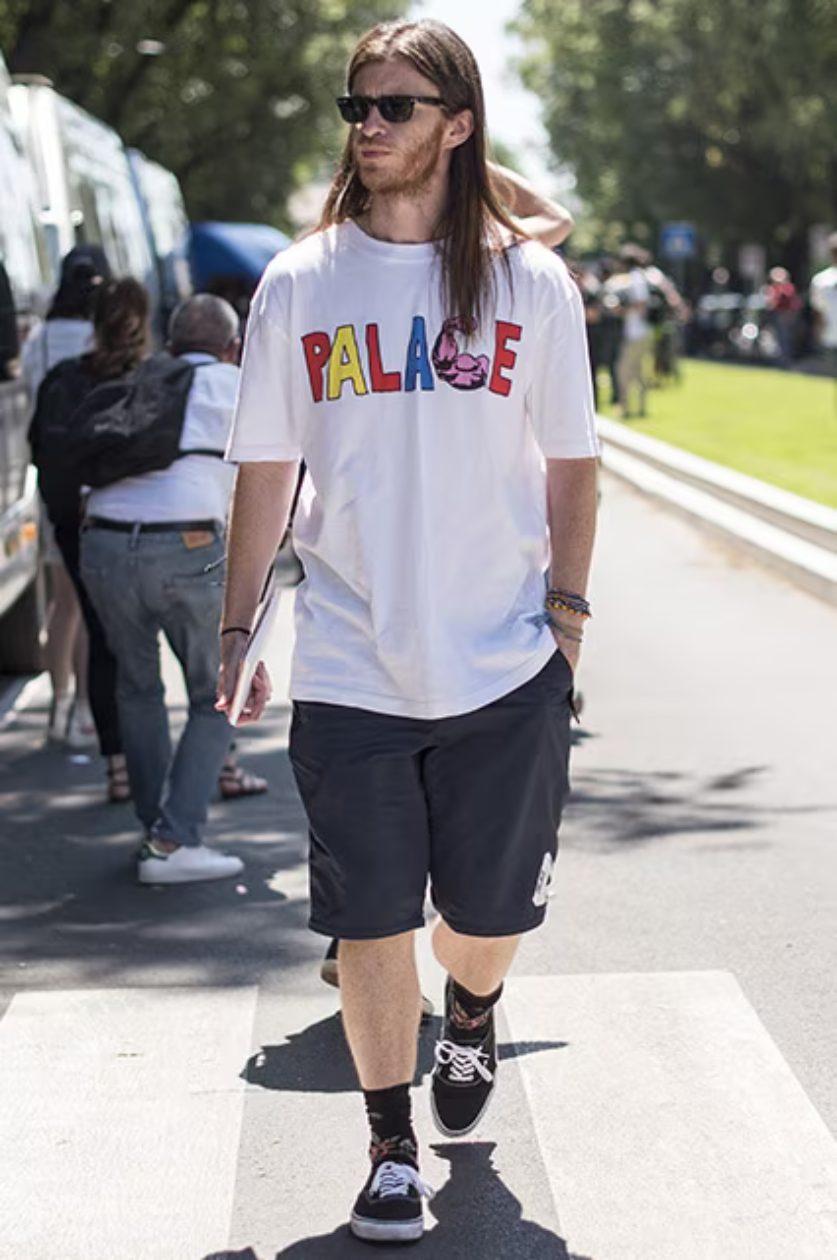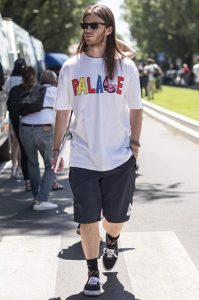 Hailing from the streets of London, UK, Palace has taken the skatewear scene by storm. With a distinct British flavor infused into their designs, Palace seamlessly blends high-end fashion aesthetics with skateboarding culture.
Wearing Palace is like carrying a piece of the rebellious British spirit with you, creating an unmistakable sense of style and attitude that's truly unique (and who doesn't want that? Duh!)
Their popular skate products are hoodies and baggy jeans. Don't get confused with their oversize look, Palace clothes provide nothing less than comfort.
3. Vans
"A Timeless Classic That Keeps Rolling On"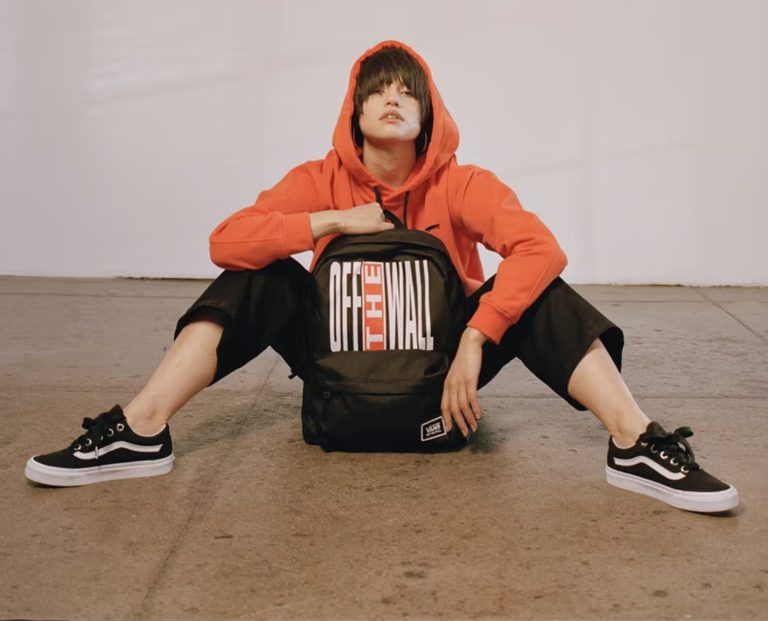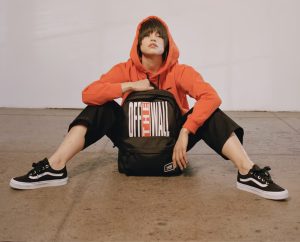 When it comes to skate shoes and apparel, Vans reigns supreme. This California legendary brand has been an integral part of skate culture since its birth in 1966, providing skaters of both genders with durable and stylish footwear that withstands the test of time.
Even though Vans makes some nice clothes, but the brand is popular for its quality footwear. Most of the pro skaters prefer putting on Vans skate shoes while performing tricks in streets and bowls (because of style durability). Their popular shoes are Slip-On, Old Skool, and Sk8 Hi.
Personally, lacing up a pair of Vans shoes raise a sense of deep connection to the roots of skate culture (skaters know exactly what I mean!)
4. Brain Dead
"Embracing the Avant-Garde"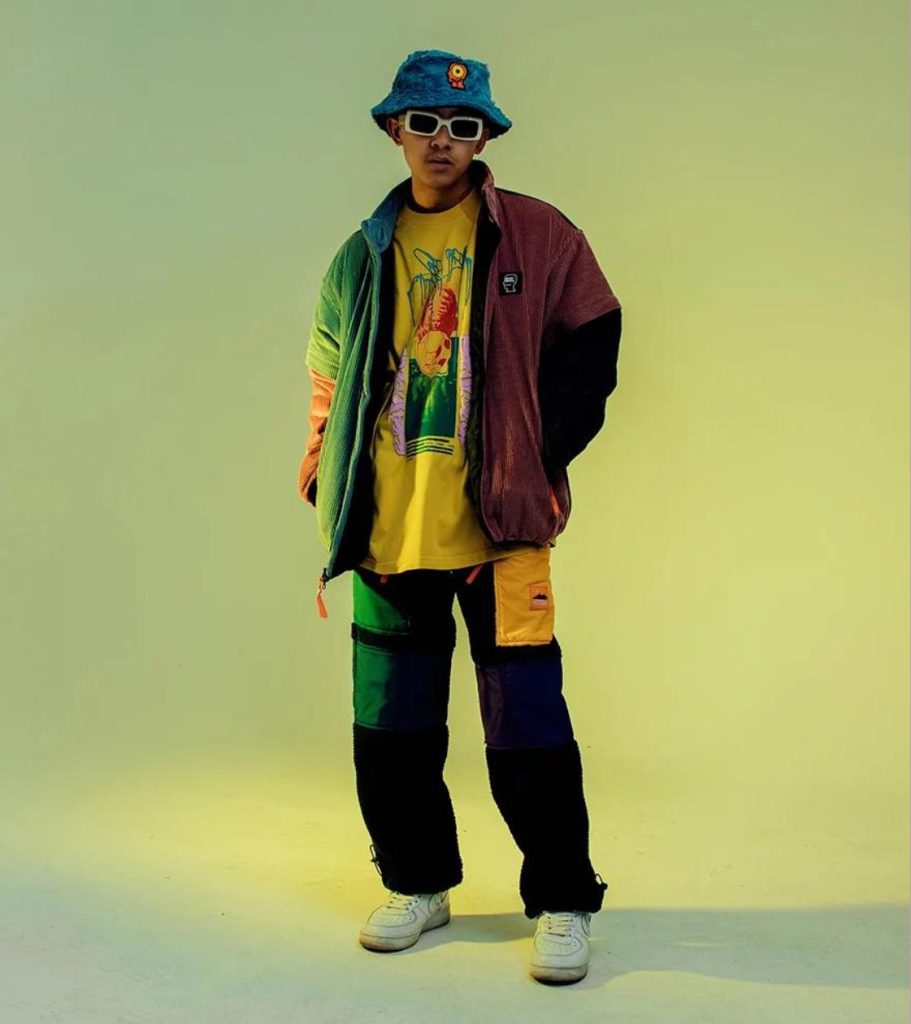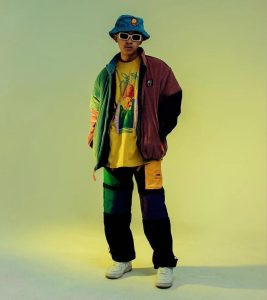 Brain Dead is a brand that pushes the boundaries of skatewear with its innovative designs and artistic collaborations. The brand was created by skate lovers artists and designers. Their most loved items are hoodies, tees, and skate sneakers.
With bold graphics, an incredible color range, and experimental features, Brain Dead challenges traditional notions of fashion and dares wearers to embrace their inner strangeness.
Most of the skaters claim that wearing Brain Dead evokes a sense of liberation and creative expression, making each outfit a work of wearable art.
5. Nike SB
"Performance and Style in Perfect Harmony"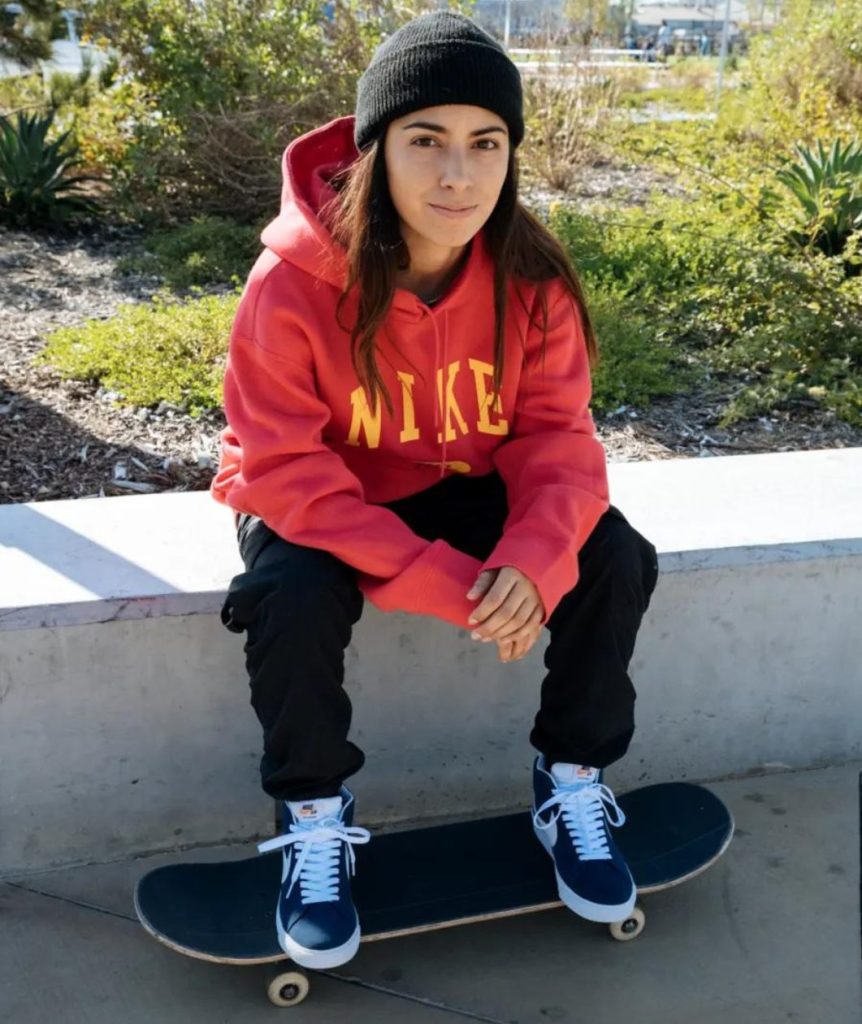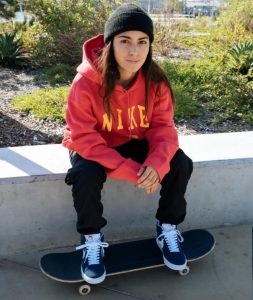 Nike SB, the skateboarding division of Nike, seamlessly combines performance-driven designs with streetwear aesthetics. Initially, the brand received a lot of criticism as a money making machine and commercialized company, but it made it to the top skate apparel brands
As time passed, Nike proved itself as a valuable brand to the skateboarding community. With top-tier skateboarding professionals endorsing the brand (Paul Rodriguez and Eric Koston), Nike SB delivers cutting-edge technology, exceptional quality, and undeniable style.
If you haven't tried Nike SB sneakers – you should, they feel like strapping on a piece of high-performance equipment while expressing love for skateboarding.
Nike SB makes quality skateboarding apparel for both – boys and girls. Some of their t-shirts and shoes are unisex (well, I mostly purchase these ones to swap with my partner).
6. Polar
"Embodying Scandinavian Coolness"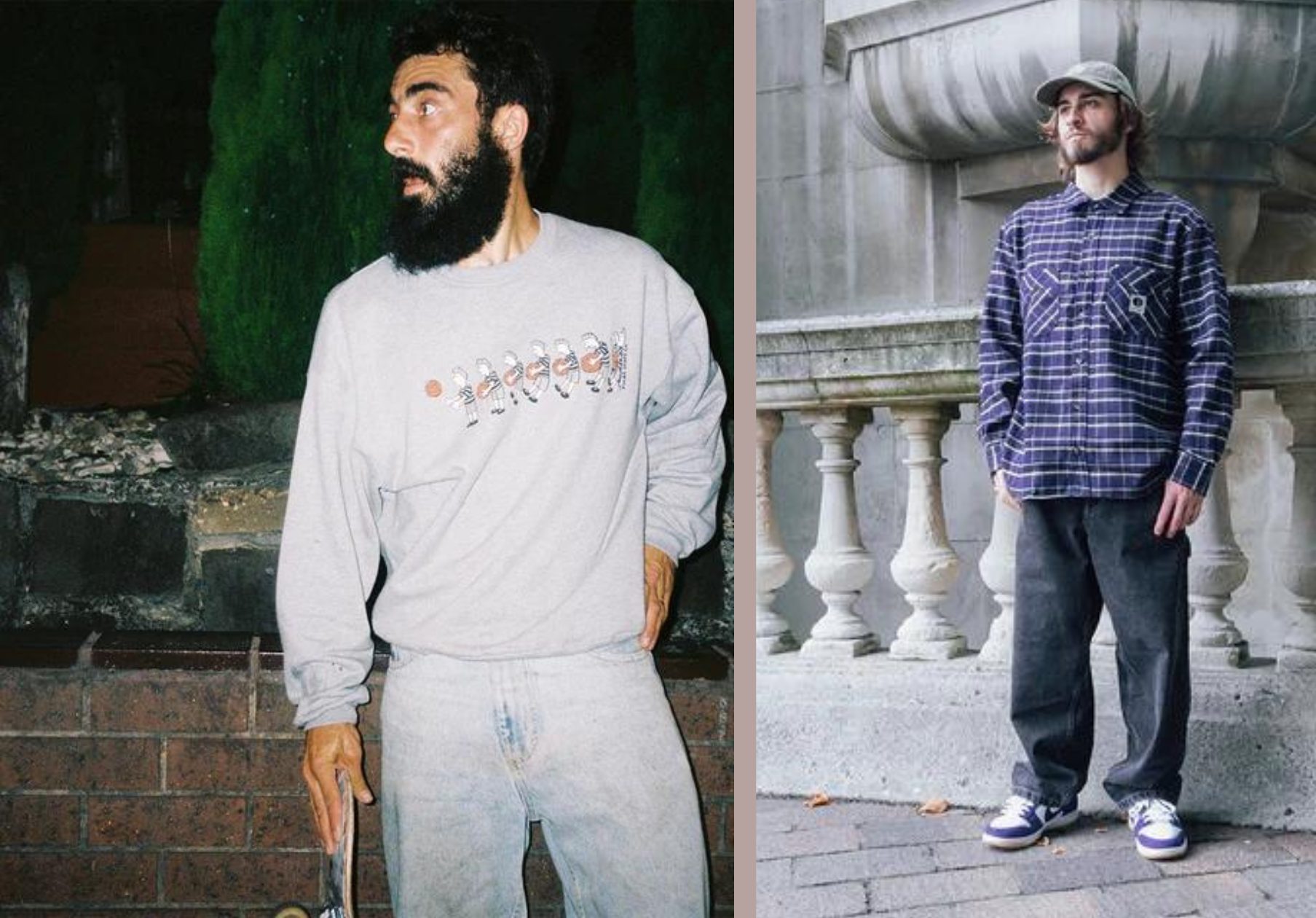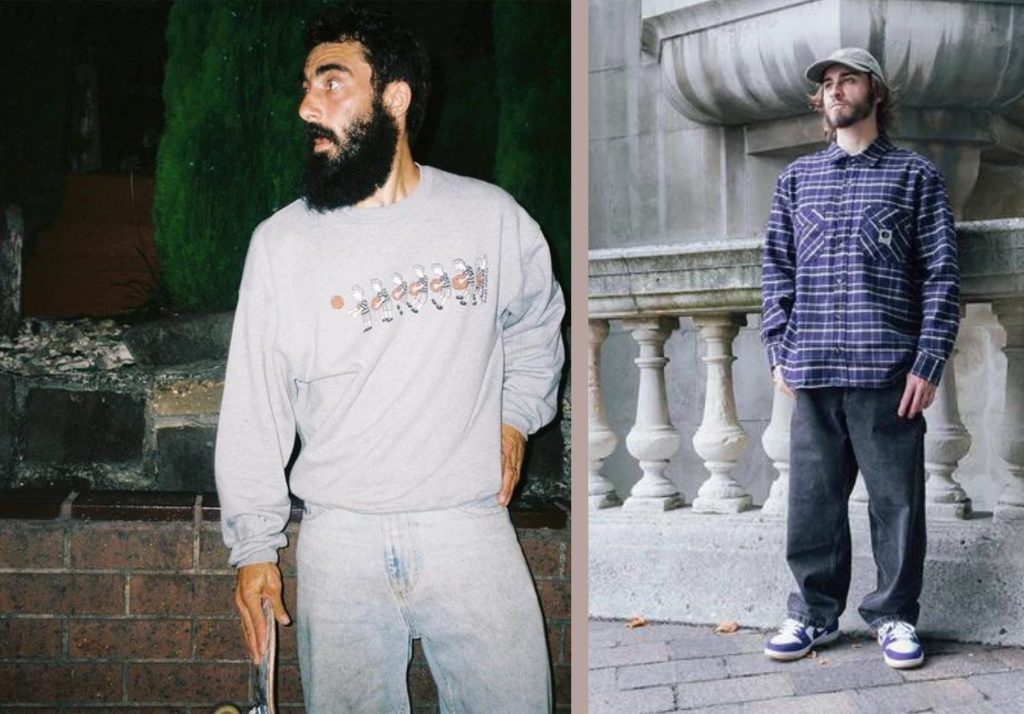 Hailing from Sweden, Polar has garnered a reputation for its minimalist yet edgy aesthetic. It's not a huge company, a tiny one focusing mainly on a few products, but it does not compromise on the end results of the items.
With clean lines, understated designs, and careful attention to detail, Polar captures the essence of Scandinavian coolness. Polar apparel apparently looks old, mostly portraying a sense of vintage skateboard clothing just like in the 80s and 90s.
My favorite item is a Polar full sleeves denim jacket.
7. Magenta
"French Elegance Meets Skateboarding Spirit"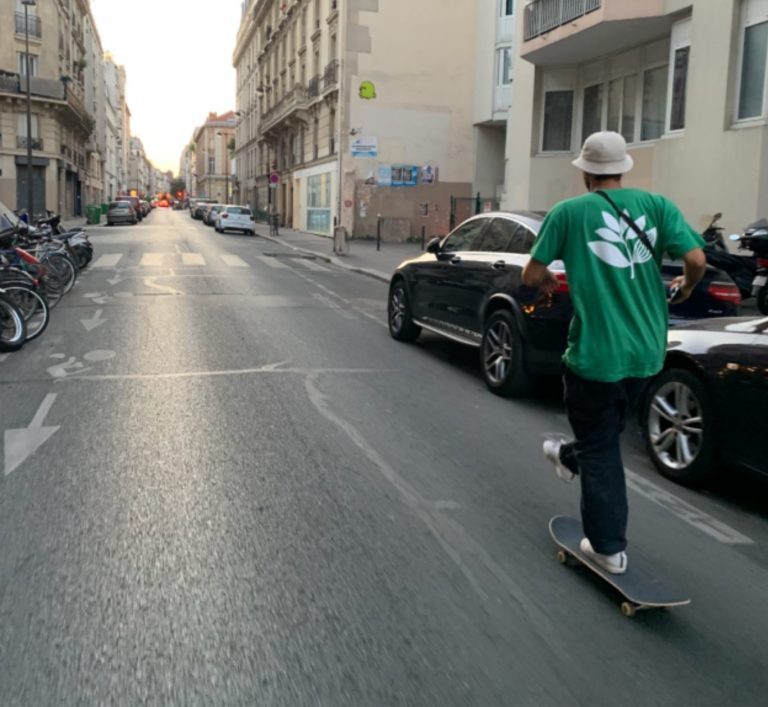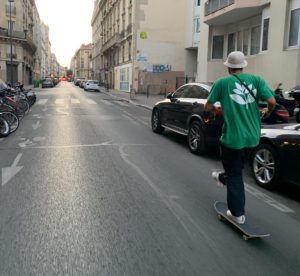 Magenta, born in France and rooted in skateboarding's artistic heritage, offers a unique blend of style and creativity. Since almost every clothing brand started to cater to skateboarders of all levels, and there wasn't any uniqueness left, the Magenta was born by Indie skaters – for skaters!
Their designs embody an artistic flair, drawing inspiration from art, literature, and the streets of Paris.
Wearing Magenta shows a certain sophistication that effortlessly merges with the rawness of skateboarding, creating a captivating contrast that truly stands out.
8. Dickies
"A Timeless Workwear Staple"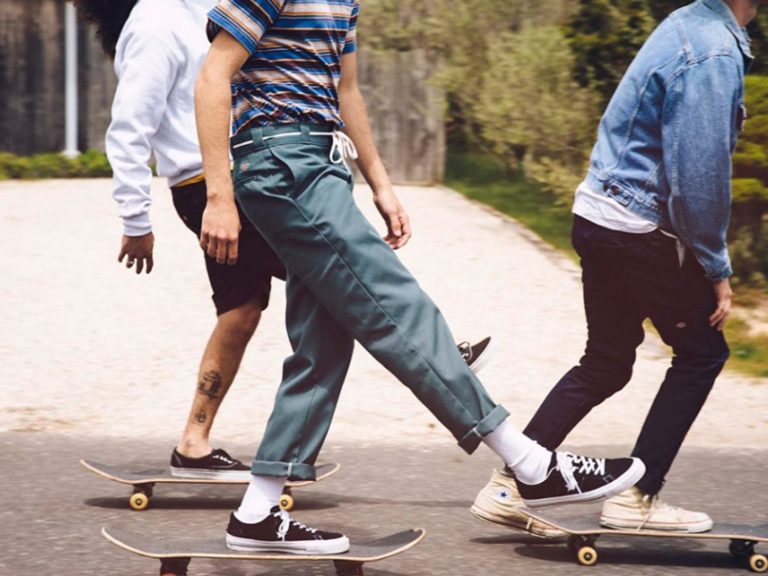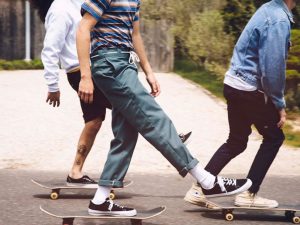 Dickies, a heritage workwear brand, has become a favorite among men's skaters for its durability and timeless style. With their rugged aesthetics and practical designs, Dickies apparel can withstand the rigors of skateboarding while exuding a sense of timeless cool.
Their durable pants, jackets, and shirts have become popular with skateboarding, combining functionality with street-ready aesthetics.
If I speak of my heart, wearing Dickies gives me a sense of authenticity and a connection to the hardworking roots of skate culture.
9. Alltimers
"Quirky Playfulness and Retro Vibes"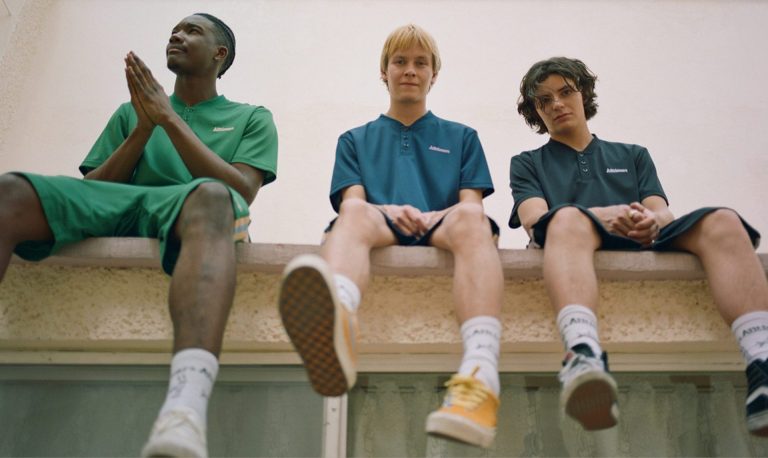 Alltimers, a New York-based brand brings a refreshing sense of quirkiness to the skatewear scene, making their pieces stand out from the crowd. With their tongue-in-cheek approach, Alltimers brand injects humor and wit into their skatewear designs.
With their playful graphics, vibrant color schemes, and nods to retro aesthetics, the brand captures a sense of carefree fun.
10. Dime
"Embracing Skateboarding's Sense of Community"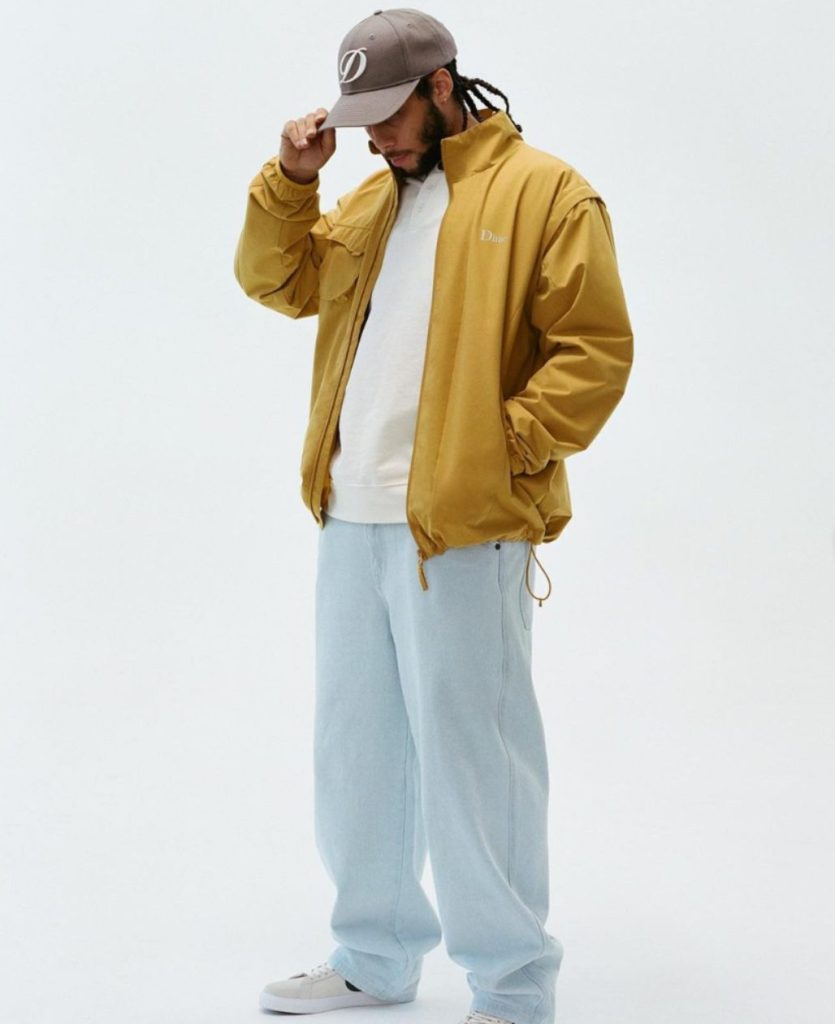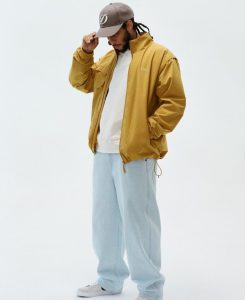 Dime is more than just a skatewear brand; it represents a tight-knit skateboarding community. Based in Montreal, Canada, Dime creates apparel that resonates with skaters worldwide, emphasizing camaraderie and inclusivity.
Just like other skatewear dedicated brands, Dime has spread its essence beyond just the sport – it has become a casual streetwear brand.
Sporting Dime gear feels like being a part of an extended family, connected by a shared passion for skateboarding and a sense of belonging.
11. Thrasher
"The Classical Skateboarding Icon"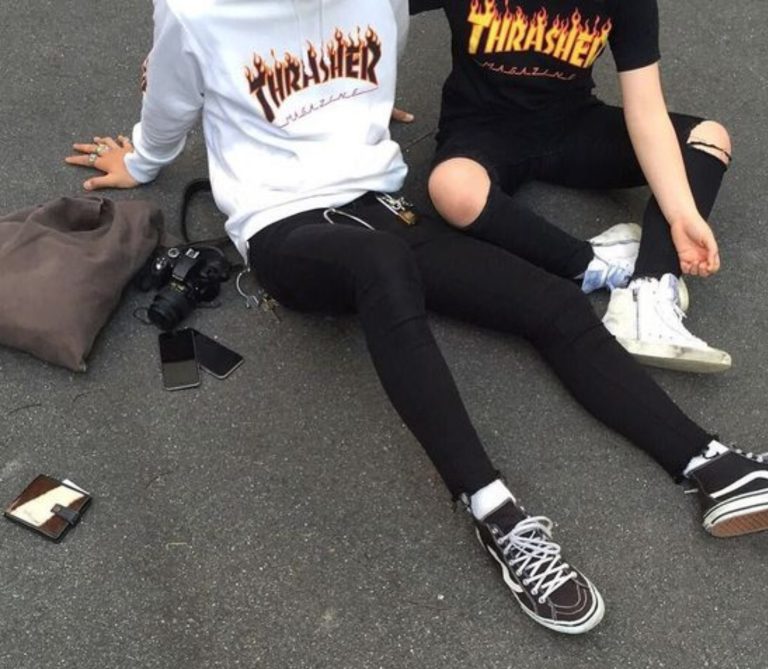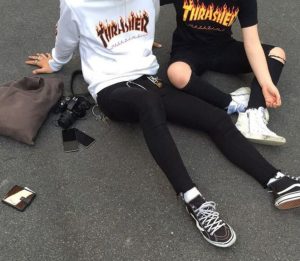 Thrasher, the iconic skateboarding magazine, has also made its mark in the world of fashion. Established in the 1980s, Thrasher made its place as one of the best skateboard clothing brands with its quality apparel and easily recognizable logo.
With its flame logo and bold designs, Thrasher embodies the spirit of skateboarding rebellion and has become an emblem of skate culture.
Wearing Thrasher is like wearing a badge of honor, proudly displaying your love for skateboarding and embracing the raw energy that comes with it.
12. Quartersnacks
"Celebrating the Streets and Skateboarding Lifestyle"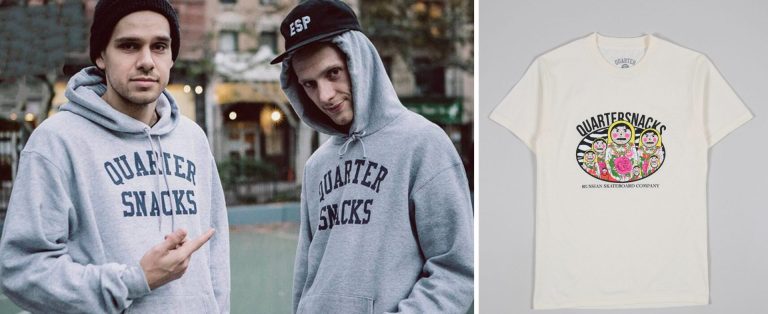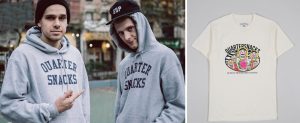 Another big name in the skateboard clothing industry – Quartersnacks originated from the streets of New York City. Initially, it started as a skate blog which turned into a clothing brand, capturing the gritty urban skateboarding aesthetic.
Their apparel pays homage to the streets, with graphics and references that reflect the vibrant energy of city skate scenes.
During my cruising period (even now sometimes) I prefer wearing a Quartersnacks t-shirt or hoodie. It literally feels like carrying a piece of the city's skateboarding spirit with you – try it!
13. Santa Cruz
"A Legacy of Skateboarding Heritage"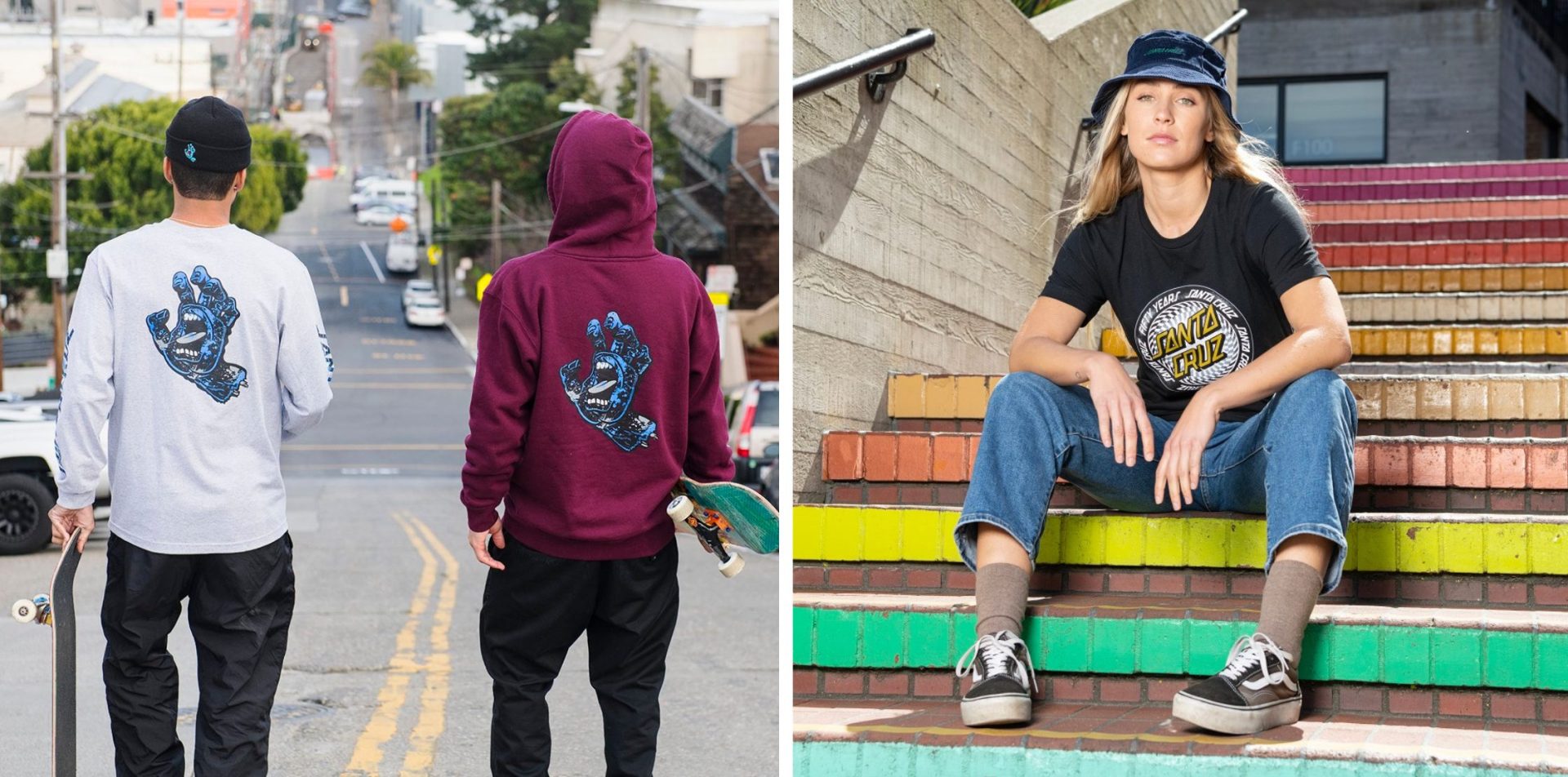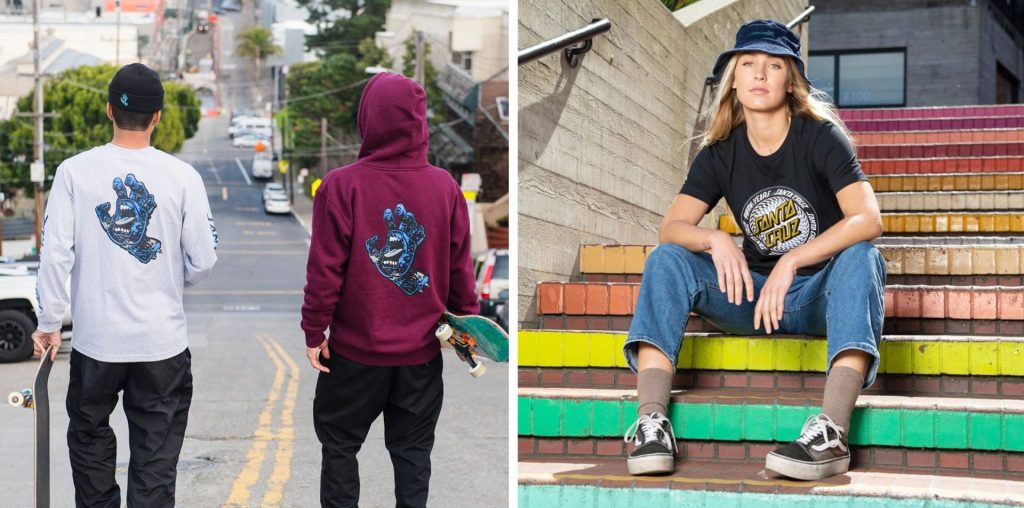 With roots dating back to the 1970s, Santa Cruz remains an enduring force in skateboarding. Known for its iconic screaming hand logo and classic graphics, Santa Cruz offers a range of apparel and accessories that resonate with skaters of all generations.
This iconic skate brand has a rich history, and has been a driving force in the skateboarding industry for decades. Santa Cruz is not only famous for skate apparel, but their skateboards are also rated as one of the best skateboard brands in the world.
I personally love wearing and riding Santa Cruz, it's like paying respect to the pioneers who paved the way, embracing the heritage of skateboarding while adding a touch of sentiments to every session.
90s Skate Clothing Brands
Honesty speaking, the 90s era defined skateboarding and its fashion. Here are ten popular skate clothing brands from that iconic time:
Girl
Element
Baker
Santa Cruz (still going strong today!)
World Industries
Plan B
Zero
Alien Workshop
Zoo York
Blind
Also, read about the popular skateboarding brands in 90s.
Japanese Skateboard Clothing Brands
Japan has been a hotbed for skateboarding and fashion, giving rise to several notable skateboard clothing brands.
Here are ten popular Japanese brands that have gained international recognition:
Visvim
Neighborhood
Wtaps
Evisen
FPAR
Undercover
Cav Empt
Have a Good Time
Sasquatchfabrix
Unused
Cheapest Skateboard Clothing Brands
Are you running low on budget and still looking for quality skatewear? It's absolutely possible! There are affordable skatewear options available.
Here are some wallet-friendly brands to consider:
Toy Machine
enjoi
Almost
Mini Logo
Chocolate
Primitive
RIPNDIP
HUF
Santa Monica Airlines
Welcome Skateboards
Final Words
By now, you must have known skateboard clothing brands have seamlessly blended fashion and skate culture, creating a dynamic and influential movement. These brands not only provide stylish apparel but also represent a unique expression of individuality and rebellion.
From Supreme to Palace, Vans to Nike SB, and Thrasher to Santa Cruz, each brand offers a distinct experience and an opportunity to embody the spirit of skateboarding.
Remember, skatewear is about personal expression, so don't be afraid to explore different brands and find your preferred style.
Frequently Asked Questions: (FAQs)
What are the skater girl clothing brands?
Skater girls have plenty of options when it comes to rocking that rad skatewear. Some popular skater girl clothing brands to check out include Vans, Thrasher (because girls can shred too!), Santa Cruz, and Roxy.
What is the name of the famous clothing in skateboarding lifestyle brand?
The famous brand that perfectly captures the essence of skate culture is none other than Supreme. With their limited-edition drops and iconic box logo, Supreme has become a beacon of style for skaters and streetwear enthusiasts alike. It's the brand that says, "I'm here to shred and look ridiculously cool doing it."
How many skateboard brands are there?
The number of skateboard brands is vast and continuously growing. There are numerous established and emerging skateboard brands in the industry, each offering its unique style, designs, and product range. It's challenging to provide an exact count as new brands emerge and others evolve or fade away.
What aesthetic is Zumiez?
Zumiez is a popular retail store that offers a wide range of skate and streetwear brands. Their aesthetic can be summed up in three words: bold, vibrant, and rebellious. Zumiez embraces the skateboarding lifestyle with its mix of skate, street, and urban fashion.
Zumiez carries brands that reflect various subcultures, including skateboarding, streetwear, and alternative fashion, catering to a diverse range of styles and tastes.
Here's a list of popular brands you can find at Zumiez:
Vans
Nike SB
Thrasher
Santa Cruz
Volcom
RVCA
Spitfire
Independent
Diamond Supply Co.
Obey
Adidas
Element
Rip N Dip
Primitive Skateboarding
HUF
The Hundreds
Converse
Brixton
686
Globe