We recommend getting a pre-assembled skateboard instead of putting together different components. Complete skateboards are cost effective, ready to ride and designed to deliver quality performance. So, if you are looking for a new skateboard to add to your collection or start learning how to skateboard, here, you'll find tested reviews of the best complete skateboards of 2022 that are good for beginners, intermediate skaters, and for experts.
Getting a skateboard is always a good idea, especially if you are looking to commute or for exercise. However, skateboarding can get overwhelming due to the numerous brands and types of boards. Finding a quality skateboard for this most rewarding hobby can be challenging especially if you are a beginner. You need to consider the deck material, wheels and trucks, durability, weight and other factors.
Speaking of the experience, it is best to start skating with a complete skateboard and you can always upgrade the components after wear and tear. You can also replace parts for better performance as your skill level improves: for example – bigger wheels are good for speedy rides!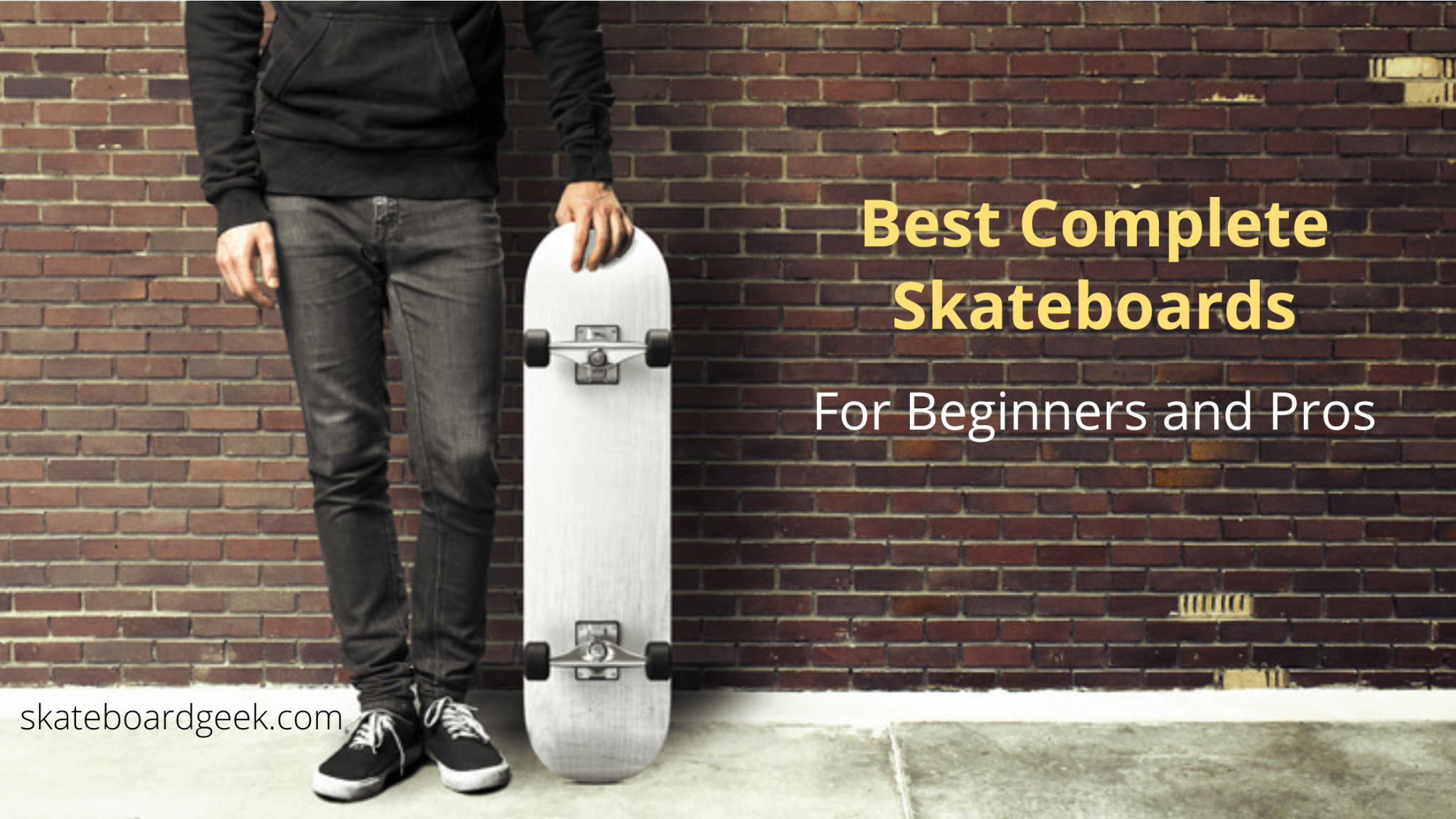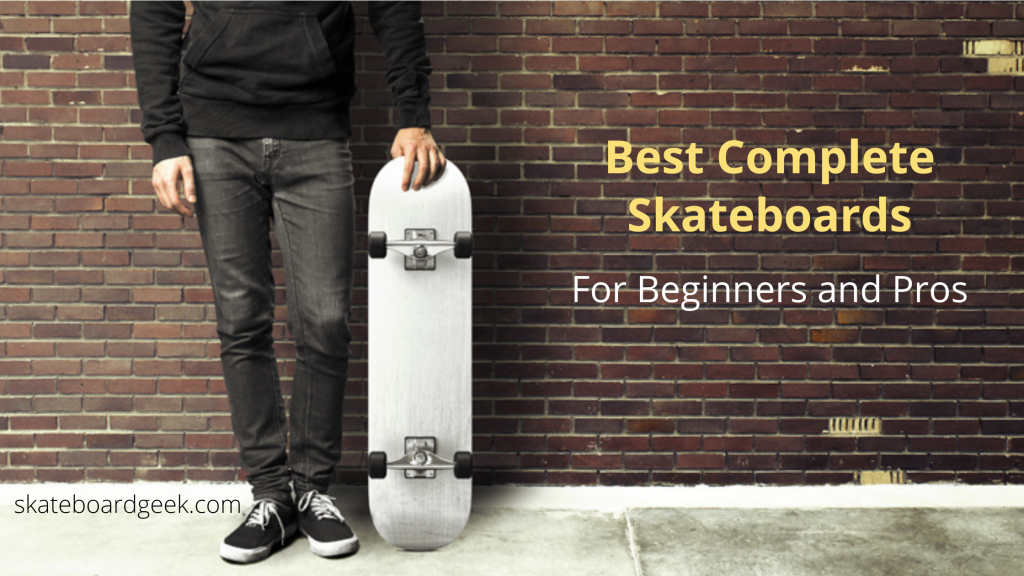 Top 10 Best Complete Skateboards of 2022
Here is a list of the best quality pre-assembled skateboards for new and pro-level skateboarders. These complete boards are easy to ride, reliable and designed to offer a great riding experience. We found them durable and highly efficient after multiple rides.
| No. | Complete Skateboard | Quality | Price |
| --- | --- | --- | --- |
| 1 | Powell Golden Dragon | Best for Beginners and Advanced Riders | |
| 2 | CCS Complete Skateboard | Best Complete Skateboard Under $100 | |
| 3 | Element Section | Best Pre-Assembled Skateboard for Tricks | |
| 4 | Santa Cruz Screaming Hand | Best for Heavy Riders | |
| 5 | Powell Peralta Winged Ripper Birch | Best Lightweight Complete Skateboard | |
| 6 | Enjoi White Panda | Affordable Skateboard for Kids | |
| 7 | Beleev Complete Skateboard | Best Value for the Money | |
| 8 | Blind Skateboard | Perfect for Teen Skaters | |
| 9 | Magneto SUV | Best Free-riding Skateboard for Adults | |
| 10 | Quest the Original Super Cruiser | Best Complete Cruiser Longboard | |
"Best for Beginners and Advanced Riders"


Don't overlook Powell Golden Flying Dragon skateboard for being too cheap or not a serious brand. This quality board is durable, sturdy and flexible to be ridden easily. The PGD skateboard is designed with quality components to make it easy-to-ride for a beginner, but also has a good feel for an advanced rider. It is equipped with great trucks and wheels that are good at absorbing the vibrations of the road.
I started riding this board recently and found it lightweight and durable while performing tricks. The board is well made and easy to balance. Its PU wheels don't seem to wear down quickly. The grip tape enhances the stopping ability whenever needed. Thus, I recommend this complete skateboard for a beginner, or for a professional rider who wants a backup board.
Main Features:
The wooden deck is made in China using AirLam presses maple veneer
Deck size: 625" x 7.625"
Easy to ride and practice tricks due to K12 concave style with 126 shape
54mm x 37mm strong PU wheels with 99a hardness level
75-inch wheelbase and 7.625-inch aluminum trucks with embossed Powell Golden Dragon logo
Pros
Durable and lightweight complete skateboard
Suitable for new and advance level skaters
Easy to ride
Good control and balance
Strong wide wheels, perfect for ground grip and rolling
Cons
Too fast - not suitable for kids
Not good for pebbled tracks
"Best Complete Skateboard Under $100"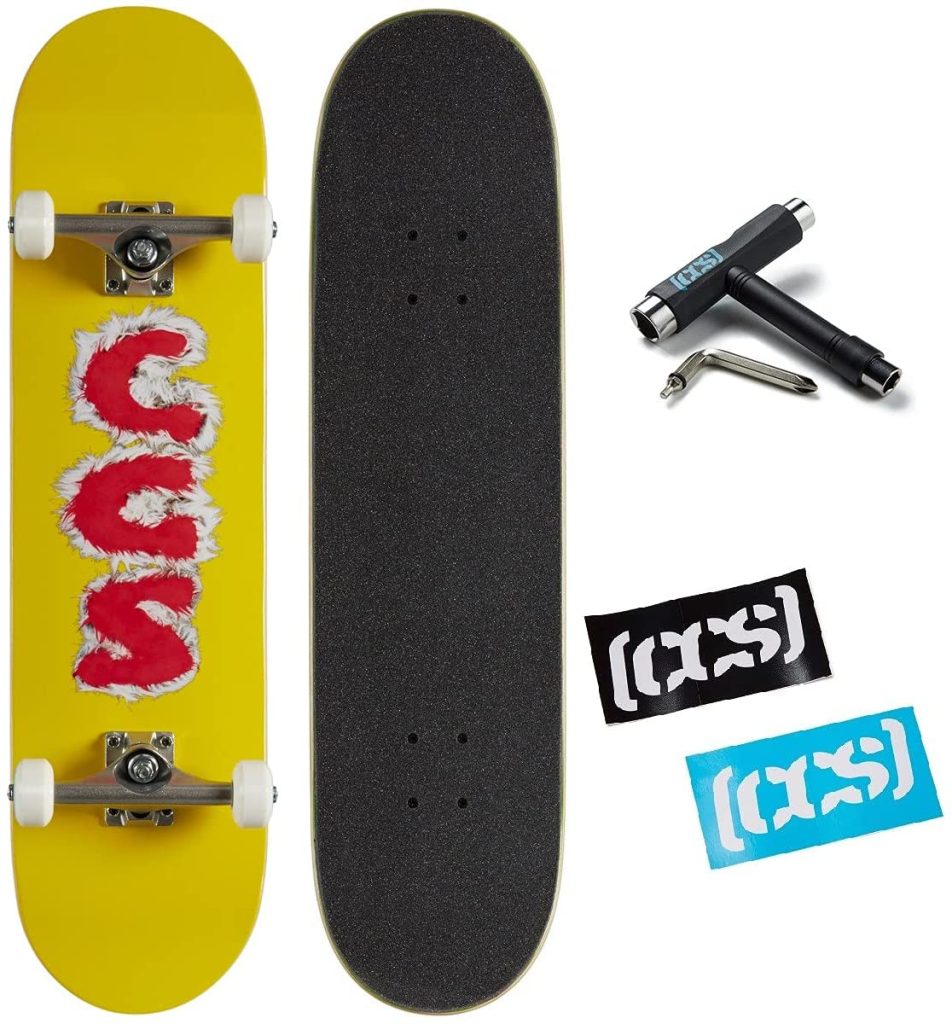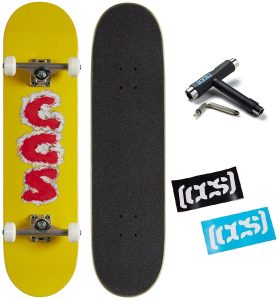 The CCS complete skateboard is a truly remarkable piece of craftsmanship and one of my favorite boards. This board was designed with safety in mind, using materials that can withstand heavy wear and tear, and comes with everything you need to start skating right out of the box. Its classic shape maple deck with 52mm hard wheels makes it perfect for performing tricks in skateparks.
I was surprised by its lightweight deck and sealed bearings that aid in a smooth ride. I was also impressed by the quality of the trucks and the wheels. The trucks were super smooth and had really good pop. I rode it all over the place, from the street to our local skate park and found it quite smooth and easy to balance. Definitely, it is my first choice as a complete skateboard under $100.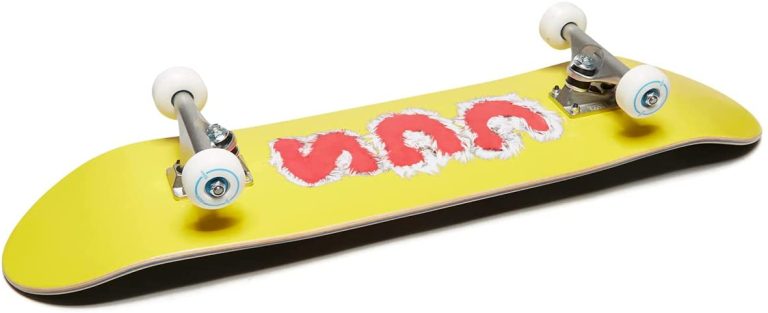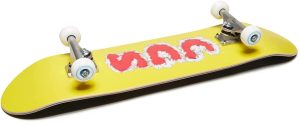 Main Features:
Professional grade Canadian 7 ply maple wood deck with premium components
Deck size: 32" x 7.75", ideal for new skaters
Classic shape, suitable for cruising and tricks
Small 52mm PU wheels with 100a hardness level, perfect to perform tricks in skatepark, half-pipe and rails
Equipped with professional quality CCS trucks and sturdy steel base plate
Especially designed CCS ABEC 7 bearings for smooth rides
Pros
Complete skateboard available in different sizes
A good amount of flex
Comes with a skateboard tool
Smooth ride
Hard wheels, suitable for tricks
Cons
Heavy riders will need to tighten trucks after performing hard tricks
A verified Amazon user "Adrienne Darhower" says, "Big thumbs up on this skateboard. It actually surprised me. I needed something pretty inexpensive. But the deck itself and all of the components (wheels, trucks and bearings) are much better than I expected given the low price."
"Best Pre-Assembled Skateboard for Tricks"


The Element Section board can be ridden by a beginner and an expert skateboarder. It will help new skaters to learn how to control a skateboard and aid in gaining confidence. On the other hand, this board will assist to conquer some new tricks if you are already good at skateboarding.
Element skateboard was the first board I rode in 2002 when I started with this sport, and since then I feel comfortable learning new tricks on it. Its high quality and super lightweight construction make it easier to stabilize. The deck is a little thinner and wider which is helpful for beginners. The brand ensures perfect assembling to enhance its durability. I'm definitely going to recommend this if you want to purchase a complete skateboard to perform tricks.
Element leads the list of the best skateboard brands.
Main Features:
100% maple wood deck held together with strong epoxy glue
Deck size: 32″ x 8″
Slight concave and double kicktail makes it easier to stabilize and perform tricks
52mm graphic PU wheels with 95a hardness and ABEC 5 bearings
14" wheelbase and 5.25" polished branded trucks
Pros
Comfortable ride and easier to perform tricks
Durable deck with great pop
Pre-assembled with best quality parts
Available in multiple sizes
Cons
Soft bushing, requires some break-in period to perform at its best
Santa Cruz is one of the most well-known skateboard companies and this particular model has a great balance of speed, control, and maneuverability. This skateboard is designed for riders over 210 pounds. Certainly, it is an ideal board for cruising around town and commuting a lot, and for the most avid downhill riders.
I'm not the most skilled skater but this board makes it easier for me to get around and offers great durability. Wider decks are better for those with bigger feet (like me) and I like the shorter wheelbase decks because it makes it easier to turn. It is a reliable board and I recommend this complete skateboard for bigger size newbies or experienced skaters.
Main Features:
Classic style 7-ply strong maple wood deck, sturdy and highly durable
Deck size: 5" x 8.25"
Standard popsicle shape with a medium concave makes it easier to ride
54mm OJ Wheels with 95a hardness level and 13.75" wheelbase
ABEC-5 steel bearings ensure fast smooth rides on a downhill
Pros
Strong poppy deck for durability
Suitable for all level skaters
Traditional design with pre-installed black grip tape
Good for every age heavy riders
Cons
Bearings will need replacement quite often - poor quality
"Best Lightweight Complete Skateboard"


Powell-Peralta skateboards are made with high quality components which include an AirLam™ press, the Skate Rated™ Mini Logo bearings and Mini Logo™ trucks. These components ensure the stability, strength and speed needed to skate every day. This complete skateboard is equipped with High Rebound® bushings for a smoother ride, harder wheels for higher performance, and heat treated axles for greater durability.
The Powell Peralta Winged Ripper is the best skateboard I have ever used. It has a great grip and super lightweight to carry around with ease. The super strong deck has awesome pop and can withstand the test of hard rides. Its wide wheelbase makes it convenient to stabilize.
Main Features:
The deck is made of AirLam™ pressed laminated 7 plies of the finest grade American, hard rock maple wood, held together with high strength water resistant glue
Deck size: 31" x 7.75″
53mm Polyurethane wheels with 101A hardness level makes it suitable for parks, ramps and skate pools
Modern K20 concave shape with a classic touch makes it good to learn tricks
Mini Logo Skate Rated™ Abec-5 bearings for fast rolling
Pros
Great stiffness and durability
Water-resistant laminated deck
Smooth turning due to alloy trucks
Comes with a lifetime warranty against manufacturer defects
Cons
Not very good for cruising
It feels less comfortable on rough grounds
"Affordable Skateboard for Kids"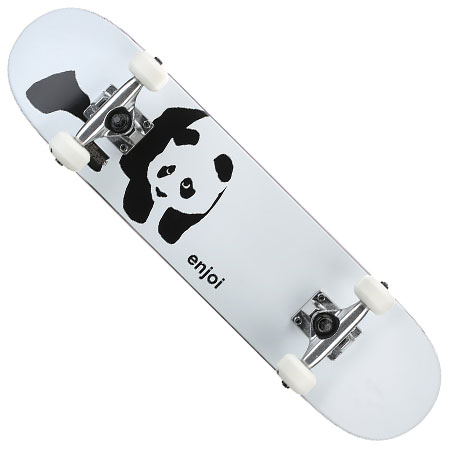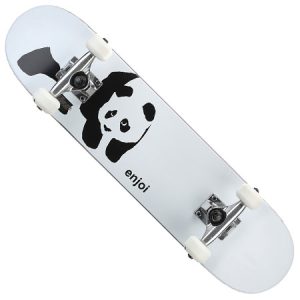 Enjoi skateboards come with super smooth well-built bearings that ensure easy turning and maximum performance. This entry-level complete skateboard is perfect for new skaters who want to learn and develop skills without having to spend too much money. This board is equipped with good wheels that are suitable for learning tricks in streets and parks.
We recommend Enjoi complete skateboards to young trainees in our Skateboardgeek academy because they are lightweight, easy to ride, and affordable. These boards are durable and can be ridden anywhere due to soft and grippy wheels.
Main Features:
Single-press 7-ply Canadian maple wood deck held together with gnarly epoxy resin glue
Deck size: 31" x 7.75"
Medium concave style deck with steep kicks for easy handling
14" wheelbase, 52mm high quality TGM wheels with 99a hardness
Lightweight and good grade responsive aluminum trucks
Best quality Amphetamine Abec-5 bearings with light synthetic oil and rubber serviceable shields
Pros
Best complete skateboard for kids
Lightweight and durable construction
Good sized soft wheels
Budget friendly
Suitable to ride in parks and streets
Cons
Not suitable for heavy riders
Wobbles on the downhill speedy rides
Read tested reviews of the best skateboards for beginner kids.
Beleev skateboards are in demand due to their high-quality construction and very affordable prices. These boards are good to experience comfortable rides and sturdy enough so you can learn new tricks with ease. Beleev Complete skateboard is packed with responsive aluminum trucks with high rebound bushings, delivering the best value for your money.
I like its strong grip tape that enhances control on the board. Its high-rebound PU wheels are anti-slippery to ensure stability. Indeed, it is a great board for learning how to skate and I would recommend it to anyone who is looking to buy a first fully assembled skateboard.
Note: Beleev boards are made from a sustainable source, mostly Canadian maple that is specifically cultivated for skateboard manufacturing. By doing this, Beleev has eliminated much of the demand for trees being cut down all over the world to make skateboards.
Main Features:
10mm thick, 7-ply Canadian maple wood deck
Deck size: 31" x 8"
Medium concave style with double kick offers maximum control while speeding and braking
Pre-installed waterproof emery non-slip grip tape ensures traction for safe riding
Anti-slip 55mm PU wheels with 95a hardness, highly rebound wheels with a strong grip
ABEC-7 precision bearings ensure high speed and good shock absorption
5-inch heavy-duty aluminum alloy trucks
Pros
Reliable riding experience for beginners and pro skaters
Water-proof non-slip grip tape
Lightweight compact design
Stylish skateboard, suitable for girls
Cons
It does not come with a hardware tightening tool
Wheels will need replacement after some speedy downhill rides
You can't be a serious skater without a decent board. And this board is one of the best complete boards I have seen on Amazon. Blind has been around for a while and well-proven for being perfect for entry-level skateboarders. It's sturdy, has a nice grip and the wheels are of good quality. As we all know most of the time teenagers get carried away with their enthusiasm and end up buying poor quality skateboards which results in a terrible experience, but this board is a real head turner - literally!
After watching Jamie O'Brien's part in a skate video, my 16 years old younger brother was inspired to buy his first board. I gifted him a Blind complete skateboard and he loved it since then. He says it is very sturdy and smooth to ride and has a nice feel to it. I also borrowed it from him many times and enjoyed exceptional riding experiences.
Main Features:
The deck is made of 7-ply Canadian maple wood using the single deck press method and epoxy resin
Deck size: 31" x 7.75"
Consistent shape concave with steep kicks and a full tail
Entry-level durable aluminum trucks for nice control makes the board more maneuverable
53mm PU wheels with 95a hardness, and Abec-5 bearings
Pros
Available in multiple sizes
Large, high-rebound wheels
Good ground grip
Easy to control
Cons
Not suitable for big size skaters
"Best Free-riding Skateboard for Adults"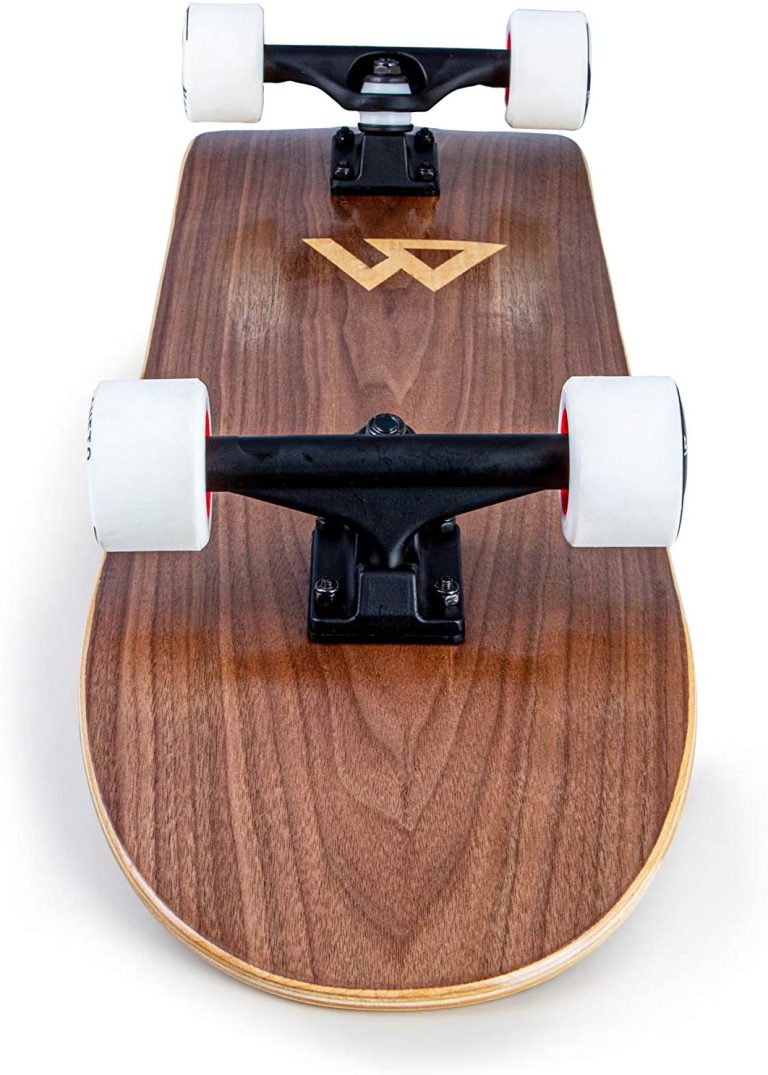 The Magneto SUV skateboards are designed by Mike Carroll and are great for a variety of rides. It has wide decks to carry riders while going downhill, or cruising at higher speeds. The trucks and wheels offer better speed, and an increased degree of control on rougher terrain. This board is great for people who love going to new spots or even want to try skateboarding for the first time.
This board comes fully assembled with quality components and everything you need to ride. The wheels are soft and comfortable to ride, and they are very easy to push and turn. The bearings are smooth and very quiet. Trucks are very high quality and they are very thick, so they won't bend or break easily. It really is the best skateboard for adults for commuting in the city.


Main Features:
The flexible deck is made with 7 layers of high quality Canadian maple wood to ensure durability
Deck size: 31" x 8.5" (Slightly wider)
Medium concave design with kicktail makes it good to perform skateboarding tricks
14" wheelbase, 60 x 40mm large Urethane wheels with 78a hardness, soft and responsive to ride on pebbled surfaces
Gravity cast aluminum trucks, super durable for all types of rides
Abec-5 bearings to ensure a smooth riding experience
Pros
Quality complete skateboard at a fair price
Strong deck with a good amount of flex
Smooth rides
Good for sharp turnings
Suitable for every type of skating area
Cons
Grip tape had weak adhesive, started peeling off after a few rides
"Best Complete Cruiser Longboard"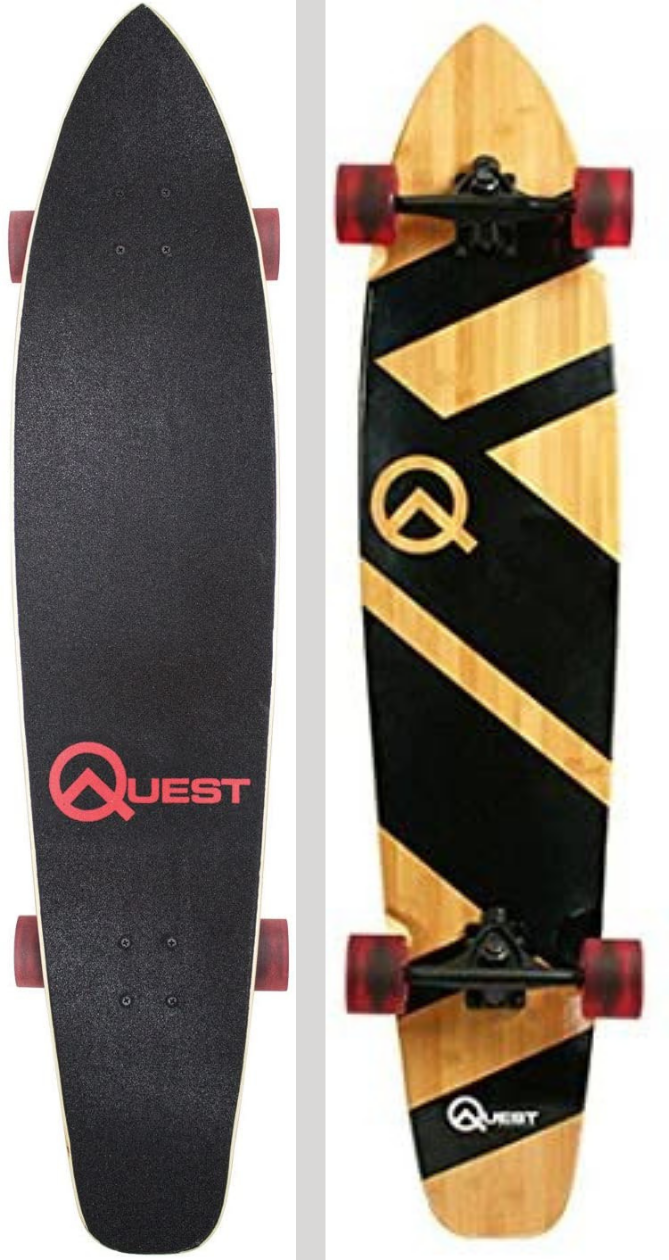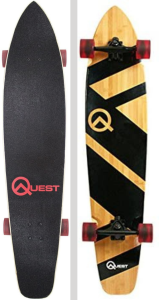 This Quest original cruiser longboard is made of super-strong bamboo and has a classy, sleek design that allows you to ride with style and confidence. It is the perfect board to ride around town, through campus or cruising along a boardwalk. It will last you for years and you don't have to worry much about maintenance either.
I was looking for a smooth riding, high-quality longboard to cruise around and put it to the test to see how it performed throughout the usual daily skating routines. I found it a complete package of optimal performance, classic style and durability. No wonder why it is rated as "Amazon's Choice"!
Main Features:
The Original Artisan Bamboo deck is made of 7-ply super-flex bamboo and hardwood maple
Deck size: 44" x 9"
70mm Polyurethane large wheels with genuine ABEC 7 speed bearings to support speedy rides
7-inch aluminum alloy trucks ensure better performance without wobbling
Pros
Classic design long cruiser board
Great flex and strength
Cost-effective bamboo longboard
Supportive trucks
Cons
Heavy riders will need to replace bearings after a few rides
Hard wheels
Best Complete Skateboards: Factors to Consider before Buying
Now that we have read about the best complete skateboards let's dive into some of the main features. In case you are still finding it difficult to pick the right one for you, consider these factors according to your need. This buying guide will definitely assist you in making the final decision.
Indeed, assembling a skateboard will cost you expensive and it does not end up right always. That's why reliable brands prefer to construct complete boards using the best quality suitable components.
Riding Style and Board Type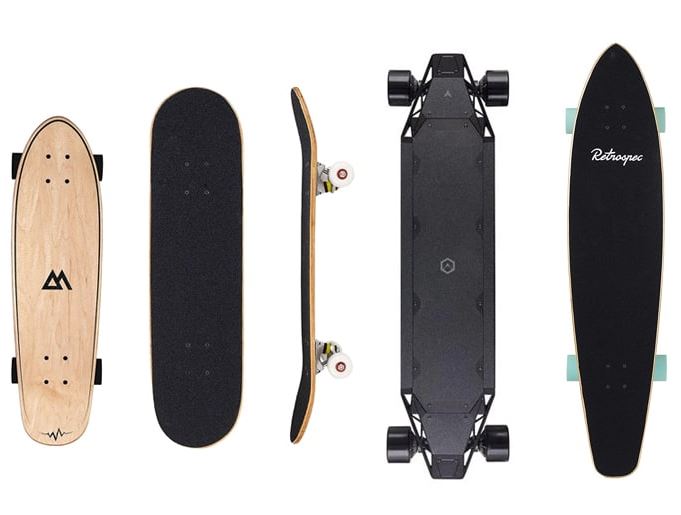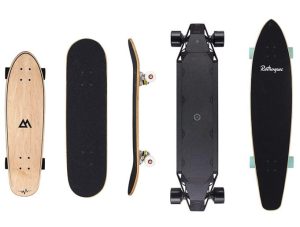 When you are looking for a great skateboard to ride, an important factor to consider is your riding style. The type of skateboard that you ride depends on your riding style. The list of types is endless and there is no right or wrong choice when it comes to selecting the best complete skateboard. Longboard, Pintail, Drop-Through and Cruiser skateboards are the most popular kinds of skateboards. It all boils down to what riding experience do you prefer?
If you are a beginner skateboard rider, it is better that you choose a short board such as a cruiser or kicky board. And, if you are an experienced rider and looking for a quality board to practice tricks, a double-kick medium concave, hard maple skateboard would be better. Moreover, if you like to speed, pick up an electric skateboard and enjoy fast rides around town.
Deck Size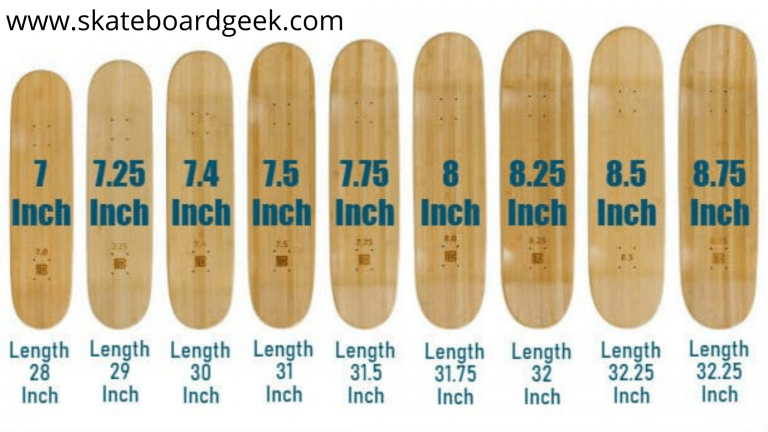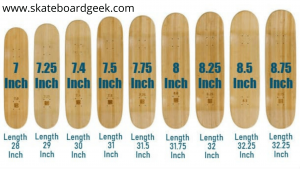 It's important to know how big your skateboard should be depending on your height. If you choose one that is too small, you will obviously have difficulty controlling your skateboard.
For the best comfort and control over your board, it's best for beginners to go with a size that matches their skate shoe size. You can measure the length of your feet and then add about an inch to get a good estimate of your skateboard size. As skateboarding experts, we advise picking a wider board, more space to stand on and easiest to ride as a beginner.
Correct Size Trucks
Trucks determine the balance and control of a skateboard and they co-respond with the deck size. The axle length of the truck must match the width of the truck, or be a bit shorter - but it must not be out of the deck. So, pick a set of trucks that fits the deck size.

Also, consider trucks' profile; low-profile trucks provide good control and balance, good for beginner skaters. They are designed for small wheels.
Middle-profile trucks are designed for larger skateboards and are meant to offer better control. They are good for adults who are practicing to get better at skateboarding.
High-profile trucks are engineered for high-end skateboards that are used by professionals mostly. They are meant for large size wheels. They offer great stability and control – perfect for performing tricks.
Right Type of Wheels
There are different types of wheels for skateboards and all of them serve differently. The most popular types are polyurethane, urethane, rubber and plastic. Wheels determine the speed of a skateboard and they are designed for different terrains. We recommend choosing polyurethane wheels because they can be ridden on multiple surfaces.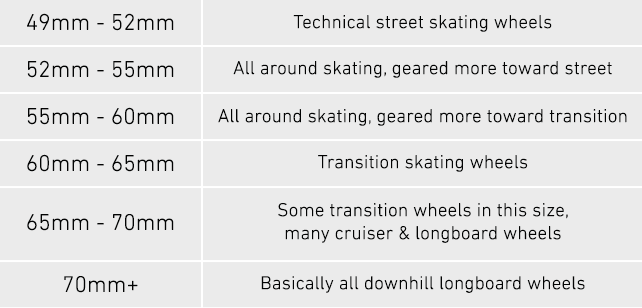 Small wheels make the board run slower, and large wheels are used for fast speedy rides. As a beginner, you should go for a set of medium-sized wheels that have a diameter between 52mm to 54mm. These size wheels are good for skating and tricks.
Not to mention, do not forget the factor of hardness level. We advise picking pairs of wheels with a hardness level between 90a to 100a. Why? Because these wheels are neither too soft nor too hard – perfect for cruising and bouncy tricks.
Bearings Quality
Bearings ensure the spinning ability of wheels and enhance the performance. We recommend choosing bearings of standard inner diameter - 8mm. Also, consider the hardness of bearings – ABEC-5 to ABEC-9 bearings are considered to be good for beginners.
Video Guide on Choosing a Complete Skateboard
Final Verdict
Assembling a skateboard is a time-consuming process and it is much easier to buy a complete skateboard that is ready to use. Additionally, most pre-assembled skateboards are designed to deliver better performance than a skateboard you can put together. Hence, we recommend that you buy a complete skateboard with quality components.
A good skateboard will last you a long time and make the ride enjoyable, so invest in a high quality complete skateboard. If you are just getting started, buy a board that has some good features such as a strong wooden deck, quality trucks and wheels, and bearings that won't rust.
Upon testing over three dozen skateboards, Powell Golden Dragon, CCS and Beleev complete skateboards went above and beyond our expectations. These boards had been manufactured with great care and attention to detail, so they are not only good for beginners but also great for professional use. The best thing about these pre-assembled skateboards is that they are ready to ride right out of the box and don't require you to spend long, tedious hours assembling them yourself.
Frequently Asked Questions: (FAQs)
What are the best brands of skateboards?
Here are the best brands of skateboards in 2022;
Element
Powell Peralta
Zero
Girl
Blind
Birdhouse
Plan B
Santa Cruz
Enjoi
Alien Workshop
What is the best skateboard in the world?
Powell Peralta Flight Deck is the best skateboard in the world. Here are the top rated skateboards of 2022;
Powell Peralta Flight Deck Complete Skateboard
Element Section
Magneto SUV
Cal 7 Skateboard
Santa Cruz Screaming Hand
Blind Skateboard
Enjoi White Panda
Beleev Complete Board
Alien Workshop Longboard
Bamboo Natural Board
What is a good price for a complete skateboard?
A good complete skateboard costs between $80 and $150. These boards are pre-assembled with quality components and designed to deliver performance and durability. However, you can always replace components after excessive wear and tear or for upgrades.
What are good beginner skateboard brands?
Here are the good beginner skateboard brands in 2022;
Element Section
Penny Skateboards
Sector 9
Quest Skateboards
Atom Skateboards
Beleev Skateboards