Have you been snapping your skateboard deck like a twig after a few weeks of riding? It might be time to upgrade to a Santa Cruz Skateboard. This legendary brand has built a reputation for making some of the strongest, most reliable skateboards on the market. But are they really as strong as they claim? Let's check some reviews!
After riding multiple Santa Cruz decks from the iconic Screaming Hand graphic to the Classic Dot logo, I must admit that the brand really does make some of the best boards in the industry. The company has also cemented it's name as one of the best skateboard brands in the world.
So, without further ado, let's get to the history of the brand to see how it evolved and review its popular products.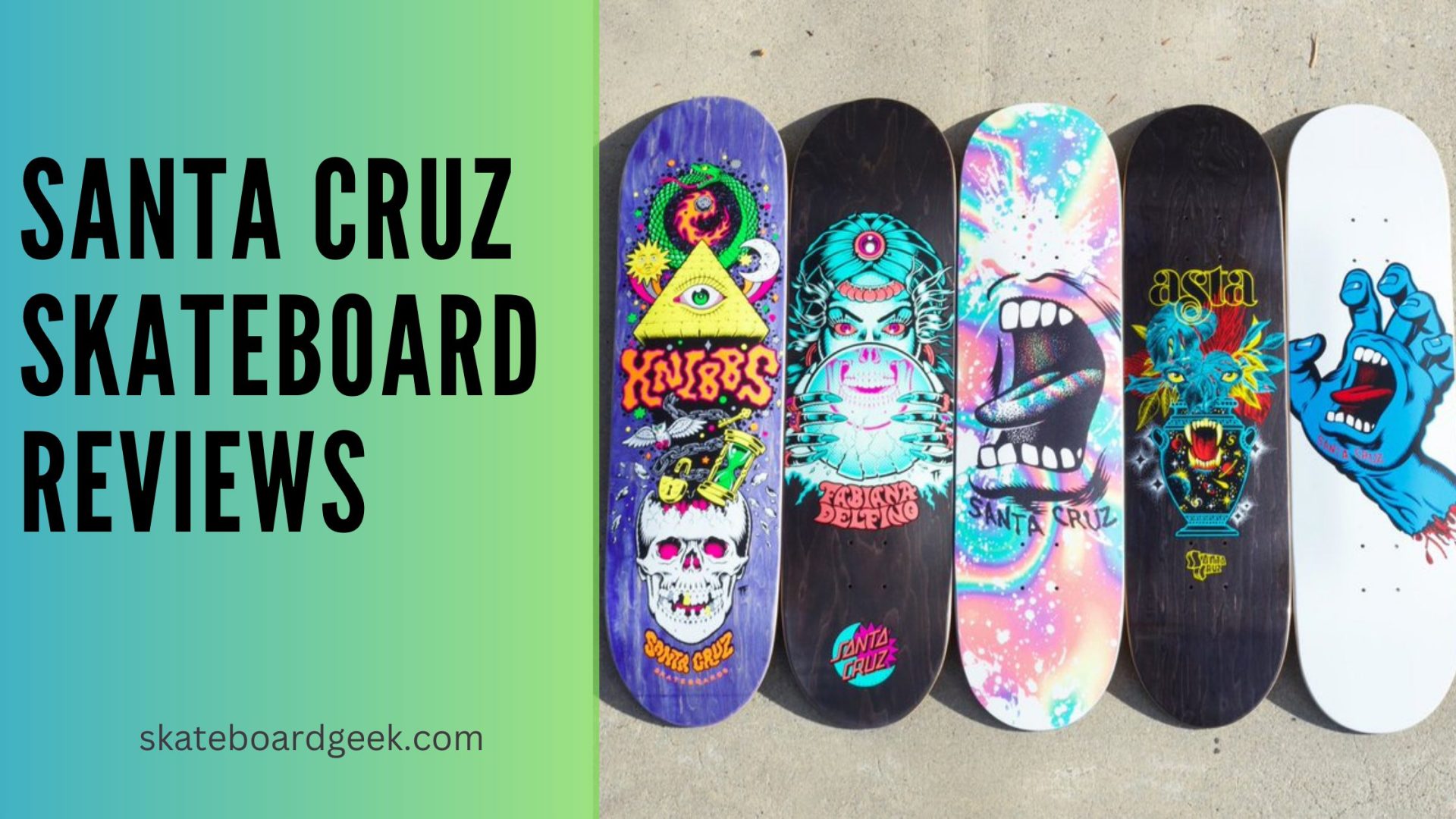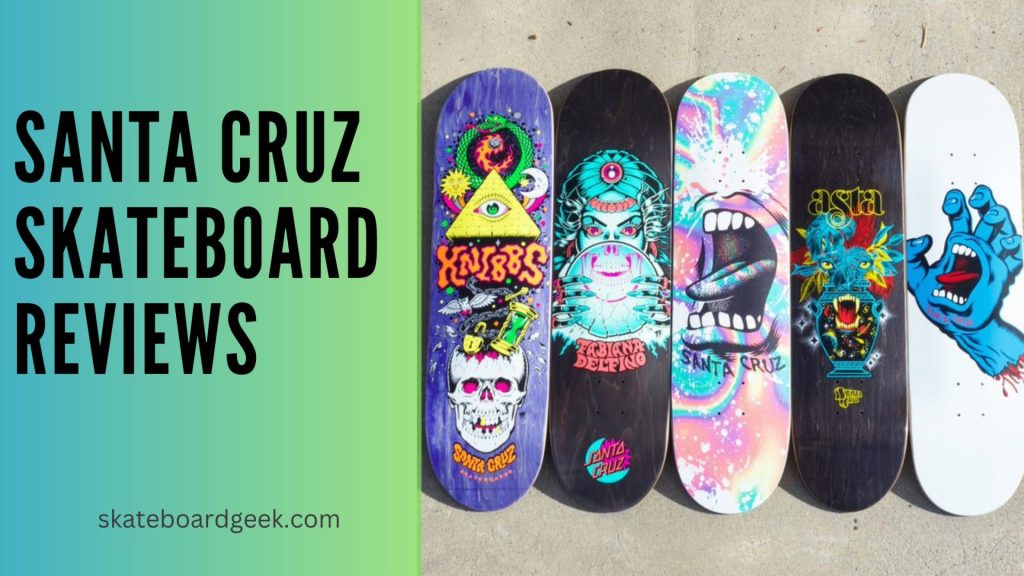 Santa Cruz History – The Legacy
Before we dive into Santa Cruz skateboard reviews, let's take a moment to appreciate the legacy of this iconic brand.
Founded in 1973 by Richard Novak, Doug Haut, and Jay Shuirman in Santa Cruz, California. Initially it was a surfboard company, but lately they decided to focus at skateboards and became one of the most recognizable names in skateboarding.
The brand was known for its bold graphics and innovative designs, and it quickly gained a loyal following among skaters.
Over the years, Santa Cruz has continued to push the envelope with its designs and technology. In 1991, the brand introduced its "Screaming Hand" logo, which has become one of the most iconic graphics in skating world.
And in 2017, Santa Cruz introduced its VX technology, which uses five layers of North American hard rock maple and 2 layers of Quad X reinforced with fiberglass to make the board stronger and more durable.
But does all this innovation translate to strong, solid boards? We'll find it out.
Santa Cruz Logo
The iconic logo of Santa Cruz skateboard brand features a hand with gnarled fingers, contorted into a scream, with a screaming mouth in the palm of the hand. This design has been a part of Santa Cruz since its beginning, and has become synonymous with the brand's rebellious, anti-establishment ethos.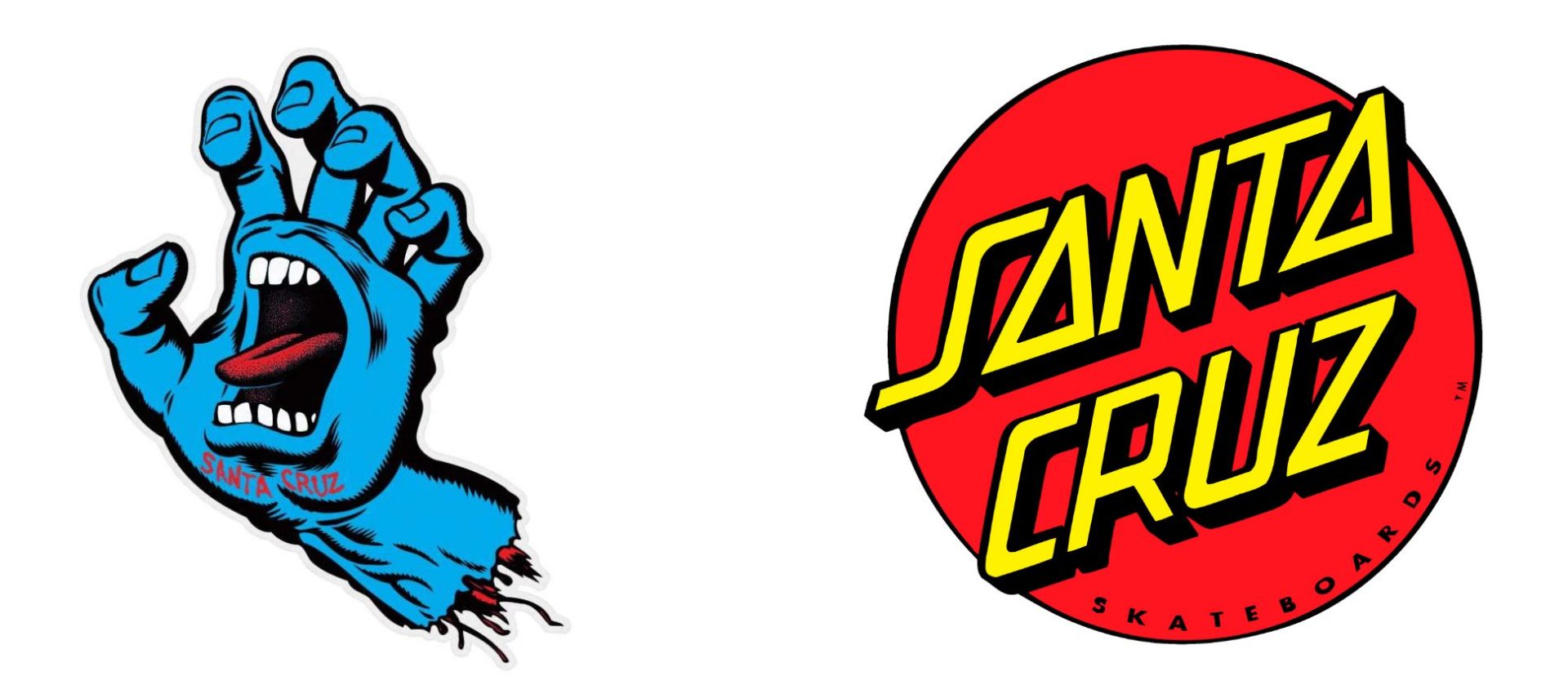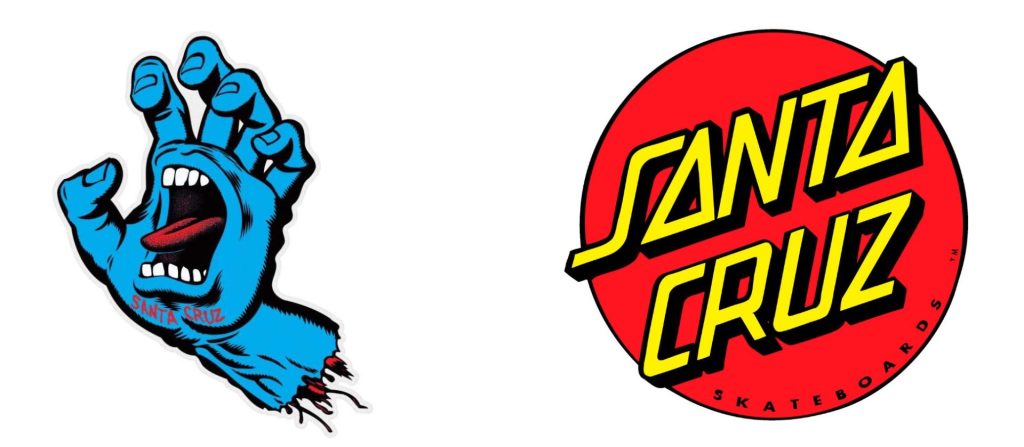 The logo was created by Jim Phillips, a legendary artist who has been working with Santa Cruz for over 30 years. The hand itself is a symbol of the frustration and anger that many young skaters felt towards society in the 70s, when skateboarding was still considered an outsider sport.
It's a logo that says "I'm here to shred, and I'm not afraid to do it my way."
The brand has also expanded on this iconic design with countless variations over the years, including the classic Dot and the infamous Rob Roskopp Target graphics.
Product Line
Santa Cruz Skateboards has an extensive product line that caters to skaters of all levels and preferences.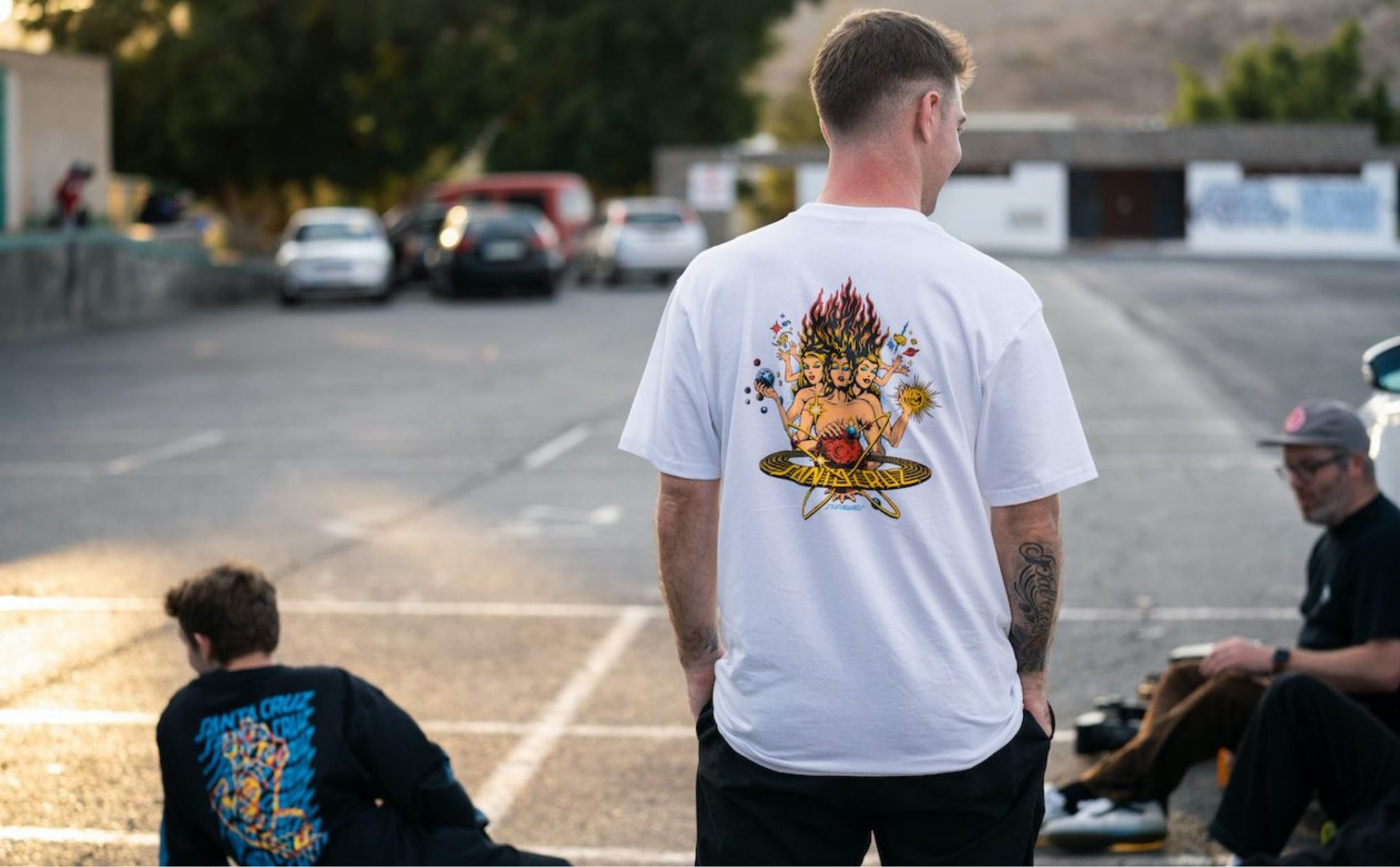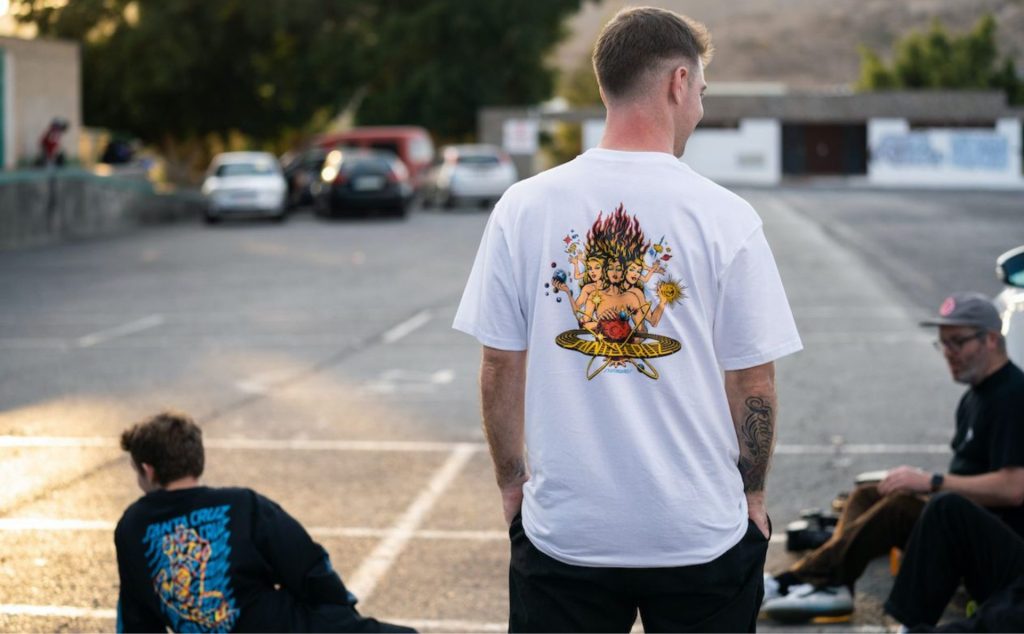 Here are some of the key products that the brand offers:
Complete Skateboards
Skateboard Decks
Longboards
Cruiser Boards
Snowboards
Wheels
Apparel
Accessories
Santa Cruz Complete Skateboard Reviews
After having some riding experiences on a couple of Santa Crus completes, I can say that they are some of the best pre-built skateboards out there.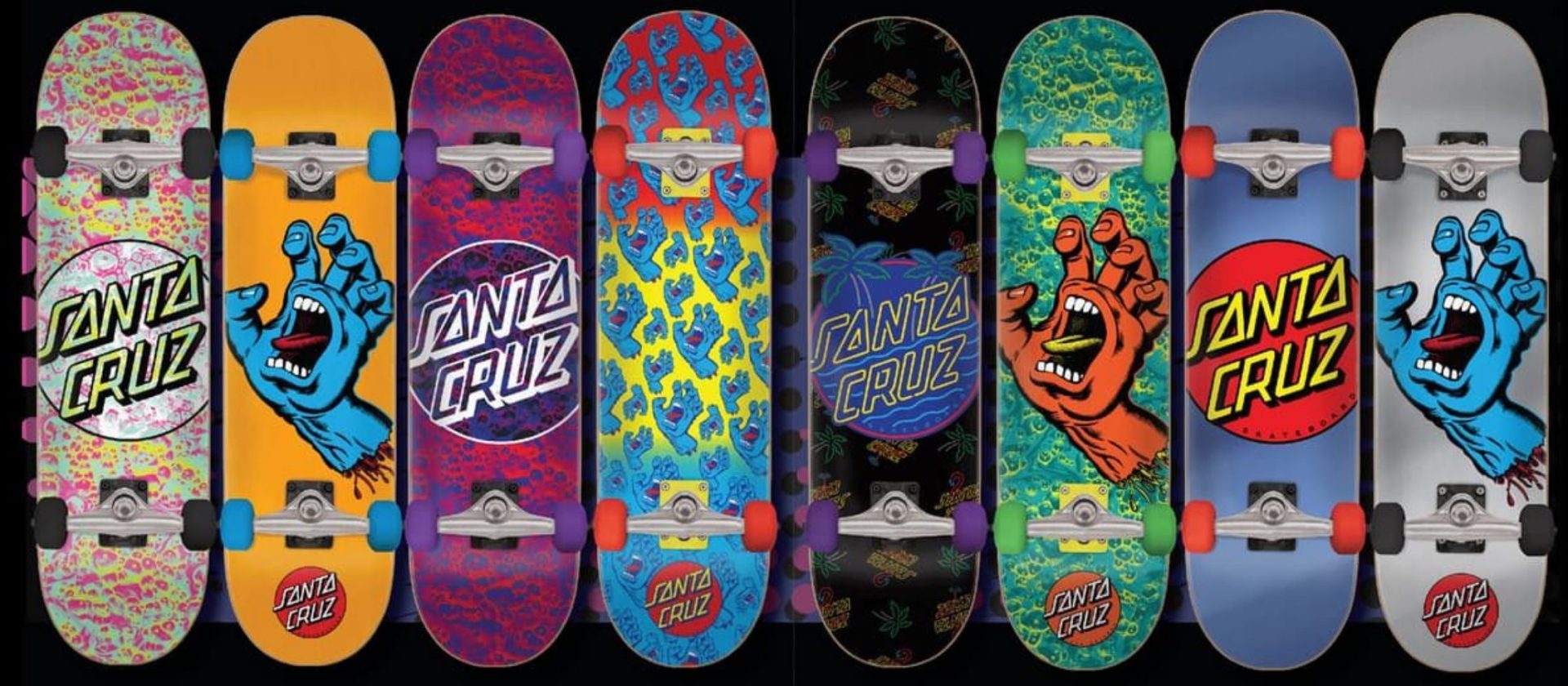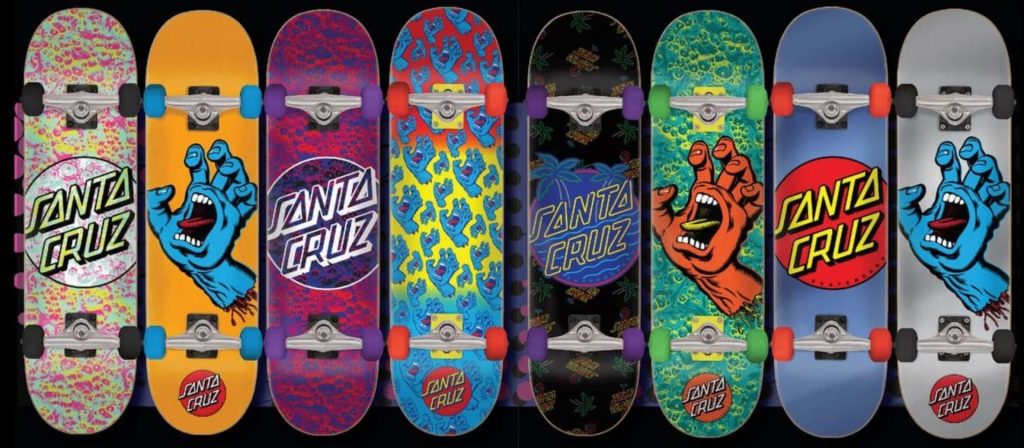 But one particular board that really impressed me was the Classic Dot design. The deck was solid and sturdy, with just the right amount of flex and pop, and the trucks are responsive and the wheels have good grip, making it easy to pull off tricks and ride with confidence. Overall, it's a great board for cruising around town or trying out new tricks.
In terms of performance, they are solid, reliable, and hold up to a lot of wear and tear even on hard landings.
Here are some benefits and drawbacks of Santa Cruz complete skateboards:
Pros:
Iconic designs
Quality materials
Durable
Versatile
Cons:
Expensive
Heavy for some models
Limited size options
Most popular Santa Cruz complete skateboards are:
Classic Dot Complete Skateboard
Screaming Hand Complete Skateboard
Roskopp Face Complete Skateboard
Simpsons Duffel Bart Complete Skateboard
Mahaka Rasta Complete Skateboard
Santa Cruz Decks Reviews
I can confidently say that Santa Cruz decks are some of the most solid and reliable decks on the market. The decks are incredibly well-made, using quality materials and construction techniques that make them incredibly durable.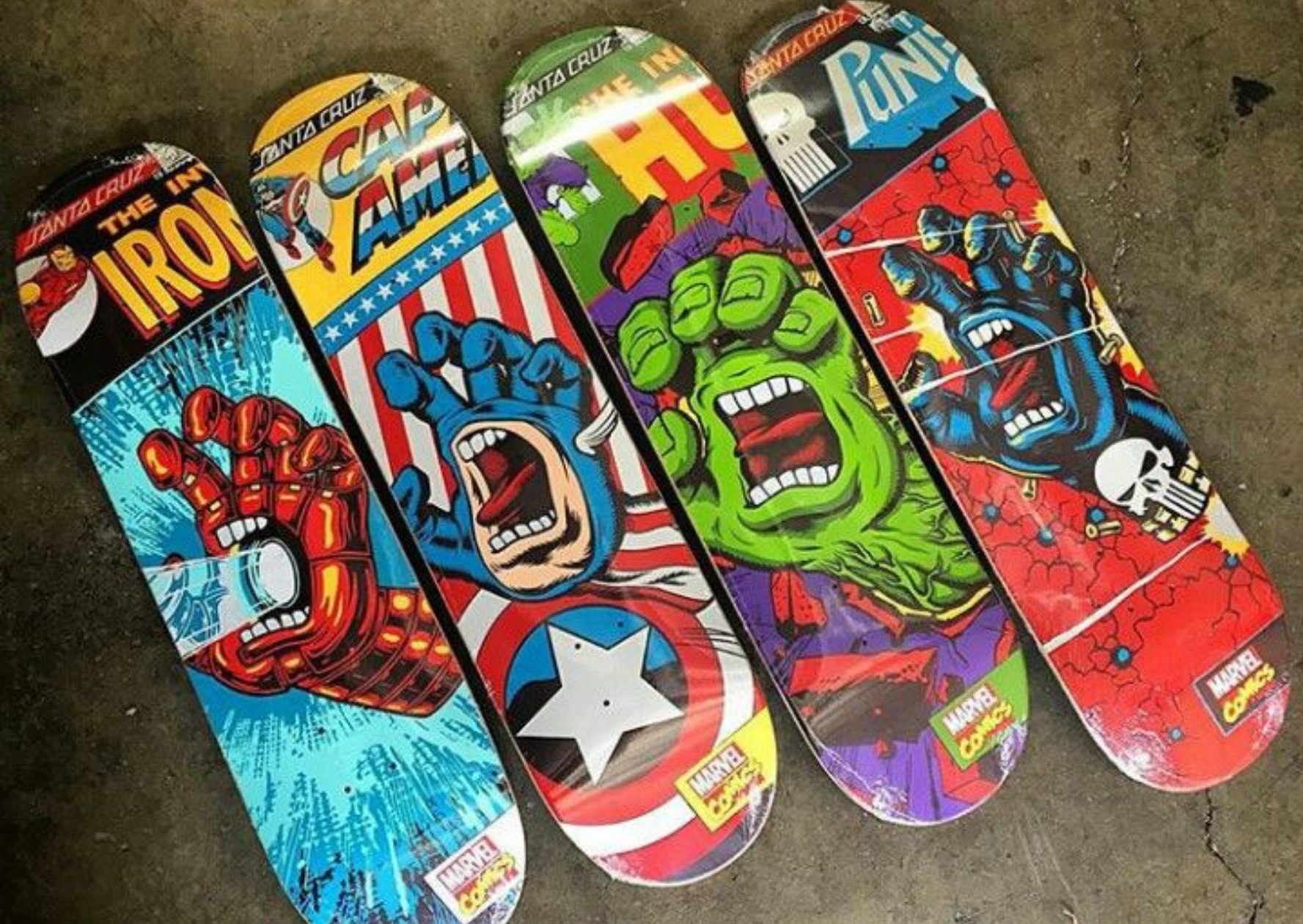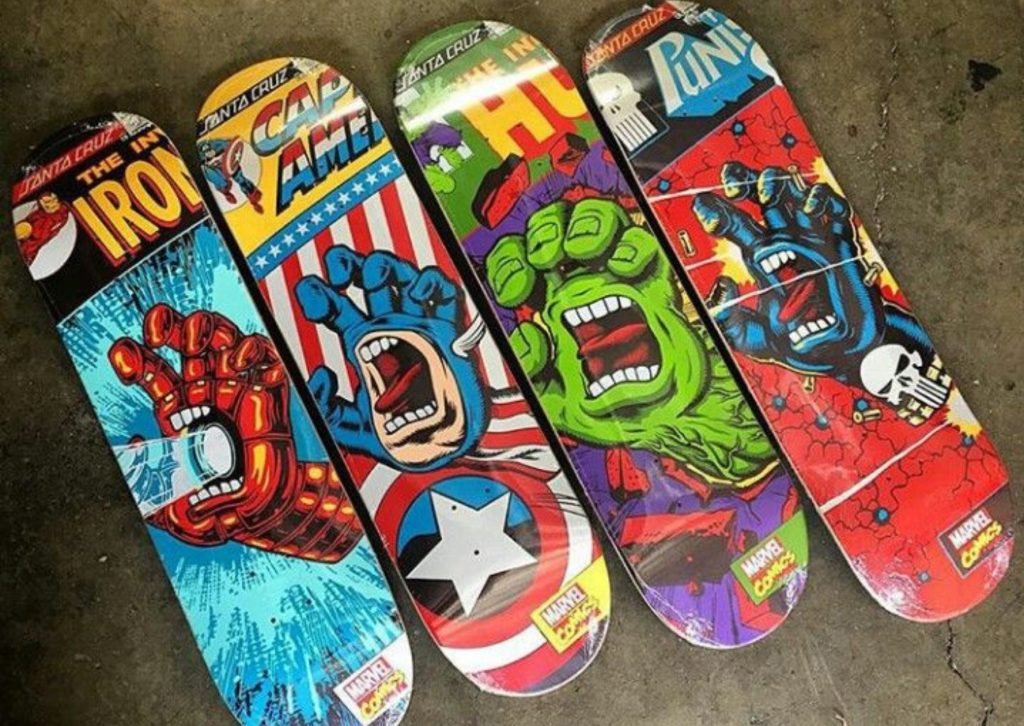 One of the things that sets Santa Cruz decks apart from other brands is the quality of their construction. They use premium quality maple wood to ensure that each deck is strong, sturdy, and able to handle all the abuse you can throw at it even if you are an aggressive skater.
Additionally, the decks are coated with a special resin that helps to protect them from moisture and other environmental factors, making them resistant to warping or other damage.
Perhaps the most impressive thing is their durability. Even after a lot of use, they hold up incredibly well. The deck doesn't lose its pop or stiffness, and the graphics don't fade or scratch off easily.
Whether you prefer a wider or narrower deck, or if you have a specific length or wheelbase in mind, you are likely to find a Santa Cruz deck that meets your needs. Personally, I prefer a wider deck, and the Santa Cruz decks I've used have always felt great under my feet.
Most popular Santa Cruz skateboard decks:
Screaming Hand Deck
Classic Dot Deck
Rob Roskopp Face Skateboard Deck
Jason Jessee Neptune Deck
Erick Winkowski Dope Planet Skateboard Deck
Read the features of the best skateboard decks on the market.
Santa Cruz Slime Balls Wheels Reviews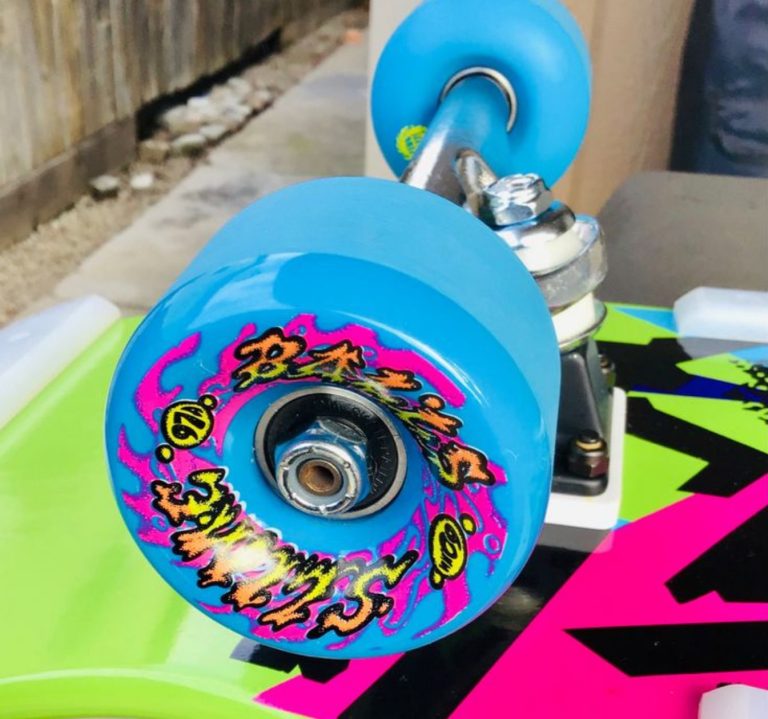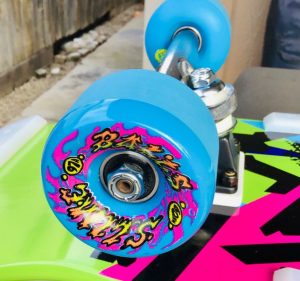 You might have not heard a lot about them but trust me, they are worth the ride. From offering smooth rides on various terrains to solid grip and control while speeding, the Slime Balls wheels are worth every penny of your hard-earned money.
The sizes available range from 54mm to 60mm, with different widths and shapes to fit various board setups. The durometer options also vary, with 78a being the softest and 97a being the hardest. You can choose the perfect size and durometer to suit your individual preferences and needs.
In my personal experience, I've tried both the 54mm and 56mm sizes with a 78a durometer and they performed exceptionally well for my style of skating. However, I have friends who prefer the 97a durometer for a more solid and responsive ride. It really depends on your individual preferences and the type of skating you enjoy.
A drawback that I've noticed is that the wheels wear down faster than expected, especially if they skate on rough or abrasive surfaces frequently.
Santa Cruz Screaming Hand Complete Skateboard Review
Santa Cruz Screaming Hand complete skateboard is a true legend in the skating world. Not only does it look cool as heck with its iconic Screaming Hand graphic on the deck, but it's also built with high-quality materials and construction, making it a fantastic investment for both beginners and experienced skaters alike.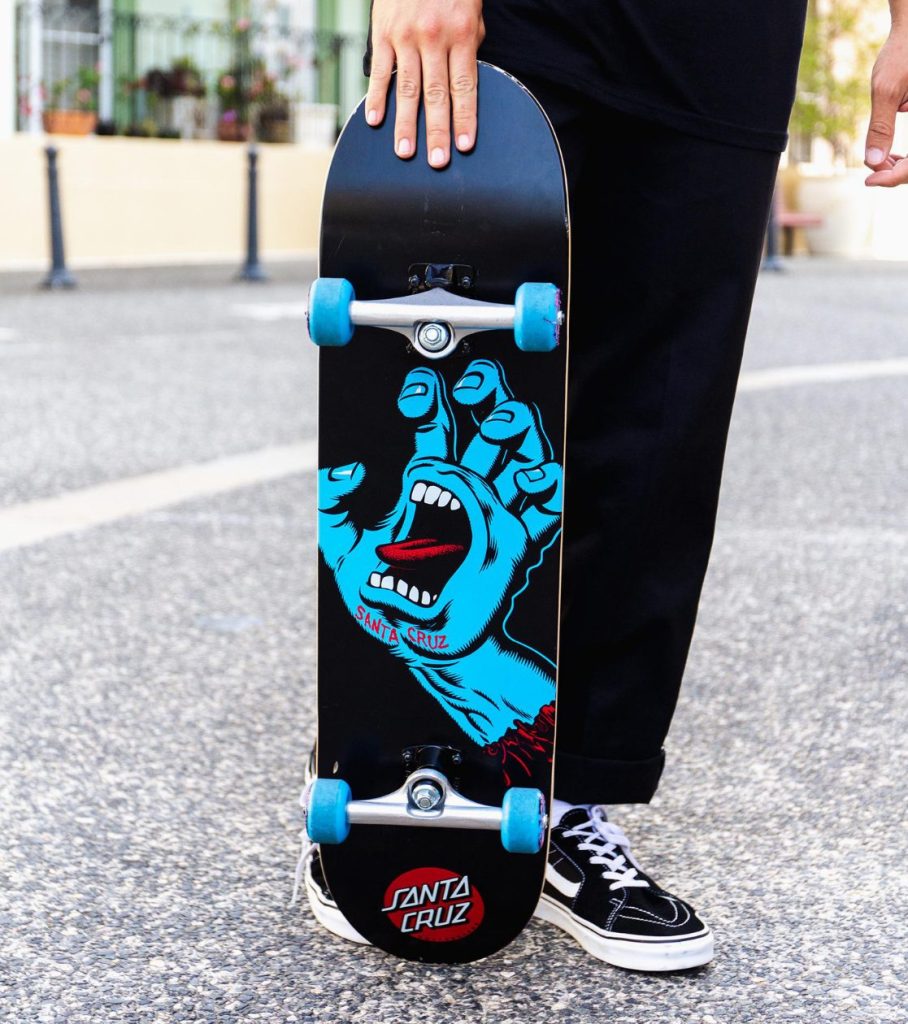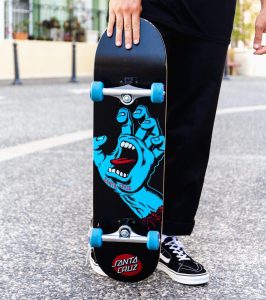 Let's start with the basics. The board comes in a range of sizes, from 7.75 inches to 8.25 inches, so there's something for everyone. The deck is made of 7-ply 100% North American maple, which is known for its durability and strength.
But it's not just the deck that makes the Screaming Hand Skateboard a great choice. The board also comes with Bullet Trucks, which are made of lightweight, aircraft-grade Aluminum, they're strong enough to withstand any tricks or jumps you can throw at them. They're also adjustable, and offer excellent stability while riding.
The wheels make them great for street skating and cruising, but they're also hard enough to provide excellent speed and grip. You won't have to worry about slipping or sliding while riding these bad boys.
Overall, the skateboard is a fantastic investment, it's versatile enough to suit a range of skating styles and terrains, and cool enough to turn heads.
Santa Cruz VX Complete Skateboard Reviews
The VX skateboards are made with a unique construction method that combines the best features of traditional wood and modern technology, resulting in a board that's stronger, lighter, and more durable than ever before.
The secret to the VX skateboard's strength lies in its construction. The deck is made of 5 layers of maple wood, fused together with epoxy resin and 2 layers of fiberglass. This creates a board that's not only stronger and more durable than traditional wood, but also significantly lighter.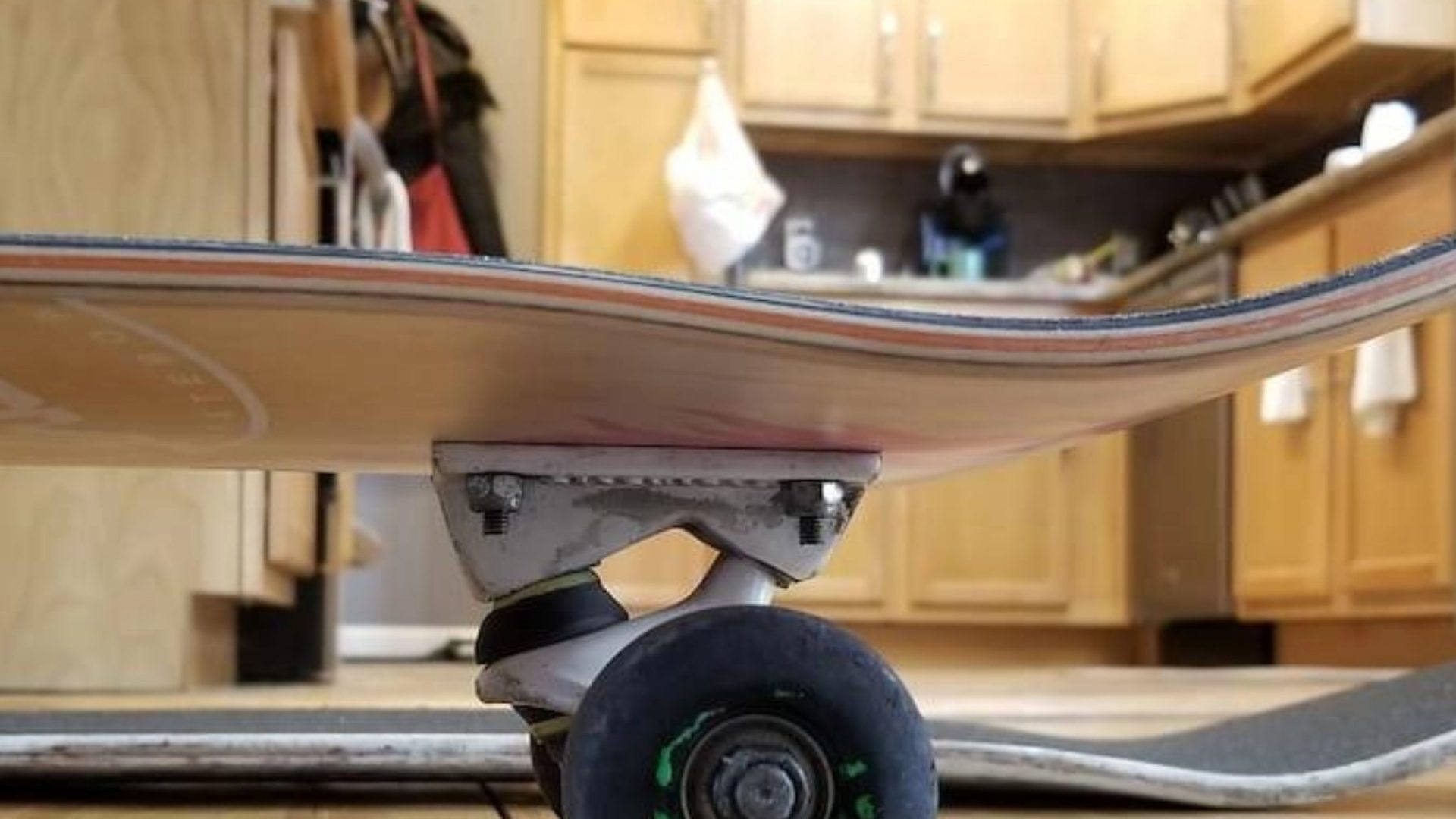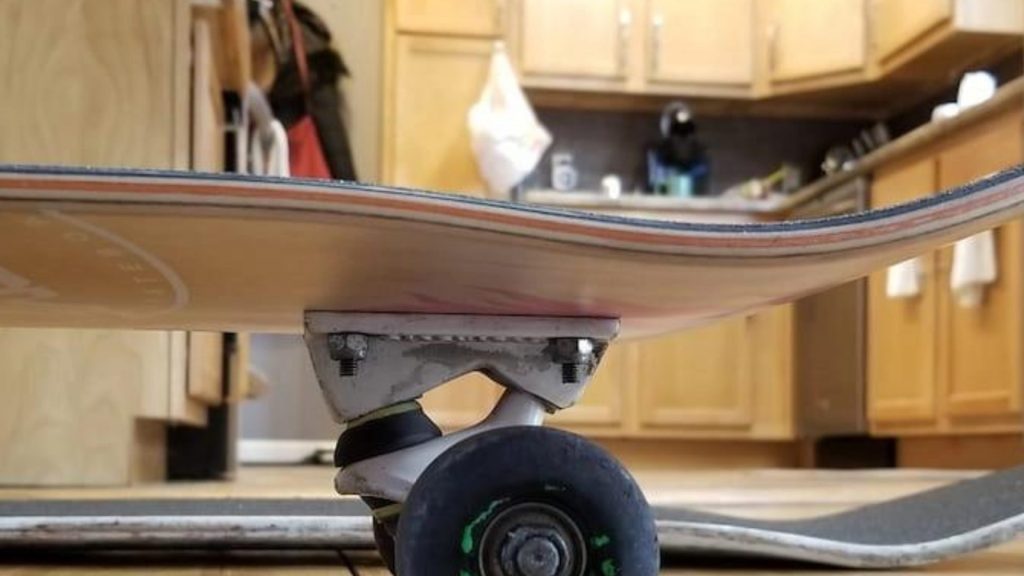 As a result, it becomes a thinner board that allows for a more responsive ride. I also felt an excellent pop, making tricks and maneuvers easier to perform. The board's shape and size are also suitable for a variety of riding styles, from cruising around town to hitting up the skate park.
Another benefit is its increased durability. Because the board is made with multiple layers of wood and reinforced with fiberglass, it's less likely to break or warp over time.
The trucks and wheels are the same as Screaming Hand boards, made of lightweight, yet strong, aluminum.  The wheels are constructed with urethane, but again they aren't very strong and will not last long on the asphalt surface.
Santa Cruz VX is considered the most indestructible skateboard
Santa Cruz VX Deck VS. Powell Peralta Flight Deck
Let's take a look at how these two stack up against each other.
Construction
First up, the Santa Cruz VX deck is made using innovative VX Technology, which involves seven layers of material, including five layers of North American maple wood and two layers of aerospace-grade fiberglass. This construction method makes the deck incredibly strong and lightweight, with excellent pop and responsiveness.
When I first stepped on the deck, I immediately noticed how responsive and nimble it felt. It's great for performing tricks and maneuvers, and the aerospace-grade fiberglass layers make it really durable too. After months of skating on it, it still looks and performs like new.
The Powell Peralta Flight deck, on the other hand, uses a similar construction method, but with carbon fiber instead of fiberglass. This makes it even lighter and stronger than the Santa Cruz VX deck, but also more expensive.
After riding it, I felt like I could jump higher and spin faster than ever before. It's definitely a high-performance deck that's great for hardcore skaters who demand the best.
Performance
Both decks offer excellent stability and control. The Santa Cruz VX deck's thinness allows for a more responsive ride, while the Powell Peralta Flight deck's extra-lightweight construction provides an even more nimble ride.
Both decks are suitable for performing tricks and maneuvers at the skate park, but the Powell Peralta Flight deck's extra-strength may give it an edge for more hardcore skaters who put their decks through the wringer.
Durability
When it comes to durability, the Santa Cruz VX deck is known for being incredibly strong and long-lasting. The aerospace-grade fiberglass layers provide excellent impact resistance, making it able to take a beating without showing signs of wear and tear.
The Powell Peralta Flight deck, meanwhile, is even stronger due to its carbon fiber layers, which makes it even more durable than the Santa Cruz VX deck.
Price
However, the Powell Peralta Flight deck's extra strength and durability come at a higher cost. It's definitely more expensive than the Santa Cruz VX deck, which is already a solid choice for a more affordable high-performance deck.
Are Santa Cruz Skateboards Good for Beginners?
Absolutely! Santa Cruz complete skateboards are a great option for beginners looking to get into the world of skateboarding.
Not only are they a well-respected and established brand within the skateboarding community, but they also offer a range of high-quality skateboards that are specifically designed with beginners in mind.
Beginners are likely to fall quite a bit and put their skateboards through some wear and tear. Santa Cruz Skateboards are designed to withstand wear and tear, which means you won't have to replace your board as frequently as you might with other brands.
Another standout feature is their stability and ease of use. The boards are designed to be easy to balance and maneuver, which makes it easier for beginners to learn basic tricks and get comfortable on their boards.
This can help boost confidence and motivation, making it more likely that beginners will stick with skateboarding as a hobby.
Wrapping Up
After taking a deep dive into Santa Cruz skateboard reviews, it's clear that the brand lives up to its reputation. From classic designs to innovative technology, Santa Cruz Skateboards have proven to be a reliable choice for skaters of all levels. They are strong and durable, making them a great choice for skaters of all levels.
So, are Santa Cruz Skateboards worth the price? Yes, absolutely! While the brand may be a bit more expensive than some of its competitors, the quality and durability of the boards make them worth the investment.
Frequently Asked Questions: (FAQs)
Are Santa Cruz skateboards good quality?
Indeed! Santa Cruz skateboards are known for their high-quality construction, durability, and long-lasting performance.
Are Santa Cruz skate decks good?
Yes, they are! Santa Cruz skate decks are some of the most popular and sought-after decks in the market. Their iconic graphics, sturdy construction, and smooth ride make them a great choice for skaters of all skill levels.
Are Santa Cruz boards good for beginners?
Santa Cruz offers a wide range of skateboard options that are perfect for beginners. Their complete skateboards come with high-quality components and are designed to provide a smooth and stable ride, making it easier for beginners to get the hang of skating.
Do Santa Cruz skateboards have good pop?
Santa Cruz skateboards are famous for their excellent pop, which is essential for performing tricks. Their boards are designed to provide a crisp and snappy pop, making it easier to execute tricks and jumps with ease.