A skateboard is a perfect gift for children to help them interact with their active friends. It also improves stability and masters the body and mind coordination. And if you are thinking to introduce young kids to skateboarding, we have found the best skateboard for beginners kid and aspiring skaters after testing a variety of skateboards. These boards are easy to balance and safe to ride.
Maintaining your balance on a skateboard is the biggest challenge of skateboarding. My 11 years old younger brother took 3 weeks to properly stand on a moving board after hitting the ground multiple times. Hence, let go of the fear of falling and do not give up – learn how to ride a skateboard the right way!
We believe Beleev makes the right skateboards for beginner kids!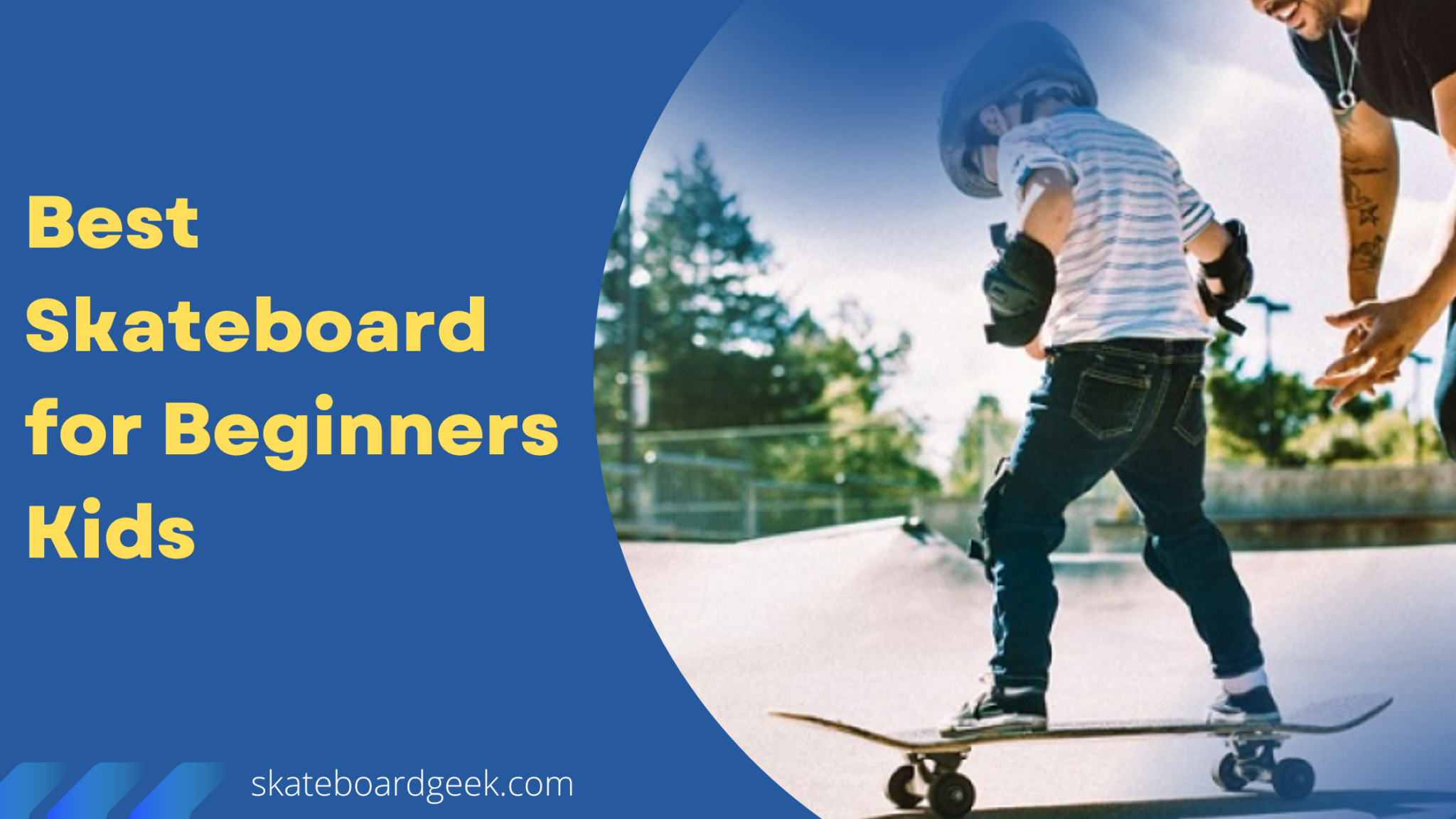 Note: Always use protective gear while skateboarding whether you are a beginner or pro-level skater.
10 Best Skateboards for Beginners Kid and Early Teens
Here is a list of the best skateboards for beginner kids and early-age teen children. These boards are safe and easy to ride and perfect for kids who are just learning to ride a board.
| No. | Skateboard for Beginners Kid | Quality | Price |
| --- | --- | --- | --- |
| 1 | Beleev Skateboard | Best for Beginner Kids | |
| 2 | SkateXS Unicorn | Best Skateboard for Young Skaters | |
| 3 | Magneto Skateboard | Easy to Balance | |
| 4 | MEKETEC Skateboard | Best for Beginner Youth | |
| 5 | PHOEROS Starter Skateboard | Best for Teen Skaters | |
| 6 | WhiteFang Skateboards | Safe to Ride | |
| 7 | Cal 7 Complete Mini Cruiser | Best Mini Cruiser Board for Kids | |
| 8 | ChromeWheels Double Kick Skateboard | Best for Learning Tricks | |
| 9 | RIMABLE Board for Aspiring Skaters | Best for Young Boys and Girls | |
| 10 | Playshion Skateboard | Cheap Board for Beginner Kids | |
Note: According to the American Academy of Pediatrics (AAP), the recommended age is 6 years for a kid to start skateboarding. Kids start to develop focus and patience at this age, and it is the perfect time for learning anything from academics to sports like skateboarding.
Top Picks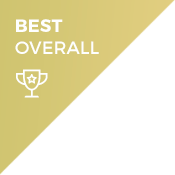 ★★★★★
Beleev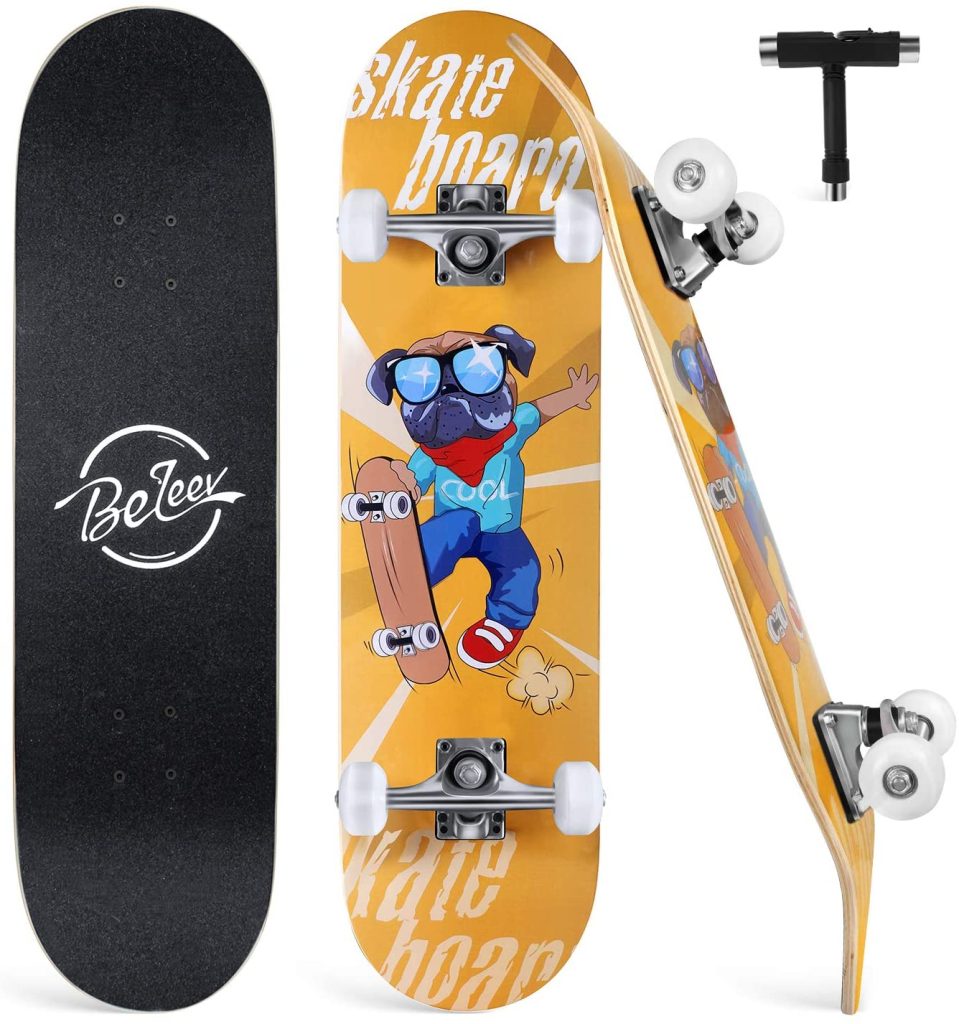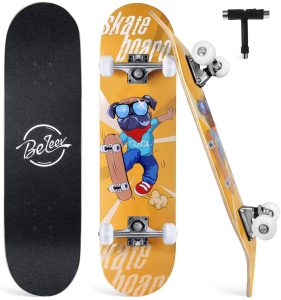 7 layer Canadian maple
55mm 95A high-rebound wheels
ABEC-7 precision bearings
"Best for Beginners Kids"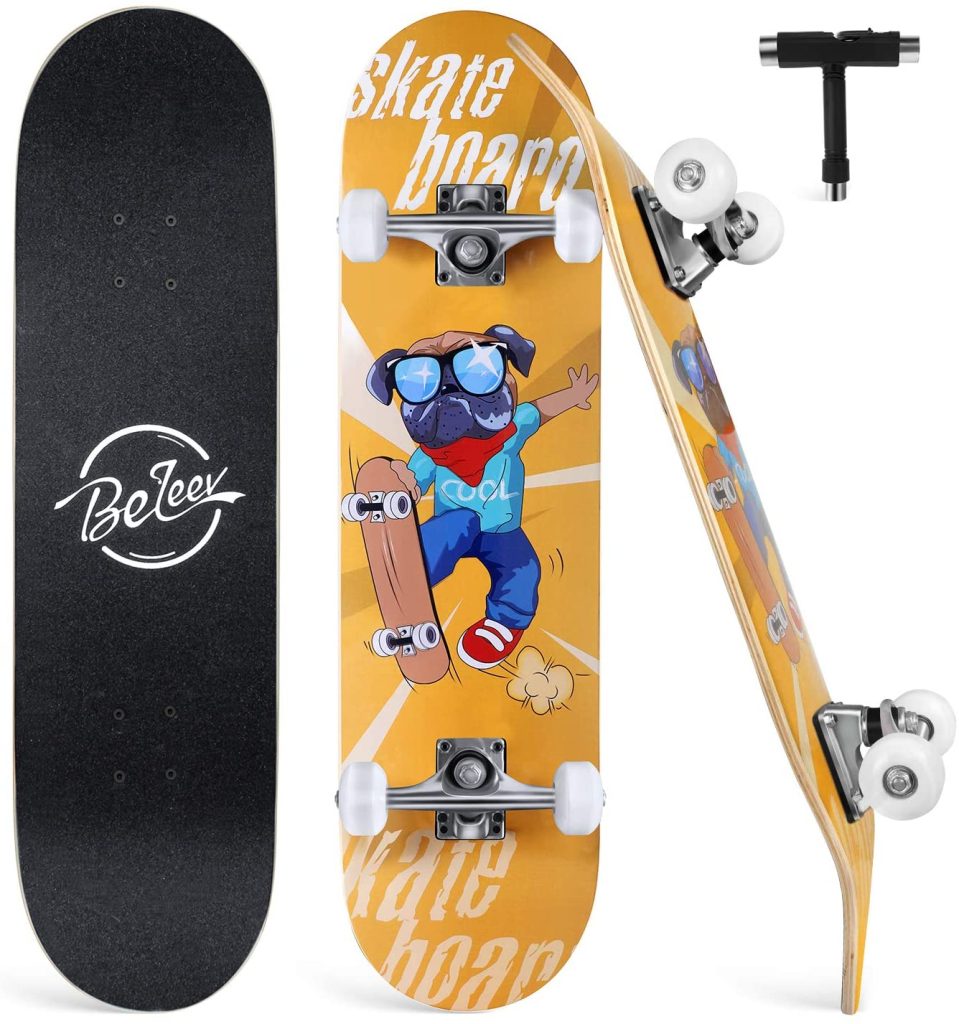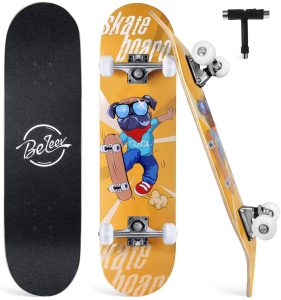 The Beleev Skateboard is a great choice for beginner kids. It comes fully assembled and ready to ride, with a durable construction that can withstand riders up to 220 pounds.
The board features anti-slippery wheels for maximum safety, high-speed bearings, and superior shock absorption for a smooth ride. The creative and eye-catching graphic design will make your child stand out among their friends.
We selected it at top of the list because of its symmetric concave with a double kick design. It is engineered to distribute balanced energy from heel to toe that offers great control to the rider.
Key Specs:
Size: 31 x 8 inch
7 layer Canadian maple wood construction
5-inch heavy-duty aluminum alloy trucks
Symmetric concave design with double kicks
Waterproof emery non-slip grip tape – awesome traction
Anti-slippery 55mm 95A high-rebound PU wheels
High speed ABEC-7 precision bearings
Long-lasting heat transfer printing onto the board
We highly recommend Beleev skateboards for beginners kids and teens. They have super cool designs and are super smooth to turn. Their complete boards come with serious wheels that are good for streets and parks.
Pros
Comes fully assembled and ready to ride
Lightweight durable construction
Shock absorbent anti-slippery wheels
Suitable for all age skateboard riders
Strong traction due to waterproof and scratch-resistant grip tape
Steady rides with good control and balance
Cons
Make sure to tighten the trucks as you receive
Not good for learning hard tricks
A verified purchaser at Amazon says, "I got this board for my 18 year old daughter and we were both extremely impressed by it. At such a low price compared to other skateboards (around 100 dollars), it's amazing how good it was. The design was super cool and the turns were super smooth. It's a great board for both beginners as well as experienced skaters, and I couldn't be more pleased.".
Also read the features of the best skateboards for beginners.
"Best Skateboard for Young Skaters"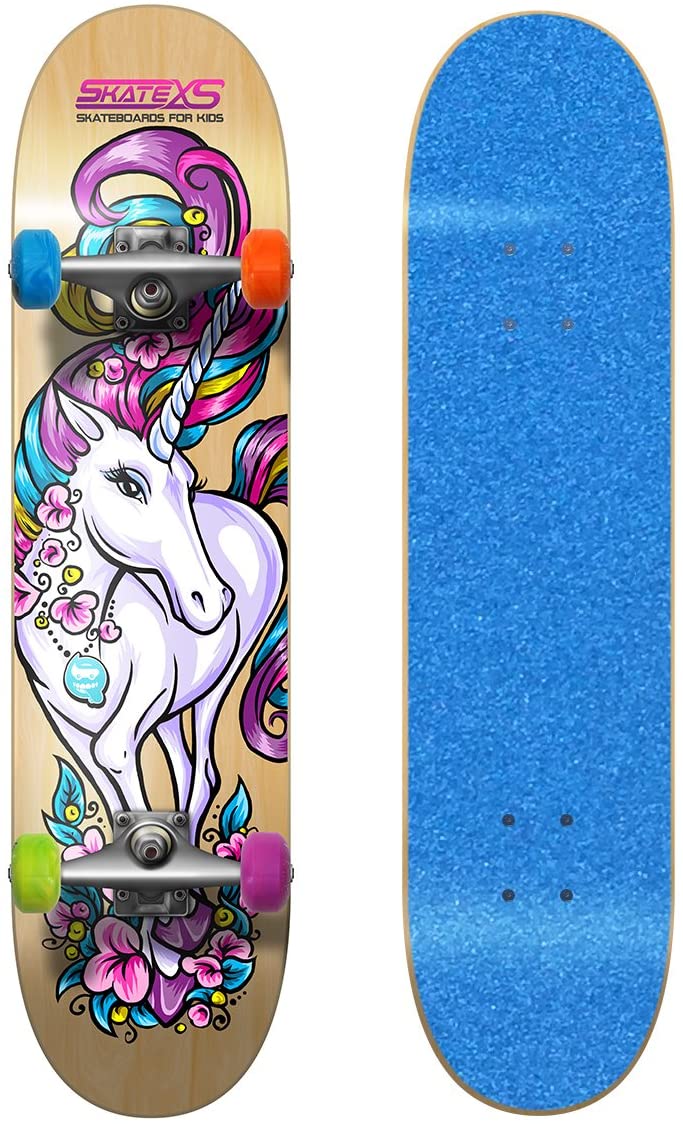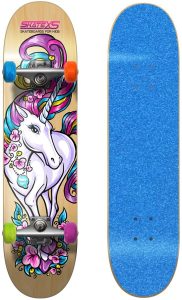 The SkateXS unicorn is ideal for young skaters and especially designed with quality components to skate in the streets. This is a high-quality setup that provides boys and girls with a board that can take them from their very first pushes in the street to the most advanced tricks and obstacles throughout the skate park.
The build quality meets the traditional boards that are used in competitions such as the X-Games.
We like the fact that the SkateXS brand has sized its decks specifically for younger skaters to make them easier to balance and maneuver. Kids can learn to ride a board more safely and are able to advance their skills more quickly on properly sized skateboards.
Note: SkateXS designs skateboards for kids aged 5 to 12 years.
Key Specs:
Size: 7″ x 28″, 25″ x 29″, 7.4″ x 30″
Environment-friendly bamboo deck with great pop
Lightweight trucks with hollow kingpins and softer bushings
SkateXS brand versatile 53mm wheels with 90A
High performance pre-lubed ABEC-7 bearings with removable shields
Premium quality strong grip tape with a choice of color
SkateXS boards are well-built, solid and reliable. These boards ride and turn smoothly. However, bearings aren't very fast, but that's what we want – beginner kids should not speed!
Pros
Properly sized skateboard for kids
Lightweight construction for easy handling
Ready to skate out of the box
Built like a real skateboard
Best suited for young girls
Cons
A bit costly for beginners, but worth the price
SkateXS Skateboard for Beginners Kids
"Easy to Balance"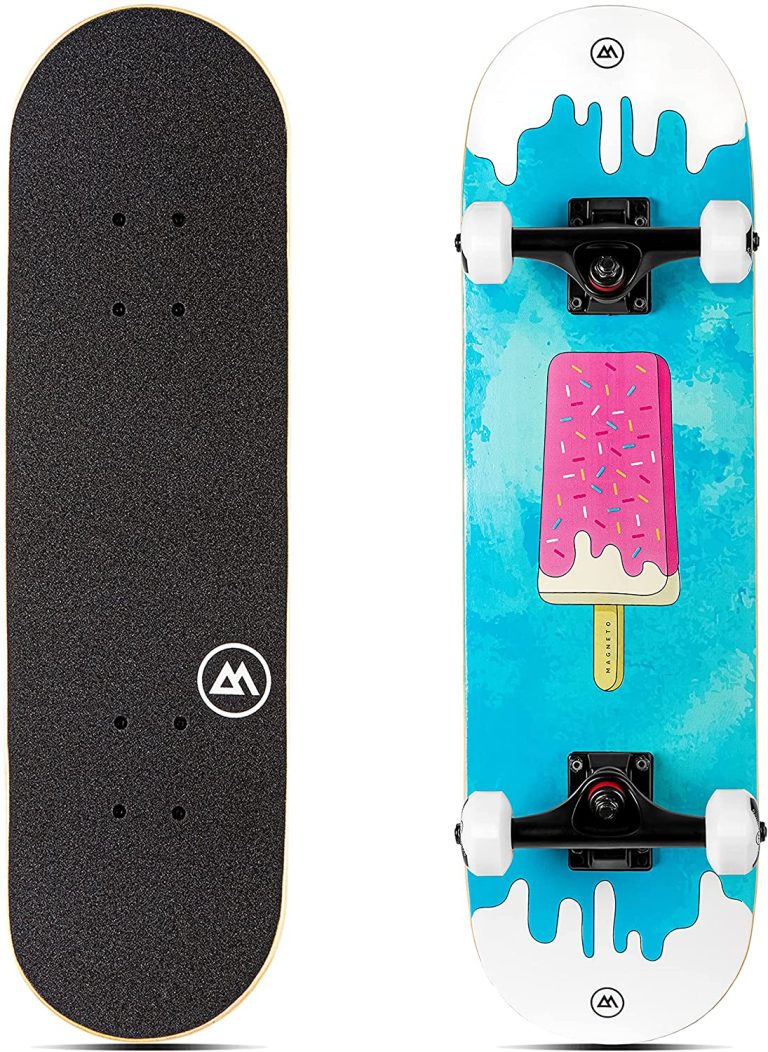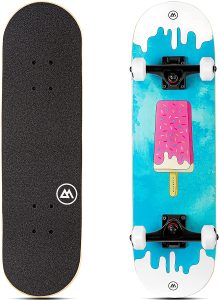 The Magneto kids skateboard is indeed the best skateboard for beginners kids aged 6 to 15 years old. It is made of high-quality maple wood and comes with double kicktails with a shallow concave for added comfort while skating.
Plus, the wheels are made of super-soft, high-rebound urethane that makes the ride smooth and extra stable.
My younger brother (11 years old) says, "The board is easy to balance and safe to ride". He found the Magneto kids board a lot easier to ride. With its great pop deck, we recommend it as the perfect first skateboard for youngsters.
Key Specs:
Size: 27.5 x 7.75 inches
The deck is made of 7 plies of hard maple with double kicktails and a shallow concave
5 inches Gravity Cast aluminum trucks paired with steel axel
High-rebound 52mm Polyurethane wheels with 95A hardness
Super durable grip tape for enhanced traction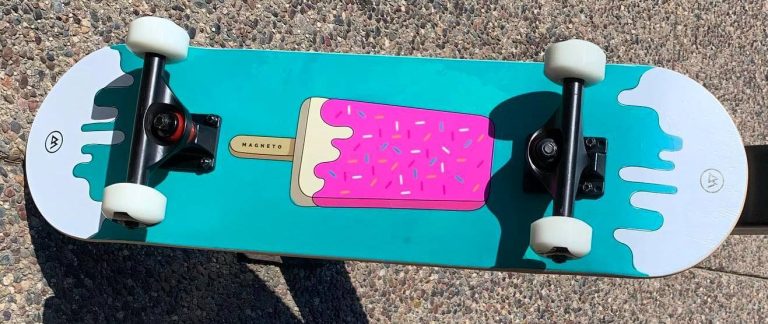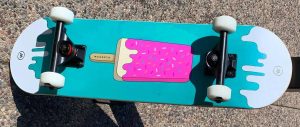 We found it a great training board, going over cracks and uneven surfaces without any difficulties. Its multi-layered wood deck with solid metal trucks, ABS wheels and decent bearings make them ideal for learning skateboarding.
Pros
The shallow concave adds up the comfort
Perfectly sized for kids
Stable and a lot easier to balance
Super soft wheels for enhanced stability
Cons
The first board we received was not lined up, had to exchange
"Best for Beginner Youth"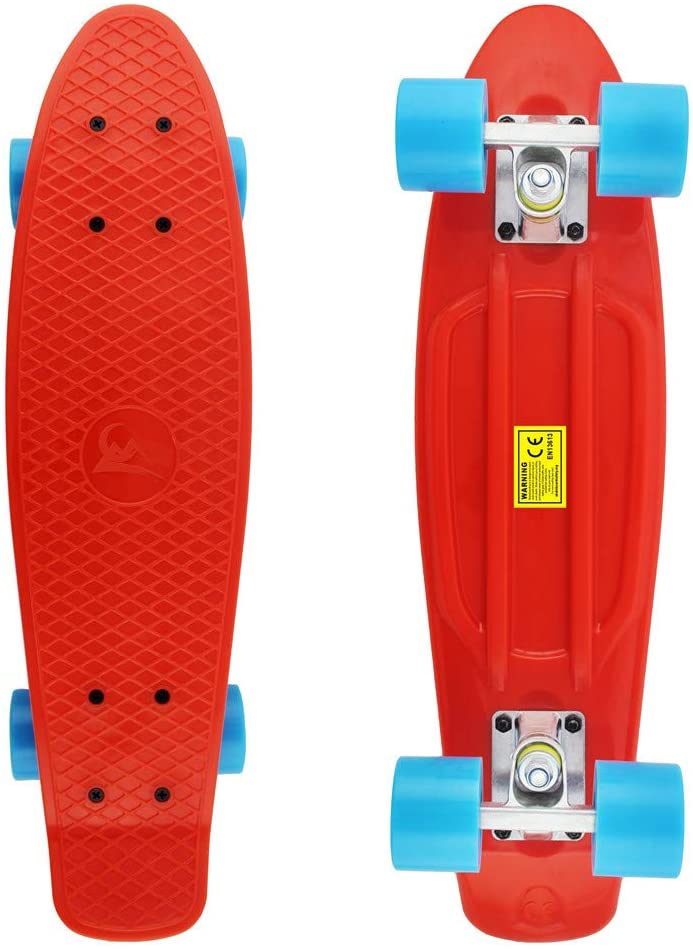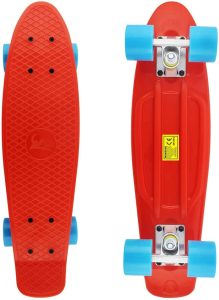 The Meketec 22-inch mini-cruiser retro skateboard is a perfect board for youth riders who are looking to get into skateboarding. It is a great choice for cruising around the neighborhood or rolling on any terrain.
The board is equipped with high-speed ABEC 7 MEKETEC bearings and 60mm polyurethane wheels to provide a smooth and stable ride.
The deck is made of durable polypropylene and can support up to 200 lbs. This well-built skateboard is CE certified, safe to ride and suitable for entry-level riders.
Key Specs:
Size: 22.5 x 6 inch
The deck is made of high-quality durable polypropylene
60mm PU wheels with 78A hardness level
25″ heavy-duty, high-quality aluminum trucks
High-speed ABEC 7 MEKETEC bearings
60mm urethane wheels
These boards are highly build to enhance confidence. They are good for learning balance, gaining momentum for performing tricks, and are easy to manipulate for doing turns. But we won't recommend it for hard landing tricks.
Pros
Bendable and sturdy polypropylene deck
CE certified and safe to use
Comes equipped with 4 smooth and soft casters
Cheap skateboard for beginner kids
Stable board and rolls smoothly
Cons
Too small, not suitable for bigger size kids
Not good for hard landings
"Best for Teen Skaters"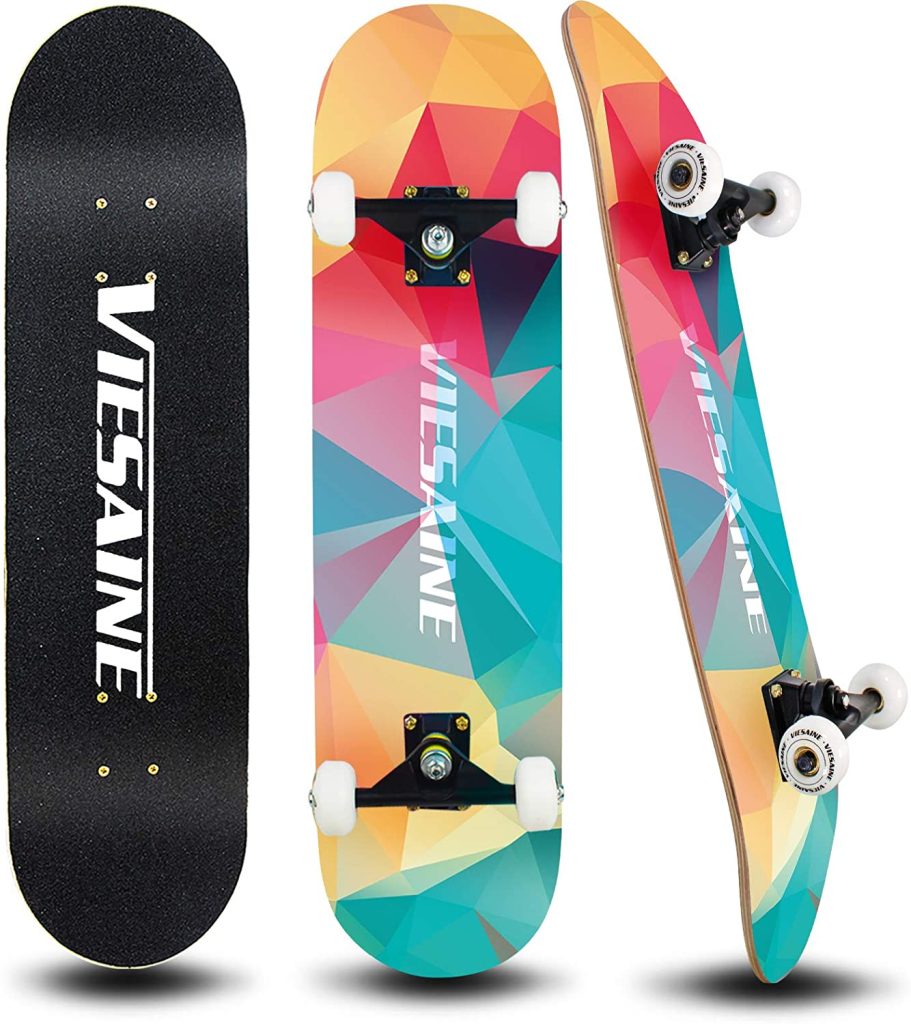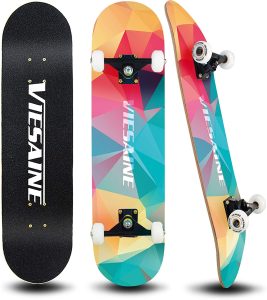 The PHOEROS standard skateboard is a great choice for teen skaters. It is designed with durable Canadian maple to ensure reliability. The PU wheels are high rebound and silent with a strong grip.
The aluminum alloy truck is thick and supports balance and stability. Additionally, the non-slip and waterproof emery sandpaper makes it safer for riders.
After multiple test rides, we experienced that its U-shape design provides easy power and stability.
Plus its PU dumping control break helps control the speed in emergency conditions and makes it safe to ride.
Key Specs:
Size: 31 x 8 inches
Made of 7 layers of durable Canadian maple
High rebound 53mm PU wheels with a strong grip, 95A hardness
Durable aluminum alloy truck for balance and stability
Smooth, high-speed PU bearing with ABEC-11 rating
Non-slip, waterproof emery sandpaper for safety
Apart from being lightweight, this is by far one of the sturdiest skateboards. Durable deck, fast bearings and the wheels are strong that will withstand any drop that a kid may have. However, it is not suitable for bigger sized new skaters.
Pros
Wide deck, suitable for kids as they grow
Smooth and stable rides
Strong enough to withstand hard landings of tricks
Comes with a carry case
Cons
You'll need to adjust the trucks before riding
A bit heavier for small kids
"Safe to Ride"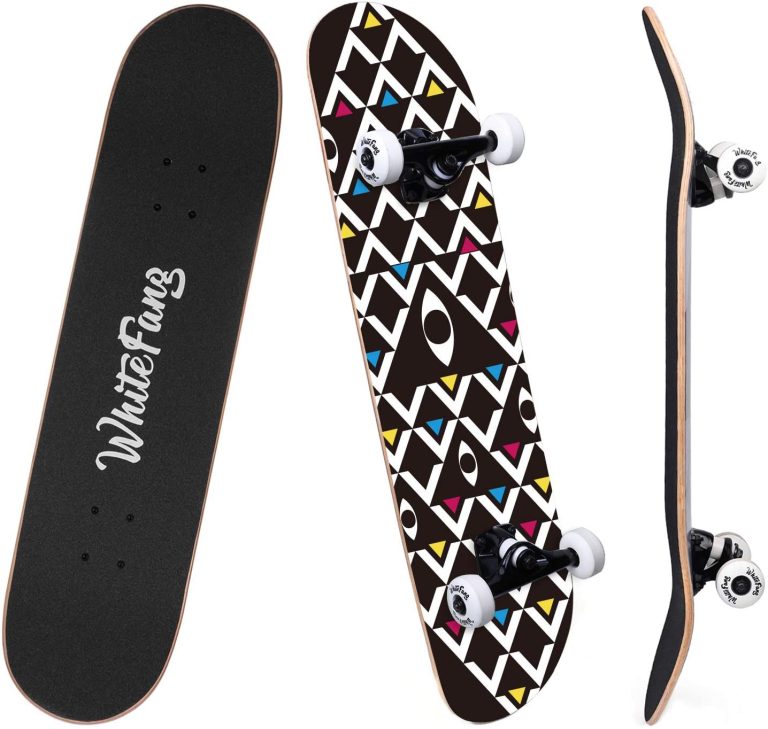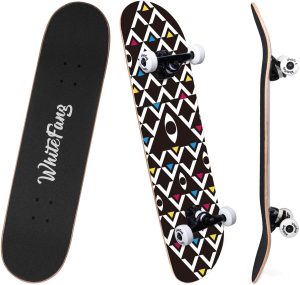 The WhiteFang skateboard is a great choice for beginner teens. Its strong and durable Canadian maple deck can support a maximum weight of 330 pounds. It comes with smooth and speedy 52mm high rebound PU wheels and bushing, making it easy to maneuver.
Its minimalist graphic design is printed with a thermal transfer printing process, allowing for greater print durability.
The feature to appreciate is its double kick concave design combined with the customizable emery sanded grip tape that gives your feet enough locked feeling. Certainly, it provides a great grip for helping you learn new tricks quickly.
Key Specs:
Size: 31.75″ x 7.88″
The deck is constructed with 7-layers of Canadian maple wood
5-inches magnesium alloy trucks
52mm PU wheels with 95A hardness
ABEC-9 precision bearings and high rebound PU bushing
Customizable emery sandpaper grip tape
My 10 years brother rode this board and found it quite comfortable. It is perfectly sized keeping young riders in mind, suitable for all-terrains and smooth for practicing tricks.
Pros
Professionally assembled and ready to ride
Thermally transferred prints for long-lasting designs
Suitable for both girls and boys
All-terrain skateboard, perfect for street, park and pool
Smooth and good for practicing tricks
Cons
Trucks may need tightening after a few rides
The deck chipped from corners while skating on stairs – not impressed!
"Best Mini Cruiser Board for Kids"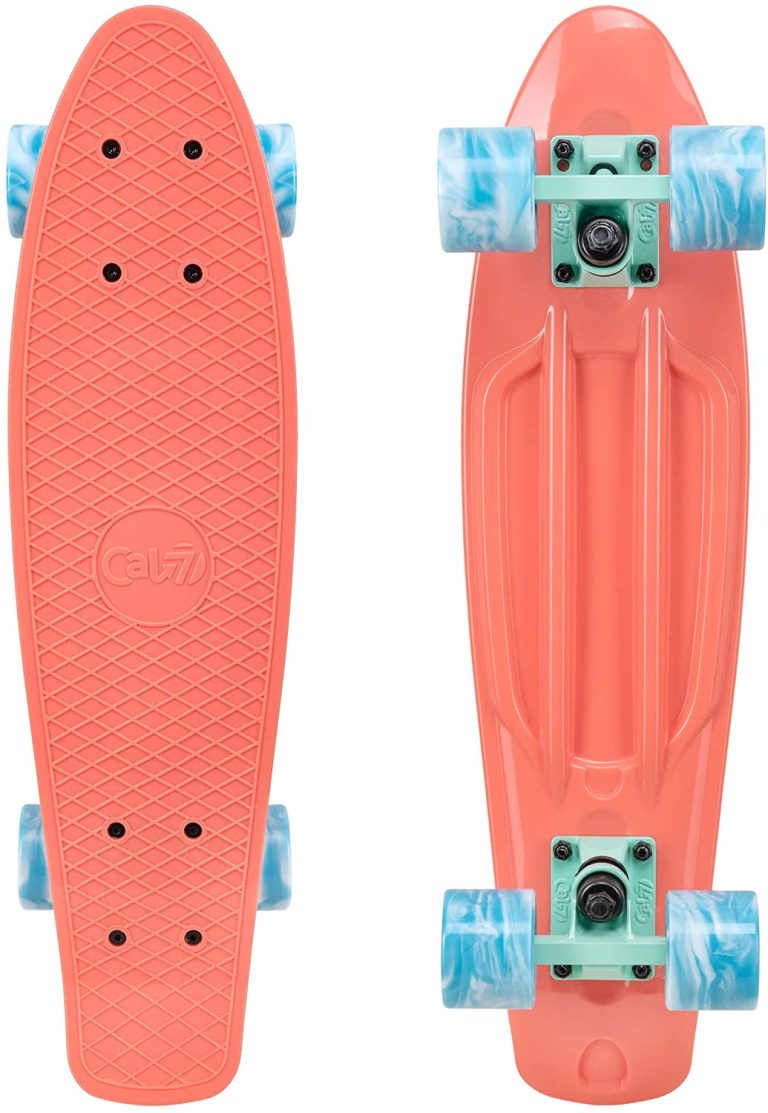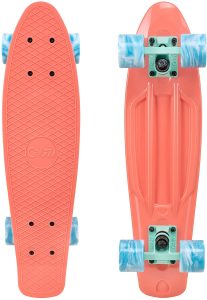 Looking for the perfect gift for an aspiring skater? Look no further than the Cal 7 mini cruiser skateboard. With a lightweight and durable plastic deck, super-smooth wheels, and high-grade bearings, this board is perfect for kids of all ages.
So, whether you are cruising around town or hitting the skate park, this board will give you a smooth, fast ride and keep you looking stylish and confident.
Cal 7 mini cruisers are colorful and lightweight boards that most kids love riding. With its large size wheels and stiff board, your child will definitely have safe travels.
Key Specs:
Size: 22.5 x 6 inches
Plastic deck for easy portability and storage
125″ aluminum alloy trucks for added stability and durability
ABEC-7 bearings for a smooth and fast ride
60mm wheels with 78A hardness give excellent grip on both paved and uneven surfaces
Upgraded premium ABEC 7 bearings for increased performance and durability
We advise kids to start skateboarding with Cal 7, it is cheap and rides super smooth, very easy to turn. Its large soft wheels help with easy cruising. But remember, you will need to loosen up the trucks and wheels a bit to ride it perfectly.
Pros
Lightweight and durable plastic deck
Smooth, fast ride with high-grade bearings
Absorbs shocks on rugged roads
Large speedy wheels with extra grip
Available in multiple colors
Cons
Not good for big size kids
Bearings are poor quality
"Best for Learning Tricks"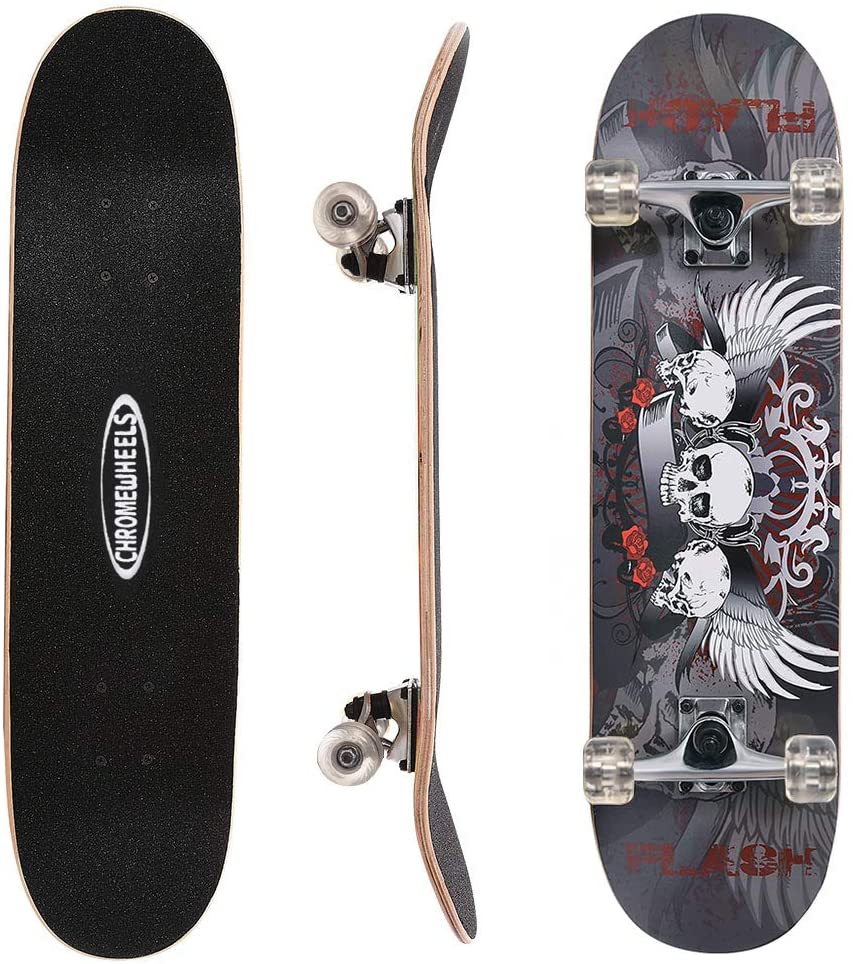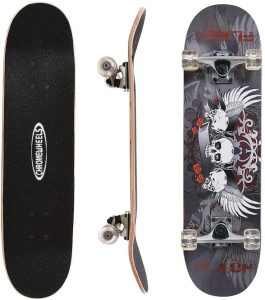 ChromeWheels skateboard is a great option for beginner skaters who are looking for an easy-to-ride and stable board to learn tricks.
This board is made with high-quality materials, including a thick aluminum truck and steel axle, which makes it sturdy and durable. The anti-shock wheels and PU bushings provide a smooth ride and make it easy to maneuver.
We found this board super stable and it boosts the confidence to skate with freedom. Its strong constructed deck along with other components makes it suitable to practice tricks on multiple surfaces including stairs, rails, pools and vert, etc.
Key Specs:
Size: 31 x 8 inch
8 layers maple wood deck with a double kick for optimal control and grip
50mm anti-shock PU wheels with 90a hardness
ABEC-7 high-performance silence bearings
Carrying bag included for easy transport and storage
High-grip anti-slip waterproof grip tape
Max supported weight: 100kg
With its build quality, it makes the rider feel safe on the board. This skateboard is sturdy, the wheels are smooth and roll pretty well. The board provides strong support that works great for both beginner kids and teens.
Pros
High quality construction for durability and stability
Suitable for all skill levels, from beginner to pro
Non-slip deck for confident skating
Easy to maneuver
Best suited for beginner kids to learn tricks
Cons
The print wasn't glued properly, started to peel after a couple of rides
It is too grippy and not good for speedy rides (perhaps good for kids)
"Best for Young Boys and Girls"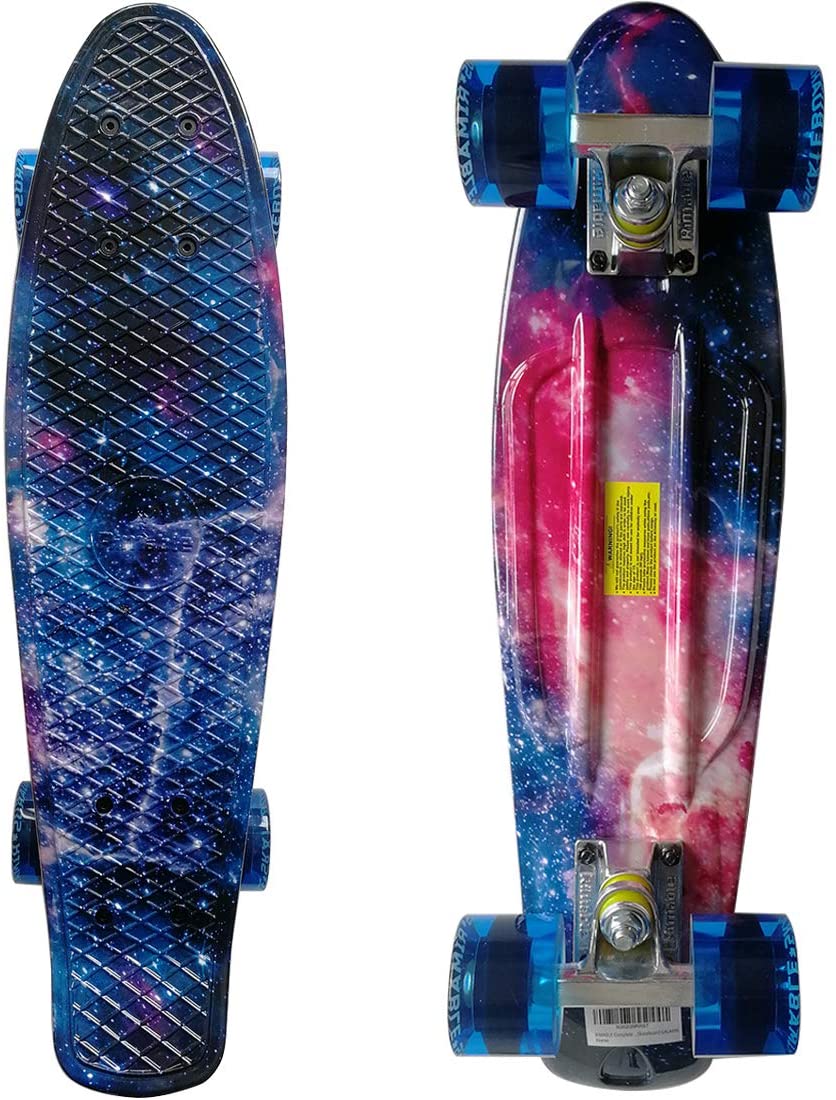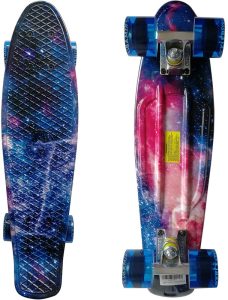 RIMABLE is a top-rated board and perfect for young boys and girls. It offers outstanding stability due to its smooth wheels. Moreover, its durable design can handle heavy loads.
With its attractive patterned design, this board is a popular choice for teens and young adults who want to express their love of skating in style.
The brand claims that they dream to make everyone a skater. Their aim is to make safe and easy-to-ride skateboards that skaters can start riding at an early age.
So, if you are looking for a high-quality skateboard that is both safe and fun for beginner kids, we highly recommend RIMABLE!
Key Specs:
Size: 22 x 6 inches
100% fresh plastic material deck
Durable and high-quality construction with a
3-inch aluminum truck
59mm urethane cored super smooth wheels with 78A hardness
High-performance precision stainless steel bearings
If you are a beginner and want to cruise around and enjoy the ride, this is it! This board is lightweight but durable. We like its nice fat wheels that provide smooth rolling over cracks and tiny rocks. Best of all, it is cost effective and offers good value for the money.
Pros
Ideal for young riders aged 6 to 12 years old
Stylish patterned design
Affordable skateboards
Lightweight and durable construction
Strong and smooth fat tires
Cons
The deck is prone to getting scratches
Wheels quality could be better
"Cheap Board for Beginner Kids"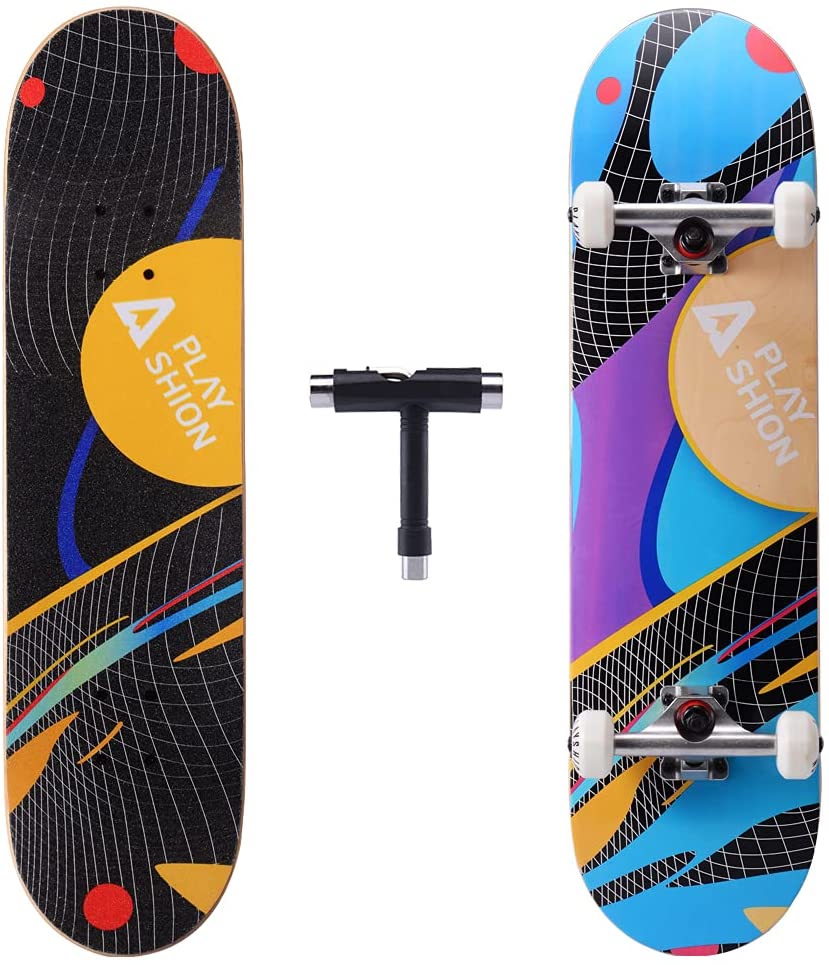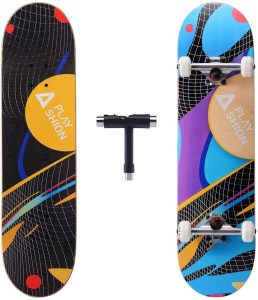 The Playshion is one of the best skateboards on the market for beginner kids. It is made of solid maple, which makes it durable and resistant to cracking. The wheels are made of polyurethane rubber that provides a smooth and stable ride on the street or at the skate park.
The trucks are also made of aluminum alloy, which is lightweight but strong, making them ideal for performing tricks.
We found this board very stable and easy to control. Its affordable price encourages aspiring skaters to get into skateboarding without spending a lot.
Key Specs:
Size: 31″ x 8″
The deck is made of 7 plies solid maple
5″ hanger trucks made of durable aluminum alloy
52mm PU rubber wheels with 92a bushing for great stability and control
ABEC-9 bearings for smooth rides
Custom designed waterproof non-slip grip tape
Keep in mind, this board is good for pre-teens just for learning to balance and ride, build quality is not reliable so we don't recommend it for speedy rides. You get what you pay for – it can still endure lots of plays.
Pros
Ideal for kids and early teens up to 220 lbs.
Comes professionally pre-assembled
Sturdy board with smooth wheels
Good grip
Suitable to learn skateboarding
Cons
The deck is a bit thin
Build quality could be better
Best Skateboard for Beginner Kids: Buying Guide
No matter which skateboard you choose to ride, a safe and durable board should be the top priority. Since the kids aren't good riders, a wider deck will be better to stand on for better stability.
Whether your child is just starting out or has some experience with a skateboard, the best skateboard for beginner kids will help them learn the ropes and master their skills.
With a wide range of features, styles, and prices to choose from, we recommend considering the following features before buying the right board for your kids;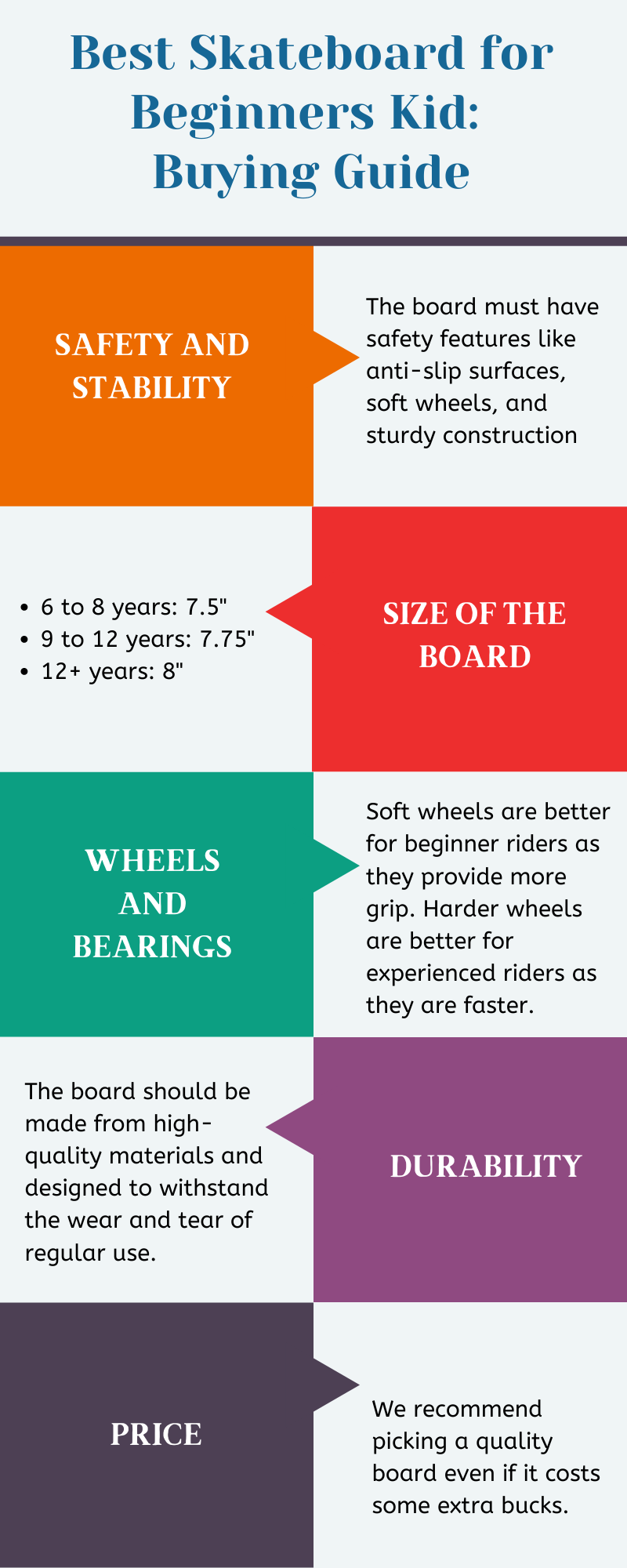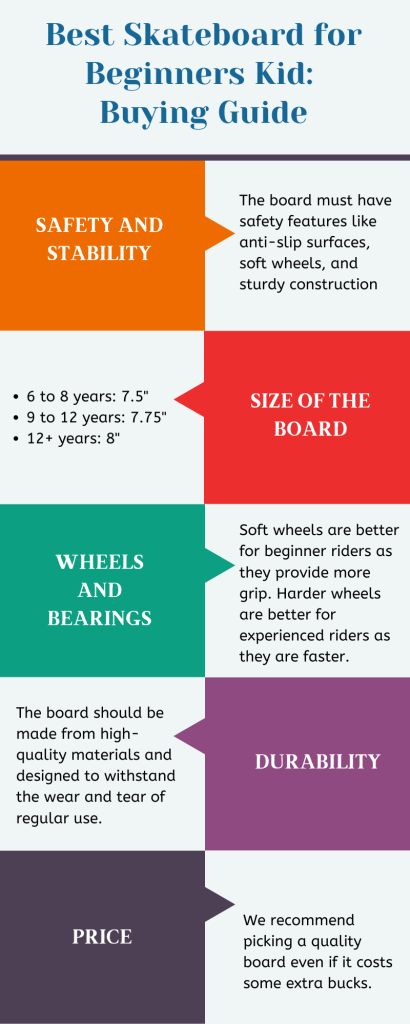 1. Safety and Stability
Look for a board that is made from high-quality materials and has safety features like anti-slip surfaces, soft wheels, and sturdy construction to ensure that your child stays safe while riding.
A skateboard should be well-balanced and easy to maneuver in order to help your child stay upright and avoid accidents.
Here's why you should ride a board.
2. Size of the Board
Depending on your child's age and skill level, look for a skateboard that is properly sized. A wider deck will be better suited for younger or less experienced riders, while smaller boards may be more suitable for older or more advanced riders.
Recommended deck's width according to age;
6 to 8 years: 7.5 inches
9 to 12 years: 7.75 inches
12+ years: 8 inches
3. Wheels and Bearings
The right wheels will make a big difference in how your child rides. Soft wheels are better for beginner riders as they provide more grip and are less likely to cause accidents. Harder wheels are better for experienced riders as they are faster and smoother.
The bearings on a skateboard determine how fast it can go. Higher-quality bearings will last longer and provide a smoother ride.
4. Durability
A well-constructed skateboard should be able to withstand regular use and abuse from kids. Look for a board that is made from high-quality materials and designed to withstand the wear and tear that comes with regular use.
5. Price
If you are looking for a high-quality skateboard that your child will love, be prepared to spend a bit more. But with so many options available, there are plenty of affordable and well-made boards out there too.
Conclusion
These are the top ten best skateboards for beginner kids which we carefully tested and selected to offer the perfect balance of safety, stability, and ease of use. Whether your child is just starting out or has some experience under their belt, these boards are sure to deliver hours of fun and excitement.
We recommend buying the complete skateboard as a beginner.
No matter which skateboard you choose, your child is sure to enjoy hours of fun skating around the neighborhood. Skateboarding is a great way to encourage active play and can help your child develop balance and coordination. With a little practice, your child will be shredding like a pro in no time!
Frequently Asked Questions: (FAQs)
What skateboard should kids start with?
There is no definitive answer to this question, as different kids will have different levels of experience and skill. However, some great options for beginner kids include the Beleev, SkateXS Unicorn and Magneto skateboard.
What kind of skateboard is easiest for beginners?
A wider deck and soft wheels are ideal for beginners as they provide more grip and stability. As your child becomes more experienced, you can upgrade to a smaller board or harder wheels for a faster and smoother ride. Some great options for beginner kids include the Beleev Complete Skateboard and the Powell Peralta Mini Cruiser Complete Skateboard.
What size skateboard should a 9 year old get?
A 9-year-old should look for a skateboard that is 7.75 inches wide. As your child becomes more experienced, you can look for a smaller board or harder wheels to improve speed and performance.
What is a good size skateboard for a 6 year old?
A 6-year-old should look for a skateboard that is 7.5 inches wide. This will provide more stability and grip, helping your child learn to balance and ride with confidence. As your child becomes more experienced, you can look for a smaller board or harder wheels to improve speed and performance.