Skateboarding is one of the most thrilling and exciting sports, and the right board can do wonders. If you are passionate about the sport and need a board that suits your style and skill level, go for a Birdhouse board. The brand makes extremely durable and responsive boards. Here, we'll take a closer look at its products and share Birdhouse skateboard reviews.
The Birdhouse brand was founded by the godfather of skateboarding himself – Tony Hawk, and it has earned a reputation for being among the best skateboard brands in the world.
Let's dive deep and review their products to explore features and specifications, and see if they're the right choice for you!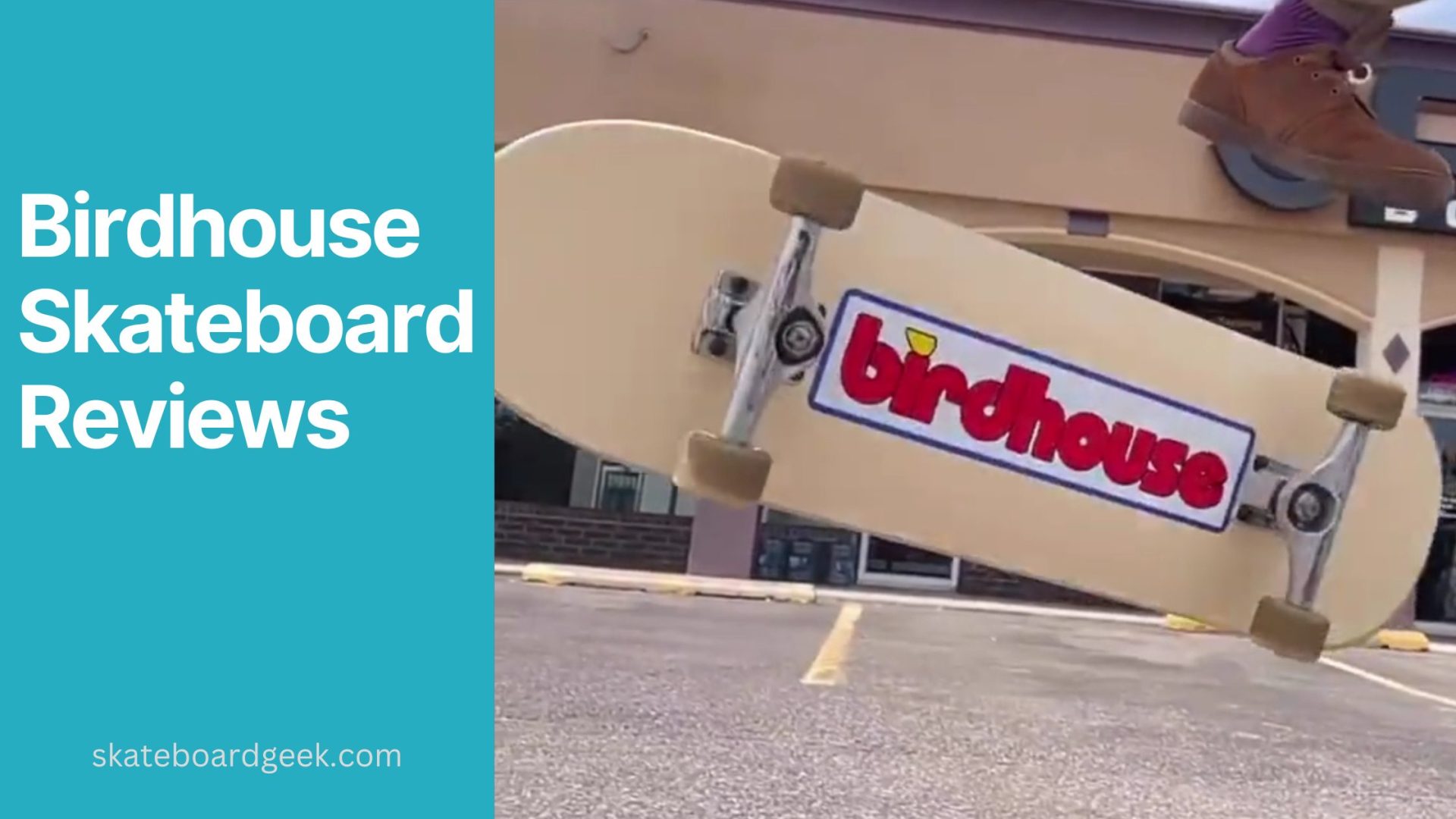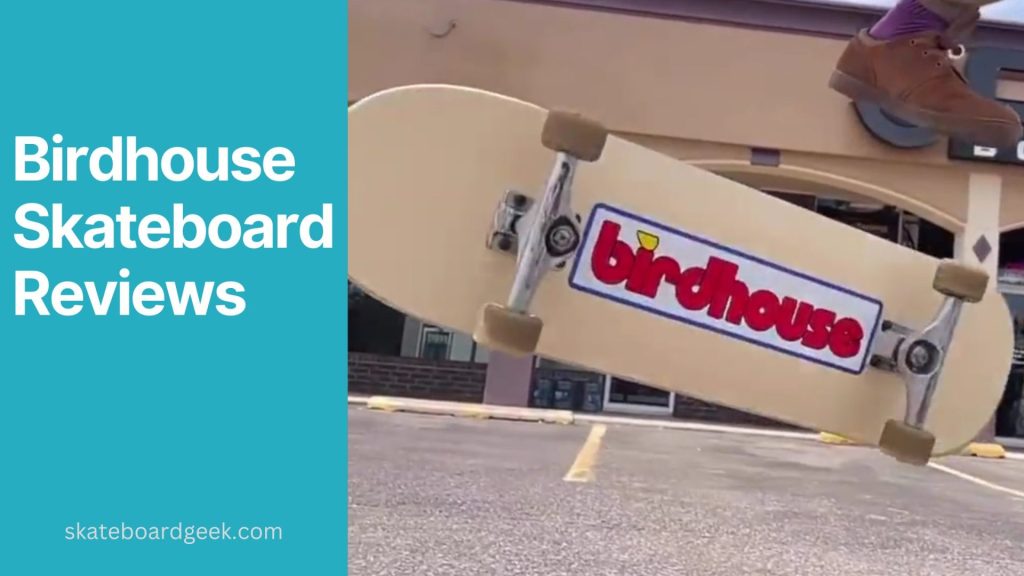 Birdhouse Skateboard Brand History
In 1992, two legendary skateboarders, Tony Hawk and Per Welinder, decided to offer high-quality skateboards to riders of all levels. They name the brand "Birdhouse", and soon it became one of the most recognizable brands in the industry.
Birdhouse wasted no time in making a name for itself. In 1993, they released their first video, "Feasters," featuring Hawk and other professional skateboarders. By 1995, they had introduced their signature logo, the "bird skull", which has become a symbol of the brand's rebellious spirit.
In 1998, Birdhouse merged with Blitz Distribution, which also owned the brands World Industries and Blind Skateboards. This merger allowed Birdhouse to expand its reach and offer a wider range of products to its customers.
Over the years, Birdhouse has sponsored some of the best skateboarders in the world, including Tony Hawk, Bucky Lasek, and Shaun White. These riders have competed in countless competitions and brought home numerous victories for Birdhouse.
In the 2002 X Games, for example, Bucky Lasek took home the gold medal in the vert skateboarding competition while Tony Hawk won silver. This was just one of many victories for Birdhouse-sponsored riders in the X Games and other major competitions.
The brand expanded its product line beyond skateboards and introduced apparel. This move helped the brand reach a wider audience and establish itself as a lifestyle brand. Today, Birdhouse has an extensive product line, including skateboards, apparel, and accessories, and is known for its high-quality products and rebellious spirit.
Birdhouse Tony Hawk Birdman is one of the coolest skateboard decks of all time.
Birdhouse Logo
The Birdhouse skateboard brand logo is a thing of beauty. It features a stylized bird perched on a skate deck, looking like it's about to take flight into the air. The logo is simple yet powerful, conveying a sense of freedom, rebellion, and a love for all things skateboarding.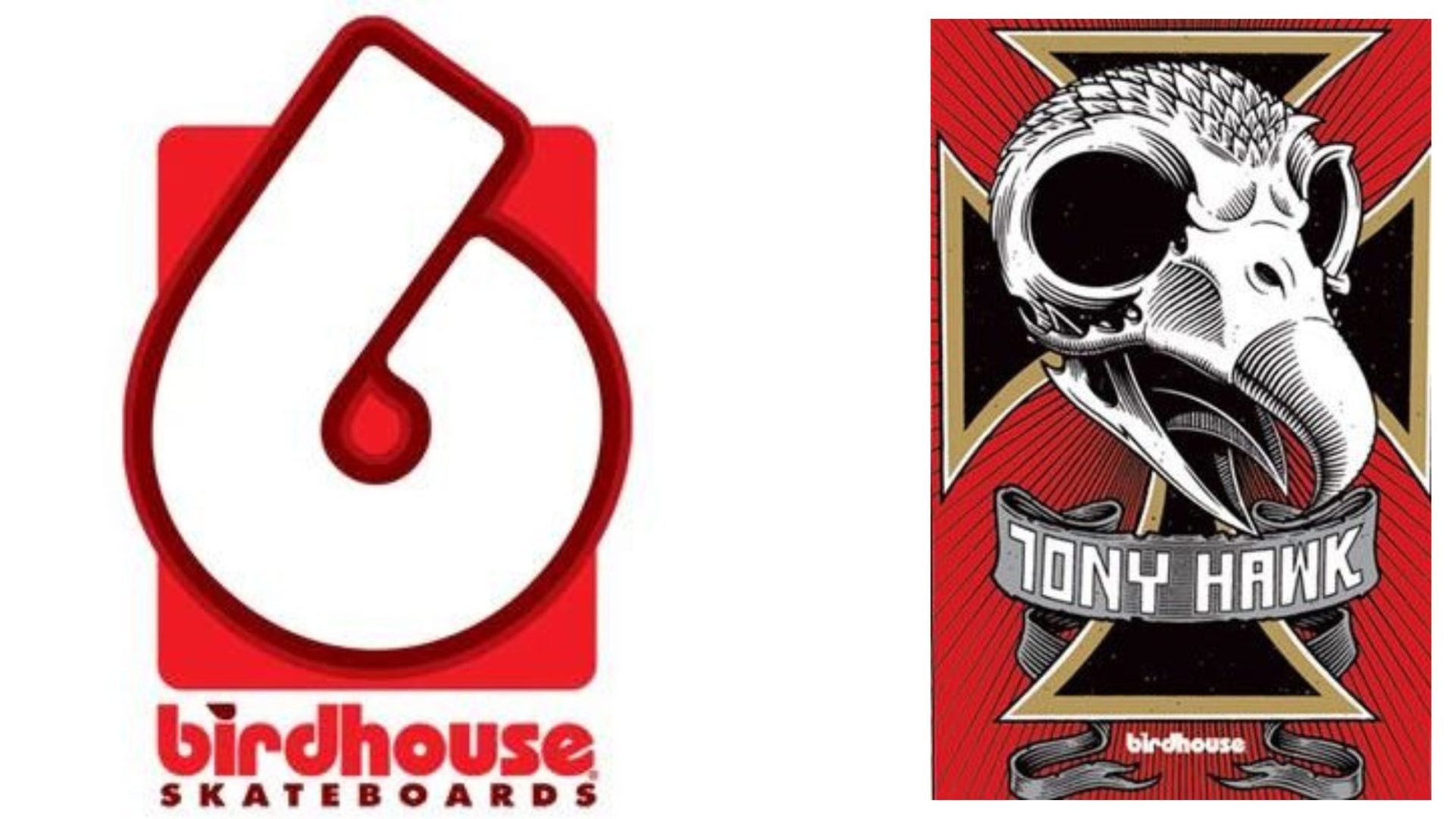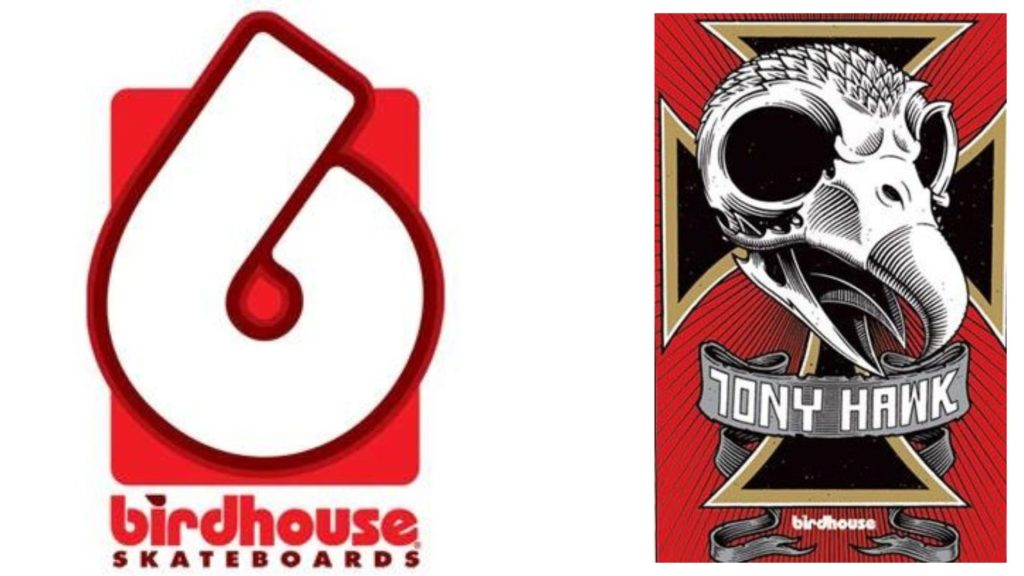 The bird itself is a fierce creature, with sharp talons and a determined look in its eye. It's the kind of bird you wouldn't want to mess with, but at the same time, you can't help but admire its strength and tenacity. And the fact that it's perched on a skate deck? Well, that just screams "skateboarding" in the coolest possible way.
The colors of the logo are bold and eye-catching, it's the kind of logo that stands out from the crowd and makes you take notice.
Read about Zero skateboard brand, it also has a fierce looking logo – skull and crossbones!
Birdhouse Product Line
Here are some of the product lines of the Birdhouse skateboard brand:
Complete Skateboards
Decks
Trucks
Wheels
Bearings
Grip Tape
Hardware
Clothing
Accessories
Birdhouse Skateboards Review
Birdhouse skateboards are expertly designed and built to deliver maximum performance. Whether you are cruising down the street or hitting the skatepark for some serious tricks, their boards are known for their performance and durability, making them a great choice for skaters of all skill levels.
One thing that sets Birdhouse boards apart from the competition is the quality of their components. These boards are built to last, with sturdy decks, high-quality trucks, and smooth-rolling wheels. Whether you are a beginner or a seasoned pro, you can trust that a Birdhouse will hold up to even the most intense sessions.


I was impressed with its overall performance after riding B Logo, Tony Hawk Birdman, and Tony Hawk Falcon 2. The decks felt sturdy and provided excellent pop, making it easy to execute tricks. The grip tape also offered good traction and control.
However, I felt Birdhouse skateboards are a little on the heavier side. Being an experienced skater it wasn't a hurdle for me, but the weight could make it difficult for beginners to perform certain tricks. But heavier boards are great for cruising and downhill speedy rides.
Birdhouse Skateboard Decks Review
I must admit that Birdhouse decks are extremely durable, they are built to last, thanks to their sturdy construction and premium quality Canadian maple wood. Whether you are grinding rails or just cruising around, a Birdhouse deck will withstand the wear and tear of regular use.
The decks have a nice, deep concave that provides excellent grip for your feet to control the board, making it easier to stay on the board and execute tricks. And the pop of the decks is impressive, providing the perfect amount of lift and snap to help skaters execute tricks with ease.
But perhaps the best thing I found about this deck is its durability. Even after countless rides, it'll still look and perform as well as new.
See which are the best skateboard decks of 2023.
Birdhouse Skateboard Wheels Review
Birdhouse wheels are made with top-quality polyurethane to handle the most intense of skate sessions. No matter if you are shredding the streets or grinding rails in the park, you can count on Birdhouse wheels to provide excellent traction and stability.
The real magic of the wheels lies in their durometer rating, hardness level ranges from 99A to 101A, making them ideal for any skating style. I experienced just the right blend of grip and slide to take on any challenge with ease.
And best of all, you won't have to worry about them wearing out too quickly either, as they offer long-lasting performance that can stand up to even the toughest of terrains.
And with their sleek, eye-catching branding, they add an extra touch of style to my board.
Performance and Durability
I have owned several Birdhouse decks over the years and have been impressed with their performance and durability. They are built to last with sturdy construction, and excellent pop allowed me to perform various tricks with ease.
These decks have held up remarkably well despite the rough use and wear and tear.
The wheels and bearings also demonstrate excellent durability, with the wheels providing a smooth ride, and the bearings allowing for a speedy and effortless roll.
Not a fan of traditional skateboards? The brand also offers cruiser boards and longboards to cater to different riding styles and preferences.
Birdhouse Stage 1 Skateboards Review
The Birdhouse Stage 1 skateboards series is one of their most popular products, and it's designed for beginners who are just starting out.
These boards are excellent with classic design, sleek and stylish look that never goes out of fashion. Upon riding one of the Stage 1 decks, I found that its concave shape provides a comfortable and stable feel, making it easy to perform tricks with precision.
The deck is made from high-quality Canadian maple wood, ensuring durability and longevity. Best of all, the board comes equipped with Birdhouse branded trucks, wheels, and bearings that offer a smooth and speedy ride.
Birdhouse Stage 2 Skateboards Review
The Stage 2 skateboards are designed for serious riders who demand the best in terms of performance and durability.
These completes feature stylish and eye-catching graphics, but their performance is what really set them apart. Made from high-quality Canadian maple wood, the deck is durable and resistant to wear and tear.
Sturdy construction and excellent pop make them easy to perform a range of tricks, while the grip tape provides necessary control and stability.
Birdhouse Stage 3 Skateboards Review
Pick a skateboard from the Birdhouse stage 3 series if you are going to perform aggressive tricks, they are built for advanced riders.
So, what makes the Birdhouse Stage 3 skateboards so special? These boards are a real powerhouse with stiffer maple wood construction, providing excellent durability and resistance to wear and tear.
The board's shape is designed for maximum control and stability, with a deep concave that makes it easy to perform even the most challenging tricks at the skatepark. Plus, it comes equipped with top-of-the-line Birdhouse branded 5.25-inch aluminum trucks, which are slightly wider and stronger than the Stage 1, and 52mm 100a wheels that are perfect for street and park skating.
Comparison of Stage 1 and Stage 3 Skateboard
So, if you are trying to decide between the Birdhouse Stage 1 and Stage 3 Skateboards, here's what you need to know.
Stage 1 is like the reliable old friend you can always count on. It's a great board for beginners to intermediate riders who are still honing their skills. The deck is made from seven-ply maple wood, which is tough as nails and can withstand a good amount of wear and tear. The Birdhouse branded trucks, wheels, and bearings provide a smooth ride, and the board's shape offers decent control.
On the other hand, the Birdhouse Stage 3 skateboard is like the cool kid at the skatepark who always steals the show. It's built for advanced riders who demand the best in terms of performance and durability. The deck is made from the same high-quality seven-ply maple wood as the Stage 1, but with a deeper concave that provides better control for more advanced tricks. The Birdhouse branded trucks, wheels, and bearings are top-of-the-line and offer a ride so smooth it feels like you are floating on air.
So, if you are still learning the basics and want a reliable board to practice on, go for Stage 1. But if you are ready to step up your game and show off your skills, then Stage 3 is the way to go. Trust me, your fellow skaters will be green with envy!
Are Birdhouse Skateboards Good?
Well, let me put it this way: if you are looking for a board that'll help you shred like a pro and turn heads at the skatepark, then the Birdhouse skateboard brand is definitely worth considering.
Here's why: Birdhouse boards are a complete package of performance, durability, and style. The completes come with pre-installed aluminum trucks, wheels, and bearings are all Birdhouse-branded and designed to provide a smooth, stable ride with excellent grip and control.
Plus, the graphics on the boards are seriously cool – I mean, who doesn't want to ride a board with Tony Hawk's face on it?
But don't just take my word for it – the pros speak for themselves. Birdhouse skateboards have been ridden by some of the biggest names in skateboarding, including Tony Hawk, Andrew Reynolds, and Lizzie Armanto.
Are Birdhouse Skateboards Good for Beginners?
Absolutely! Birdhouse skateboards are a great choice for beginners. They offer a range of models that cater to skaters of all levels, and their high-quality decks, branded components, and smooth ride make them an excellent investment.
I must admit that starting with a Birdhouse skateboard helped me feel more comfortable and confident as I practiced my balance and footwork, and the branded components provided an exceptionally smooth ride.
Best of all, it is a brand that pros trust. The boards are fairly priced and offer maximum durability to resist wear and tear.
Read reviews of the best skateboards for beginners in 2023 that are easy to ride and control.
Best Birdhouse Skateboard for Tricks
The Birdhouse Tony Hawk Falcon 3 Complete Skateboard is an excellent choice. Not only is it one of the most iconic skateboards in history, but it's also designed with a concave shape that makes it perfect for performing those technical moves.


This board features a sturdy 7-ply Canadian maple deck that can handle some serious abuse and the toughest landings, along with a concave shape that provides extra grip and control.
But wait, there's more! This skateboard also features Birdhouse branded trucks and wheels that are specifically designed for tricks. The trucks are made from durable aluminum and the hard wheels are perfect for performing Ollies, kickflips, and all of those other crazy tricks you've been practicing.
Note: always wear a helmet while skateboarding to minimize the chances of injuries.
Birdhouse Skateboard Pro Team
Here are some of the pro riders who have been part of the Birdhouse team:
Tony Hawk
David Loy
Clint Walker
Shawn Hale
Clive Dixon
Ben Raybourn
Elliot Sloan
Aaron "Jaws" Homoki
Reese Salken
Final Words
Birdhouse skateboards brand has been a major player in the skateboarding industry for almost three decades, and with good reason. They offer quality products that are durable, reliable, and designed with skaters in mind.
From its iconic graphics to top-notch materials and construction, Birdhouse has always been committed to providing skaters with the best possible experience.
And don't just take our word for it – check out some of the glowing reviews on Reddit from skaters all over the world. They rave about the brand's quality and reliability, and many swear by their Birdhouse decks, wheels, and accessories.
Frequently Asked Questions: (FAQs)
Are birdhouse skate decks good?
Absolutely! Birdhouse skate decks are as solid as a rock and tough as nails. Made from 7-ply Canadian maple, these decks can take a beating and keep on rolling. You won't be disappointed with the quality and durability of a Birdhouse skate deck.
Are birdhouse skateboards good for street skating?
Birdhouse skateboards are the perfect choice for hitting the gritty streets and taking on whatever obstacles come your way. With a sturdy construction and plenty of pop, you'll be shredding the streets in no time.
Are birdhouse skateboards good for beginners?
Yes, indeed! Birdhouse skateboards are a great option for beginners who want a board that is easy to ride and built to last. With a range of deck sizes and shapes to choose from, you are sure to find a Birdhouse board that suits your needs and skill level.
Is Birdhouse still owned by Tony Hawk?
Well, not exactly. While Tony Hawk is still very much involved with the brand, Birdhouse is now owned by Dwindle Distribution, a sports equipment company. But fear not, Tony Hawk remains a legendary figure in the skateboarding world, and his influence can be felt in every Birdhouse board.