Whether you are looking for a fun and relaxing ride, or an easy and practical way to commute around town, a good cruiser skateboard can make all the difference. As an experienced skateboarder and avid cruiser, I've reviewed the best cruiser skateboards in 2023, so you can make an informed decision and start cruising in style effortlessly.
We'll also take a look at the key features to consider when choosing a cruiser skateboard, including deck size, shape, and materials, as well as wheel size and hardness.
Looking for a quick suggestion? After multiple rides on the streets and pavements, we found Arbor Pilsner Flagship extremely smooth and well balanced cruiser board.
See the fastest skateboard speed on flat ground and downhill.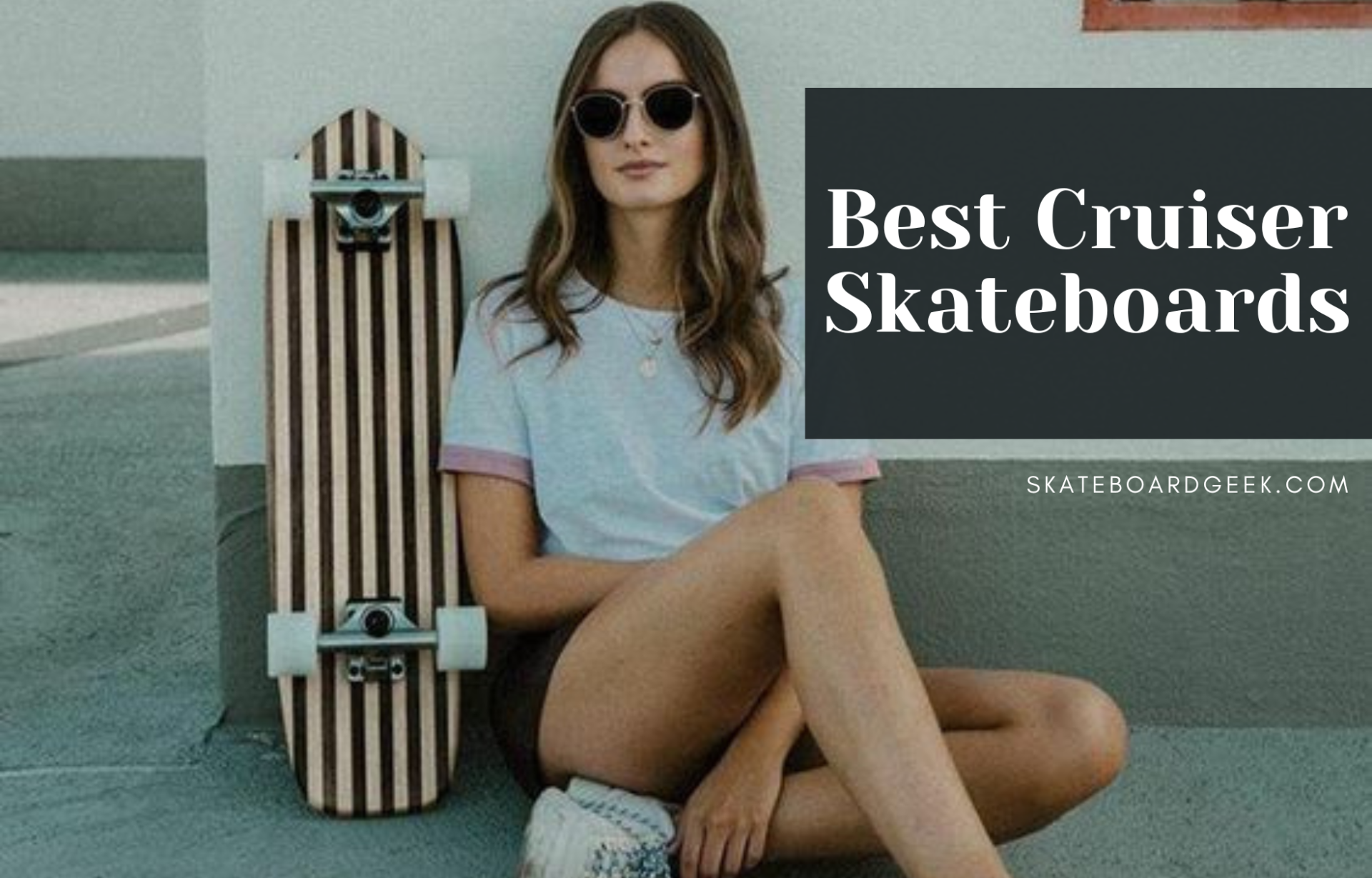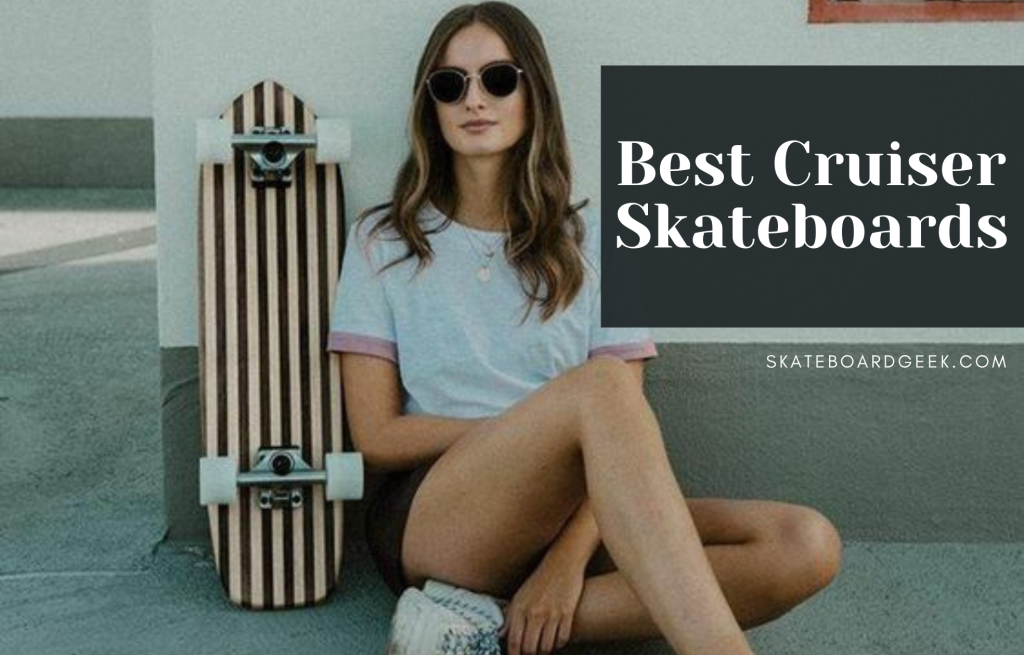 Top Rated 6 Best Cruiser Skateboards In 2023
Here is a list of the best cruisers skateboards for beginners and experienced skaters. These complete cruiser skateboards are cheap and made by reliable brands;
| No. | Cruiser Skateboard | Quality | Price |
| --- | --- | --- | --- |
| 1 | Arbor Pilsner Flagship | Best Cruiser Skateboard for Adults | |
| 2 | Globe Big Blazer | Best for Beginners | |
| 3 | Landyachtz Dinghy Skeleton Mini | Best Mini Cruiser Skateboard | |
| 4 | Penny Australia The Original Plastic Cruiser Board | Good Cruiser Skateboard for Kids | |
| 5 | SANTA CRUZ Classic Cruiser Skateboard | Best for Heavy Riders | |
| 6 | Magneto Mini Cruiser | Cheap Cruiser Skateboard | |
Top Picks
"Best Cruiser Skateboard for Adults"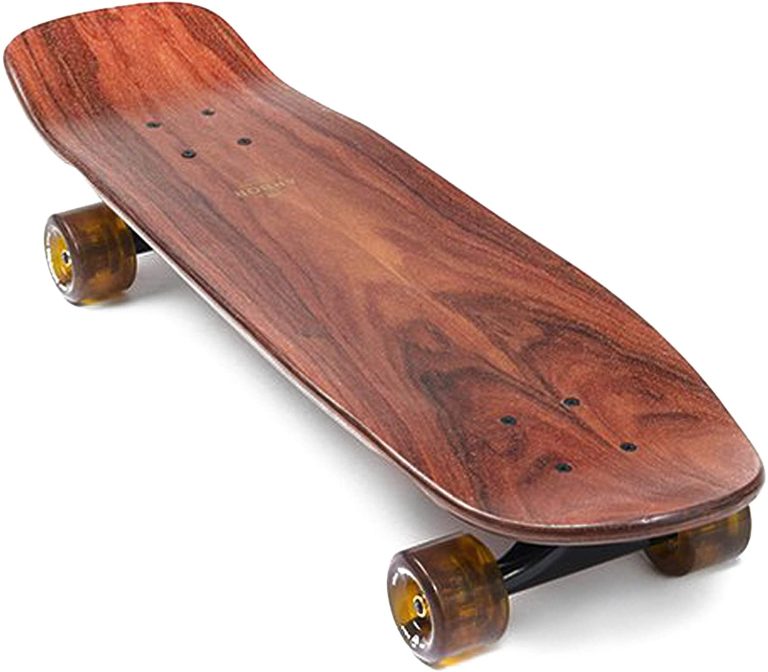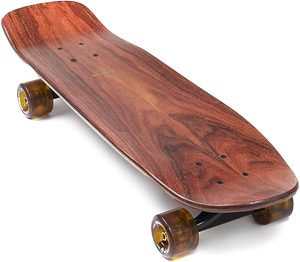 This cruiser is perfect for new and experienced riders who like cruising and free riding with an all-around performance. Its board is made of 100% Canadian maple wood, and equipped with 61mm wheels that are suitable for cruising.
This cruiser board is designed to hold a maximum weight of 150kg. This 7 ply maple board will surely last for a long time and the smooth wheels allow comfortable rides.
Main Features:
The deck is made of 7 Ply sustainable Canadian maple and palisander wood
Top-mounted highly durable Paris Street trucks: 129mm
Arbor Easyrider Bogart 61mm wheels with 78A durometer, suitable for every terrain skating, carving and quick turns – soft and grippy wheels
ABEC 7 Bearings with spacers for speedy rides
This incredible looking cruiser board comes equipped with Paris trucks, buttery smooth wheels and top quality ABEC-7 bearings. It is durable and suitable for beginners and experienced skaters.
Pros
Good cruiser board for bumpy rides
Run smooth out of the box
Soft wheels
Durable deck and truck
Available in different sizes
Cons
Trucks feel stiff in the beginning
"Best for Beginners"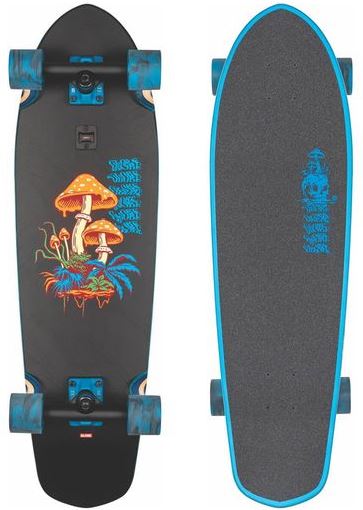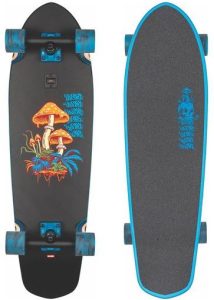 This cruisers skateboard for beginners is perfect to ease your cruising. The Big Blazer cruiser deck has a length of 32 inches and is made of hard rock maple wood.
I love its cruiser wheels which are especially engineered for a cruise type of skating. Also, the Globe bearings are smooth and fast, and ensure comfortable rides.
Main Features:
Gripped hard rock maple wood deck held together using resin, mellow concave deck shape
High-performance 7″ aluminum trucks with precision ball bushings for speed and control
62mm cruiser wheels with 83A hardness level
Super smooth and fast ABEC 7 Globe bearings for a smooth ride
Satin grip tape on the top for increased control
It features a built-in bottle opener
It is a great board, easy to control and turn. The wide deck offers more room to find stance, very good for beginners. However, this pretty-looking board gets dirty quickly, make sure to wipe it nicely after every ride.
Pros
Neat finishing with classy edges
Fast and smooth bearings for a comfortable ride
Durable deck and trucks
Available in multiple sizes
Cons
Received the board with a bit of scratched paint at the bottom (perhaps the packing guy messed up)
A verified purchaser "Trey Canterbury" at Amazon says, "great board for starters, wheels are very smooth and amazing on rough cracked roads, very pretty graphics all around awesome board would definitely recommend to anyone looking to cruise around town or commute."
Read reviews of the best skateboards for beginners.
"Best Mini Cruiser Skateboard"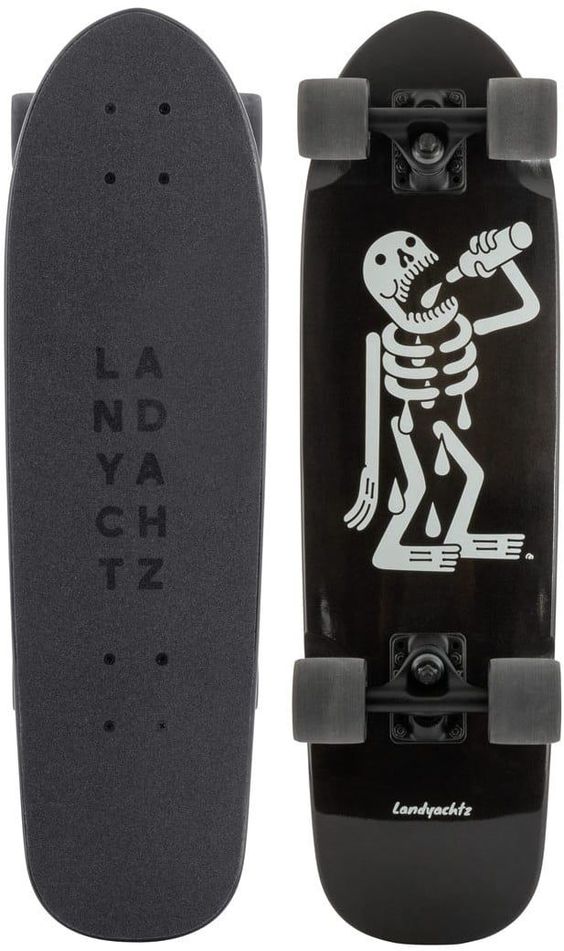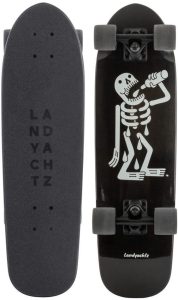 This Landyachtz Dinghy Skeleton mini cruiser board offers a huge amount of control thanks to its mellow concave and kicktail that provides the rider with balance.
63mm Fatty Hawgs sanded wheels keep your board from getting stuck while you cruise. Although the deck is relatively smaller, it is durable enough to support adult riders.
Main Features:
The laminated deck is made of 7 plies Canadian maple with W concave
Flexible carbon fiber square shaped 1/8″ kicktail
Fatty Hawg 63mm 75a wheels for better speed and control
Also, the deck is enhanced with wheel wells to keep you from wheel bite
105mm Polar bear trucks that are best for carving and turning
This Landyachtz board is made of top quality materials, a reliable deck and responsive trucks. Its soft wheels can absorb the shocks of bumpy rides and offer a smooth riding experience even on cracked surfaces.
Pros
High-quality built
Soft wheels, good for bumps absorbing
Lightweight, easy to carry around
Offers very comfortable rides
Suitable for all terrain cruising
Cons
The first board I received was chipped from the back, inspect it as it arrives
"Good Cruiser Skateboard for Kids"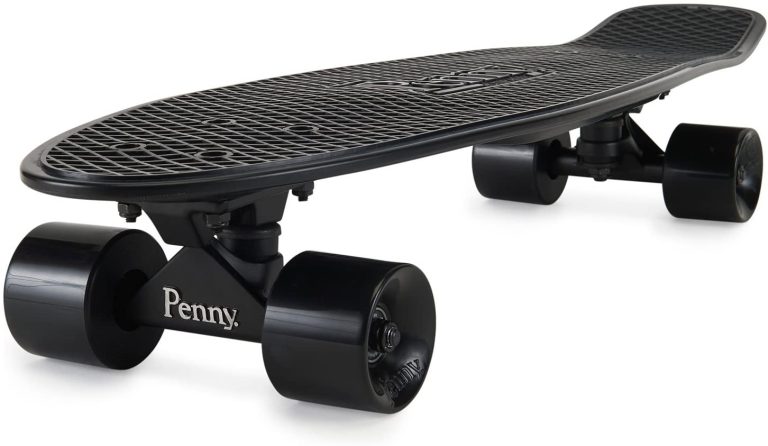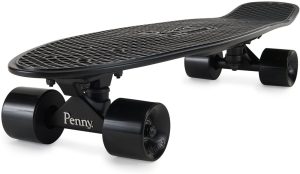 The Penny Australia cruisers are available in a variety of fun colors. These cruiser skateboards come in a variety of sizes to accommodate kids, teens and adult riders.
Its polyurethane wheels offer easy slides, making it perfect for beginners. Decks are made of super durable, high-quality plastic with an adequate amount of flex.
Main Features:
The deck is made of secret formula plastic formula that gives it strength and a good amount of flexibility
High-quality 59mm polyurethane wheels with 83A hardness to ensure a smooth ride
Injection molded plastic trucks for durability
A flat deck with a pattern and a curved kicktail offer better control while riding and turning
Premium quality color-coded ABEC 7 stainless steel bearings provide a smooth riding experience
Penny boards are flexible and durable for the price and best suited for kids and early teens. The bearings come pre-oiled to ensure smooth rides. However, we had to replace trucks for easy turning.
Pros
High quality built material, heavy in weight
Nice wheels with perfect grip
Versatile cruiser board for cruising around in different terrains
Affordable and good for every age rider
Cons
Very stiff trucks
Cannot apply grip tape on the deck
"Best for Heavy Riders"

Santa Cruz is one of the oldest and most popular skateboard brands that is still producing quality boards for skaters. Its classic cruiser skateboard is specially designed for adults to cruise around town.
Its deck is made of tough maple wood (tested) to withstand heavy-weight riders without snapping. Its heavy-duty aluminum trucks and wheels offer you the best control and stability.
Main Features:
The deck is made of 7-ply North American maple wood
Mellow concave and drop platform construction for better balance and weight distribution
Built to take a lot of wear and tear from tough riding
Heavy-duty Krux 9.0 trucks for better stability
60mm Slimeballs wheels with 78a durometer, soft and perfect for bumpy rides
Smooth ABEC 9 bearings that provide faster speed and a comfortable ride
We found this Santa Cruz board very solid and reliable. It is perfect for crusing, carving and sliding down the streets. This heavy-duty board can withstand the weight of big skaters.
Pros
Durable construction
Sturdy board to take adult riders' weight
High-quality wheels and bearings
Easy to control
Cons
Not suitable for tricks, riding in the park
Read Santa Cruz Skateboard reviews in details with comparison.
"Cheap Cruiser Skateboard"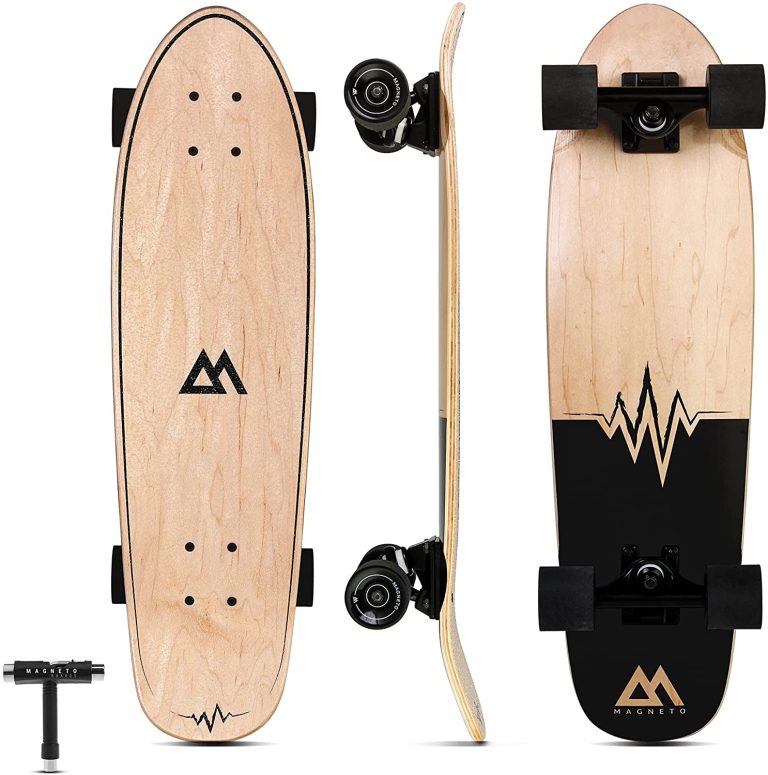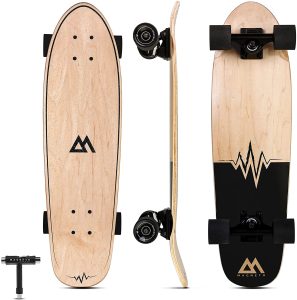 If you looking for a good cruiser board on a budget, then this is your best pick. Magneto Mini cruisers are available in different fun colors to choose from.
These boards come with top-quality iron cast trucks and durable wheels that offer a smooth, easy ride around town. Its flexible deck easily absorbs vibration at high speeds without bumping too much.
Main Features:
The deck is made of 6-ply Canadian maple wood with sand finishing on top for a better grip
It is equipped with SHR 60mm polyurethane wheels with a 78a hardness level, very responsive and good for bumpy rides
Abec 11 bearings offer smooth cruising around different terrains
Paris style gravity cast aluminum trucks with 5″ hangers that have removable cushions to provide more stability
Being available at such a low cost, we are very pleased with the quality of this board. It looks great, rides and performs efficiently. Its fairly easy to ride, very smooth and offers a great balance. Best of all, it is a beginner friendly cruiser board.
Pros
A very strong and durable cruiser board
Responsive trucks that turn very well
Portable, easier to carry, transport or put away in a backpack
Transparent sanded grip tape
Cons
The deck is not very flexible
Best Cruiser Board Brands
Cruise type skateboards are not designed for tricks but to offer the best cruising experience. The decks and trucks of these boards are specially made keeping in mind the minimum vibrations and better stability. These boards are very durable and equipped with high-quality bearings, and soft wheels for smooth rides.
Here are the best cruiser board brands that make the top cruiser skateboards;
Best Cruiser Skateboard: Buying Guide
Cruiser skateboards are mainly used for cruising around town and fun rides. Before purchasing the best cruiser board, you should have basic knowledge of its important parts of it. To help you choose the right cruiser, here are some factors to consider:
1. Weight Capacity
Ensure that your chosen cruiser board is able to accommodate your weight and should be durable enough. Heavy-weight children and adult riders should look for boards with a higher weight capacity. Some of the best cruiser skateboards usually accommodate more than 250 pounds of weight.
2. Deck

When it comes to choosing the right deck, there are two main types of decks you need to know: Drop-through and Top-mount. The drop-through deck cruiser board is great for beginners since it offers a lower center of gravity, making the board very stable.
However, the top-mount deck is perfect for experienced riders as it offers a good amount of responsiveness and agility to help you make fast turns smoothly.
The deck material is very important especially when it's made of Maple wood with good quality grip tape on top to make it non-slippery. You should choose a cruiser board that is made of durable and flexible material.
Canadian maple wood is known as the best wood for skateboard decks, it is reliable and long lasting.
3. Flexibility
A more flexible board is easier to ride on different surfaces, while a stiffer board is ideal for aggressive riding in the skate park or street racing. Hence, pick a cruiser skateboard that has a good amount of flex.
4. Wheels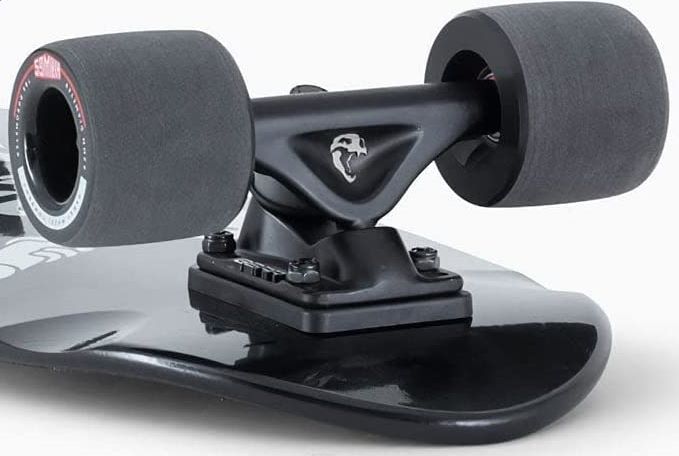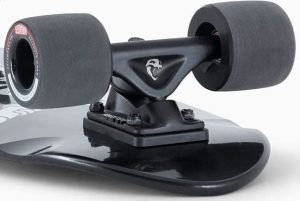 Smaller wheels are ideal for cruising around tight areas like the city, skate parks or indoor rides, while larger wheels can help you go faster and offer easy gliding on every surface.
A cruiser board with hard wheels is usually more durable than soft wheels. However, soft wheels are better for bumpy rides.
The size of the wheels is very important for stability, speed, and smoothness. The bigger the wheel, the faster it can go, while the smallest wheels are great for cruising around tight areas like the city.
Soft rubbers provide better grip and smoothness but are usually not ideal for cruising on rough surfaces. Harder polyurethane wheels are more durable and better for cruising long distances.
Make sure to keep the wheels clean, here's a step-by-step guide.
5. Trucks and Bearings
Cruiser boards usually come with high-quality trucks, bearings, bushings, wheels, hangers, springs, etc. for better functioning. There are three main types of cruiser skateboard trucks: Standard, Reverse and Raked.
The standard trucks have a low center of gravity and provide good stability while the reverse trucks have a high center of gravity, offering better balance and higher speed. The raked trucks offer more leverage for better carving and drifting.
The best cruiser skateboard bearings are usually high-quality ABEC bearings, which are entirely made of stainless steel and can provide smoothness and stability. You should also check for the shield with the ABEC rating along with the quality of the lubricant.
Conclusion
Cruising is an art and you need the right type of cruiser skateboard for easy commuting. Even though skateboarding involves a lot of skill and practice, cruising only requires balance and stability. We had multiple test rides on a few cruiser boards and found the above-mentioned performing really well - even for new skaters. Without a doubt, these are the best cruiser skateboards that you can ride around town.
We recommend Arbor Pilsner Flagship as our first choice, it is very strong and good for intermediate skaters. Beginners should go for Globe Big Blazer, easy to ride and control. Landyachtz Dinghy Skeleton Mini is our third option, its sanded wheels and polar bear trucks provide a smooth riding experience on every terrain.
Frequently Asked Questions: (FAQs)
Are cruiser skateboards best for beginners?
Yes, cruiser boards are best for beginners because they offer stability, balance and control. They are easier to maneuver than other types of skateboards and offer good training for new riders.
Can you do tricks with cruiser?
No, you can't do tricks on a cruiser board. It is designed for commuting with a relaxed riding experience. A standard way of riding on a cruiser skateboard is with the back foot on the middle of the board and the front foot either on or behind it. You can use a cruiser for mellow tricks like frontside 180s, ollies or shuvits.
Are plastic cruisers good?
Plastic cruisers are usually low-cost and not as durable as other types. However, they do provide a smooth and comfortable ride. Beginners should go for plastic cruisers as they are easy to ride. The best choice is Penny Australia The Original Plastic Cruiser Board. It is made of plastic but the wheels are very smooth and they offer good control.
What is better a longboard or cruiser?
Cruiser skateboards are better for cruising around town. Longboards are more flexible and can be used for downhill riding, carving, sliding and freestyle. Longboards are also made of plastic and can offer a smooth ride on most terrains. They are less maneuverable than cruisers because of their length and flexible decks. The best longboard skateboards are made of maple and have a top ply of bamboo, offering flexibility and durability.