Blitzart is famous for creating reliable electric skateboards for beginners and pros. They are best known for their affordable prices, making them accessible to the average person who has little to no experience with e-skateboarding. Blitzart Huracane is their most popular model in 2023, and here we'll explain its tested reviews.
As someone who has ridden this e-board extensively, I can confidently attest to its smooth ride and impressive stability. Plus it boasts a great speed, range, and a powerful motor. And I was impressed by quality components of the Huracane.
If you are looking for a cheap electric board for short commutes, Blitzart Huracane is the best choice only for $300.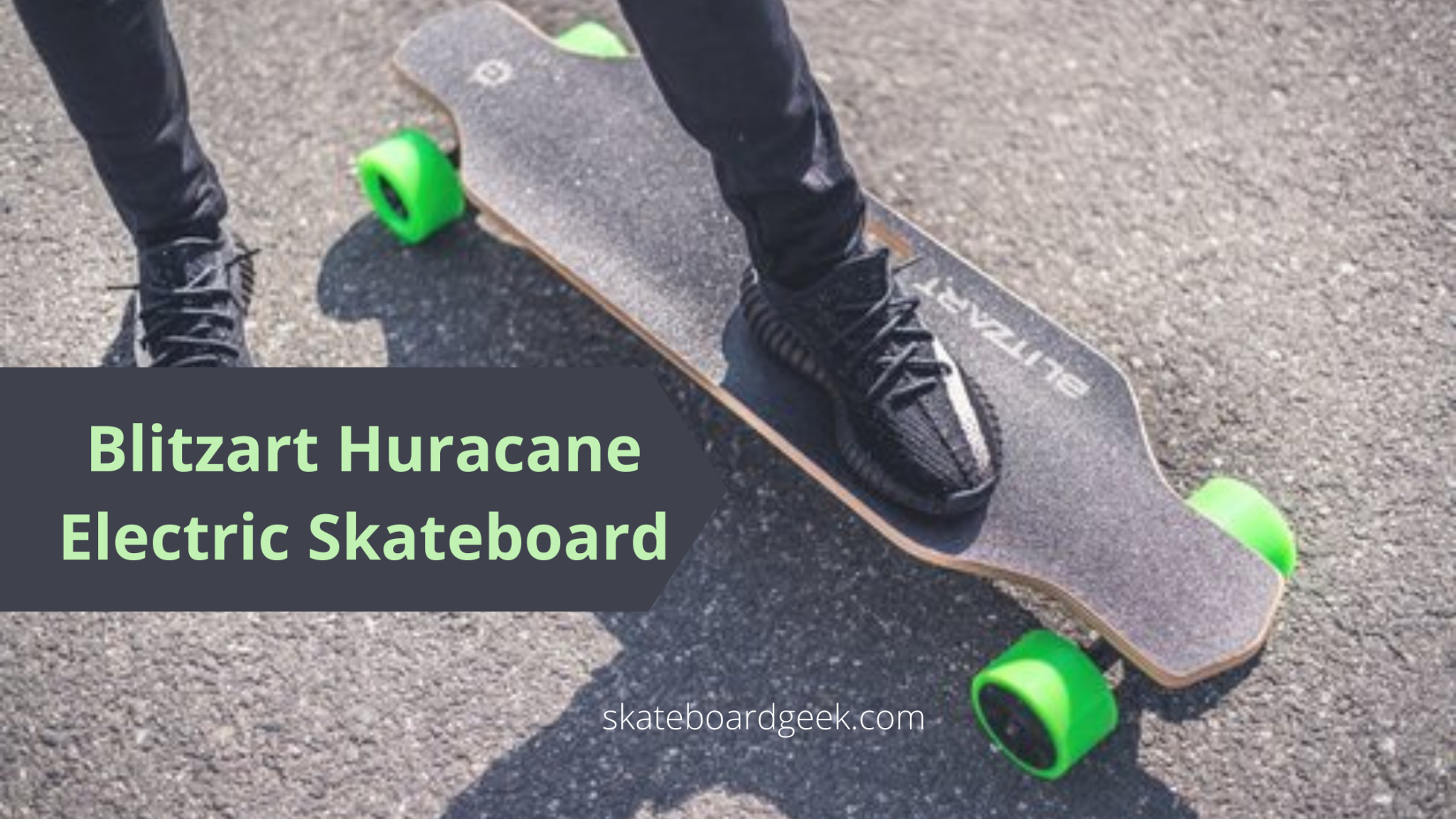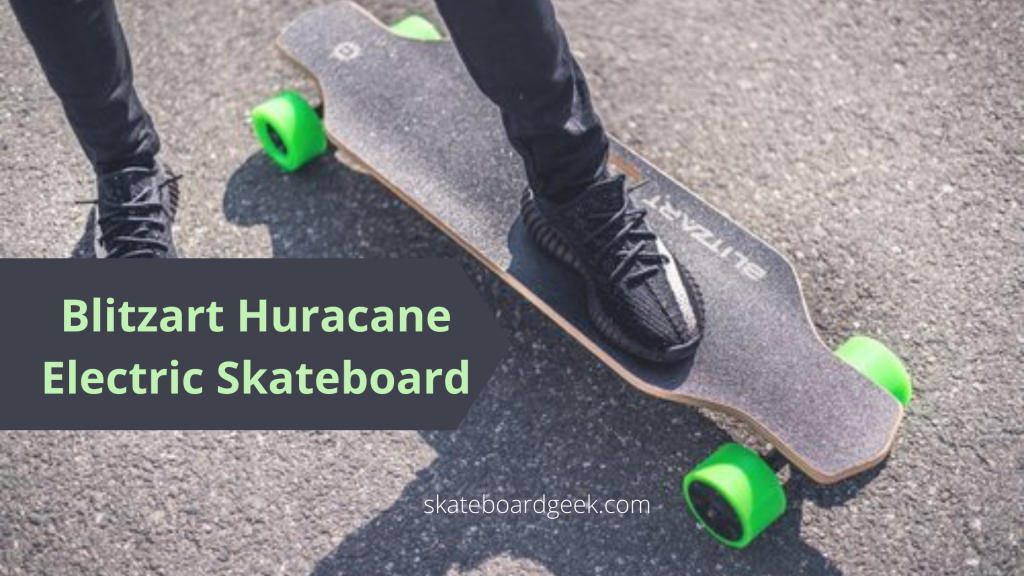 Blitzart Huracane Electric Skateboard Reviews – Affordable
The Blitzart Huracane is a fairly new electric skateboard in the market. It's marketed as an affordable e-skateboard for beginners. We tested the board multiple times and also let the new skaters ride it to get their remarks.
Let's see their components and ride quality, etc.
See which are the best electric skateboards. of 2023.
Specs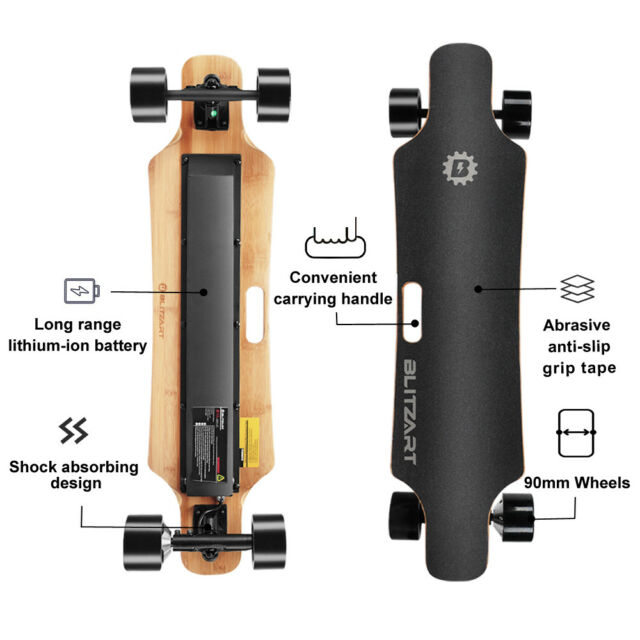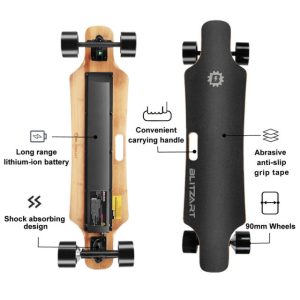 Top Speed: 18 MPH | 29 KMH
Motor: 350W Brushless Hub Motor
Battery: 4000mAh Lithium-ion
Range: 8 miles | 13 km
Climb: 20% Steep Hill
Load Capacity: 250 lbs |113 kg
Size:

38″ x 7″ x 4.5″

Charging Time: 3 hours
Remote Connectivity: RC 2.4GHz
Wheels: 90mm
Deck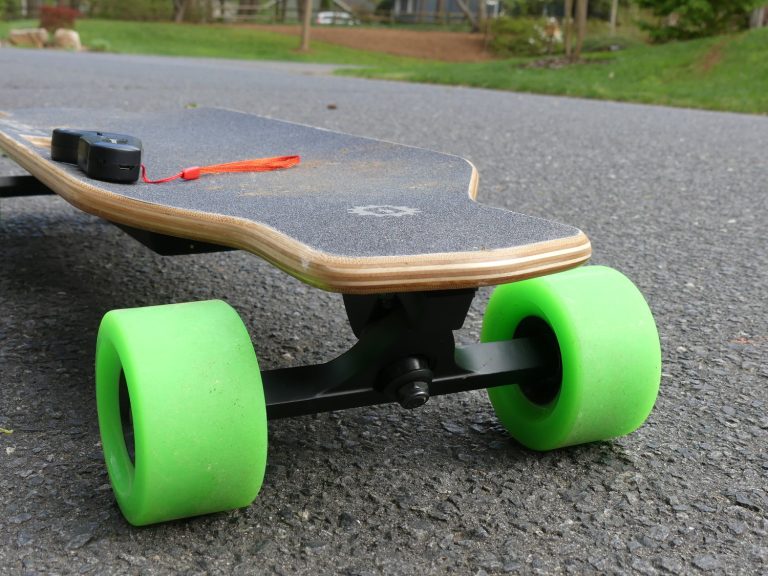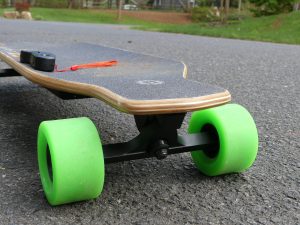 The deck on the Huracane is constructed of 6 layers of Canadian maple wood and 2 layers of bamboo, ensuring flex and strength. The grip tape runs along the top for better control. This comfortable deck will certainly get you where you need to go at any speed.
There is also a carrying handle built into the deck so you can easily carry it when necessary. This makes it much easier if you want to ride your board to class and don't have time to charge it.
Also, being able to walk upstairs with a skateboard under my arm has been quite a nice addition since I bought this board.
Read about the best skateboard decks.
Motor & Speed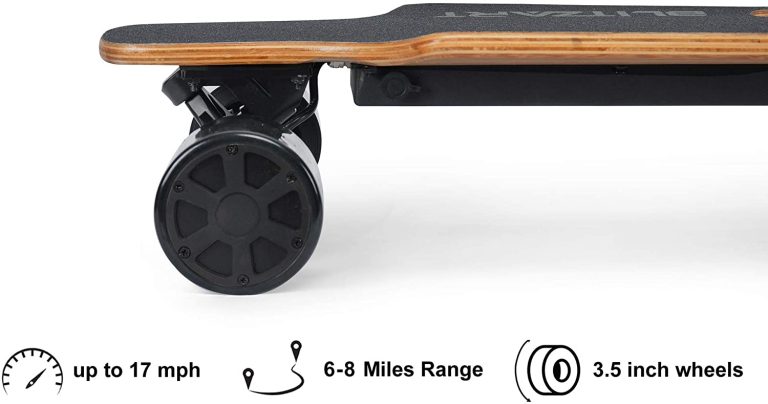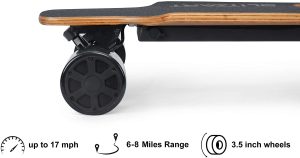 The Blitzart Huracane uses a 350-watt direct-drive motor to push you along. This is one of the lower power motors found on electric skateboards, but it can still reach speeds up to 18 miles per hour, which is good considering the price range.
The board also has a brake that comes standard with the kit, which is great for those times when you find yourself going too fast and don't want to wipe out.
Even though the Huracane may not be as fast as some other e-boards, it still rides better than many. I can reach speeds up to 18mph and never feel like I'm going to lose control or go too fast. The board has only two-speed modes to keep it easier for riders – beginner and advanced.
Battery & Range
The Huracane comes with a 4000mAh Lithium-ion Samsung battery powering the 350-watt motor. While this board won't be able to go as far as some of its more high-tech counterparts, it still has quite a bit of range for those who live in the city or don't mind charging their board every night.
The Huracane can reach a range of b 8 miles in beginner mode, while advanced mode allows you to achieve maximum speeds of half that distance at four miles per hour.
Unfortunately, this e-board does not come with a wireless charger, which means you'll need to plug it in every time. Luckily, Blitzart's battery has quick charging technology so you don't have to wait very long before riding again.
Wheels & Trucks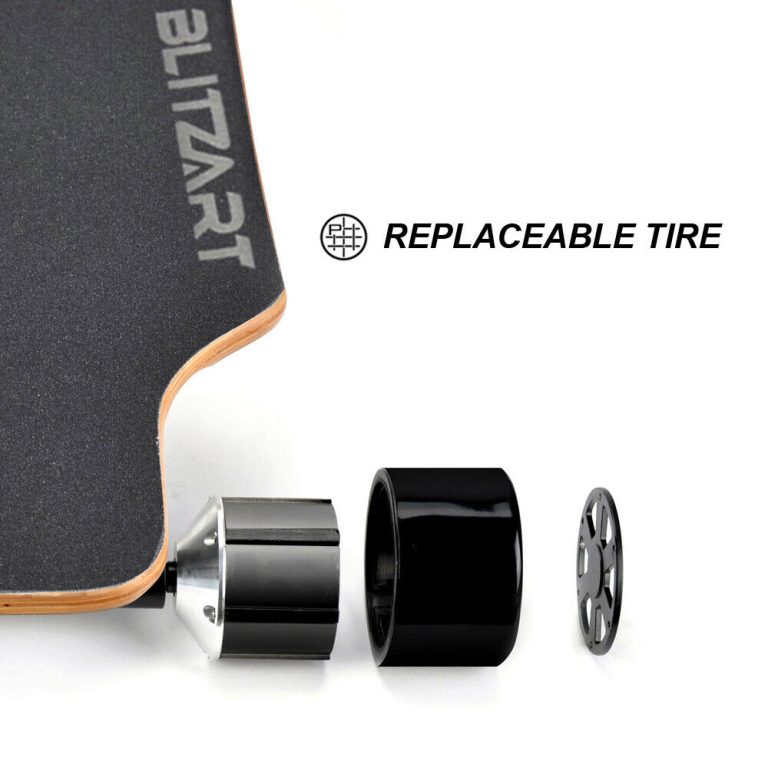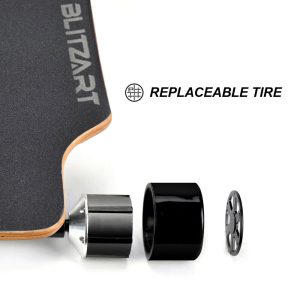 The Blitzart Huracane is equipped with 90mm polyurethane wheels that provide a smooth and comfortable ride. This board also features cast aluminum trucks, which enable you to take tight turns without the board slipping out from under you.
Since it is such a budget board, its components won't be as high of quality as those found on more expensive boards.
I wouldn't suggest trying your hardest to do tricks or anything like that with this skateboard, but it's still plenty fun to cruise around town on and it runs smoothly even at high speeds so long as you keep the weight off of it.
Remote Control
One of my favorite things about the Blitzart Huracane is its unique remote control. The board's throttle and brake are all located on the handheld device, which makes getting used to them much easier if you haven't used one before. The battery life indicator on the remote has been extremely helpful.
Another great feature of this e-board's remote is its two different speed modes: beginner and advanced mode. Beginner mode caps off at 8mph, while advanced mode allows you to achieve maximum speeds of 4mph.
Ride & Board Control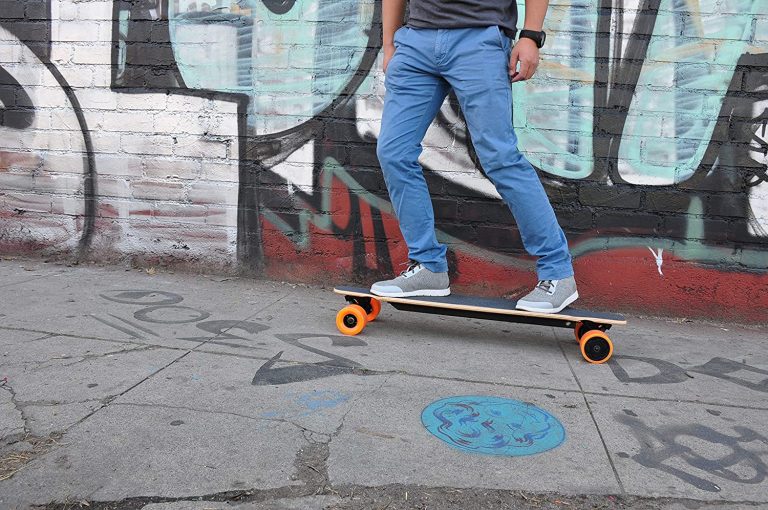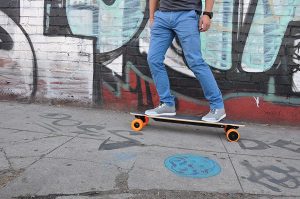 The Huracane is a rough ride, although this isn't necessarily due to poor components. This electric skateboard is quite durable, but its highest speed is only half of what most boards go up to.
This board is designed for basic cruising and I wouldn't suggest trying to do tricks on it. The ride is comfortable enough though, and the roll-out distance is decent for a board in its price range.
The Huracane also has an ergonomic deck that feels nice to stand on while riding. It's not necessarily shaped like most skateboards you'll find today, but the extra grip tape makes up for this small difference in design.
Construction & Durability
This board isn't exactly built to last forever, but it lives up to its budget status quite well when it comes to durability if you treat it with care. I've dropped this board countless times already, and have even jumped off of curbs by accident cutting through shortcuts home multiple times without so much as a scratch.
This board is lightweight, which means it doesn't take much effort to carry it around after you're done riding. If you can manage to keep the weight off of the wheels, then you won't have any issues with performance while riding either.
As long as you don't try your hardest to break this board, it should serve its purpose quite well for years to come. The components aren't high quality by any means, but they are sufficient enough considering the cost.
Note: Always keep the grip tape clean – here's how to clean a skateboard grip tape.
Pros
Good electric skateboard for entry-level skaters
Affordable price
Cut out handle from the deck
Hub motors with minimum sound
Wheels are available in multiple colors
Cons
Comes with only a 3-months warranty
Not suitable for advanced level skaters and performing tricks
Final Verdict
I highly recommend this board to anyone looking to get into electric skateboarding on a budget. The Blitzart Huracane is cheap, durable, and has great features that make it an awesome ride for beginners or kids who want something fun to cruise around town on.
The Huracane is priced at $300, making it one of the more affordable electric skateboards currently on the market. While this board isn't as fancy as some others, it still gets the job done for those who just want to go fast and have a fun time riding around town.
See the tested features of the best skateboards for beginners.
Frequently Asked Questions: (FAQs)
Is Blitzart Huracane good for beginners?
Yes, Blitzart Huracane is a good electric skateboard for beginners. If you are new to electric skateboarding, you'll definitely enjoy its riding modes – beginner and advanced. Moreover, the cut-out handle from the deck makes it easier to carry around.
Can we learn electric skateboarding on Blitzart Huracane?
The Blitzart Huracane is a great e-board for beginners, and it is best for learning electric skateboarding. It is good to learn how to ride an electric board. It is less expensive, high quality and perfect to ride around to practice. We label it as an economy board.
Blitzart Huracane should be respected just like any other electric skateboard. You should never attempt to jump off of curbs or ride downstairs, as this board doesn't have the components necessary to survive these types of activities.
Is Blitzart Huracane electric longboard easy to ride?
The Huracane is pretty easy to ride, but it won't be the best board you can find. The roll-out distance isn't great and the components aren't either, so this board is probably not for those who are looking to do tricks or go fast. It is a decent electric board for beginners at this price range.