Electric skateboard enthusiasts (like me) know the thrill of feeling the wind in your hair as you zip down the street on a board that's as smooth as butter. But bulky e-boards feel like you are lugging around a mini fridge on wheels. If so, you are in for a treat with the Teamgee H5 – the thinnest electric skateboard on the market!
As someone who has ridden multiple electric skateboards, I have to say, the Teamgee H5 is a game-changer. Not only is it incredibly lightweight and easy to maneuver, but it's also stylish AF. You'll be turning heads as you zip by on this sleek and sexy board. Plus, the board is highly durable and suitable for beginner skateboarders.
So without further ado, let's dive into this review of the Teamgee H5 electric skateboard and see what makes it stand out from the competition.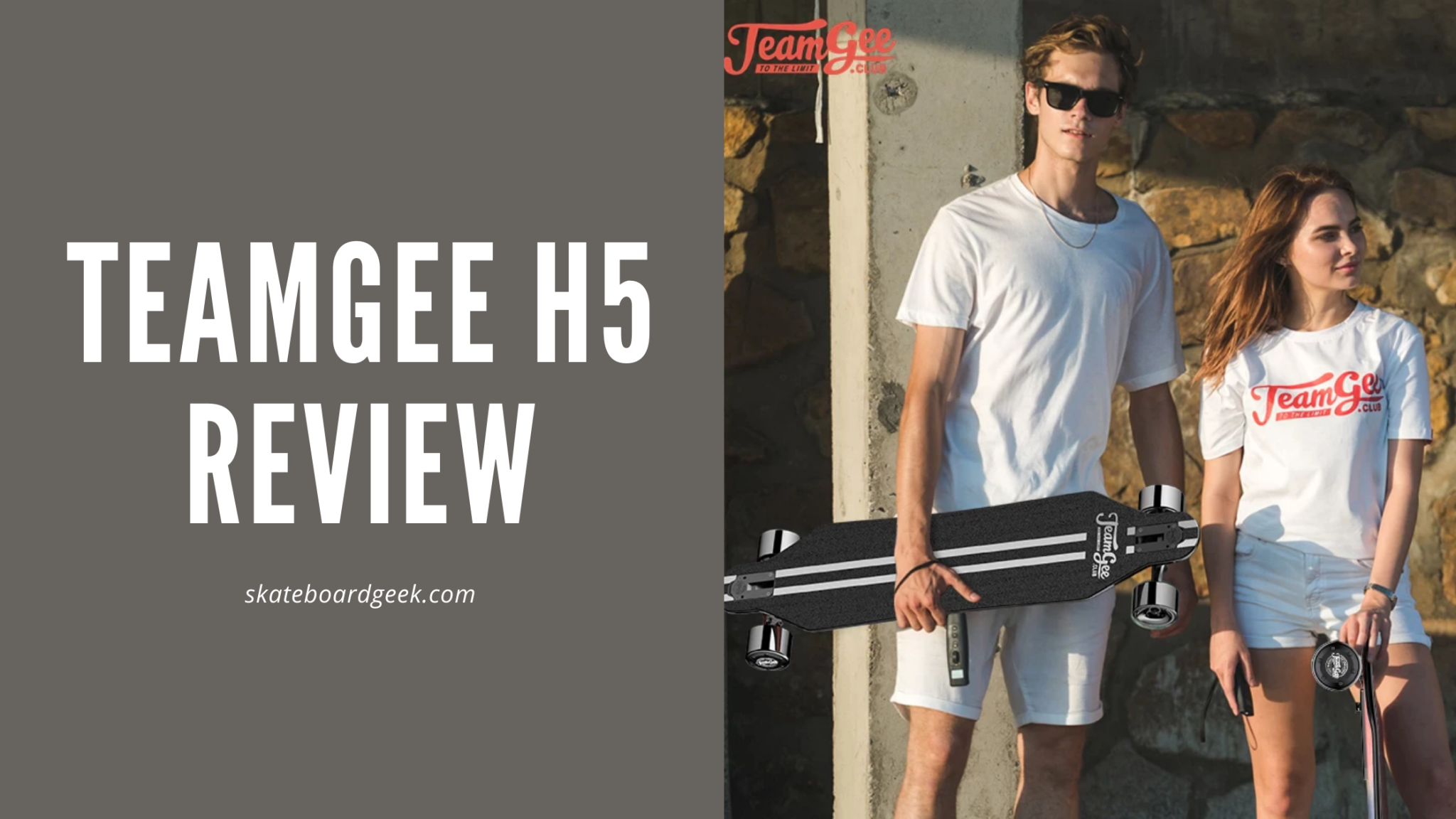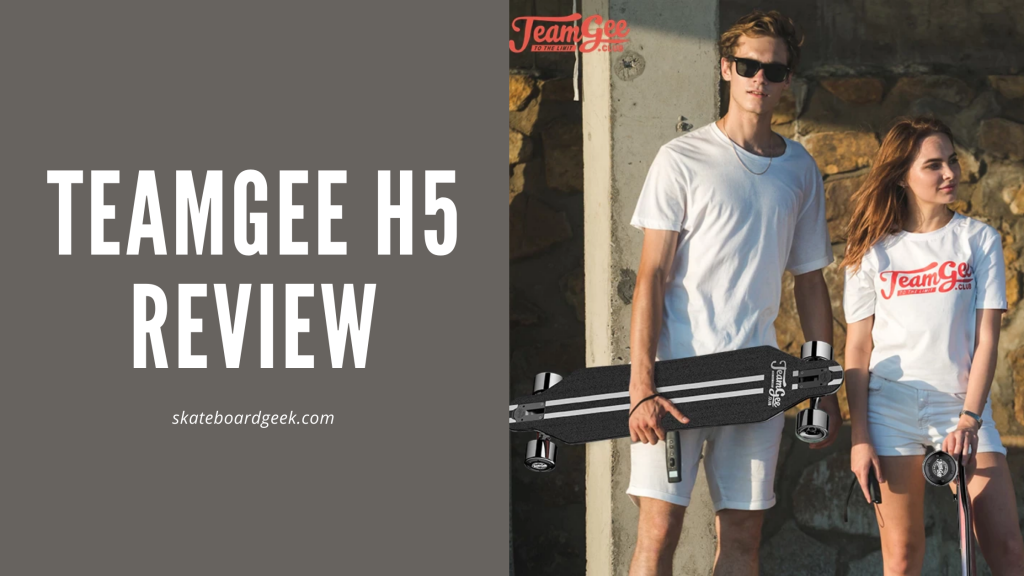 Teamgee H5 Reviews – Features Guide
The Teamgee H5 electric skateboard is affordable with good features. Moreover, it rides smoothly and performs much better than most cheap electric skateboards. let's dig deep into its features;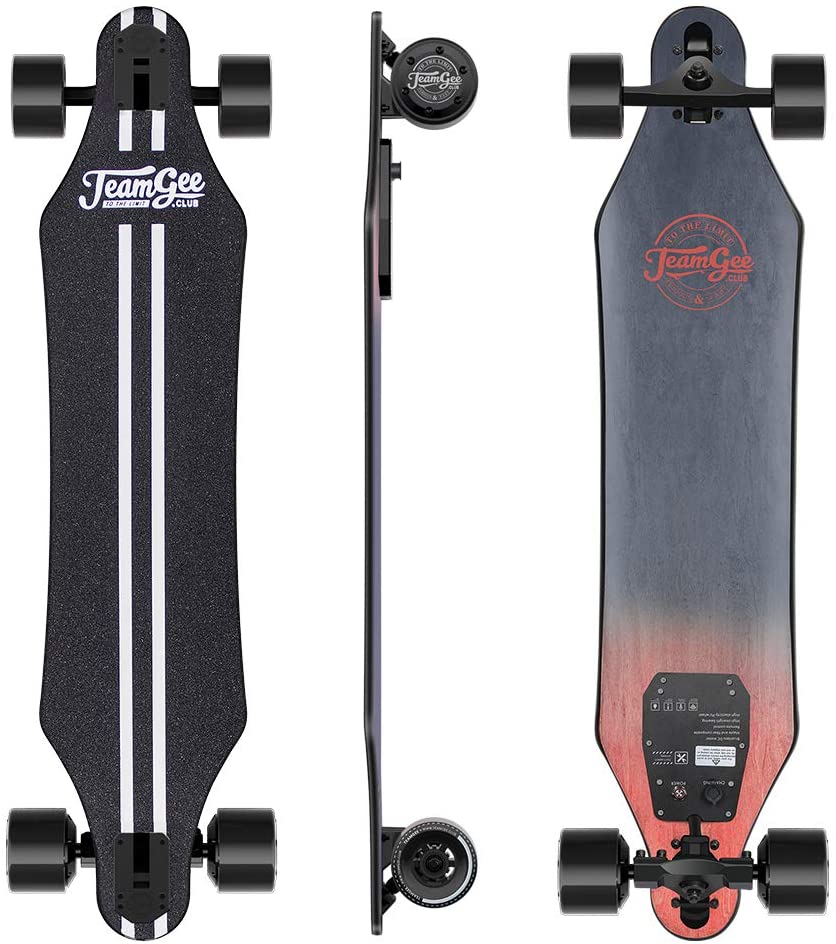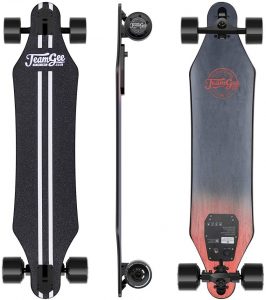 Top Speed: 22 MPH | 35 KMH
Range: 11 miles | 18 km
Battery: 3500mAh Lithium
Motor: 760W Dual Motors
Climb: 20% Steep Hill
Size:

38" x 8.7"

Waterproof: IP54
Load Capacity: 220lbs | 100kg
Deck
The deck is made of 10-ply Canadian maple wood and 1-ply fiberglass, which makes it lightweight and durable. It is only 0.47″ thick which makes it the thinnest electric skateboard deck with built-in batteries.
Teamgee endorsed a low to ground approach to ensure stable rides. The deck stays only 3.1 inches above the ground. As a result, the riders feel confident while experiencing stable rides.


It is a concave shape deck that makes it easier to turn. Furthermore, the board has a good flex that helps with performing sharp turns efficiently.
Motor & Speed
It is equipped with powerful 760W dual hub motors that aid the board in reaching a top speed of 22 mph within no time. It's not too fast for an electric skateboard, but it is enough to get you going on flat ground. You can pass traffic or even take shortcuts through alleys and sidewalks.
Teamgee H5 features 4-speed modes with a maximum speed of 22 mph. This e-board is quite easy to control and you can ride it on most surfaces with good stability and comfort.
It features 4 brake modes (B1, B2, B3, B4) that allow you to control your speed when needed.
Motors give enough power to this electric skateboard to handle gentle slope hills efficiently and climb 20% of steep hills steadily.
Battery & Range
The Teamgee H5 electric longboard is equipped with powerful Lithium-ion batteries, which offer a maximum range of 11 miles on a full charge. The batteries are thin and built-in into the deck. You can enjoy about 10-12 miles with smooth rides on flat ground and on average hills.
The battery can be fully charged in 2 hours. It is a portable board that you can carry anywhere you go without any trouble.
Wheels & Trucks
It is equipped with 90mm PU wheels that are suitable for riding on almost every surface including asphalt, smooth concrete, gravel surfaces and grass. The wheels have 83A hardness that provides enough grip on most surfaces.
The board features 7-inch aluminum alloy trucks. They are solid & lightweight but not too fancy. Wheels and trucks are easily upgradeable.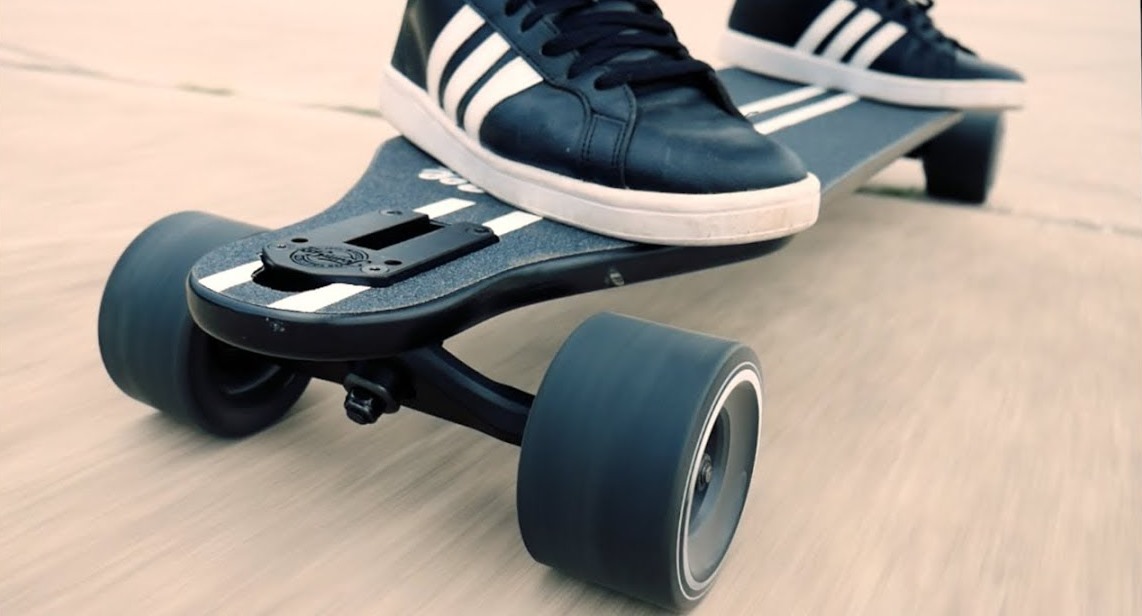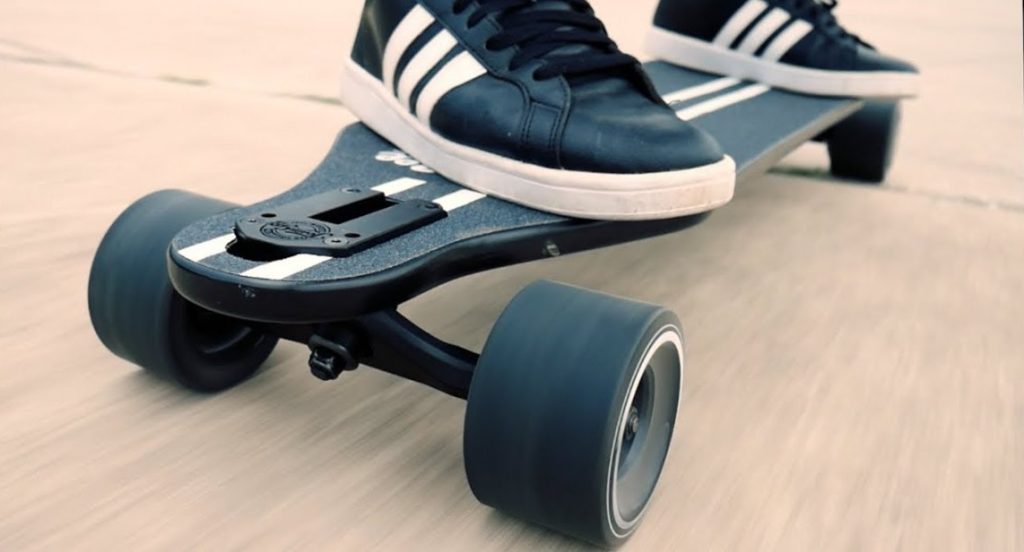 Read about the best skateboard brands of 2023.
Remote Control
The Teamgee H5 electric skateboard comes with an efficient wireless remote control. The ergonomic handheld controller offers two riding modes (Rookie & Pro) that allow you to enjoy effective and smooth rides on different terrains.
The remote control features a LED display that shows the mode and battery percentage. You can also check on the range and speed of your board whenever necessary.


Ride & Board Control
It is a simple board that offers a controlled riding experience. It features several control modes from beginner to pro. You can select the riding mode as per your needs and experience level.
In rookie mode, it uses an eco-friendly power supply and disables the speed limit option to make it easier for beginners to ride smoothly. In pro mode, it enables you to accelerate faster and perform faster turns. You can also change the speed mode by holding down the throttle for a few seconds.
Warranty
Teamgee H5 electric skateboard comes with a 1-year warranty on the deck, a 1-month warranty for the battery and a 3-month warranty for other parts. The company offers an excellent support team that can be reached via email or phone call at all times. The team provides prompt support to their customers whenever needed.
Pros
Good electric skateboard for beginners
Intelligent e-skateboard with ergonomic remote control
Effortless control
Ultra-thin deck with built-in batteries
Lightweight – easy to carry around
Cons
Not very good at climbing steep gradients
Comes with a short warranty
Final Verdict
The Teamgee H5 electric skateboard is a long-lasting and full-featured electric skateboard that performs well. Most experienced riders love it because of its ease of use and durability. It works well on both surfaces – smooth concrete and asphalt roads. However, you cannot ride it uphill with more than 20% gradient due to low-powered motors.
We recommend Teamgee H5 electric skateboard to anyone looking for a cheap electric longboard that performs well, is easy to maintain and has good value for the money. It is a good electric longboard for beginners, professionals may find it a bit slow.
Frequently Asked Questions: (FAQs)
Is the Teamgee H5 good?
Yes, teamgee H5 is a great electric skateboard for beginners. It is perfect for riding around the neighborhood and college campuses. We recommend it for short commutes.
How do I pair my Teamgee remote?
You can pair your teamgee remote as follows:
Turn on the power switch
Press and hold the power button until you pair it with a remote control
You can check if your teamgee board is paired successfully with a remote by just moving forward or backward. The LED light of the teamgee electric skateboard will also turn on to confirm that your teamgee electric longboard is ready for riding.
How long does Teamgee take to ship?
Delivery time depends on location but teamgee promises to deliver within 7 days for most of their orders.
What tools do I need to assemble teamgee H5?
You don't need any special tools except a flat head screwdriver and Allen key (included) to attach wheels and trucks properly. The teamgee team assembles their electric skateboards in-house. They are shipped almost ready to ride (you need to attach trucks, wheels and tighten the bolts)