Do you love skateboarding and want to cruise around with speed on the best electric skateboard? As expert electric board riders with years of experience, we've tried and tested some of the top-rated motorized skateboards of the best brands.
These e-skateboards have good battery life, powerful motors, and maximum range. That means you can travel a longer distance at top speed on these auto skateboards.
How exciting it is that the skateboards you used to push and drag around are equipped with powerful batteries. These boards are controlled by electronic remotes while offering you balanced-speedy rides.
So, whether you are looking for a speedy commute or just want to hit the streets in style, sit back, buckle up, and get ready to learn about the coolest electric boards of the year.
Disclaimer: The reviews related to battery life, top speed, incline ability, and traveling distance are based on ideal body weight and optimum skating environment. However, these aspects will vary depending on the rider's weight, wind speed/direction, surface conditions, etc.
Do you prefer traditional skateboarding? Check out the top Skateboard Brands of 2023.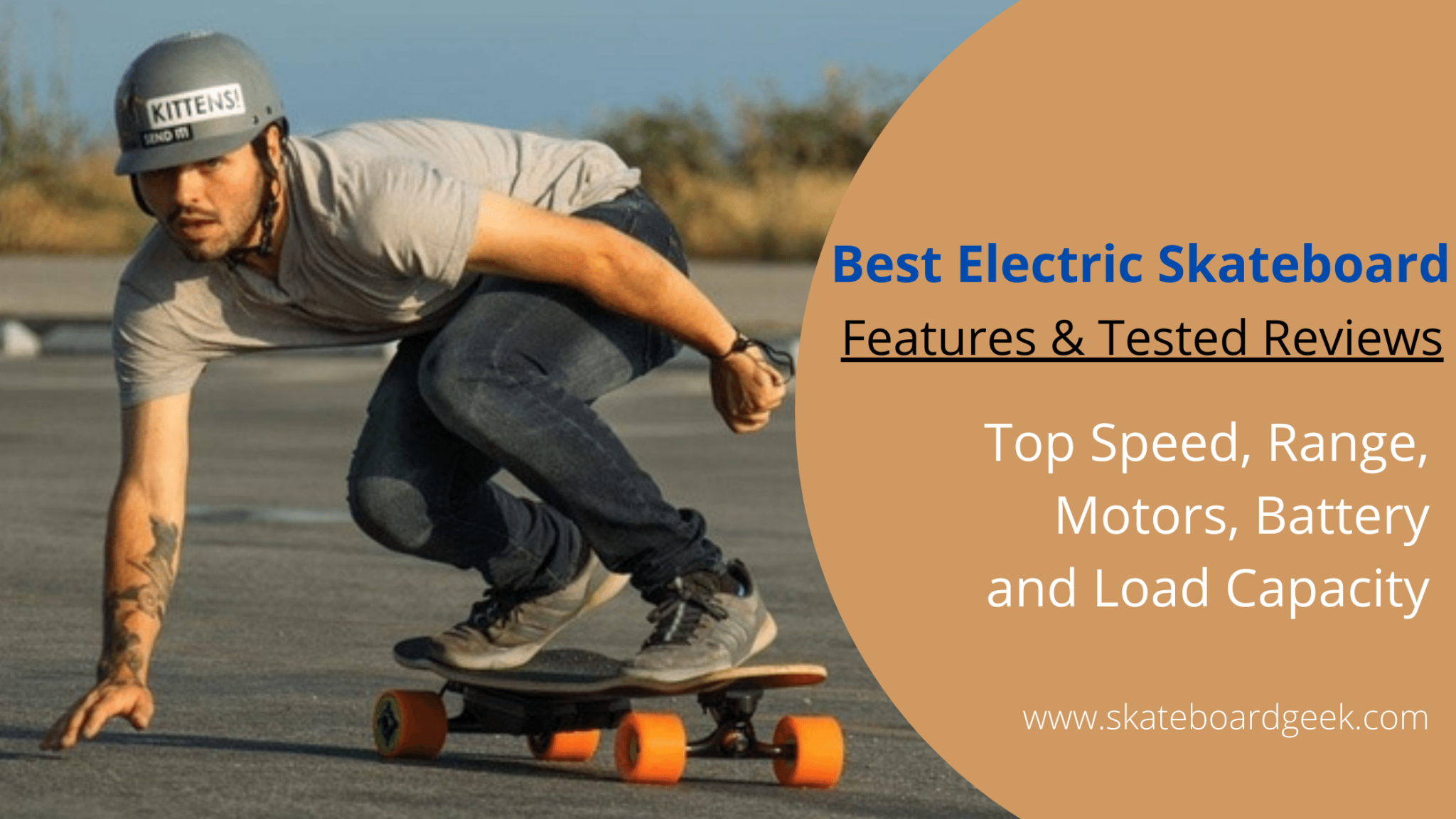 Top 10 Best Electric Skateboards of 2023
Here is a list of the best electric skateboards of 2023 on the market. We selected these battery-powered longboards after reading reviews and having multiple test rides on speed tracks to observe self-balancing and performance.
No.
Electric Skateboard
Quality
Top Speed
Range
Price
1
SKATEBOLT Breeze II
Best Motorized Skateboard
30mph
48kmh
15miles
24km
2
Teamgee H20T
Best Powered Skateboard
26mph
42kmh
22miles
35km
3
MEEPO V3
Best Remote Control Skateboard
28mph
45kmh
11miles
17km
4
SKATEBOLT Tornado II
Best Battery Powered Skateboard
26mph
42kmh
22miles
35km
5
FAST & FURIOUS FT001
Best Electric Longboard
25mph
40kmh
17miles
27km
6
Maxfind MAX 2PRO
Cool Auto Skateboard
24mph
38kmh
14miles
23km
7
Backfire G2
Best Value Electric Skateboard
23mph
37kmh
12.5miles
20km
8
Teamgee H5
Best Intelligent Electric Skateboard
22mph
35kmh
11miles
18km
9
Hiboy S22
Affordable Electric Skateboard
18.6mph
30kmh
12.5miles
20km
10
Blitzart Huracane
Best Electric Skateboard for Beginner
18mph
29kmh
8miles
13km
Top Picks
Top Speed: 30 MPH | 48 KMH
Range: 15 miles | 24 km
Battery: 6000mAh Lithium
Motor: 900W Dual Motors
Climb: 30% Steep Hill
Size: 39″ x 12.5″ x 5.5″
Waterproof: IP67
Load Capacity: 264lbs | 120kg
Skatebolt has been manufacturing electric skateboards since 2016 and evolving into the finest and high-quality e-skateboard brand. The company aims to offer motorized skateboards that are safe, perform best, are easy on cruise controls, and are available at affordable prices.
The significant feature of the Skatebolt Breeze II is that it has an enhanced waterproof level. It offers smooth cruising even in the rain – what we like the most. The deck's composition makes it lightweight, stable, and durable for hardcore rides. This stylish electric skateboard is extremely fast with 4-speed modes, perfect for hill climbs of 30% steep hill.
Note: always use safety gear while riding skateboarding whether it is a traditional longboard or an electric board.
Main Features: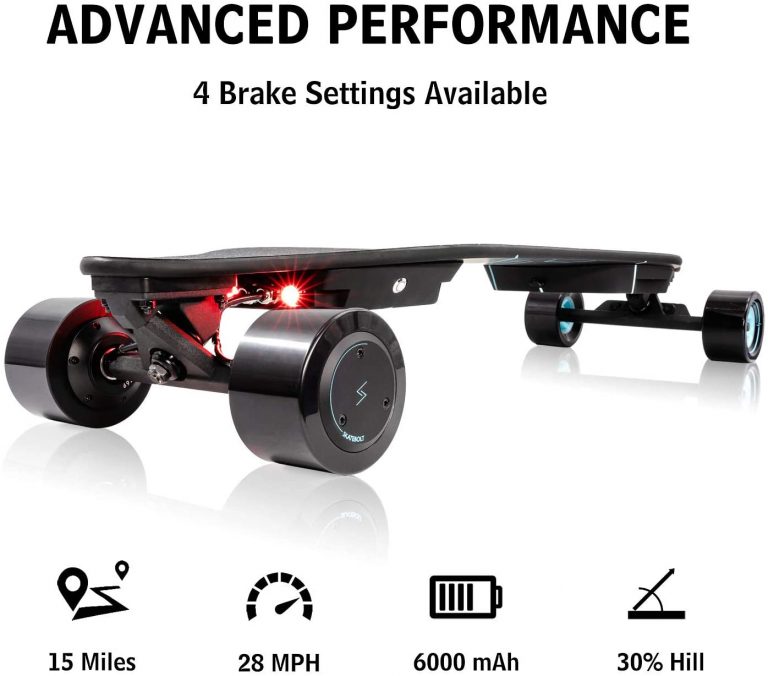 The Breeze II is constructed with solid bamboo and two layers of 11mm glass fiber, this composition makes it highly flexible and durable while providing comfort and stability
It features 4-speed modes with a 30mph top speed – extremely fast
Highly efficient 6000mAh Samsung 30q lithium battery, it allows you to travel up to

15miles

in medium mode with a full charge
The board is equipped with strong 900W dual motors, powerful enough to climb a 30% gradient easily. (replaceable motors)
This electric board comes with pre-installed 100mm AT wheels and an extra set of 90mm as replacement wheels
Advanced technology regenerating brakes that charge the board during the downhill ride
Easy turning on function just by steps of sliding as a normal skateboard
The Breeze II features a cruise control function, you can cruise at the same speed just by pressing the LED button on the remote control
Electronic remote with LCD screen display that shows riding speed, battery capacity, direction, and also records the range you have ridden for one charge
Pros
Powerful replaceable dual motors
Durable design with an enhanced waterproof level
Extremely fast with maximum range electric skateboard
Regenerating brakes that charge the board
Bright tail light for safety at night
6-months manufacturer warranty
Stable and offers balanced rides while speed cruising
Cons
Bit pricey – high performance comes at a high price
Some users complain about poor after-service
Read a detailed article about tested reviews of Skatebolt Breeze 2.
Our Experience:
Skatebolt made good improvements from its precedent model. We found the Breeze 2 very stable with great balance and control. It was even faster with replaceable batteries and wheels. The deck was really flexible and strong which felt comfortable during rides.
Top Speed: 26 MPH | 42 KMH
Range: 22 miles | 35 km
Battery: 9600mAh Lithium
Motor: 1200W Dual Motors
Climb: 30% Steep Hill
Size:

38″ x 9″ x 6″

Waterproof: IP54
Load Capacity: 286lbs | 130kg
Teamgee H20T is an upgraded version of its successor and is designed to provide stability while speeding. Teamgee decks have W-shaped foot sockets that provide a good surface for firm foot placement. Its extra-wide anti-skid rubber tires ensure smooth rides in the rain and sunshine. This electric skateboard is powered by 1200W dual motors for powerful riding – even while climbing.
We like the most its ability to go from 0 to 26 MPH just in 3 to 5 seconds. The board is particularly designed thin to reduce the weight, allowing you to accelerate in no time. Also, switching between modes is way easier now – thanks to a two-way intelligent remote that conforms to human palm design.
Main Features:
The deck is constructed with 8 ply Canadian maple + 1 ply fiberglass for enhanced strength and stability while speeding, optimum flex to absorb bumps and ensure comfort while faster commutes
103mm anti-skid rubber tires that are widened by 24 holes. These holes create a buffer zone to reduce weight and ensure stability while cruising
It features 4-speed modes (L/M/H/H+) with a top speed of 26 Mph/42Kph, and 4 brake modes (B1, B2, B3, B4). You can easily switch between them just by pressing the buttons
1200W hub dual brushless motors provide lightning-fast acceleration even while climbing a 30-degree steep hill
9600mAh powerful battery offers 22 miles/35 km range, which is a significant area to cruise around
The battery takes only 4 hours to fully charge and become ready for cruising – again
Seahorse remote control that is designed considering the human palm shows speed, break mode, skateboard's and remote's remaining lives

Note: Teamgee H20T electric skateboard comes with a set of PU wheels ($79.99 value) for free. You can switch easily between the rubber wheels and PU wheels depending on the terrain. (Limited time offer)
Pros
Well-designed W-concave provides a firm surface for stable rides
Lightweight and durable
Powerful motors – obtain top speed within 5 seconds
Shock-absorbing wheels and trucks
Aluminum alloy protective case for battery
Comes with 180 days warranty
Cons
Broken parts replacement can be costly
We experienced its lesser range than what Teamgee stated
Our Experience:
After performing a few test rides, we were impressed by its mileage and stability. And the best part, its wheels are perfect for different terrains which ensures smooth rides on even and bumpy surfaces. We recommend it for everyday short commutes to college, the office or to the market.
A verified purchaser "Bridget B." on Amazon says, "Update the board only goes 18mph with rubber wheels. I was able to get it to 24 mph with the PU wheels. Also, rubber wheels only give about 6 miles of range. But much longer range with PU wheels. All n all still happy with this board."
"Best Remote Control Skateboard"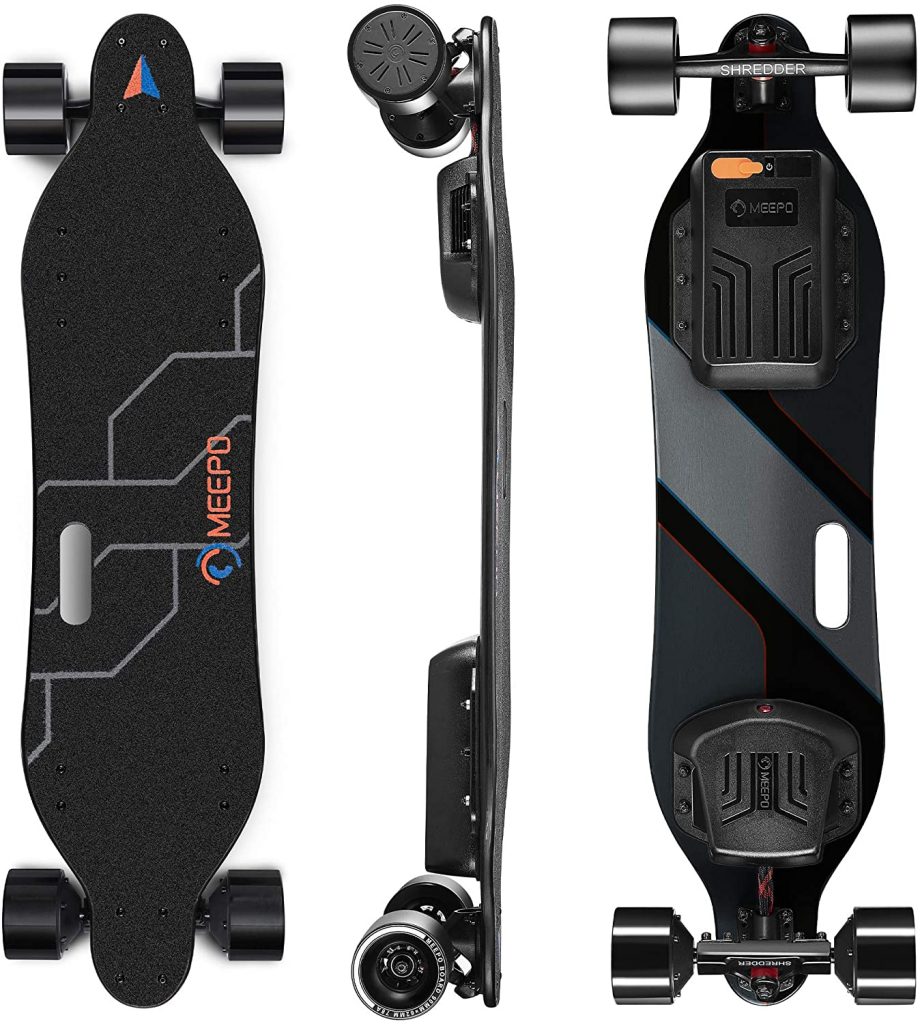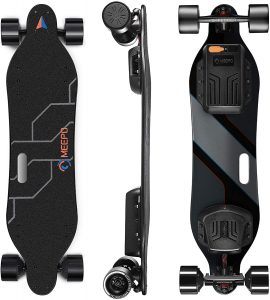 Top Speed: 28 MPH | 45 KMH
Range: 11 miles | 17 km
Battery: 8000mAh Lithium-ion
Motor: 2 x 540 Hub Motors
Climb: 30% Steep Hill
Load Capacity: 300 lbs |136 kg
Size: 38″ x 9″
Meepo V3 is the most popular Meepo electric board, powerful, and very convenient for all skating level skaters. The board is so powerful that it reaches top speed just in 4.5 seconds. It rides with a persistent speed of up to 9mph at a 15% gradient. So, if you love to skate and live in a hilly area, Meepo V3 is the best remote control skateboard for you.
This e-skateboard is hub-driven, which means that the back wheels are also powered by two 540-watt motors. Therefore, the board runs extremely quiet as compared to belt-driven skateboards, resulting in smooth rides on even tar tracks. The only negative side of the Meepo V3 is that it is not rain-friendly. Although it is water-resistant, we do not recommend riding it in rain.
Main Features:
The deck is made of seven layers of durable Canadian maple wood, it is natural flex and stability
It has 4-speed modes (low, medium, high, pro) with a top speed of 28mph, 4 brake modes are also named the same
2 x 540W powerful motors for more acceleration, the board reaches from 0 to 19 mph (30 kph) in just 5 seconds
The board can climb a 30% steep hill efficiently, motors are powerful enough to offer a persistent ride of the speed of 9mph on a 15% slope
8000mAh lithium-ion Samsung battery provides 11 miles smooth speedy ride
Complete electronics sealing with glue, making the board moisture and dustproof, as well as water-resistant
Remote control with digital display
Pros
Cut out handle from the board for easy handling
Hub driven back wheels
Smoothest fastest electric skateboard
Fast battery charging 2 to 3 hours, USB charge option
The battery range can be extended
Kick-push start
Comes with a 6-months warranty
Cons
Not suitable for hard carving
Some users found problems with remote
Read detailed reviews of the Meepo V3 electric skateboard.
Our Experience:
By far, this was the smoothest electric board we rode in this price range. It is built with the best quality materials and comes with all the tools you might need for maintenance. Premium quality charger and cords that provide fast charging.
Also, consider that it's fast with high torque, and controlling it can be difficult for beginners. You need to have some skateboarding experience on a normal skateboard before stepping onto this e-board.
"Best Battery Powered Skateboard"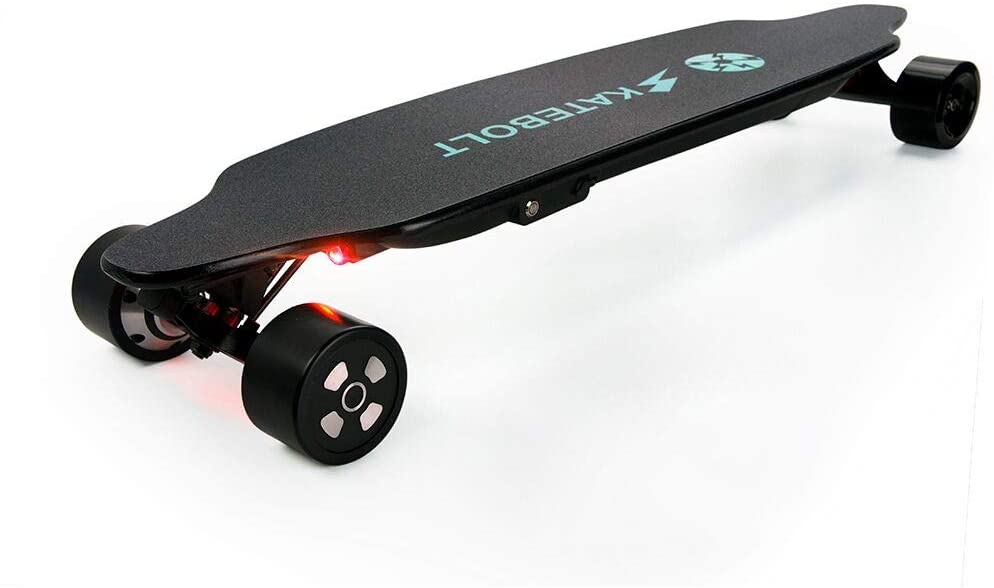 Top Speed: 26 MPH | 42 KMH
Range: 22 miles | 35 km
Battery: 7500mAh Lithium-ion
Motor: 2 x 500W Hub Motors
Climb: 25% Steep Hill
Load Capacity: 280 lbs |127 kg
Size: 38″ x 9.1″ x 5.5″
Tornado II electric skateboard is designed to deliver fast accelerated rides in no time. It is popular among the skateboarding community due to its strong battery and comfortable rides. This premium quality electric skateboard is fairly priced. We recommend it using for short-distance speedy rides.
We personally like its steadiness and comfort even at top speed cruising. It did not wobble even while changing between modes and quick turns. Best of all, Skatebolt Tornado II is approved by EMC, FCC, LVD and ROHS. Hence, purchase it with confidence and enjoy cruising in the city traffic.
Main Features:
The deck is constructed with 8-ply Northern maple wood, this bulky construction ensures stability and durability
Skatebolt introduced an upgraded battery with a capacity of 7500 mAh battery for longer commutes
The powerful battery allows you to travel a range of 21 to 24 miles at medium speed mode
4-speed modes (Low, medium, high, pro) with a top speed of 26mph/42kmh, also 4 brake modes
Tornado II is equipped with dual 500W hub motors. These motors are strong enough to push the acceleration and reach top speed in seconds, and climb 25% steep hill with persistent speed
2 warning taillights to ensure safe rides in the dark, they blink whenever you break to warn the vehicles coming from behind
Thumb control remote with LED displace to keep track of speed, brake mode, the distance you have traveled and the remaining battery
The board is equipped with a regenerative braking system that charges the skateboard during braking to extend the longevity of the battery
Pros
Performance safety rides
Long deck to ensure stability
Fast acceleration and speed
Comes with a 6-months manufacturer warranty
Fairly priced
Cons
A little on the heavier side due to the thick 8-ply deck
The remote control does not come with a wristband
Our Experience:
First, we thought it was unnecessary to have such a long deck, but it ensures stability. It is an excellent electric board that provides high performance, comfortable rides and long endurance. It features beautiful brake lights. The battery lasted longer than 4 hours on slow mode.
We recommend starting to ride it in the H mode before jumping to the fastest mode H+. The H mode is smoother on the acceleration and braking. However, there is a drawback, the remote control does not come with a wristband.
Top Speed: 25 MPH | 40 KMH
Range: 17 miles | 27 km
Battery: 7500mAh Lithium-ion
Motors: 1800W Dual Motors
Climb: 25% Steep Hill
Load Capacity: 330 lbs |150 kg
Size:

29″

x 9.4″ x 5″
We rated Fast & Furious FT001 as the best for heavy riders due to its powerful motors. Another great feature is that it is completely waterproof. So, you can enjoy riding it without worrying about splashes. Furthermore, you can also wash the board to keep it clean.
The board is ideal for heavy-weight big skaters. It is strong due to the no-welding design for ultimate endurance and low maintenance. The linear braking system lets you feel the real change of brakes. Constructed with a mixture of bamboo and maple wood, it has optimum flex to ensure durability.
However, the FT001 lacks in the range – probably because of its heavy weight.
Here are the top rated electric skateboards for heavy riders.
Main Features:
The deck is constructed with a mixture of solid woods to ensure ideal flexibility and endurance: 5 layers of Canadian maple + 2 layers of bamboo
1800W dual drive motors with 270KV deliver consistent performance on flat and hilly surfaces. Motors are powerful enough to climb a 25% steep hill with persistency
It features three-speed modes (low, medium, high) with a top speed of 25mph/40kmh
The rubber fiber belt supports high speed efficiently, the efficient belt transmission reduces the transmission resistance to avoid the heat generation
7500mAh high-performance battery: the battery is made by Tesla using 30 Li-ion high-quality cells
The maximum range on medium mode can reach 28km/17miles, suitable for cruising around in urban areas
Colorful light strips on both sides of the board that change colors while driving forward and backward – good for warning, look attractive too
The linear braking system for better control while braking
Electronic remote control with display to see speed, brake mode, traveled distance and remaining battery
Pros
Efficient belt transmission system
Suitable for heavy weight skateboarders
Powerful dual motors for fast acceleration
Wheels are replaceable
1-year warranty except for battery (6-months warranty on battery)
Cons
The Fast & Furious FT001 is a little heavier than other electric skateboards
Slightly expensive, but worth the money
Our Experience:
The FT001 electric skateboard was fun and easy to ride. It is built with high-quality materials, and it looks amazing due to the colorful smart lights. This e-skateboard has impressive power and speed. We recorded it reaching 18 miles on flat ground on the lowest setting.
A noticeable feature is "Push to Start", meaning it will turn on auto when the rear wheels are rotated without pushing the ON button on the remote. This electric board is so easy to control that even beginners can ride it in a slow mode.
Top Speed: 24 MPH | 38 KMH
Range: 14 miles | 23 km
Battery: 4400mAh Lithium
Motor: 2 x 600W Hub Motors
Climb: 25% Steep Hill
Size:

31″ x 10.6″ x 5″

Waterproof: IP65
Load Capacity: 220lbs | 100kg
This upgraded version of its precedent is more furious. Its design looks like an alien technology or a prototype aircraft on wheels. Maxfind introduced the first diamond cut deck design inspired by automobiles. The deck is engineered using highly durable composite material to ensure endurance and stability.
The best feature of the Maxfind Max 2 Pro is the hub motors. The company believes that hut motors are the future of e-skateboarding rather than belt-driven skateboards. This cool design board is waterproof and dustproof. Hence, you can enjoy safer rides in every type of road condition.
Main Features:
The deck is made of strong plastic composite material combined with carbon-fiber coating making the board lightweight and durable
It features 3-speed modes (beginner, eco, fast) with a top speed of 24mph/38kmh
The lithium-ion battery has 4WH with a capacity of 4400mAh, the battery is capable of fast charging within 120 minutes with UL fast charger
An electronic regenerative braking system keeps the battery at an optimum level and recharges the board while braking
IP65 level waterproofing makes it suitable to ride in the rain
90mm wheels are covered with a waterproof replaceable covering
2 x 600W hub motors ensure a quiet and smooth ride and fast acceleration. Motors are strong enough to climb a 25% steep hill with persistent speed
4GHz smart remote comes with a lanyard
Pros
Cool diamond cut design
Lightweight and durable electric board
Eco-friendly material
Replaceable wheels and motors
Waterproof, shockproof – offer smooth rides in different conditions
Cons
Remote does not have a display
Not suitable for big guys
Our Experience:
We admire its super lightweight which makes it easy to carry around. High-quality build, and it looks cool in reality. Despite being a shortboard, it was bigger than I expected, it was sturdy and provided a decently wide stance.
We observed it taking a sudden force in 3rd gear and as I accelerated I could feel the board take off. We recommend it for both beginners and advanced riders.
"Best Value Electric Skateboard"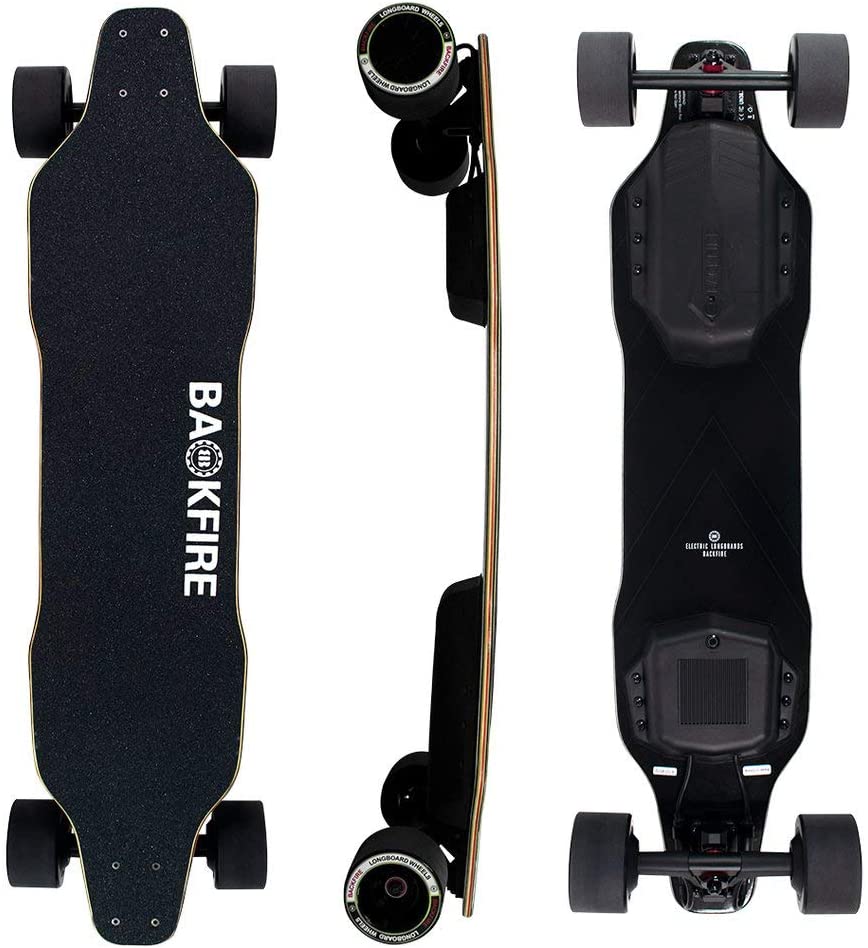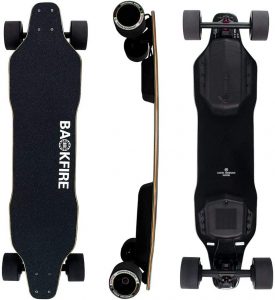 Top Speed: 23 MPH | 37 KMH
Range: 12.5 miles | 20 km
Battery: 6000mAh Lithium
Motor: 2 x 400W Hub Motors
Climb: 25% Steep Hill
Size:

38″ x 9″

Waterproof: IP55
Load Capacity: 240lbs | 109kg
The Backfire G2 black is a great performing electric skateboard at an affordable price. It is relatively cheaper than other e-skateboards but efficiently competitive with high-priced electric longboards. This hub-driven best value electric skateboard has impressive acceleration due to 400W hub motors.
We were amazed by its smooth ride and effortless handling. Although it does not have too flashy features, this minimal electric board is all you need for comfortable and premium feel cruising. Backfire G2 black is budget-friendly and good for adults at entry-level electric skateboarding.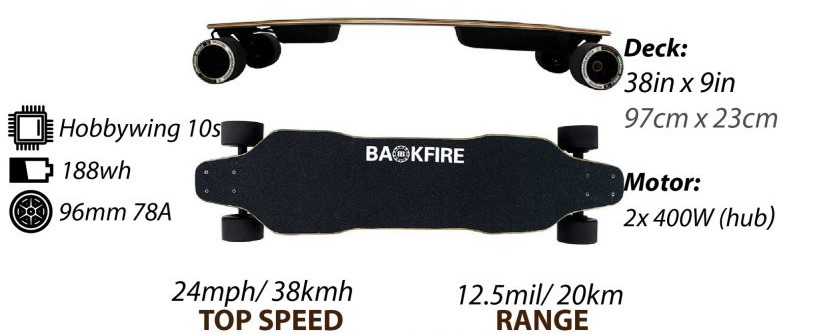 Main Features:
The deck is constructed with 8-ply Canadian maple wood for durability and ideal flex
Powerful 400W hub motors for lower-center gravity, they help with fast acceleration and let the board reach top speed in no time
Hub motors ensure smooth and comfortable rides even on 25% steep hills
Advanced and smart 6000mAh battery with 187WH covered in extra IP55 level water-proof covering on the inside
This electric skateboard has a range of

12.

5miles/20km, and the eco-mode offers a 30km range at a high speed of 24mph
Pre-installed 96mm large wheels with 83A hardness level for more ground grip and controlled rides
Two-speed modes with a top speed of 24mph / 38kmh, Hobbywing ESCs strong braking system
R2 Hobbywing wireless remote control with a digital screen, lanyard and finger-loop to reduce the chances of dropping while cruising
Pros
Affordable and best value electric skateboard
Suitable for low-budget and beginner electric skateboarders
Comfortable and stable rides
Replaceable wheels and wheel sleeves
Smart technology hub motors
Comes with a 6-months warranty
Cons
No LED warning lights to ride in the dark
No Bluetooth connectivity
Read detailed features and tested reviews of Backfire G2 Black.
Our Experience:
This electric skateboard provided extreme confidence even to the beginners in our skating academy. It felt reliable, very stable, and pretty comfortable while riding – friendly for new skaters. With two speed modes, we found it less complicated to ride. We recommend to start riding it in the eco mode, it feels gentle in acceleration and braking.
"Best Intelligent Electric Skateboard"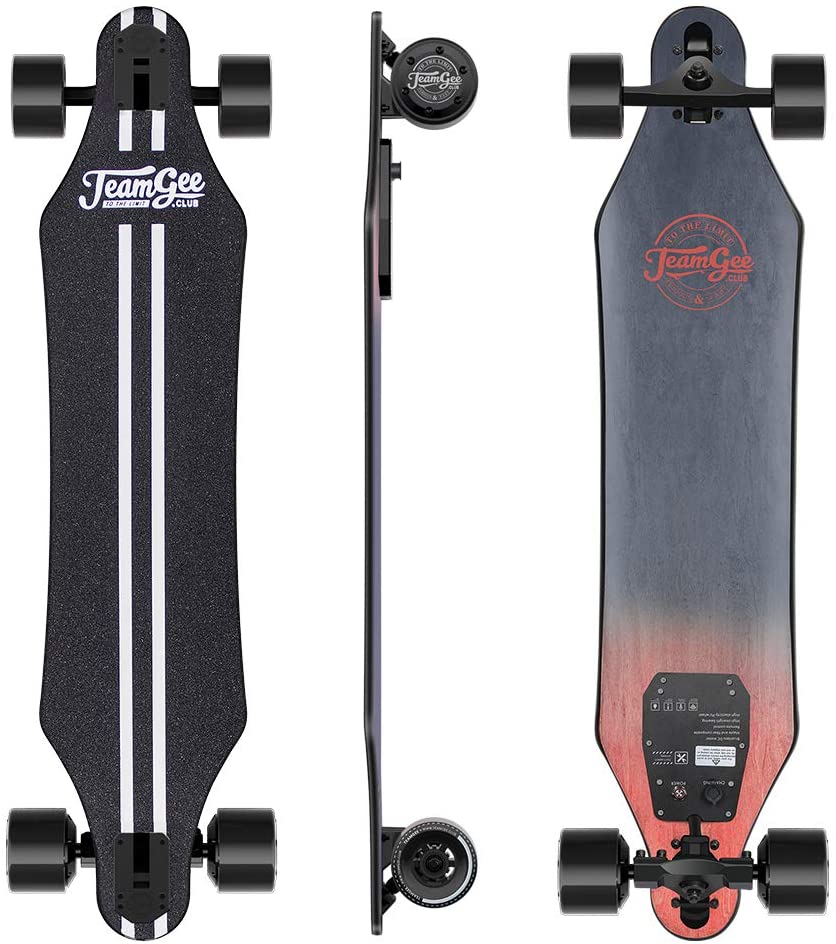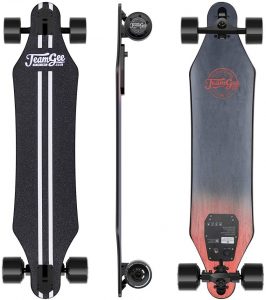 Top Speed: 22 MPH | 35 KMH
Range: 11 miles | 18 km
Battery: 3500mAh Lithium
Motor: 760W Dual Motors
Climb: 20% Steep Hill
Size:

38″ x 8.7″

Waterproof: IP54
Load Capacity: 220lbs | 100kg
The 5th generation Teamgee electric skateboard is known for its highest performance and super-thin deck. This 12mm thinnest electric longboard is perfect for everyday commuting and short cruising. The board stays 3 inches above the ground, thus, the low-deck design ensures a stable and confident riding experience.
Our electric skateboarding team rated it as the best intelligent electric skateboard because you can take precise turns effortlessly due to its slight concave design, and intelligent easy-to-operate remote control. Furthermore, the batteries are hidden inside the deck. As a result, the board looks neat and more portable to carry around.
Key Features:
The deck is made of 10-ply Canadian maple wood and 1 ply fiberglass to ensure durability while offering medium flex
The thinnest electric skateboard with only a

0.47

deck with built-in batteries, it stays only 3.1-inches above the ground for stable rides
It is equipped with powerful 760W dual motors, motors are strong enough to reach top speed quickly

3500mAh

lithium batteries that offer up to 11 miles range with a full charge
Teamgee H5 features 4-speed modes with a maximum speed of 22 mph (as advertised), and 4 brake modes (B1, B2, B3, B4)
This electric skateboard can handle gentle slope hills efficiently and climb 20% of steep hills steadily
The wireless remote control with LCD screen to monitor changes in speeds and directions, and reversing. It also has LED light to ride in dark conditions
Pros
Suitable for entry-level electric skateboarders
Intelligent e-skateboard with ergonomic remote control
Effortless control
Ultra-thin deck with built-in batteries
Lightweight – easy to carry around
Cons
The motors aren't very powerful
Comes with only 3-months warranty
Read a detailed review of Teamgee H5 electric skateboard.
Our Experience:
By looking at it, you can't tell it's an electric board because batteries are hidden inside the deck. This cool-looking e-board comes equipped with quality wheels and the board itself is very sturdy.
Best of all, even beginners can ride it without any difficulty. We recorded 21 mph the highest speed on a flat street – pretty good for the price. Advanced riders may find it a low-powered basic e-board!
"Affordable Electric Skateboard"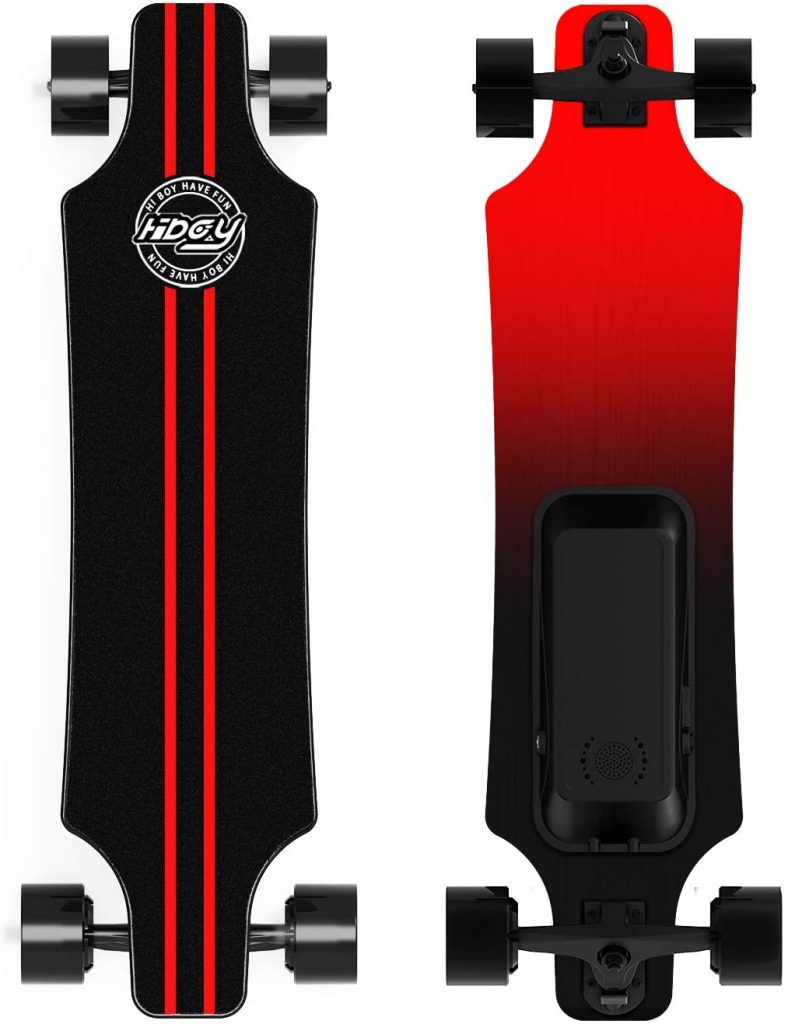 Top Speed: 18.6 MPH | 20 KMH
Range: 12.5 miles | 20 km
Battery: 4000mAh Lithium-ion
Motor: 2 x 350W Hub Motors
Climb: 20% Steep Hill
Load Capacity: 220 lbs |100 kg
Size: 36″ x 9.4″ x 5.5″
Price is a major issue when it comes to e-skateboarding. However, Hiboy S22 is a cost-effective electric skateboard with advanced features to compete with expensive models. It is affordable, performs efficiently and is good for every skating level – beginner and professional e-skaters.
Hiboy S22 is exceptionally fast and offers a comfortable ride even on steep hills. This cheap electric skateboard has a wide deck and offers responsive controlled rides even while speeding.
Looking for some other affordable options? Read reviews of cheap electric skateboards to choose one that suits your budget.
Main Features:
The U-shape deck is made of 7-layers of strong maple wood for the authentic feel and maximum strength
High performance 2 x 350W brushless hub batteries boost the power for acceleration and ensure a smooth ride
It features 4-speed modes and 4-brake modes with a top speed of 6mph/30kmh
4000mAh Lithium-ion performance battery offers a comfortable ride up to 5miles/20km on a single charge
Strong brushless motors offer a powerful ride to climb a 20% steep hill efficiently
Ergonomic remote control with a finger loop for firm handling
Pros
Cheap electric skateboard
Charges in 2-hours
Replaceable wheels
Comes with pre-installed super grip tape
Runs smoothly
Cons
Poor after-sale service
It keeps disconnecting from remote
Our Experience:
Indeed, this e-board is the best value in the electric skateboard market. Its build quality seems good enough. We found the braking and acceleration very responsive, and it forgives the bumps and cracks of the road.
I would not recommend it for your young or new skaters because it accelerates and decelerates almost too fast. They might lose balance and end up on the ground.
"Best Electric Skateboard for Beginner"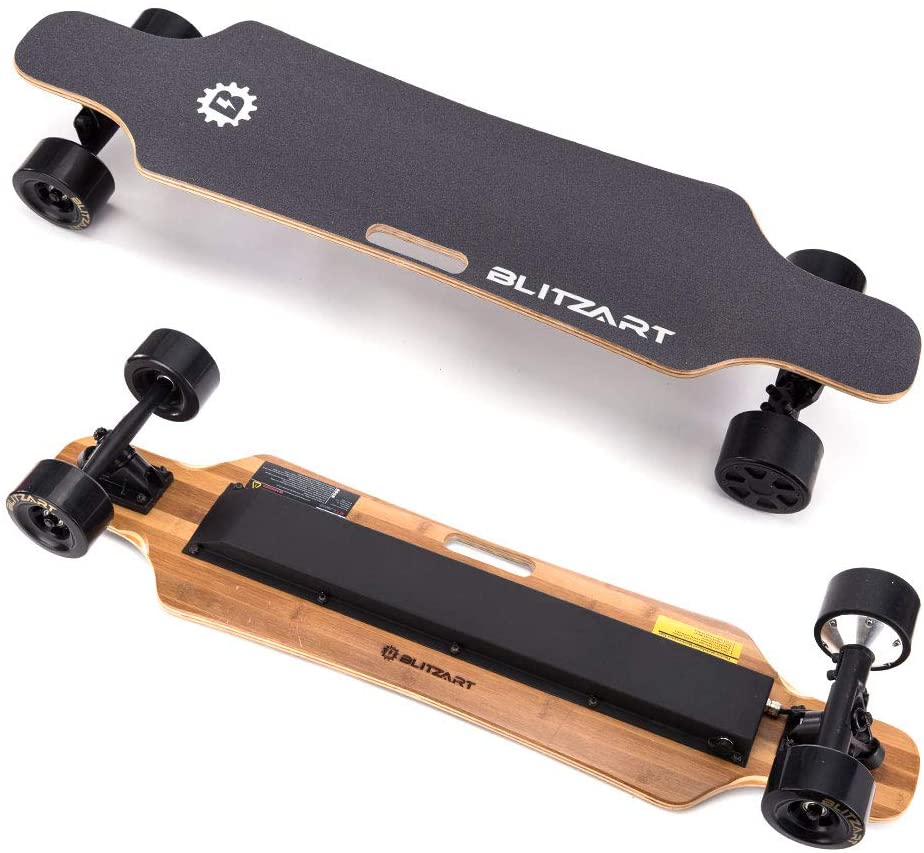 Top Speed: 18 MPH | 29 KMH
Range: 8 miles | 13 km
Battery: 4000mAh Lithium-ion
Motor: 350W Brushless Hub Motor
Climb: 20% Steep Hill
Load Capacity: 250 lbs |113 kg
Size: 38″ x 7″ x 4.5″
Beginners find it challenging to find the right electric skateboard from so many choices. However, Blitzart Huracane is a perfect choice for entry-level e-skaters due to its minimal design. This board delivers the same speed and range as advertised by the brand – good for calculated commutes.
Its high-quality design offers comfortable rides while keeping optimum flex for every age rider. We liked its ability to efficiently perform even for heavy riders. Although the rider's weight has a significant impact on acceleration and speed, Blitzart Huracane's powerful motors deliver relatively better performance than other low-price electric skateboards.
Main Features:
The deck is made of 6 layers of Canadian maple wood and 2 layers of bamboo, ensuring the strength and flexibility
It features two-speed modes (beginner and advanced) with a top speed of 18mph/29kmh
The electric regenerative braking system allows the board to charge the battery every time you use the brake
The riding range is 8miles/13km with a maximum load that is reasonable. However, a lower weight rider can ride up to 10 miles without any issue
This e-skateboard is equipped with a 4000mAh lithium battery with 36V and 144Wh
It features a 350W brushless hub motor, making it strong enough to ride efficiently
Efficient to offer steady rides on 20% steep hills
Ergonomically designed wireless remote with LCD screen to monitor speedometer and battery life, accelerate, decelerate, or reverse using variable speed wheel.
Pros
Option to ride it in reverse
Ideal for beginner level e-skateboarders
Budget-friendly electric skateboard
Cut out handle from the board to make it easier to carry around
Colorful wheels are available
Cons
No option to fast charge the battery
Only 3-months warranty
Read about different types of skateboards.
Our Experience:
It is an entry level electric board, the cheapest in the market that offers a decent cruising experience. But I had an issue with the first purchase, it become dysfunctional after a few rides and kept sending me to full speed into intersections.
Top Electric Skateboards Comparison
Here is a comparison table of the best electric skateboards of 2023;
SKATEBOLT Breeze II
Teamgee H20T
MEEPO V3
SKATEBOLT Tornado II
FAST & FURIOUS FT001
Maxfind MAX 2PRO
Backfire G2
Teamgee H5
Hiboy S22
Blitzart Hurricane
Top Speed
30 mph
48 kmh
26 mph
42 kmh
28 mph
45 kmh
26 mph
42 kmh
25 mph
40 kmh
24 mph
38 kmh
23 mph
37 kmh
22 mph
35 kmh
18.6 mph
20 kmh
18 mph
29 kmh
Range
15 miles
24 km
22 miles
35 km
11 miles
17 km
22 miles
35 km
17 miles
27 km
14 miles
23 km
12.5 miles
20 km
11 miles
18 km
12.5 miles
20 km
8 miles
13 km
Motor
900W Dual
1200W Dual
2 x 540 Hub
2 x 500W
1800W
2 x 600W Hub
2 x 400W
760W Dual
2 x 350W Hub
350W
Battery
6000 mAh
9600 mAh
8000 mAh
7500 mAh
7500 mAh
4400 mAh
6000 mAh
3500 mAh
4000 mAh
4000 mAh
Climb
30%
30%
30%
25%
25%
25%
25%
20%
20%
20%
Deck Size
39"x12.5"x5.5"
38"x9"x6"
38″ x 9″
38″x9.1″x5.5″
29″x9.4″x5″
31"x10.6"x5"
38" x 9"
38" x 8.7"
36"x9.4″x5.5″
38″x7″x4.5″
Load Capacity
264 lbs
120 kg
286 lbs
130 kg
300 lbs
136 kg
280 lbs
127 kg
330 lbs
150 kg
220 lbs
100 kg
240 lbs
109 kg
220 lbs
100 kg
220 lbs
100 kg
250 lbs
113 kg
Features to Consider Before Buying an Electric Skateboard
Buying an electric skateboard is a bit trickier because it is equipped with electronic stuff. It is different from a traditional board that you use to push and drag around using your force. Electric boards have battery-powered motors which push the power to accelerate, all you have to do is balance the ride.
However, there are several models on the market and some cost fortune. An expensive e-board isn't always the right one, perhaps you can find a motorized skateboard at an affordable price that can provide you with exciting rides.
No matter if you are a beginner, intermediate, or pro electric skater, always consider the following factors before buying an electric skateboard;
Motor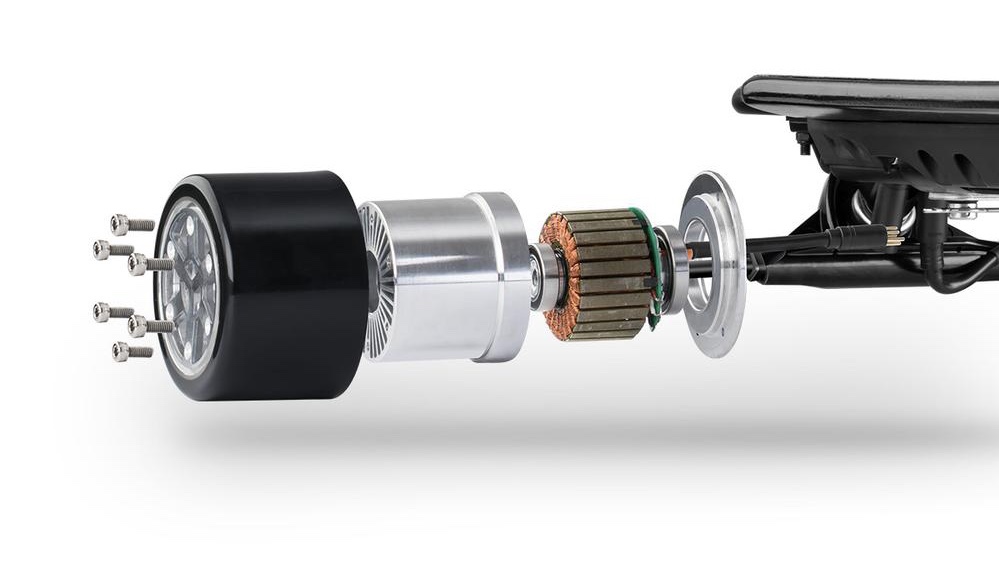 The motor is the most crucial part of an electric skateboard. If you want to enjoy the best riding experience, the skateboard must be equipped with a high-performance motor. The acceleration and speed totally depend on it. Powerful motors ensure smooth rides on steep hills.
Electric skateboards are equipped with two types of motors – belt-driven and hub motors.
Belt Driven Motors: These motors are good for high-speed acceleration and efficient braking. We have seen most high-end electric skateboards with belt-driven motors. The only drawback is that they are noisy due to belt technology. However, they are durable and aid in speedy rides.
Hub Motors: These motors are light, operate silently, and require less maintenance as compared to belt-driven. We have seen hub motors mostly in mid-range electric skateboards because they are affordable and energy-efficient.
We recommend e-skateboards with hub motors if you aren't planning to ride fast. However, belt-driven motors will provide speedy rides, even above 30mph.
Battery & Range
The range and speed depend on the battery. Powerful battery cells emit enough energy for the motor to perform at its best. And of course, a longer-lasting battery will keep providing power for a longer range.
If you are planning to buy an electric longboard to travel to and from your workplace, measure the distance and choose the board accordingly. Remember to keep a range margin of at least 20% just to be on the safe side.
Water-Resistant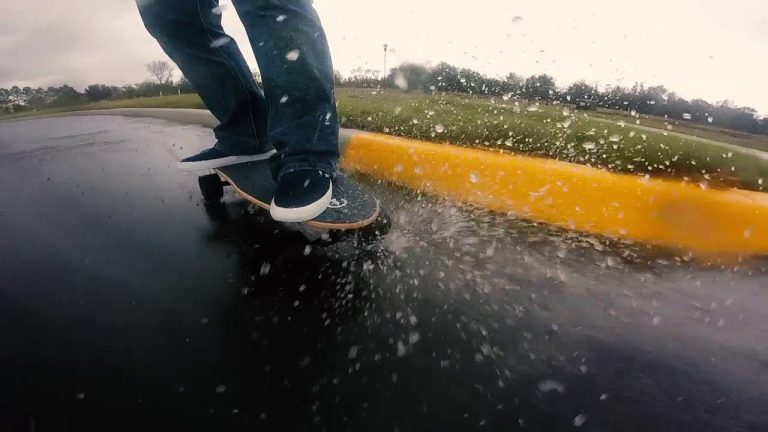 We do not worry too much about riding a traditional skateboard in rain. Unfortunately, very few (high-end) electric skateboards offer waterproof to a certain level where you can ride in the rain – still risky.
However, there are multiple water-resistant electric boards – which means a few sprinkles or going through water puddles will not affect it.
If an e-board is not water-resistant, you may not kill it completely while riding in water conditions – but there will be issues like connectivity and lack of performance. Therefore, make sure to purchase an electric skateboard that is water-resistant.
Wheels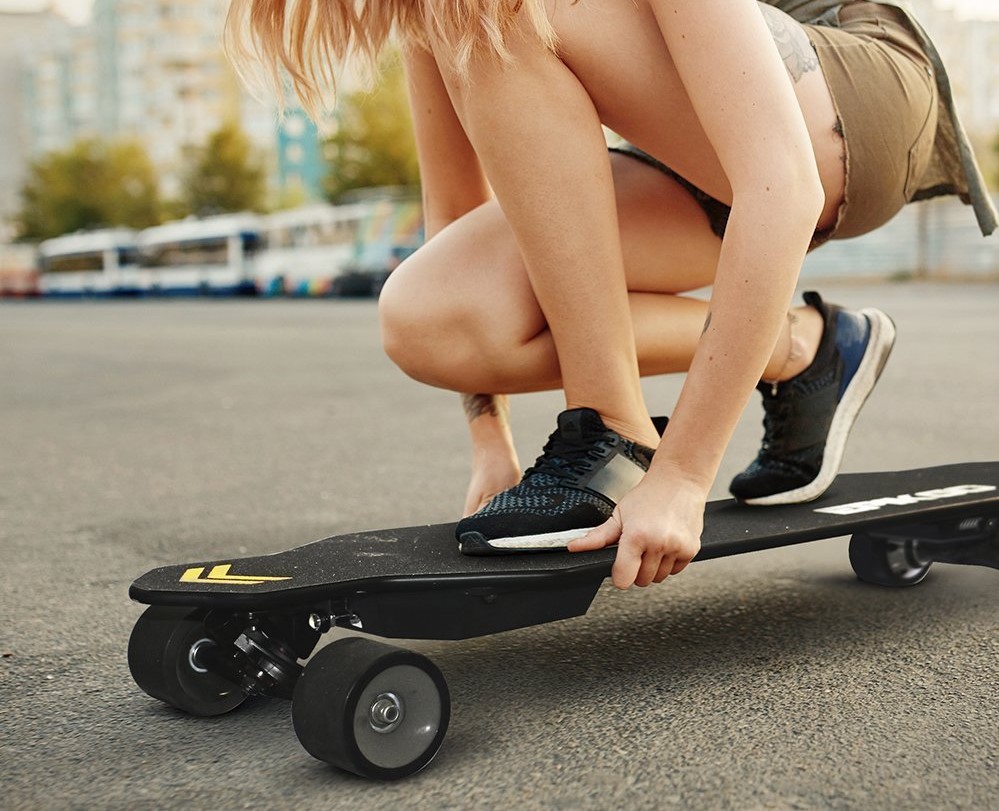 It all comes down to the wheel. No matter how powerful and efficient other components are, bad-quality wheels will ruin the riding experience. They are mostly made of polyurethane with different hardness levels.
Wheels between 78a – 90a are a bit soft and good for street cruising due to their ability to absorb irregular surface conditions. 99a and above wheels are hard and good for long speedy rides on tracks.
Deck Size
The deck is where you are going to place your feet while riding. Choose a deck according to your body size. Longer decks are good for tall riders and otherwise. Read a complete guide to buying a skateboard deck.
Weight & Portability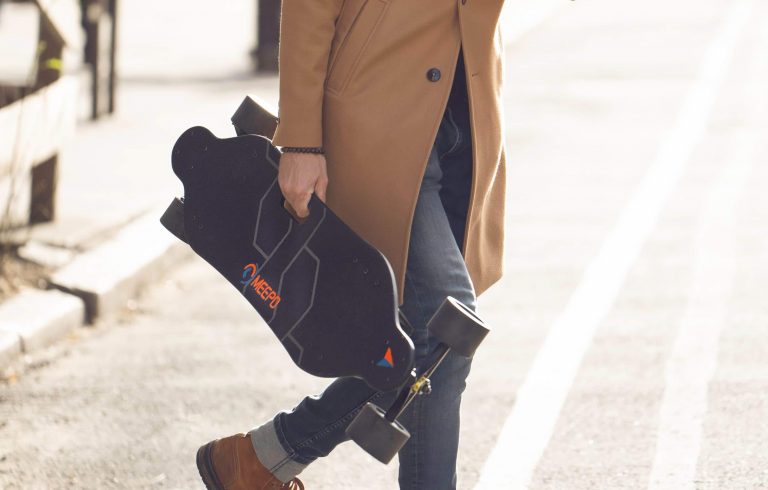 Although the board will be beneath your feet while riding, you are still going to feel its weight. Heavy electric skateboards offer more stable rides. That does not mean the heaviest e-board is going to be the best electric skateboard. Heavy boards consume more power and they are difficult to move around also.
Moreover, if you are going to step off the deck and carry it around during your journey, consider the factor of portability. Electric skateboards are not easy to balance under your arm due to the weight beneath the deck. A cut-out handle from the deck makes it easier to carry.
Warranty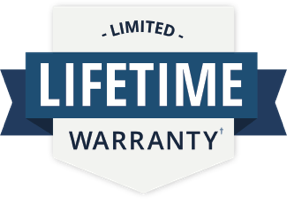 Since an electric skateboard is equipped with electronic devices, a warranty is what we want – but wish we never need it. Purchase a skateboard that comes with a lengthy warranty. Also, make sure which parts are covered under warranty.
There are two reasons for preferring the longer warranty.
1 – You will be covered for a longer time span if anything goes wrong with the board.
2 – The company is confident about its product that it will last long enough to satisfy its users.
Obviously, a company is not going to back its skateboard if it thinks it will break in a couple of days or weeks.
Final Verdict
Choosing a battery powered skateboard that suits your needs and fits your budget can be a hard task. Especially, when there are multiple models and every one of them claims to be the best electric skateboard. Cheaper e-skateboards will be less capable of efficient riding. On the other hand, high-end electric boards can be used as a commuter on daily basis.
We have reviewed the top ten electric skateboards of 2023 after having test rides on dozens of different models from high-end to low-budget. Pick any one of these e-boards that fall in your budget range, you won't be disappointed by the performance.
SKATEBOLT Breeze II is our first choice due to its top speed, high-performance dual motors, and ability to ride in the rain. We experienced its efficient and smooth ride even at a 30% steep hill.
Our second recommendation is MEEPO V3. Its hub-driven back wheels ensure a fast riding experience without wobbling and noise. Best of all, the cut-out handle makes it easy to carry around.
Backfire G2 is a good electric longboard at a cheap price. This affordable e-board competes with top brands in terms of comfortable performance, speed and range.
Frequently Asked Questions: (FAQs)
What is the best electric skateboard on the market?
Skatebolt Breeze II is the best electric skateboard on the market. Here is a list of the best electric skateboards of 2023;
SKATEBOLT Breeze II
Teamgee H20T
MEEPO V3
SKATEBOLT Tornado II
FAST & FURIOUS FT001 1800W
Maxfind MAX 2PRO
Backfire G2
Teamgee H5
Hiboy S22
Blitzart Huracane
Are electric skateboards worth the money?
Yes, investing in electric skateboards is worth the money. The skateboards we used to drag around are equipped with powerful motors now and are used for short-range commutes. As skateboarding is evolving, these electric longboards are being used as a means of transport. Students and professional office men prefer to travel on e-skateboard, you can pass through traffic and narrow passages easily. Moreover, it is fun to experience effortless speedy rides on powered wheels.
What is the best beginner electric skateboard?
Blitzart Huracane is the best beginner electric skateboard in 2023. It offers controlled steady rides and does not wobble even while speeding. The speed modes help with choosing your skating level, such as an entry-level e-skateboarder can select beginner mode. It will not accelerate too much and you can practice controlling the board.
Is there an electric skateboard?
Yes, the skateboards that we used to push and ride on are equipped with batteries and powerful motors – these are called electric skateboards. A list of the best electric skateboards is below;
SKATEBOLT Breeze II
Teamgee H20T
MEEPO V3
SKATEBOLT Tornado II
FAST & FURIOUS FT001 1800W
Maxfind MAX 2PRO
Backfire G2
Teamgee H5
Hiboy S22
Blitzart Huracane
What is the best budget electric skateboard?
Hiboy S22 is the best budget electric skateboard of 2023. This 18.6mph top-speed electric skateboard competes with expensive brand models in performance. It is fast, efficient, equipped with a powerful motor to deliver a smooth ride even while climbing a steep hill. This affordable electric longboard is suitable for every level of e-skateboarder.