Element is one of the best skateboard brands, popular and highly respected within the skateboarding industry. This leading skate company specializes in producing high quality skateboards and accessories for novice to professional-level riders, that are designed to withstand the most rigorous skating conditions.
Element skate brand offers a wide range of products, including decks, complete skateboards, clothing, and accessories that cater to all levels of skateboarding. Let's take a closer look at their most popular products and review them to see what makes their boards stand out from the rest.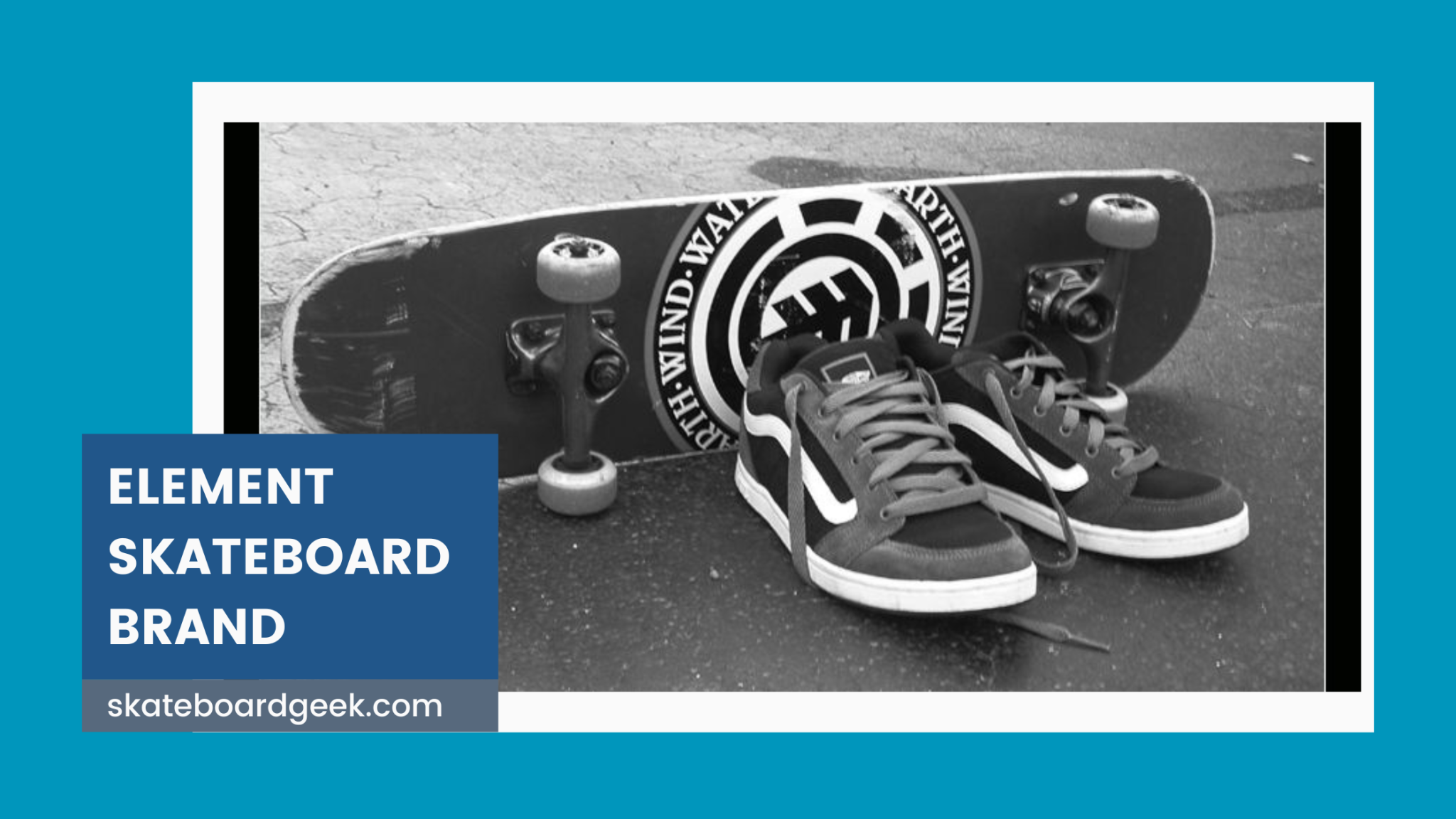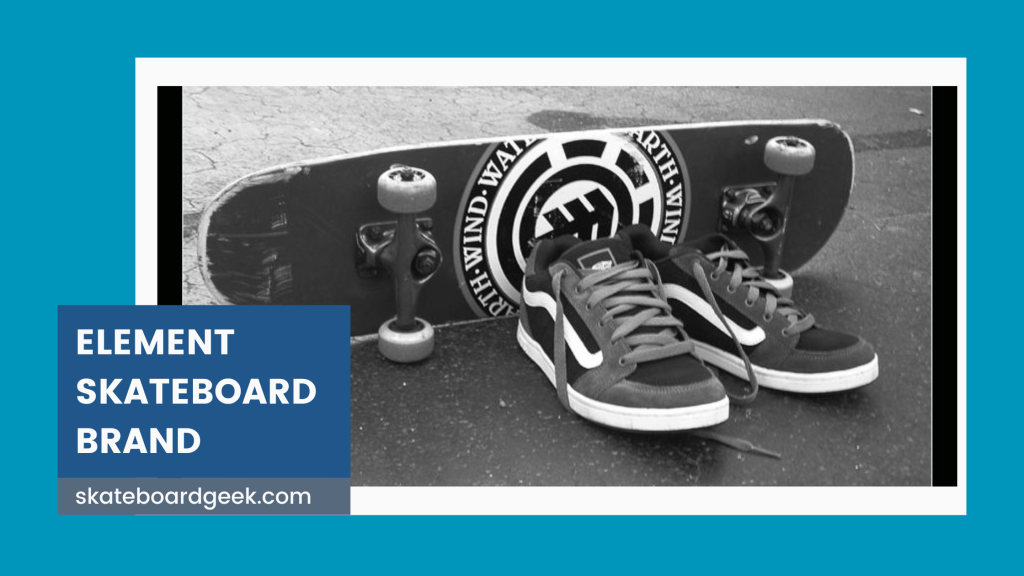 Element Skate Brand History
Element is an American skateboard company, founded by professional skateboarder Johnny Schillereff in 1992.
The company was initially launched under the name of "Underworld Element" in Atlanta to promote urban culture, however, the company couldn't survive because of continued loss.
Later, Johnny decided to change the name and re-launched it under the name of "Element", and focused on only skateboarding (best decision). The company created a branch in California, which is now the headquarter – managing several branches all over the world.


Johnny used his experience and knowledge of skating to create quality decks. After receiving a positive response, they began to manufacture complete skateboards and other products for skaters. Keeping his legacy alive, Element is committed to make sustainable products that are built to last, using materials produced from renewable sources.
The brand quickly became known for its cutting-edge designs and durable skateboards with quality components, winning numerous awards throughout the years.
Element now has an extensive range of skateboard and skateboarding accessories that are designed to help skaters reach their full potential.
Element Logo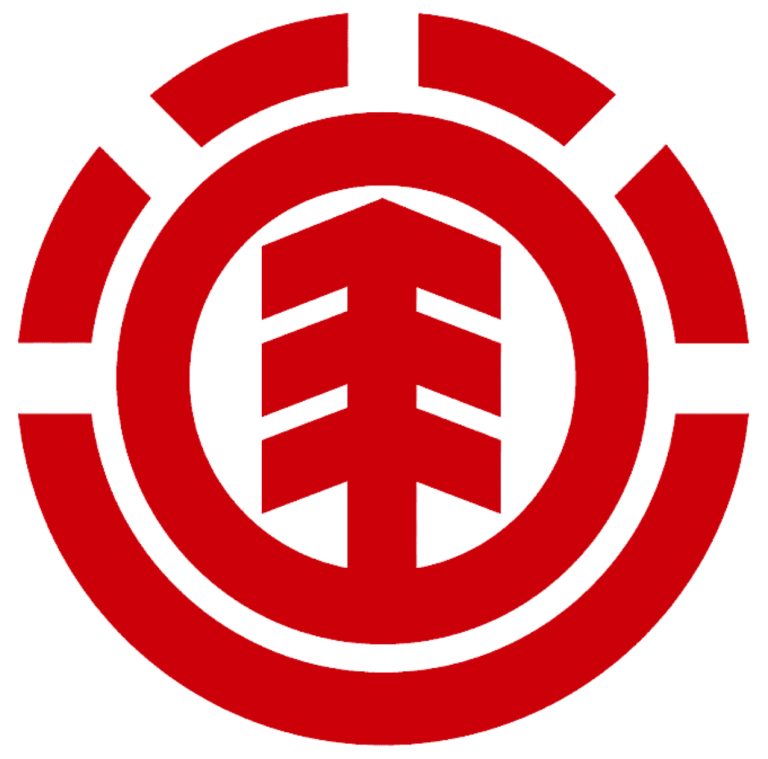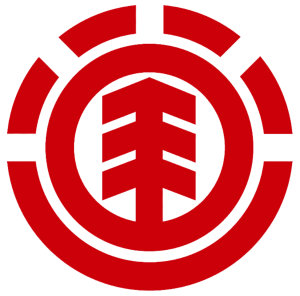 Element is popular for its iconic 'Tree Logo' which symbolizes its commitment towards nature and sustainability. It represents the four symbols of nature – wind, water, fire, and earth.
The logo was originally designed by the founder Johnny Schillereff, who wanted to send a positive message of respect for the environment. This simple but powerful icon has become an instantly recognizable symbol of Element's brand.
Product Line & Features
Element offers a wide range of products for both beginner and experienced skaters. The brand has a diverse range of products including;
Element skateboards are built using the most durable materials, with features designed to provide maximum performance, stability and control. The decks are made from quality maple, providing a sturdy platform for advanced tricks.
Element also offers boards designed specifically for street skating or cruising, as well as boards featuring unique graphics and artwork created by renowned artists.
The wheels come in various sizes and styles, from soft casual wheels to hard performance ones. They also have a variety of grip tapes designed for different applications such as street skating or downhill racing.
Element's clothing is made with the highest quality materials to provide comfort and fulfill fashion needs. The company offers T-shirts, hoodies, caps, jackets and pants in a variety of designs and colors.
Element Skateboards Review
Element skateboards have been highly praised for their quality build and performance by professional skaters all over the world. The decks, wheels and trucks are all made from superior quality materials, and the designs feature unique artwork created by renowned artists.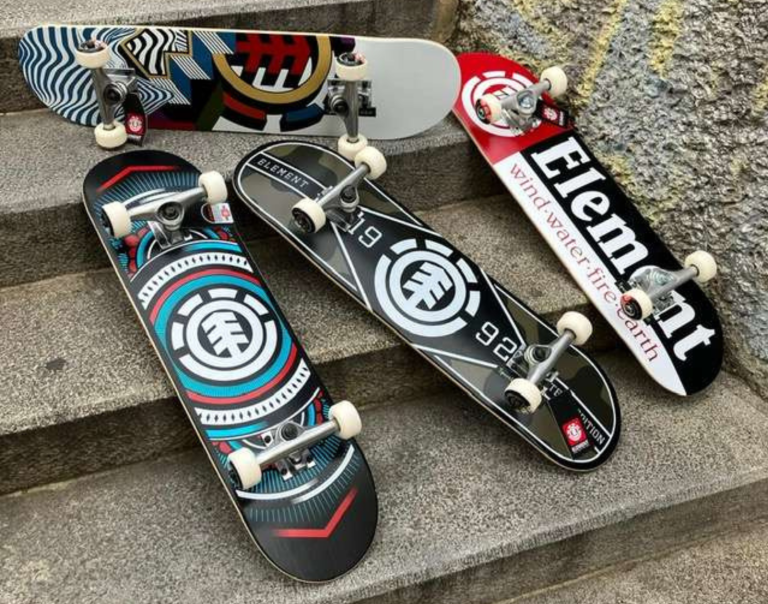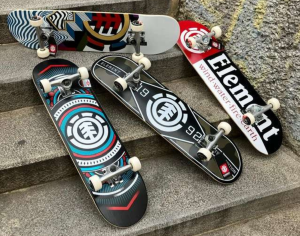 Element skateboards are considered to be among the best in the market and have been receiving excellent reviews from pro skaters and sports reviewers worldwide. They offer a great selection of products at affordable prices.
Whether you are a beginner or an experienced skater, Element skateboards are worth considering.
The boards feature quality materials such as maple wood, providing the rider with maximum stability, control, and durability. The decks come pre-installed with grip tape so you don't have to worry about buying it separately.
The wheels are designed for maximum traction and speed, making them perfect for street skating or downhill racing. The wide range of sizes and styles makes them suitable for all types of riding.
The most popular Element skateboards are;
Element Decks 
Element decks are available in different sizes, shapes and designs to suit your skating style. Most of the decks are made from 100% USA-grown hard maple wood that is designed to be lightweight and durable to provide maximum endurance. Maple veneers are joined together strongly using superior quality Epoxy resin glue.
Skateboarders affirm that Element decks are versatile – perfect for street, pool, park and vert. They feature Element's iconic 'Tree Logo' on the bottom of the board for a unique aesthetic look.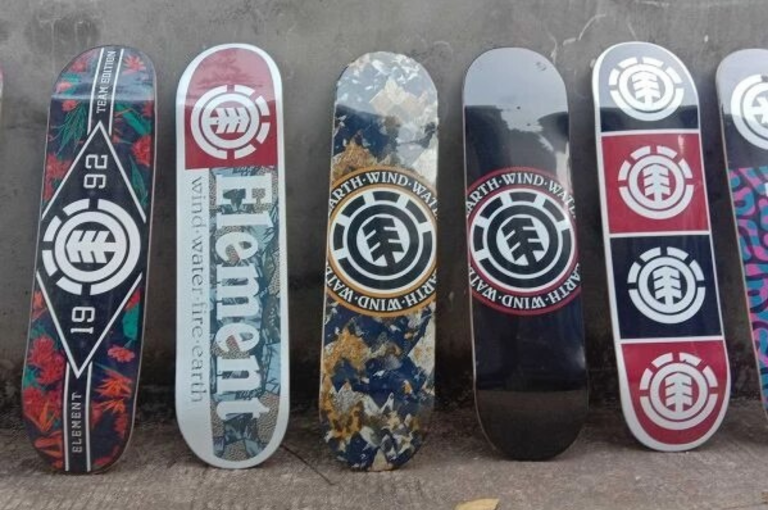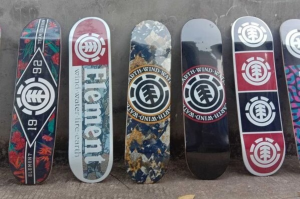 The decks are available in multiple sizes, including;
7.5″ x 31″
7.75″ x 31.5″
8″ x 31.75″
All the decks come with pre-drilled holes.
The decks also come with grip tape pre-installed, so you don't have to worry about buying it separately. Most decks have modern concave and some are available with a built-in kicktail, making them perfect for performing advanced tricks.
Most popular Elements decks are:
Element Wheels and Bearings 
Element wheels are made from different materials depending on the type. The company uses quality urethane for its performance wheels, providing superior traction and speed.
The wheels come in different sizes and styles, designed to suit your skating style. These hard-wearing wheels are perfect for street skating and provide excellent grip on any terrain.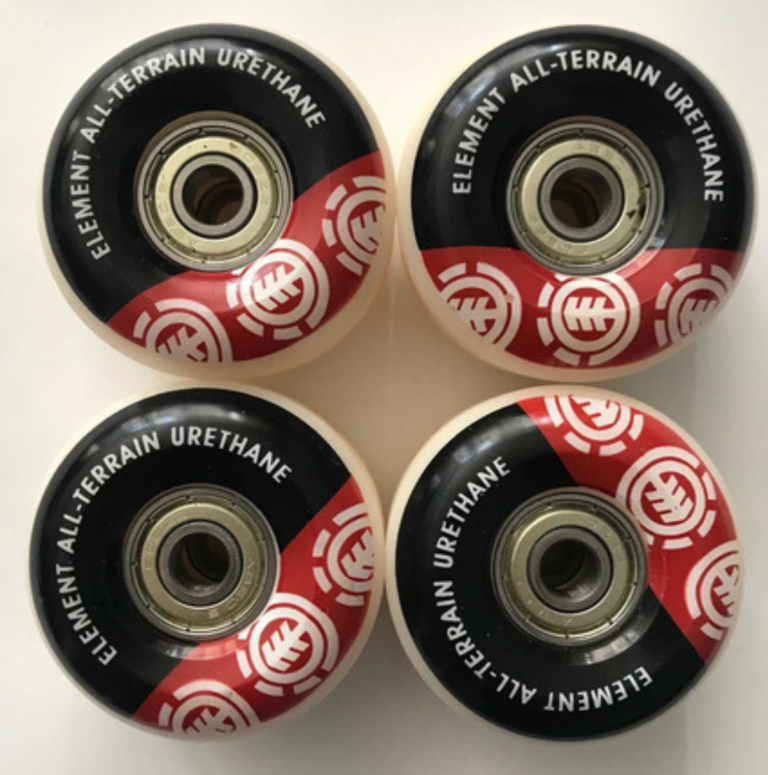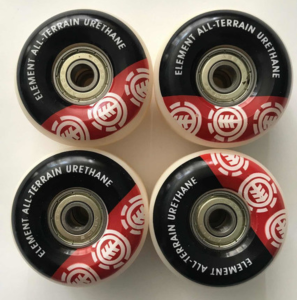 Most popular Element wheels are:
The Element Sector Wheel
The Element Spark Wheel
The Element Impact Wheel
The Element Atom Wheel
The Element Trekker Wheel
These wheels have been praised for their durability and performance by skaters and reviewers alike. They are a great choice for anyone looking for quality wheels at an affordable price.
Element bearings are designed to provide smooth and fast rides. They have a low-friction design that helps reduce friction between the bearing and the wheel for maximum speed.
The bearings are made from high-quality materials that ensure durability and reliability no matter how hard you skate.
They come in different hardness levels, the most common are ABEC5 and ABEC7, to fit any type of skateboard setup, from street to cruiser. They also have a unique design that allows for quick and easy installation.
 Are your board's wheels dirty? Here's a complete guide on how to clean skateboard wheels.
Element Clothing
In addition to its skateboard products, Element also offers a wide selection of clothing for men, women and kids. They offer T-shirts, sweatshirts, hoodies, jackets and accessories in various styles and sizes. The clothing is made from high-quality fabrics that provide comfort and style.
Element's apparel has become a popular choice among skaters and street-style enthusiasts alike. With its unique designs and vibrant colors, you can express your love of skateboarding in style.


Most popular Element clothing are:
Are Element Skateboards Good For Beginners?
Element skateboards are perfect for beginners because they are easy to ride and quite smooth. Their boards feature durable materials, quality wheels and trucks, as well as a great variety of designs at an affordable price, allowing new skaters to progress and enhance their skills without breaking the bank.
Experienced skaters can also benefit from Element's superior components and quality build.
The decks are slightly concaved, making it easier for new riders to control, and they come with pre-installed grip tape making it easy to start riding straight away. The wide selection of wheels and bearings offer great maneuverability and speed for any type of skating.
The combination of excellent performance, durability, affordability and unique designs make Element skateboards a great choice for new and experienced skaters alike.
Read tested reviews of the best skateboards for beginners.
Element Professional Skate Team
Element also has an impressive professional skate team, consisting of some of the best skaters in the world. The team is led by Mark Appleyard, one of the most renowned skateboarders in the world. They showcase their skills and talents in competitions, demos and videos.
The Element Pro Team consists of passionate individuals who strive for excellence and push their limits to create amazing skateboarding tricks. With their support, Element continues to make a mark in the skateboarding community by creating high-quality products and encouraging others to pursue their passions.
The well-known names in the Element Skateboard Team are;
Mark Appleyard
Nyjah Huston
Evan Smith
Chris Joslin
Curren Caples
Bam Margera
Brandon Westgate
Ethan Loy
Jaakko Ojanen
Nick Garcia
Tom Schaar
Element Skateboard Customer Service
Element Skateboard offers excellent customer service to help customers find the perfect board for their skill level and style. The team is knowledgeable, friendly and always ready to answer any questions you may have.
They even offer online tutorials and tips that can help you get started with skating. They also provide a limited lifetime warranty on all products, ensuring that your purchase is covered even in the case of an accident.
Final Thoughts of Reviews
Element skateboards have received rave reviews from seasoned skaters and beginners alike. Skaters appreciate the quality construction, durable materials, and cutting-edge design of Element boards. The brand is known for creating products with superior performance and control, making it one of the top choices among skaters.
We also prefer Element complete skateboards in our academy to teach new skaters, they are easy to control and maneuver. Durable decks accompanied by reliable wheels and smooth bearings are suitable to roll in streets and parks.
Overall, Element is an excellent choice when it comes to skateboards and accessories. With their quality products and commitment to sustainability, Element has become a top player in the skateboarding industry.
Frequently Asked Questions: (FAQs)
Is Element a good skateboard brand?
Yes, Element is an excellent skateboard brand. They are known for their quality construction, durable materials, and cutting-edge design of Element boards. With their commitment to sustainability and quality products, Element has become a top player in the skateboarding industry.
Where are element skateboards made?
Element skateboards are made in the United States and Canada. They use sustainable materials and production methods to ensure that their products last for years of skating.
Which skateboard is best for beginners?
Element section skateboards are a great choice for beginners due to their quality construction and pre-installed grip tape. The decks are slightly concaved, making them easier to balance and control. The wide selection of wheels and bearings offer great maneuverability and speed for any type of skating. The combination of excellent performance and affordability makes them an ideal choice for beginners.
Who makes Element boards?
Element boards are designed and manufactured by the Element Skateboard Company. They employ an experienced team of designers, engineers, and skaters to create the best skateboard products on the market.