Skateboarding has evolved from a cool sport to a great means of transport. Students and office workers prefer to commute on a skateboard due to heavy traffic. Moreover, it feels amazing when you perform skateboarding tricks. Many of the new skaters often ask which basic skateboard would be good to learn on. So, we have decided to review the best skateboard for beginners in 2022 that are easiest to ride.
From my skateboarding experience, I would recommend picking a complete starter skateboard that is cheap. An entry level skateboard is all you need to learn how to balance and perform tricks. Surely you will never quit once you learn how to ride a skateboard. Here, we'll discuss features of the best skateboards for beginners along with buying guide. So, pick a basic skateboard for adults from the list and start rolling.
Read about types of skateboards for beginners.
Note: If you have never stepped on a skateboard before, we recommend learning how to balance in your backyard before coming to the street. Skateboarding is easy but it can be tricky for beginners. You can hit the streets and skating parks once you are confident about the balance.
Remember: Always use protective gear while skateboarding to minimize the chances of injuries.
Read about the top skateboard brands of 2022.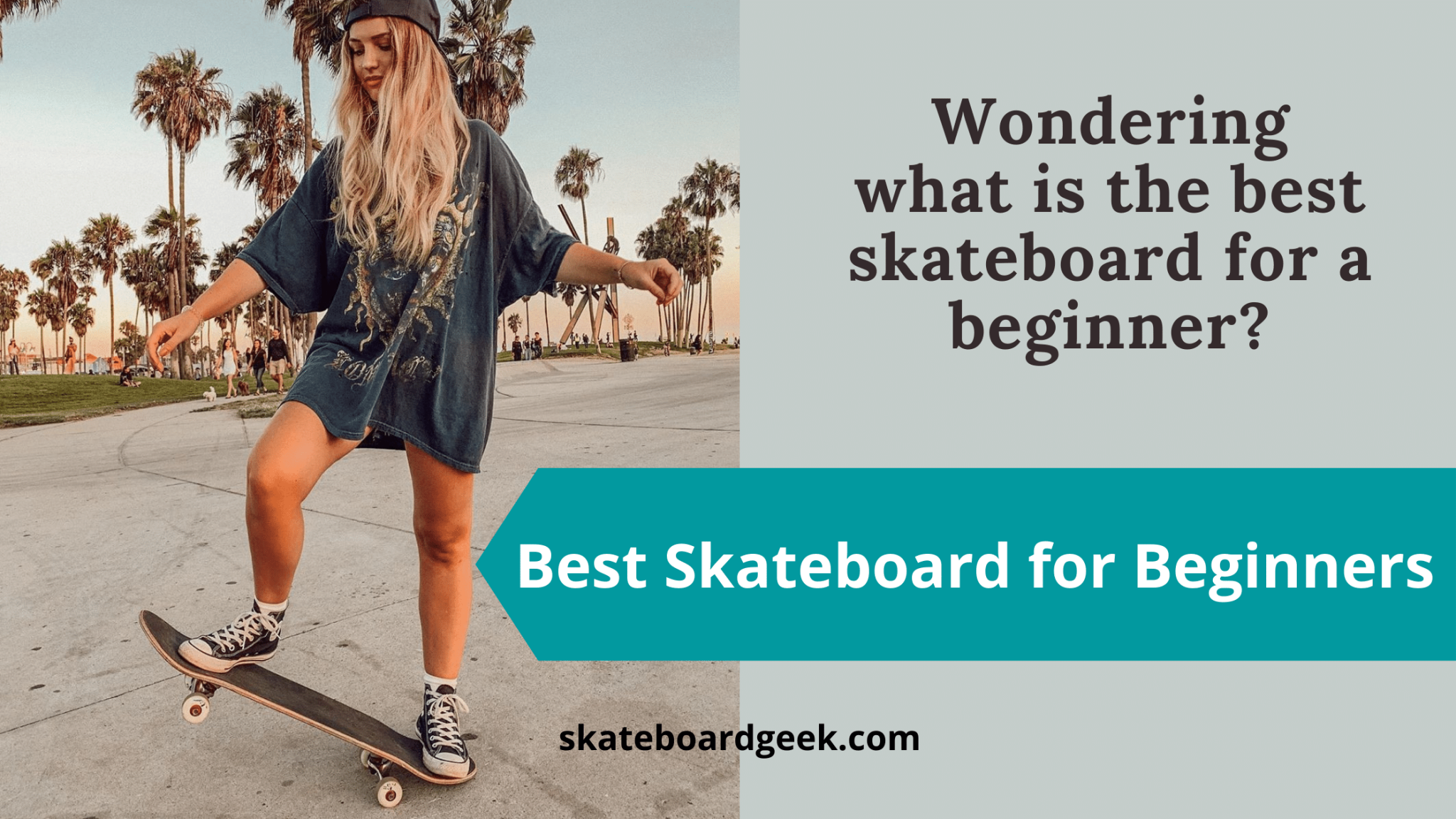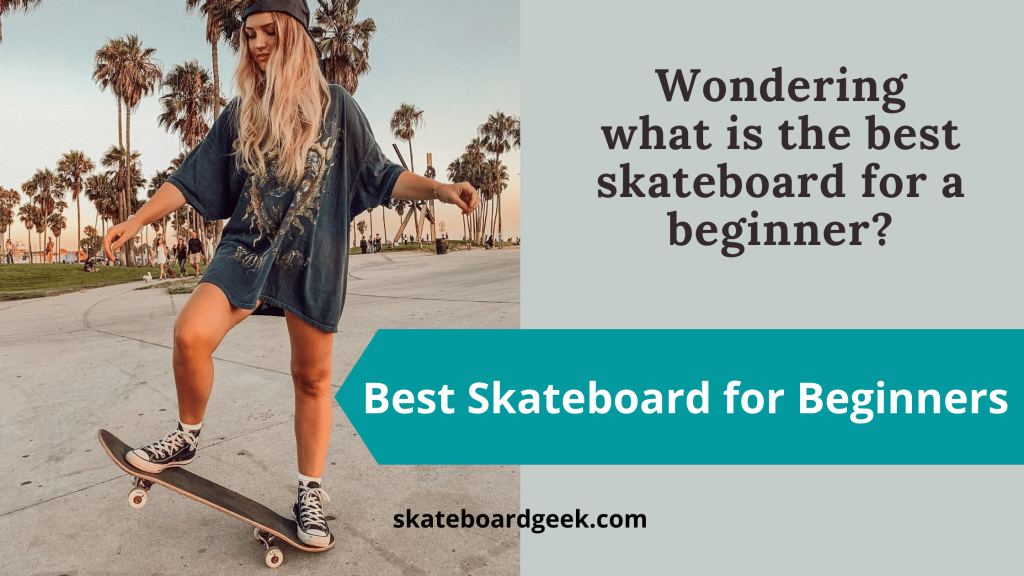 Best Skateboard for Beginners – Basic Skateboards to Learn on
Here is a list of the best skateboards for beginners in 2022 with their qualities and prices. These are complete skateboards and suggested by professionals and the skateboarding community. New members of our skateboarding team also said that these are the easiest skateboards for adults to ride.
| No. | Beginner Skateboard | Quality | Price |
| --- | --- | --- | --- |
| 1 | Powell Golden Dragon Flying Dragon | Best Skateboard For Beginners Adults | |
| 2 | Element Section Skateboard | Easiest Skateboard To Ride | |
| 3 | Magneto SUV Complete Skateboard | Best Complete Skateboards | |
| 4 | enjoi Skateboard | Best Street Skateboard for Beginners | |
| 5 | WHOME Pro | Best Skateboard To Learn On | |
| 6 | Cal 7 Complete Skateboard | Best Starter Skateboard | |
| 7 | Beleev Skateboard | Best Beginner Skateboard | |
| 8 | Santa Cruz Jackpot Hand | Best For Learning Tricks | |
| 9 | Magneto Mini Cruiser | Best Basic Skateboard | |
| 10 | Hiboy Alpha | Best Cheap Skateboard | |
Top Picks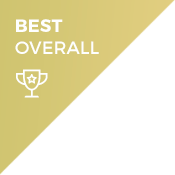 ★★★★★
Element Section Skateboard

Deck size:

32″ x 8″

Wheels: 52mm , 95a
Trucks:

5.25″

Element
"Best Skateboard For Beginners Adults"


Powell Golden Dragon Flying Dragon is a high-quality complete skateboard at a cheap price. It is best suited for beginners and price-conscious advanced-level skateboarders. This board is durable and designed to practice tricks. It is a perfect skateboard for beginners adults who are looking for a quality board at an entry-level price.
Our team selected this board as the best among starter skateboards due to its well-built components. Each component is engineered and tested to ensure that it delivers high performance.
American professional skateboarder Steve Caballero states "I have attached my name to Powell Golden Dragon because I believe these birch skateboards are perfect for beginners. You can't beat the quality and price. My goal is to make sure that new young skaters around the world get an opportunity to experience the joy that comes from being able to roll, turn, drop-in, and do tricks, so they will enjoy skateboarding enough to continue on in the sport."
Main Features:
The deck is made in China using maple veneer and AirLam presses
Deck size:

31.

625" x 7.625"
K12 concave style with 126 shape, ideal to perform tricks

13.75"

wheelbase;

54mm x 37mm

diameter polyurethane wheels with

99a

hardness level, strong and provide great stability
7.625-inch aluminum trucks with embossed Powell Golden Dragon logo
Pros
Wide wheels, perfect for ground grip and rolling
Lightweight and durable material
Well priced
Fast board with good control
Perfect to perform tricks
Suitable for newbie adult skaters
Cons
Not suitable for kids – too fast
Not designed for pebbled tracks
Powell Peralta makes the best skateboard decks.
A verified purchaser at Amazon "Joshua Fairbanks" says, "It's a Great Deal for Determined Learners – I've beat the heck out of this board learning how to fail 99.5% but never give up. After a couple of years I replaced the deck due to sharptails and the pop had died down. Amazingly, I am still using the same trucks and wheel bearings. The latter I have removed, cleaned and reoiled many times. With countless failures to Ollie up concrete curbs I cannot believe the trucks still perform. They are not the lightest thing around but they are a great value for learners. You don't have to worry about them falling apart or need to cry when they look gnarly from abuse."
Element is known as the most reliable skateboard brand for beginners and their Section series is the easiest to ride. This board is suitable for all skating levels, beginners to advance. If you are new to skateboarding, we recommend choosing the element section complete board due to its classic design and having all the basic features you need in a skateboard. It is a durable, recognizable and well-reputed board among the skateboarding community.
Main Features:
The deck is made of 100% maple wood held together with epoxy glue
Deck size:

32″ x 8″ 

Slight concave provides well-balanced control, double kicktail design makes it perfect to perform tricks

14"

wheelbase, 52mm diameter graphics wheels with

95a

hardness

5.25"

element brand trucks

Abec-5

bearings to ensure smooth rides
Pre-installed grip tape on top of the board
Pros
Lightweight and durable deck
A good amount of flex
Classic design and branding
Available in multiple sizes
Very easy to ride
Cons
Wheels do not spin properly while performing hard tricks
Expensive customization
Magneto SUV (Skate Utility Vehicle) is the most versatile skateboard. We recommend it for beginners because it can be used in streets, parks, pump tracks, skating bowls, and even downhill. Moreover, its wide deck makes it ideal for transition and cruising. Responsive wheels ensure steady rides over rough surfaces. So, if you are new to skating, this complete skateboard is best to ride and learn on every type of skating track.
Main Features:
The deck is constructed with 7 layers of high quality Canadian maple wood to ensure durability and flex
Deck size: 31" x 8.5"
Medium concave with kicktail design makes it suitable to perform skating tricks

14"

wheelbase,

60 x 40mm

large Urethane wheels with

78a

hardness. These wheels are soft and responsive – good to ride on a pebbled ground

140mm

high-quality gravity cast aluminum trucks, extremely durable for any type of ride

Abec-5

bearings to enhance the riding experience
Pre-installed grip tape to ensure firm standing
Pros
Perfect complete skateboard at fair price
Strong and flexible deck
Smooth rides
Good for turnings
Suitable for every type of skating area
Cons
The grip tape started bubbling after a few weeks
Have you never been on a board before and thinking to learn skateboarding? Read a useful guide on how to skateboard for beginners.
"Best Street Skateboard for Beginners"

enjoi is famous for producing durable skateboards which are good for the streets. Their decks are the strongest among skateboarding brands, rock-solid, and designed to survive hard rides. enjoi boards are easy to control which makes it good for beginners to learn tricks and riding skills. Best of all, this skateboard comes assembled and ready to ride out of the box.
Main Features:
The deck is made of 7-ply Canadian maple wood held together with an epoxy resin glue
Deck size:

31

" x 7.75"
Medium concave style with steep kicks

14"

wheelbase,

52mm

high quality TGM wheels with

99a

hardness, wheels have removable rubber shields
Lightweight and good grade aluminum trucks
Best quality Amphetamine

Abec-5

bearings
Pros
Strong grade 8 steel axle and kingpins
Durable deck
Good sized soft wheels
Affordable price
Good to ride in streets
Cons
Not suitable for downhill speedy rides
Not good for tall and heavy riders
WHOME is known for manufacturing all types of skateboards for beginners adults. The brand claims that its boards and accessories are of superior quality (very close). The company has a dedicated team that ensures quality by testing each board from deck to wheels. We experienced its exceptional control and efficient braking.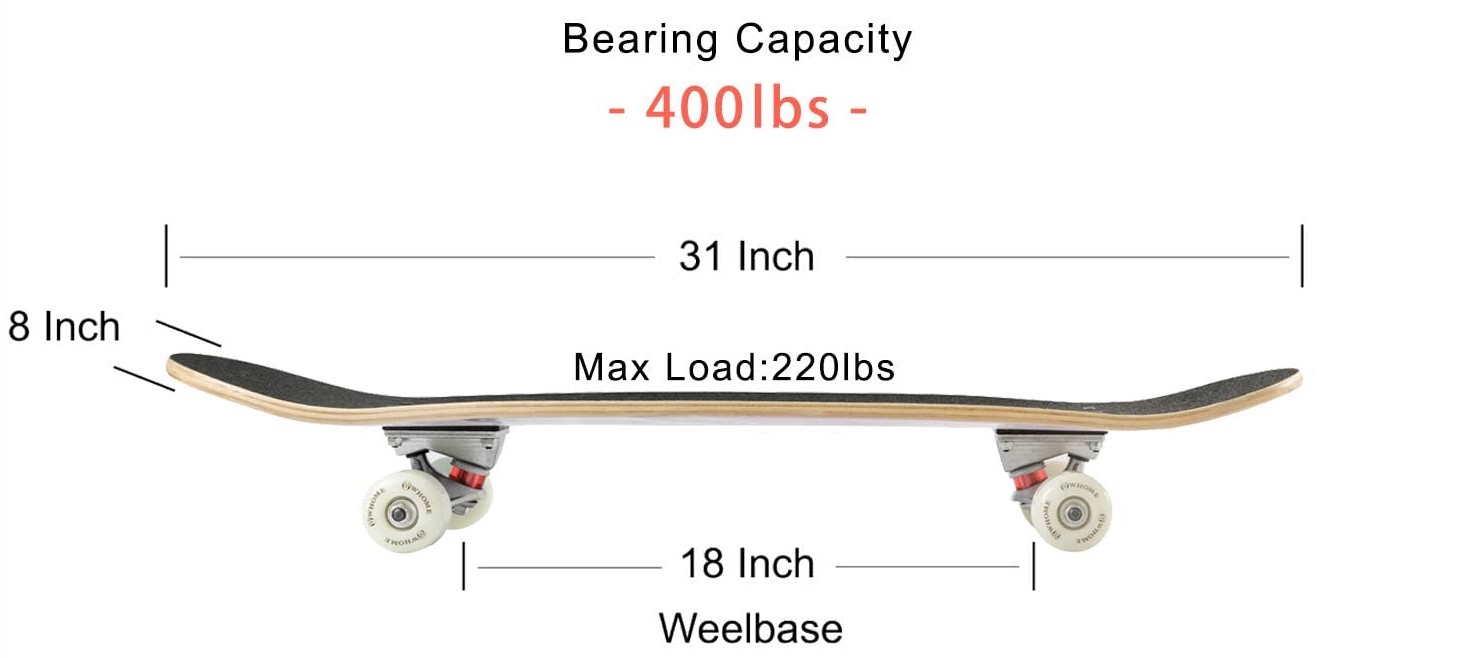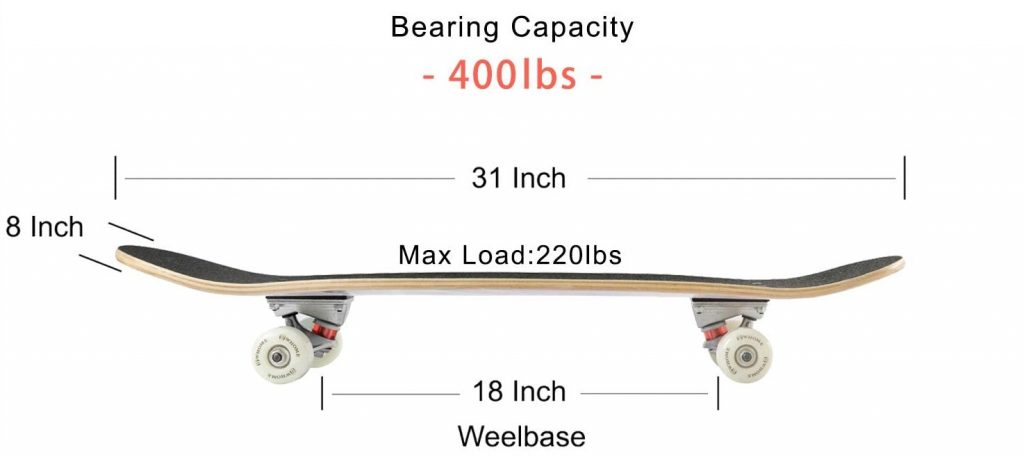 Main Features:
The sturdy deck is manufactured with premium quality 8 layers of alpine maple wood
Pre-installed premium grip tape to ensure stability, optimum control, and strong grip while performing tricks
Deck size: 31" x 8" inch full size
Double kick concave style makes it suitable for learning and practicing skateboarding tricks like Ollies, kickflip, heelflip, and grinds, etc.

18-inch

wheelbase,

53 x 36mm

polyurethane wheels enhance the comfort and making it suitable for new and primary pro skaters
Solid A356 Aluminum alloy

5"

truck with moderate carbon steel shaft on the inside and electroplate outside;
High precision chrome steel bearings –

ABEC-9
Pros
Durable components
Advanced wheels to ensure smooth rides
Affordable price
Suitable for 6-years above kids and adults
Very sturdy and lightweight
Cons
Paint may chip of sooner over every day riding
Not suitable for heavy riders
Read a complete guide on how to teach a kid to skateboard.
If you are learning to perform flipping tricks or hitting the street for the first time – Cal 7 complete skateboard is the best choice to start with. This skateboard is versatile due to premium quality hardware and solid construction. Each Cal 7 is designed considering starter and advanced level skaters. Best of all, their prices are relatively cheaper and fall in everyone's budget range.
Main Features:
The deck is made of 100% 7- ply maple wood, highly durable and comes with pre-installed grip tape
Deck size: 31" x 7.5"- 8"
Double kick style with medium concave – ideal for tricks

52mm

polyurethane wheels with

99A

hardness
Smooth carving due to

3mm

riser pads and HR90A bushings
Already installed

5-inch

strong aluminum trucks
Highly quality

ABEC-7

stainless steel bearings
Pros
Comes with a 1-year manufacturer warranty
Great value for the money
Good for starter skateboarders, kids and adults
Comes fully assembled
Lightweight and durable
Cons
Some users found issues with grip tape
Deck is not strong enough to perform hard tricks
Also, read about the affordable electric skateboards.
Beleev skateboards are fun to ride and designed to keep everyday skaters in mind. If you are a beginner and planning to cruise around in the streets, this board is the right choice. It offers great comfort while learning tricks along with providing smooth rides. It is compact, strong and exceptionally lightweight to carry around easily.
Main Features: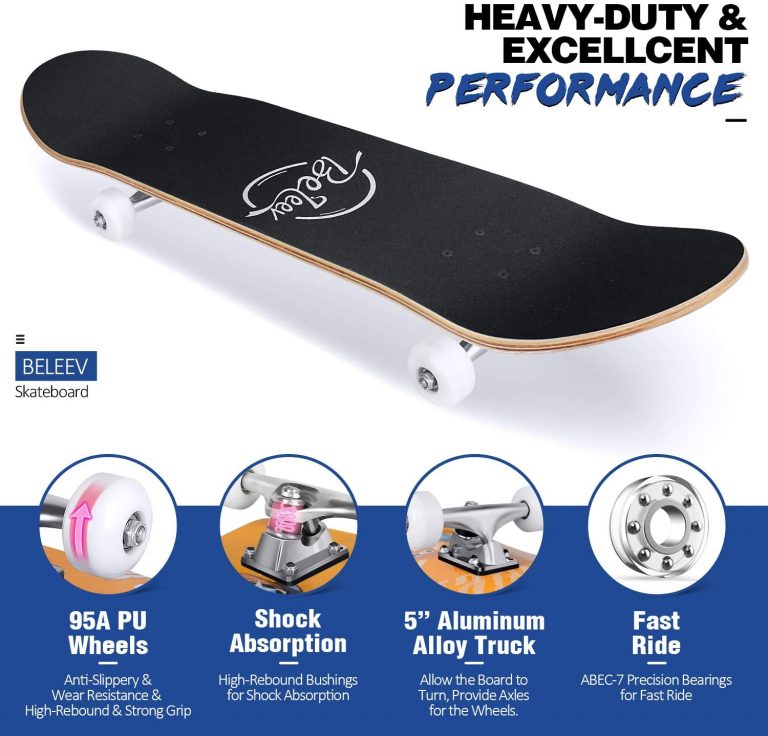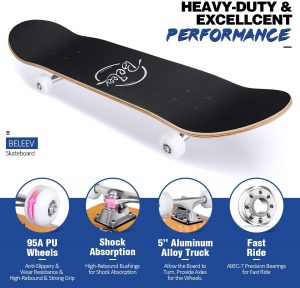 The deck is made of 7-layers of Canadian maple wood, 10mm thick, very strong and durable
Deck size: 31" x 8"
Slight concave design with double kick allows you to control it better and enhances easier braking
Pre-installed waterproof emery non-slip grip tape ensures traction for safe riding
Anti-slip

55mm

Polyurethane wheels with

95a

hardness, these are wear-resistant and highly rebound with a strong grip

ABEC-7

precision bearings for high speed and superior shock absorption
The board is equipped with

5-inch

heavy-duty aluminum alloy trucks, ensuring reliable riding for beginners and pro skaters
Pros
Pre-installed waterproof non-slip grip tape
Fast and smooth rides
Best for beginners
Lightweight and easy to control
Compact design, easy to carry
Colorful and stylish, good for girls
Cons
We had to replace wheels after a few weeks
Not good to perform heavy tricks
Teamgee H5 is an affordable and good performing electric skateboard.
Santa Cruz Jackpot Hand is designed for all-level skateboarders, especially for beginners to learn tricks. This high-quality board is available at an affordable price and serves you from entry-level to advanced skating. So, if you are new to skating and keen to learn beginner skateboard tricks, we recommend the Santa Cruz Jackpot Hand board. The best part is, you won't need another board once you learn how to ride and perform tricks – this board will serve you at an advanced level too.
Main Features:
The deck is manufactured with 7-ply strong maple wood, sturdy and highly durable
Deck size:

8.

25" x 31.5"
The deck has a standard popsicle shape with a medium concave

14"

wheelbase, 53mm OJ Wheels with

95a

hardness level

ABEC-5

bearings ensure fast smooth rides on a downhill
Super sturdy

5.5″

bullet trucks make the turns easier, no-slip axle
Pros
Pre-installed black grip tape
Designed to learn skateboarding tricks
Cool design
Solid and poppy deck for longevity
Good for all level skating
Cons
Deck customization can be costly
Magneto Mini Cruiser is one of the most selling skateboards online and it is listed as "Amazon's Choice". Its basic design ensures smooth cruising and double kicks make it easier to perform tricks. Compact skateboard, easy to carry around and good for everyday skating. It is basic and best for beginners and kids to learn. Once you know how to ride, you'll probably look for an upgrade.
Main Features: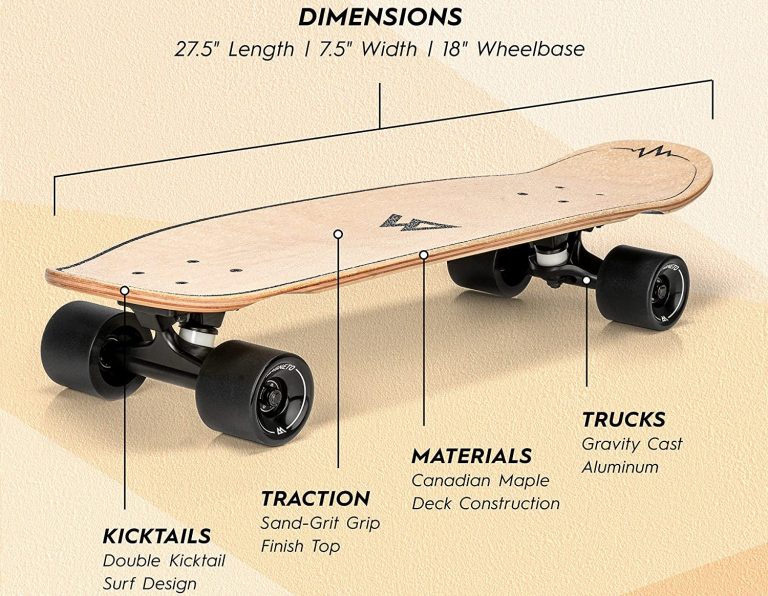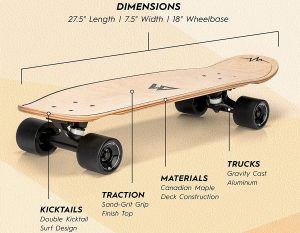 The deck is made of 6-ply Canadian maple wood held together strongly to ensure strength, top features a sanded grit for extra grip
Deck size: 5" x 7.5"
Double kicktail surf design makes it good to perform tricks and surfing

18"

wheelbase,

60mm x 51mm

high rebound urethane wheels with

78a

hardness

5-inch

 gravity cast aluminum trucks, super durable and sturdy
Magneto

ABEC-5

bearings ensure a smooth riding experience
Pros
Perfect basic board for beginners
Budget friendly
Clear grip
Well build compact design
Offer great balance
Cons
Not suitable for advanced level skateboarders
Large wheelbase, not good for quick turns while speeding
Hiboy Alpha skateboards are designed to learn new tricks. This high-quality build board is a good choice to present as a gift to promote the sports. The brand emphasizes stability and easy to control for beginners to find it easy to ride and learn quickly. Be mindful of the fact that our skateboarding team rated Hiboy Alpha as the cheapest skateboard for beginners, it is easy to ride and delivers great performance.
Main Features:
The deck is made of 7-ply Canadian maple wood, perfect flex and durability
Deck size: 31" x 8"
Slight concave design with a double kicktail makes it easier to control while performing tricks
54mm × 37mm PU wheels offer speedy rides without compromising on stability
Abec-11 bearings ensure smooth rides and convenient control
5-inch heavy-duty aluminum alloy trucks for ideal support and to offer an enjoyable riding experience
Pre-installed grip-tape with attractive prints to enhance looks and provide good traction
Pros
Good starter skateboard at a cheap price
Suitable for kids and newbie adults
Comes with basic tools
Smooth and quiet wheels
Perfect to learn skateboarding
Cons
Board is a bit thicker
Some users complained about poor customer service
Hiboy is also famous for making the best electric skateboards.
Complete Guide to Buy the Best Skateboard for Beginners
As a newbie to skateboarding, you might be wondering what is the best skateboard for a beginner. Well, it all depends on what you are going to use a board. Are you going to use it for everyday commuting to school or the office? Or do you want to learn some tricks and have fun in the streets and parks?
Buying a skater skateboard is exciting but challenging too. Skateboards serve differently depending upon various factors. Thus, it is essential for a beginner to understand what features they should consider before buying a skateboard.
Note: We recommend purchasing a complete skateboard assembled by the brand. It will be difficult to select parts for customization as a fresh skateboarder. Moreover, a complete board from a reliable brand will give you more confidence and peace of mind to ride.
Scared of falling from a skateboard as a beginner? Read about how to get over fear of skateboard.
Deck Size and Shape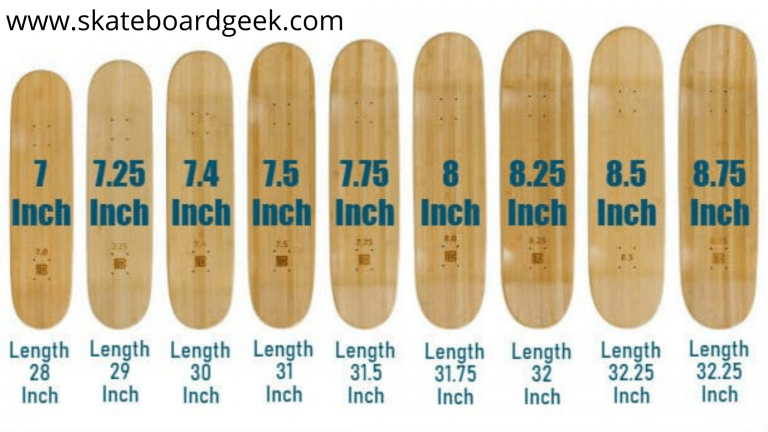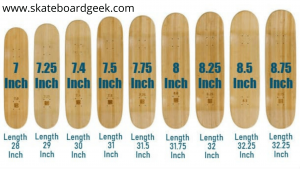 Deck size depends on the height and the size of the shoe. If you wear shoes from 7-inch to 9-inch (USA), we would suggest picking a deck that is 7.5-inch to 8.5-inch. On the other hand, if your shoe size is bigger than 9-inch, recommended deck's width is 8.5-inch to 10-inch. Expert skaters advise to pick a wider board, more space to stand on and easiest to ride as a beginner.
Deck shape depends on the type of skateboarding you are going to perform. Cruiser, Popsicle, and Pintail shape skateboards are good for commuting. And, if you are planning to perform tricks, we suggest choosing a Popsicle shape deck with double kicktails.
Read an in-depth guide about skateboard decks and choose what will suit you best as a beginner according to your body type and needs.
Wheels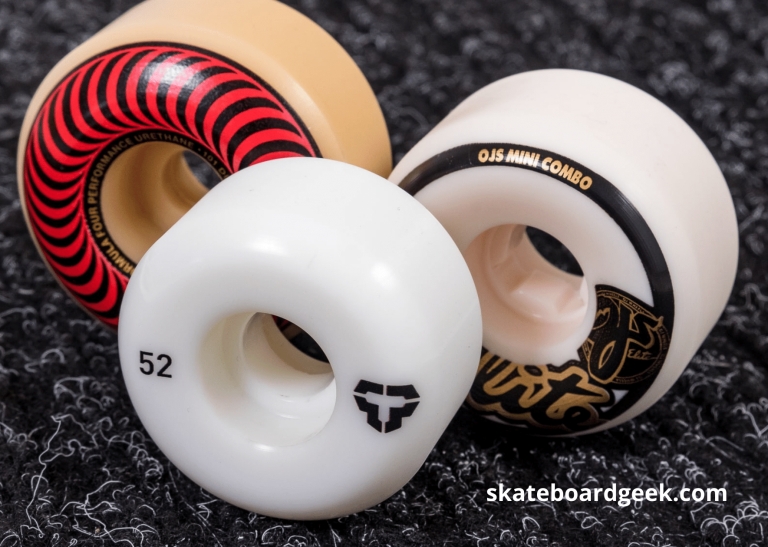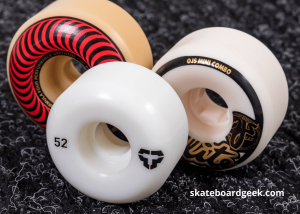 Wheels determine the speed of a skateboard. Small wheels make the board run slower, and large wheels are used for fast speedy rides. As a beginner, you should go for a set of medium-sized wheels that have a diameter between 52mm to 54mm. Also, consider the hardness of the wheels using a durometer – it should be between 90a to 99a. Wheels are the second most important part of a skateboard, make decisions wisely to enjoy rides.
Medium-sized wheels will not require raiser pads also. Raiser pads sit beneath the truck and ensure a smooth turn of the skateboard while speeding. Since you are not going to ride that fast in the initial stages, there is no need for raiser pads.
Braking is an essential part of skateboarding, learn how to stop on a skateboard properly.
Trucks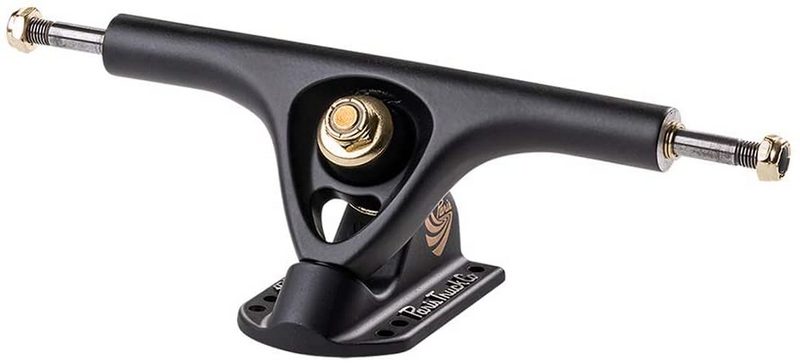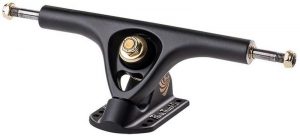 Trucks are also important to consider as they help with a balanced ride. Wheels will run smoothly to provide a comfortable ride if trucks are properly aligned. Pick a set of trucks that fits the deck size. The axle length of the truck must match the width of the truck, or a bit shorter – but it must not be out of the deck.
Thinking of starting with electric skateboarding? Meepo V3 is an affordable electric skateboard for beginners.
Bearings & Bolts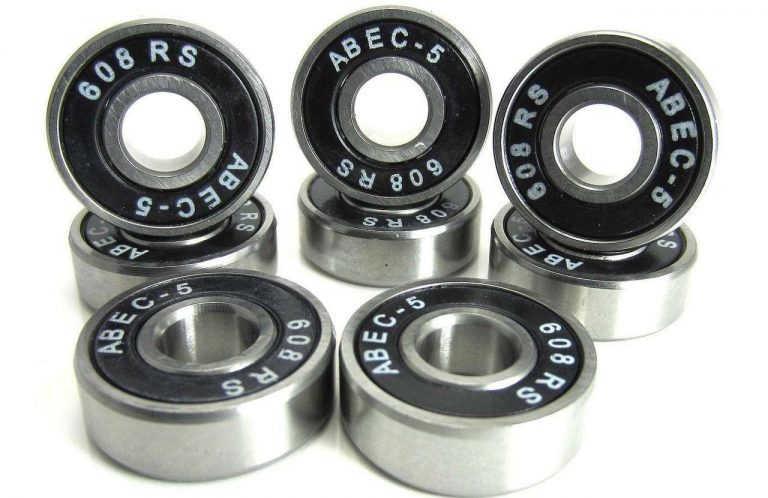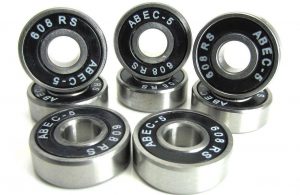 Every part including hardware is essential to think about before making the final choice. Bolts are going to fix the truck with the deck, and bearings help the wheels to spin. We recommend choosing bearings of standard inner diameter – 8mm. Keep in mind, always pay attention to the hardness of bearings – ABEC-5 to ABEC-9 bearings are considered to be good for beginners.
Reliable Skateboard Brand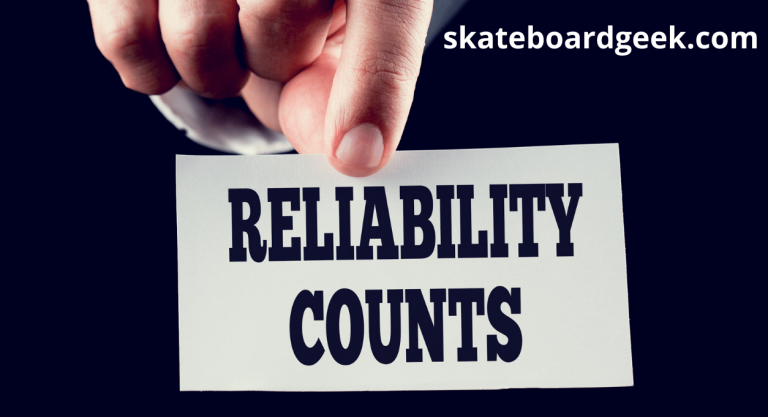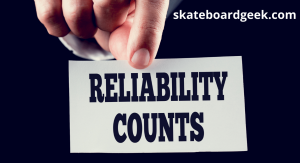 It all comes down to reliability. Skateboarding is fun but there are high chances of injuries. So, it is better to purchase a skateboard made by a reliable brand that ensures durability and functionality. As a beginner, it is difficult to balance the board while performing tricks, resulting in breaking the deck. Hence, we recommend buying from the best skateboard brands that ensure durability to prevent injuries.
Read the benefits of skateboarding to know why you should get on a board.
Final Verdict
It's always difficult for a beginner to make choice in any sport. One needs to rely on others and sometimes test a few products before making a decision. The journey from being a beginner skateboarder to an intermediate is hard, it requires balance and a lot of focus. However, it can be exciting if you have the right skateboard beneath your feet.
We have explained the pros and cons of the top ten skateboards for beginners. A board that you think is below average might be the best skateboard for someone else. No doubt it would be difficult to decide – or perhaps go with our recommendation.
Powell Golden Dragon Flying Dragon is our first choice as a starter skateboard for adults. We found it very easy to control while riding.
Element Section Skateboard is reliable, durable and easiest to ride – you will quickly learn how to balance a board.
Beleev Skateboard is one of the best-selling starter skateboards that is also being tagged as "Amazon's Choice". It is especially designed for kids and beginner adult skateboarders.
Skateboarding is a good workout, get a board and start burning calories and built a strong body with good shape.
Frequently Asked Questions: (FAQs)
What is the best skateboard for a beginner?
Powell Golden Dragon Flying Dragon is the best skateboard for a beginner. A list of the best skateboards for beginners is below;
Powell Golden Dragon Flying Dragon
Element Section Skateboard
Magneto SUV Complete Skateboard
enjoi Skateboard
WHOME Pro
Cal 7 Complete Skateboard
Beleev Skateboard
Santa Cruz Jackpot Hand
Magneto Mini Cruiser
Hiboy Alpha
What is the best skateboard brand for beginners?
Beleev is the best skateboard brand for beginners. The company mainly focuses on manufacturing boards for beginners that are easy to ride and learn on. The best skateboard brands for beginners are;
Beleev
Powell Golden Dragon
Element
enjoi
Cal 7
Santa Cruz
Magneto
Hiboy
Whome
Minority
What is the best skateboard to learn on?
WHOME Pro is the best skateboard to learn on. We experienced the best controls and braking system that makes it good for beginner skaters.
Which skateboard is easiest to ride?
Element Section is known as the easiest skateboard to ride. It is a reliable brand and famous for making boards for all-level skaters. Either you are starting with this sport or a professional who wants to polish his/her skills, we recommend the Element section because it is the easiest to ride and control.