Are you tired of skating on worn-out boards that just can't keep up with your skills? Well, I was too, until I came across Blind Skateboards. Blind completes are perfect to hit the streets or skate parks. I must admit – I've become a fan of their quality construction and stylish designs.
And I'm excited to share my experience with Blind skateboard brand, and review their products including decks, wheels, and trucks, as well as their durability and performance to help you decide if they are worth your hard-earned cash.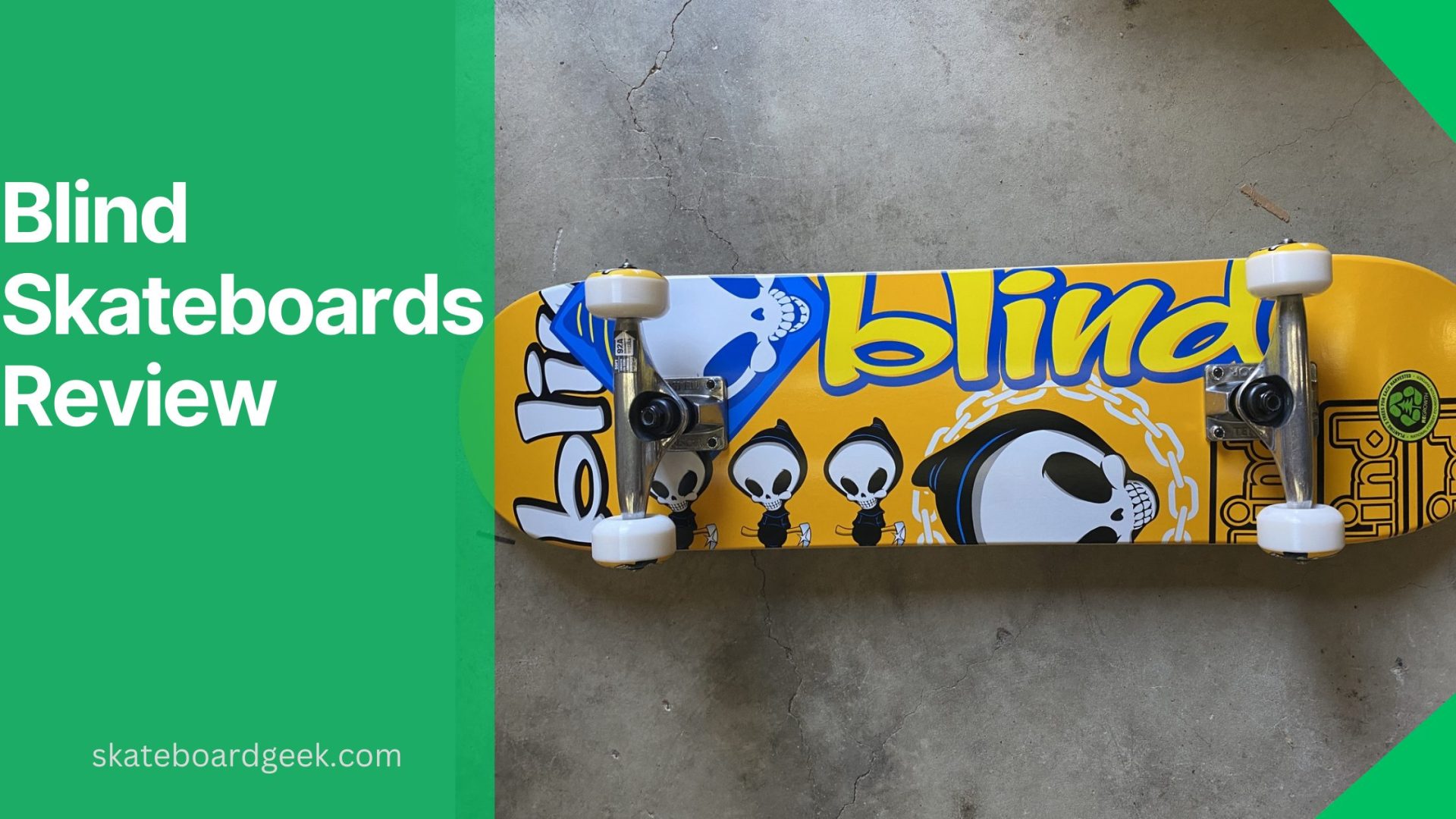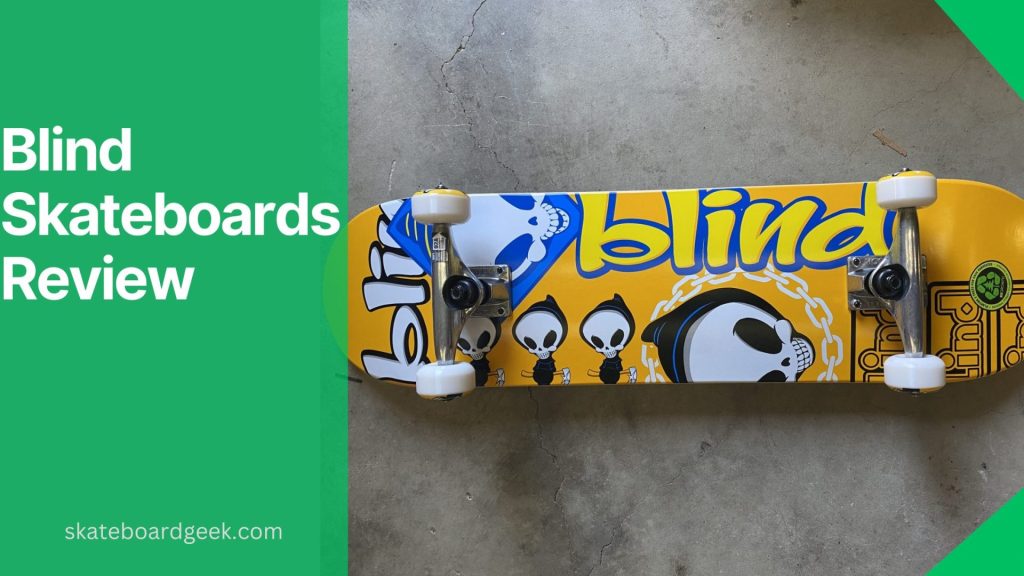 Blind Skateboard Brand History
Get ready to hop on your skateboard and take a ride back to 1989 when three skateboarding legends Mark Gonzales, Steve Rocco, and Rodney Mullen decided to combine their powers and create the ultimate skateboarding company. They called it Blind Skateboards, and boy did they make an entrance!
The 90s were a great time for Blind Skateboards, and they gained a reputation for producing high-quality skateboards with graphics that were the talk of the town. The iconic "Ripper" logo featuring a skeleton holding a skateboard became the brand's signature mark and still adorns their decks to this day.
Blind Skateboards also signed some of the biggest names in skateboarding throughout the decade, like Guy Mariano, Rudy Johnson, and Tim Gavin. They released a string of epic skateboarding videos that sent shockwaves through the industry.
As the new millennium rolled in, Blind underwent a few changes, including new ownership, but still, Blind continued to be one of the top skateboard brands around, with a massive following of loyal skaters.
Today, Blind Skateboards is owned by Dwindle Distribution, which is one of the largest skateboard manufacturers in the world. With such a solid history and strong ownership, it's no wonder the brand is a top choice for skaters everywhere!
Blind Logo
The Blind Skateboards logo is an iconic and recognizable design, featuring an image of a skeleton holding an axe, known as the "Ripper" graphic. The skeleton is typically depicted with a top hat and a tuxedo, giving the logo a unique and memorable look.


The graphic is usually printed on the bottom of the deck, and sometimes appears on Blind Skateboards clothing and accessories as well.
The "Ripper" graphic is a testament to Blind's commitment to skateboarding culture and its irreverent and rebellious spirit.
Product Line
Blind Skateboards offers a wide range of products for skateboarders of all skill levels.
Their product line includes:
Complete skateboards
Skateboard decks
Wheels
Trucks
Bearings
Clothing
Accessories
Blind Complete Skateboard Review
I'm a huge fan of Blind skateboards, and their completes have been my go-to setup for years. After reading multiple positive reviews of Blind complete skateboards, I purchased one and rode it quite a few times, and I must say, I was pretty impressed.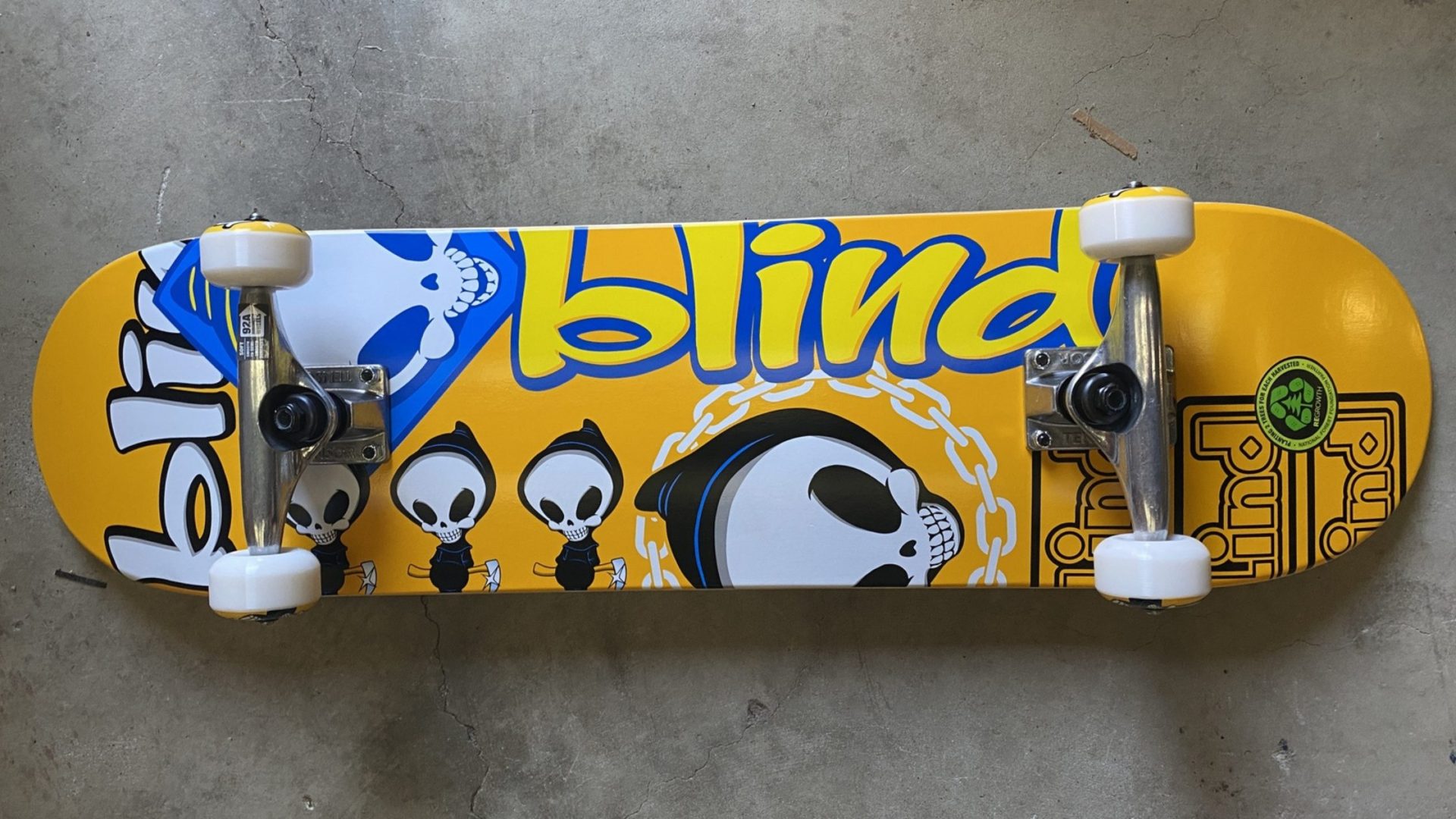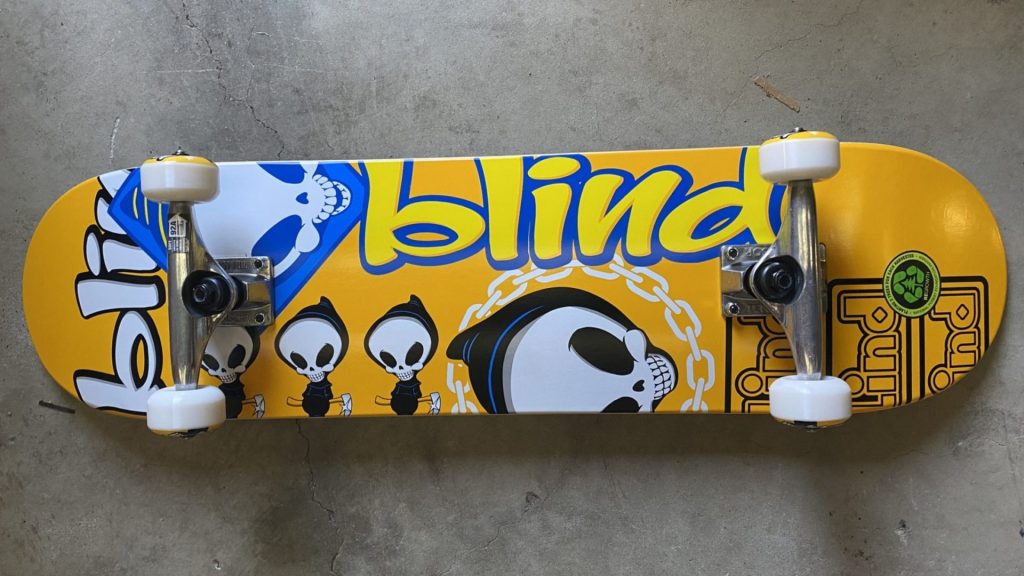 One thing I love about Blind complete skateboards is that they come fully assembled and ready to ride straight out of the box. This makes them a great option for beginners or anyone who doesn't want to spend time fussing around with setting up their skateboard.
These boards are designed and assembled with the needs of skaters in mind, offering a combination of durability, stability, and maneuverability that makes them ideal for everything from cruising around town to hitting the skatepark and attempting tricks.
It felt great under my feet, with just the right amount of concave and a comfortable shape that made it easy to control. The aluminum alloy trucks were easy to adjust to my liking, and the wheels rolled smoothly due to softer bushing over any terrain I rode on.
Most popular Blind complete skateboards:
Blind Skateboards Reaper Youth Complete
Blind Skateboards OG Reaper Complete Skateboard
Blind TJ Rogers "Color Block" Complete
Blind "Bum Bag" Complete Skateboard
Blind "Ripped" Complete Skateboard
Blind completes are ranked as one of the best complete skateboards in 2023.
Blind Skateboard Decks Reviews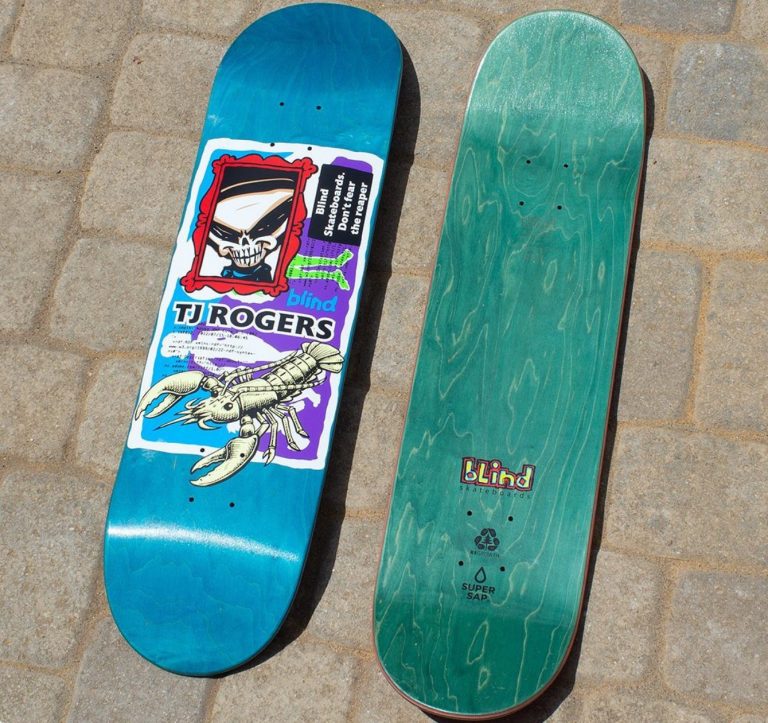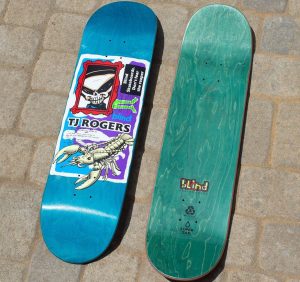 Typically, Blind decks are made from seven layers of Canadian maple wood, which is known for its strength and durability. This construction provides a solid foundation for the deck, allowing it to withstand the impacts and wear and tear that comes with skateboarding.
Blind also experimented with other materials in the past, such as their "Reaper" series of decks which feature a bamboo and maple hybrid construction. Recently, the brand is making decks with "Birch" material (I haven't ridden a birch board).
They offer a variety of sizes in classic shapes and they tend to have a steeper concave than other skateboard brands. This means that the middle of the deck is higher than the edges, giving you more control and stability when performing tricks.
However, some immature skaters may find the steeper concave to be uncomfortable, so we suggest trying out a Blind deck before purchasing one.
Most popular Blind skateboard decks are:
Blind Reaper
Blind TJ Rogers "Color Block" Deck
Blind "Bum Bag" Deck
Blind "Ripped" Deck
Blind "Pennywise" Deck
Blind Skateboard Wheels Reviews
When it comes to skateboard wheels, I must say, Blind makes some of the best wheels I've ever used. Most of them are made with premium quality urethane and polyurethane to ensure durability, excellent grip and control, even on rougher surfaces.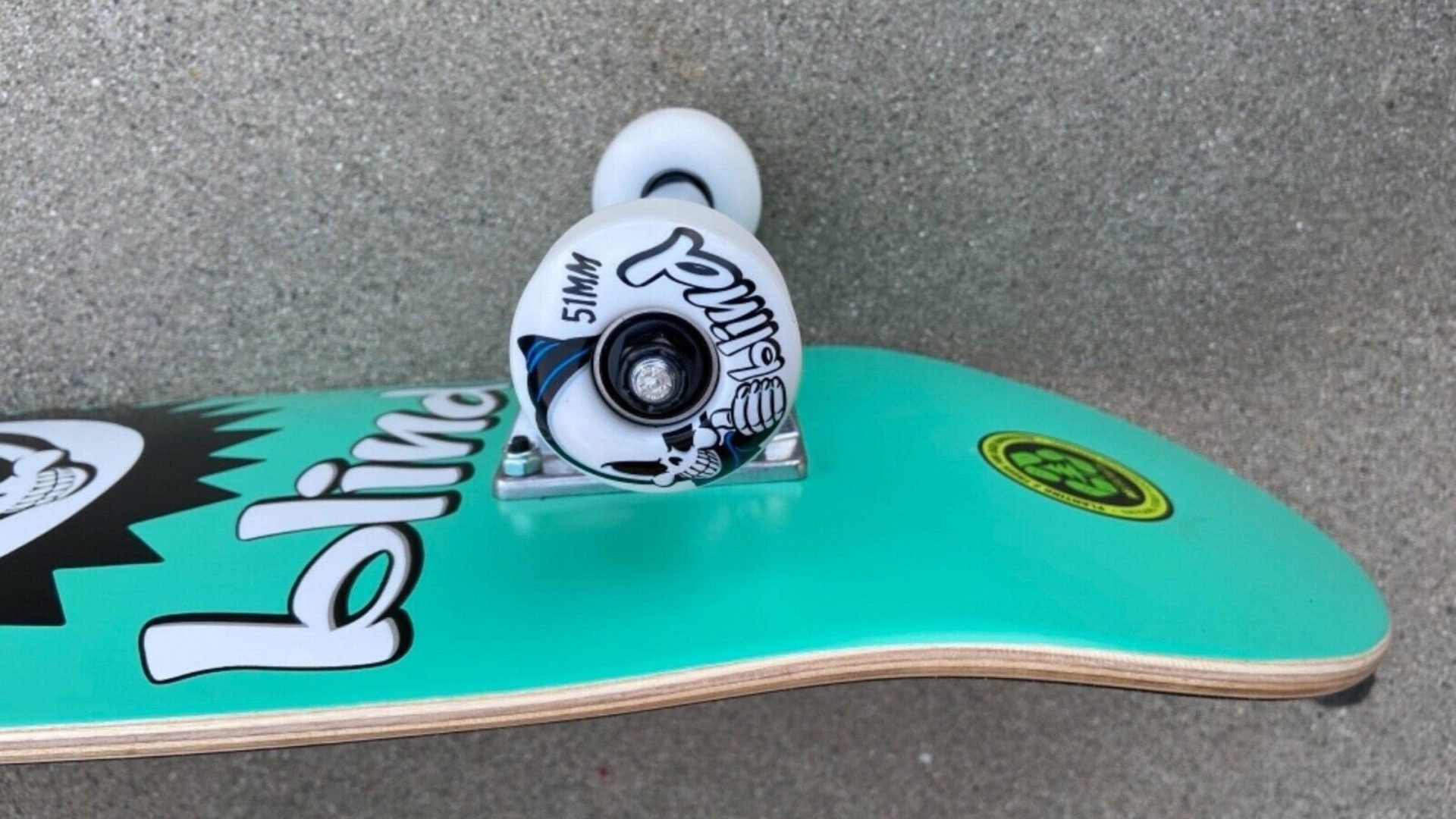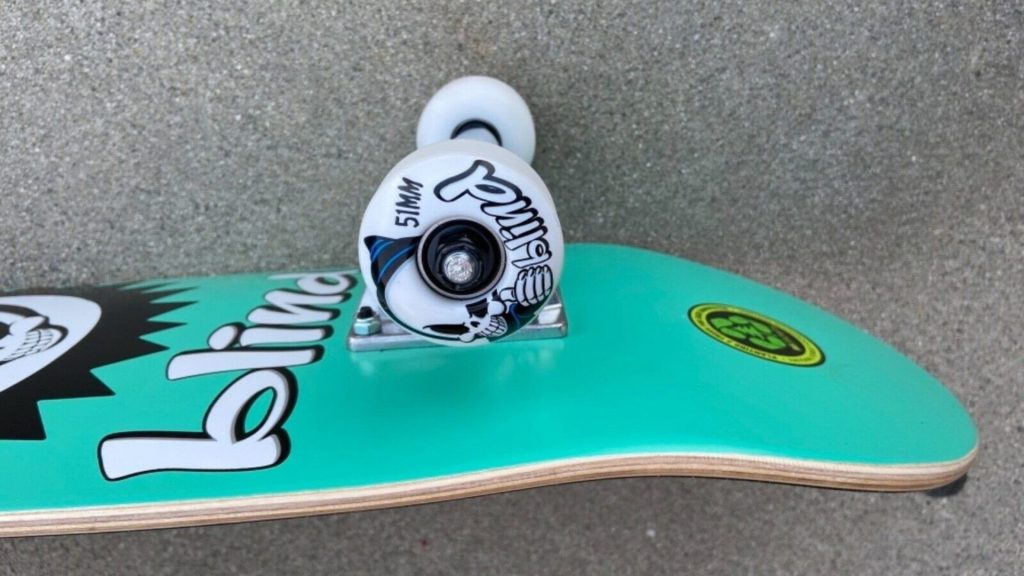 The wheels are available in a range of sizes, from 50mm to 54mm, and come in different durometers, from 99a to 101a to accommodate all riding styles. Softer wheels, like those with a durometer of 99a, are better for cruising and carving, while harder wheels, like those with a durometer of 101a, are better for tricks and technical skating.
Many skaters have reported that Blind Skateboard wheels provide excellent grip and slide smoothly on rails and ledges. However, some skaters have complained that the wheels wear out quickly, especially if you are skating on rough surfaces.
Read features of the top rated skateboard wheels to choose the best pair for your board.
Durability and Performance
Overall, their decks, wheels, and trucks are all made to last, so you can focus on nailing your tricks instead of worrying about your gear falling apart. I've been skating on a Blind deck for a while now, and it's held up surprisingly well considering how much abuse I've put it through.
Blind's gear also performs exceptionally well. Their decks have a great balance of pop and stability, and their wheels provide excellent grip and control. The trucks are also reliable and responsive, allowing for smooth turns and grinds.
Many skaters have reported that Blind Skateboard decks are extremely durable and can withstand a lot of wear and tear.
However, some skateboarders on Reddit have noted that the graphics on decks can fade over time, especially if you are skating on rough surfaces.
Why Is Blind Skateboards Called Blind?
Mark Gonzales had a habit of exclaiming "blind" when something was impressive or unexpected. It was his go-to word for describing tricks that were landed unexpectedly or lines that were skated in an unusual way.
So when Gonzales decided to start his own skateboard brand, he figured that "Blind" would be the perfect name. After all, it represented the unexpected, the unconventional, and the downright impressive.
And let's be real – who wouldn't want to skate on gear that's associated with being blind? It's like a secret superpower that only the coolest skaters get to possess.
And so, Blind Skateboards was born – a brand that's been pushing the boundaries of skateboarding ever since. With a commitment to quality, durability, and innovation, Blind has become a beloved brand among skaters worldwide.
How Did Blind Become a Successful Skateboard Brand?
The skateboard industry is known for its tough competition, but Blind's innovative approach and unwavering commitment to the sport helped them emerge as the victors of the skateboard war.
The brand quickly rose to prominence by producing cutting-edge designs and sponsoring some of the industry's most talented riders. However, they faced fierce competition from other skateboard brands, such as Powell Peralta, Santa Cruz, and Plan B. These brands were well-established and had loyal followings, making it difficult for Blind to establish a foothold in the market.
But Blind's success isn't just due to its innovation and talent. But Blind was not deterred. They continued to push the envelope with their designs and marketing strategies, and their dedication to innovation paid off.
In 1991, Blind released their first video, "Video Days," which featured iconic skateboarders such as Guy Mariano, Jason Lee, and Mark Gonzales himself. The video was a game-changer, showcasing Blind's unique style and cementing their place in the skateboard world.
Blind Video Days – Jason Lee Part
Blind's competitors took notice and responded with their own innovative strategies, but Blind remained ahead of the curve. They continued to release groundbreaking videos and designs, such as their iconic "Reaper" logo, which helped them stand out from the competition.
The skateboard war raged on, but Blind emerged as the clear winner. Their commitment to innovation and dedication to the skateboarding community earned them a loyal following and a reputation as one of the most respected brands in the industry. Their competitors, while still successful in their own right, were unable to match Blind's creativity and vision.
Final Verdict
Blind Skateboards offer top-quality completes that are well worth the investment. With their durable decks, stylish designs, and high-performance trucks and wheels, Blind is a brand that truly delivers.
After spending some time with Blind brand, I can confidently say that they are the real deal. Sure, you could try to save a few bucks by going with a cheaper brand, but let's be real – you get what you pay for.
And with Blind, you are getting a board that's built to last and perform. Trust me, I've put these decks through the ringer and they've held up like a champ.
Frequently Asked Questions: (FAQs)
Are Blind good skateboards?
Blind Skateboards are the bee's knees, the cream of the crop, and the top dog when it comes to skateboards. They're built with premium materials, feature stylish designs, and perform like a dream. So, in short, yes – Blind are good skateboards and they definitely worth your time and money.
How hard are Blind wheels?
Well, let's just say that Blind wheels are not for the faint of heart. They come in different hardness levels, but generally, they're on the harder side.
So if you are a street skater who loves to hit up the gnarliest spots and pull off the toughest tricks, Blind wheels will have your back.
Is Braille Skateboarding good?
Yes! Braille Skateboarding is a treasure trove of skating knowledge and entertainment! From tutorials to product reviews, these guys have it all.
If you are looking to improve your skills and stay up-to-date on the latest trends in the skateboarding world, Braille Skateboarding is definitely worth checking out.
Does Blind make good wheels?
You bet your sweet kickflip they do! Blind wheels are known for their quality and durability, making them a great choice for skaters who want to perform at their best. With Blind wheels on your board, you'll be rolling like a champ and nailing those tricks in no time.