Skateboarding has evolved into a form of self-expression and an art form. With its growing popularity, skateboard brands have been popping up left and right, each claiming to offer the best quality products. Among them is Powell Peralta, a well-respected skateboard brand that has been around since 1978.
The brand has a loyal following among skateboarders, thanks to its top-of-the-line durable products that cater to skaters of all skill levels. Here, we'll review Powell Peralta's products, particularly Flight Deck, and see whether it deserves to be crowned as the best skateboard deck in the market.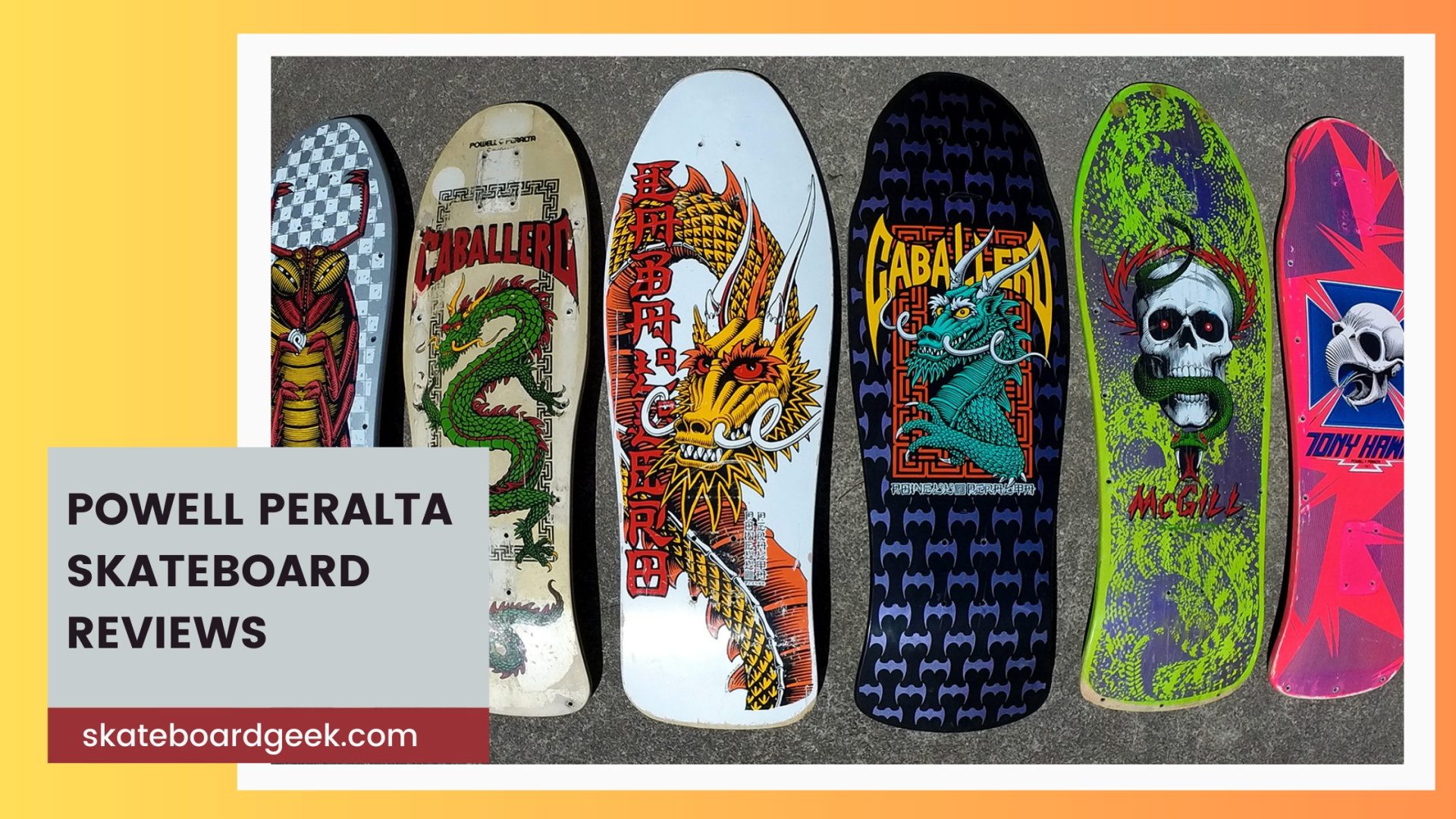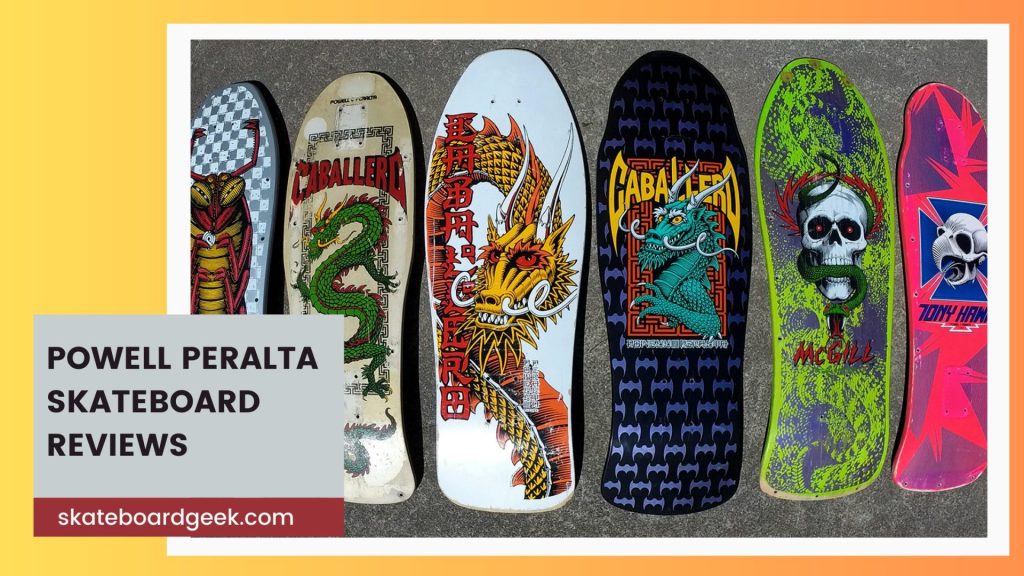 Powell Peralta Skateboard Brand History
The brand was founded by two iconic figures in the skateboarding world, George Powell and Stacy Peralta. The two met in the 1970s and decided to create a skateboard company that would offer high-quality products to skaters of all skill levels.
The brand's first products were skateboard wheels, which quickly gained popularity due to their innovative design and superior quality. Powell Peralta continued to expand its product line over the years, eventually adding skateboard decks, trucks, and bearings to its offerings.
In the 1980s, Powell Peralta became known for its iconic graphics, which featured skull and skeleton designs. These graphics became a staple in the skateboarding world and are still popular today.
The brand also sponsored some of the biggest names in skateboarding, including Tony Hawk, Steve Caballero, and Lance Mountain.
In the early 2000s, the brand went through a restructuring phase and was sold to NHS Inc., a company that also owns other skateboard brands such as Santa Cruz and Independent Trucks.
Read test based reviews of the best skateboard trucks of 2023.
Today, Powell Peralta continues to be a popular skateboard brand, known for its high-quality products and innovative designs.
Its most recent addition, the Flight Deck, has been making waves in the skateboarding world due to its sturdy construction that promises to be lighter and stronger than traditional decks.
This Deck series is available worldwide, including in the UK, Australia, and Canada. No matter where you are located, you can get your hands on a Powell Peralta Flight Deck.
Flight Deck is also one of the lightest skateboard decks on the market.
Powell Peralta Logo
The Powell Peralta's iconic logo features a skull and sword, with the Powell Peralta name above and below it in a bold font. It was designed by skateboard artist Vernon Courtlandt Johnson, also known as VCJ, in the early 1980s.


The logo has undergone some slight modifications over the years, but has remained true to its original design and essence. It has become a popular symbol of rebellion and non-conformity, and represents the spirit of skateboarding and the individuality that the sport contains.
Product Line and Features
Over the years, the brand has developed an extensive product line that caters to a broad range of skateboarders, from beginners to professionals.
Here are some of the products that Powell Peralta offers:
Complete skateboards
Decks
Wheels
Trucks
Grip Tape
Bearings
Apparel
Accessories
Powell Peralta Flight Deck Review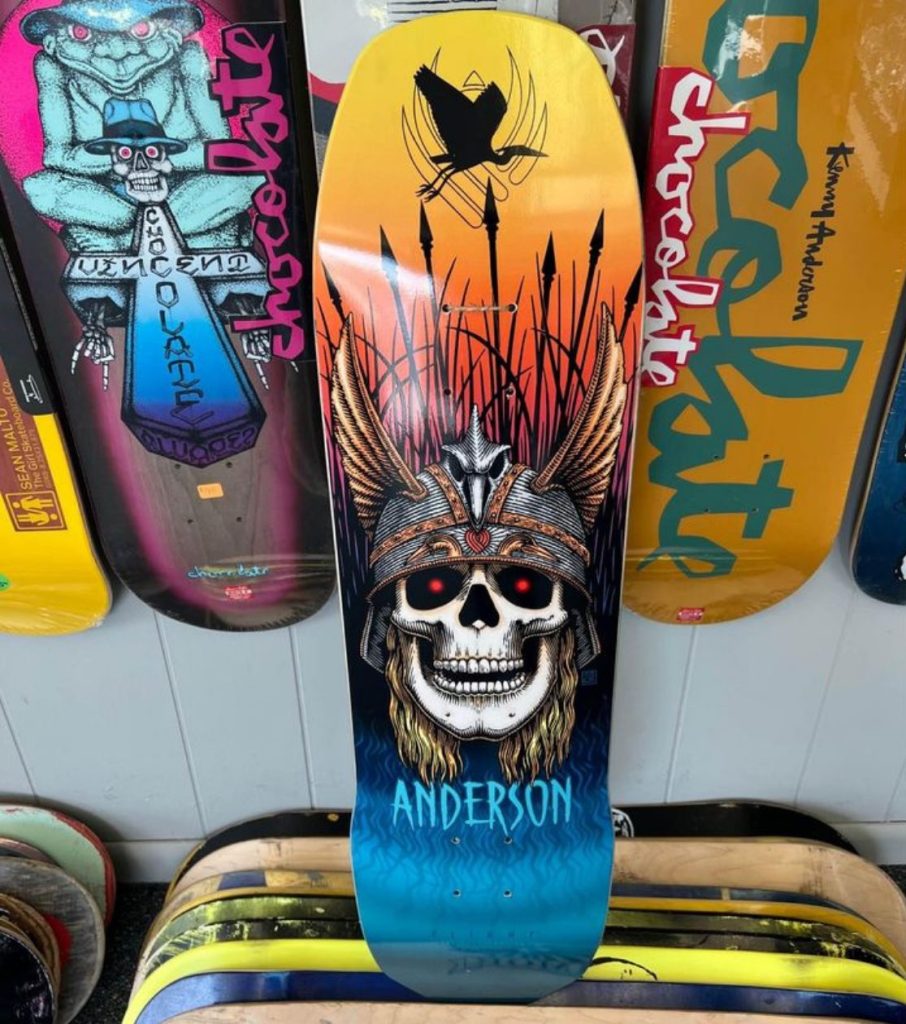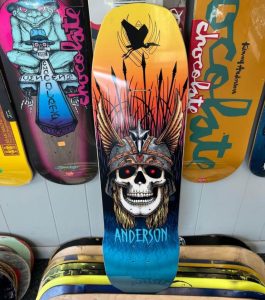 The Flight Deck series is one of Powell Peralta's most popular products, and for good reason. As a skateboarder myself, I was intrigued by its unique design and claims of superior performance. So, I decided to give it a try and see for myself what all the fuss was about.
I can attest to the quality and durability of their decks, which have helped me perform tricks and maneuvers with ease.
Design and Construction
The first thing that caught my eye about the Powell Peralta Flight Deck was its distinctive shape. Unlike traditional skateboard decks, the Flight Deck has a tapered nose and tail, which gives it a more aerodynamic profile.
It also features a unique construction using layers of hard rock maple wood and high strength fiberglass, AirLam fused sandwiching a core layer of epoxy resin. The result is an incredibly strong and lightweight deck that is also incredibly responsive.
Another feature that sets the Flight Deck series apart is the K20 concave. This design provides a comfortable and secure grip for riders, allowing for more precise control over the board. The concave is also customizable, with different levels of depth and width available depending on your preferences.
The weight of the Flight Deck varies depending on the size and shape of the deck, but it's generally around 20% lighter than traditional decks.
Check the skateboard size chart to see which will suit your feet and needs before purchasing a ride.
Performance
As soon as I started riding the Powell Peralta Flight Deck, I noticed a significant difference in how it was handled compared to my previous skateboard.
The Flight Deck felt incredibly stable, with a smooth and predictable ride. The tapered shape and unique construction gave me more control and allowed me to perform tricks with greater precision.
The deck has good pop, it's lightweight design also made it easier to maneuver, whether I was hitting the skate park or cruising through the streets.
Durability
One of the biggest concerns I had when switching to the Powell Peralta Flight Deck was whether it would hold up to the rigors of skating. After all, the unique construction and materials used in the deck's design were relatively new to me.
However, after several weeks of riding, I was pleasantly surprised by how well the deck held up. Despite taking some hard spills and rough landings, the Flight Deck showed no signs of cracking, warping, or delaminating.
It was clear that Powell Peralta had put a lot of thought and care into creating a deck that was not only high-performing but also durable enough to withstand the demands of serious skaters.
Most Popular Powell Peralta Decks
Here are some of the most popular Powell Peralta skateboard decks:
Powell Peralta Flight Deck
Powell Peralta Bones Brigade Series
Powell Peralta Caballero Dragon Knight Series
Powell Peralta Old School Reissue Series
Powell Peralta Pro Series
Powell Peralta Flight Deck Shapes
The Flight Deck series is available in various shapes, including popsicle, old school, and cruiser styles, to cater to the different preferences and riding styles of skaters.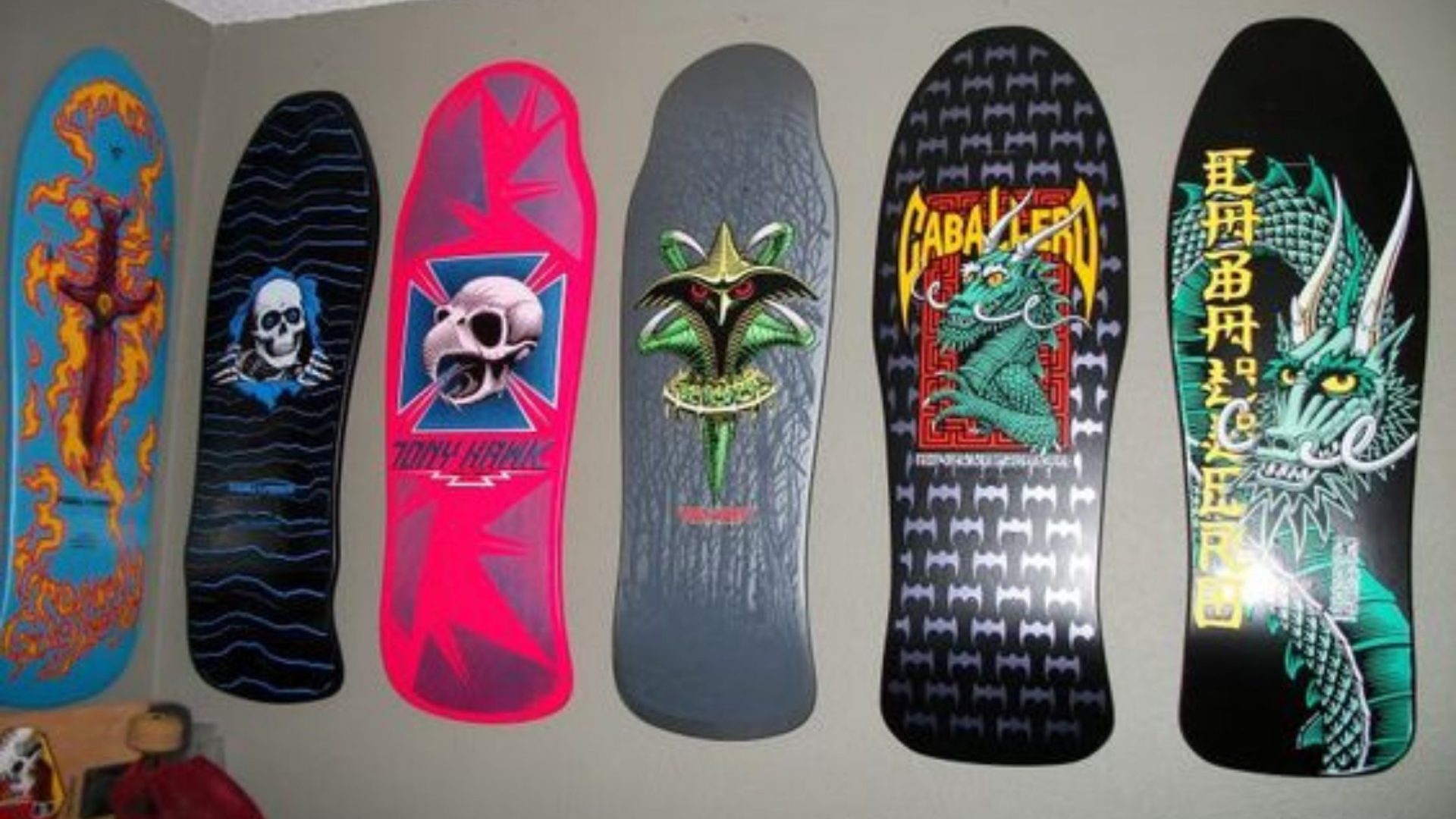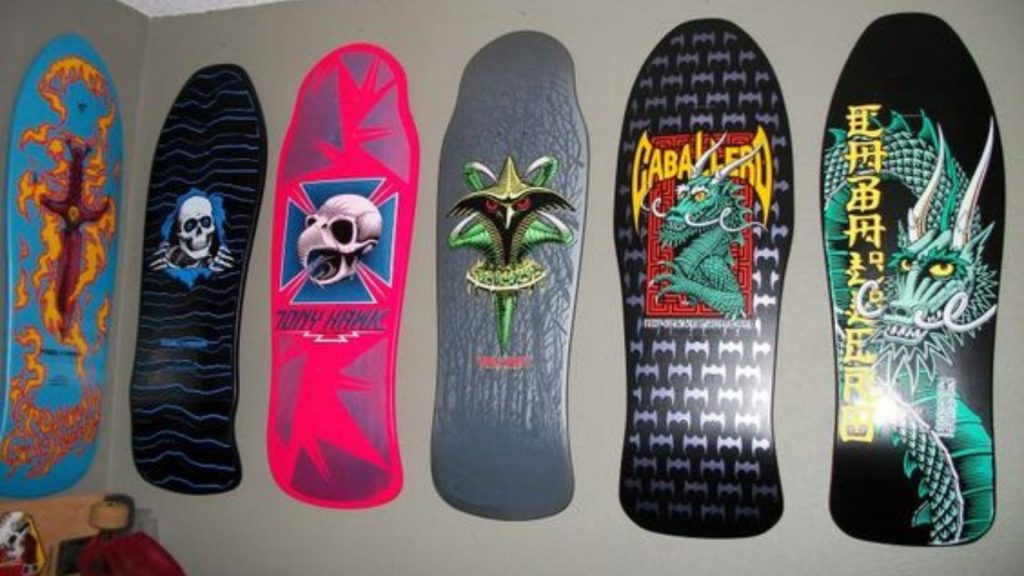 Here are some of the popular shapes of the Flight Deck:
Pro – Classic shape of the Flight Deck, which is slightly tapered with a medium concave. It is suitable for all-around skating, from street to park. Andy Anderson is the most popular Flight deck in pro models.
242 – This is a wider and longer shape of the Flight Deck, great for bigger skaters or those who prefer a more stable ride. It has a mellow concave and a longer wheelbase.
242F – This shape is similar to the 242 but with a fuller nose and tail, providing more pop for flip tricks.
248 – This is a slimmer and shorter shape of the Flight Deck, which is perfect for technical street skating. It has a steep concave and a shorter wheelbase for quick turns and maneuverability.
249 – This is a wider and longer version of the 248 shape, which offers more stability for bigger skaters. It also has a steep concave for a responsive ride.
Powell Peralta Wheels Reviews
Powell Peralta skateboard wheels are a great choice for skateboarders who want a high-quality and reliable wheel that performs well. These wheels are known for their durability and performance.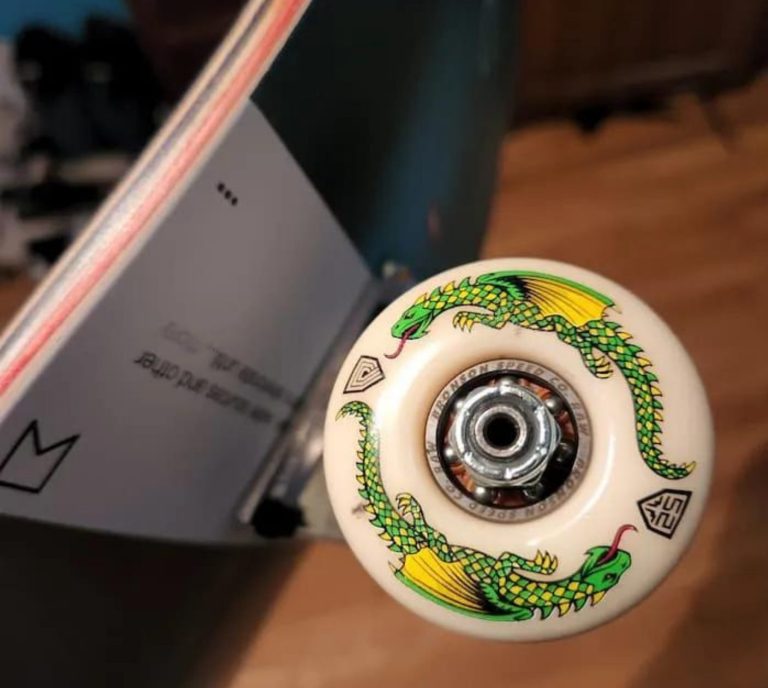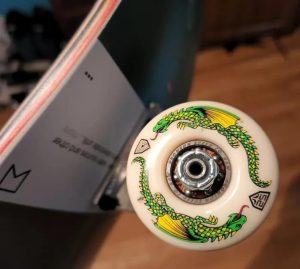 The wheels come in different sizes and hardness levels, ranging from 50mm to 60mm and 78a to 99a. The size and hardness level of the wheel depends on the type of skateboarding that the rider does.
For example, smaller wheels with a higher hardness level (such as 99a) are better suited for street skating and performing tricks, while larger wheels with a lower hardness level (such as 78a) are ideal for cruising and carving.
Many skateboarders also appreciate the unique and eye-catching designs of Powell Peralta skateboard wheels. The graphics range from classic logos to intricate and colorful designs. These wheels not only look great, but they also perform well on the street, park, and other terrains.
How Tony Hawk Helped Powell Peralta to Grow
Tony Hawk and Powell Peralta's connection goes way back to the 1980s. The skateboarding legend played a crucial role in establishing Powell Peralta as a leading skateboard brand.
Tony Hawk rode Powell Peralta skateboards before it was cool. As a member of the Powell Peralta skateboarding team, he was their poster boy, and his endorsement helped Powell Peralta gain traction in the industry.
But Hawk didn't stop there. He worked closely with the company's engineers to create new skateboard designs and technology. The "Hawk" model, which was one of Powell Peralta's most popular products, was the brainchild of Hawk's innovative mind.
Of course, being Tony Hawk didn't hurt either. His success in skateboarding competitions helped establish Powell Peralta's reputation as a top brand. Whenever Hawk won a championship, you could bet he did it on a Powell Peralta skateboard.
Best of all, Hawk was an excellent promoter. He appeared in countless skateboarding videos and magazines, showing off his skills on Powell Peralta skateboards and raising awareness of the brand.
Conclusion
Without a second thought, I can conclude that Powell Peralta deserves a place in the best skateboard brands because it produces some of the best skateboards and accessories in the industry. From its classic skateboard designs to their innovative Flight Deck technology, the company has earned a reputation for quality and durability.
While you may think the Flight Deck is not the "best" skateboard on the market, it certainly holds its own against the competition. Its unique construction technology makes it a standout choice for skaters who want a lightweight and durable board that can handle all types of terrain.
Whether you are a seasoned pro or just starting out, Powell Peralta has something to offer every skateboarder. Their product line is diverse and well-made, and their attention to detail is evident in every aspect of their brand.
Frequently Asked Questions: (FAQs)
Are Powell-Peralta decks worth it?
Absolutely! Powell-Peralta decks are like the luxury cars of the skateboard world – they're made from top-notch materials and designed with innovative features to give you a smooth, reliable ride. You won't regret investing in one of these bad boys.
Is Powell-Peralta a good skateboard brand?
Uh, yeah! They've been around since the dawn of time (well, the '70s), and they've only gotten better with age. Powell-Peralta is like the fine wine of skateboarding – their classic taste never goes out of style.
Where are Powell-Peralta skateboards made?
Powell-Peralta skateboards are made in the USA! That's right, they're crafted with American pride in Santa Barbara, California. You can rest assured that you are getting a quality product that's made right here on your home turf.
Are Powell flight decks lighter?
Powell Flight decks are like the featherweights of the skateboard world. They're made using a super-secret construction process involving multiple layers of fiberglass and epoxy, resulting in a deck that's lighter than a cloud.
What is Flight deck Powell?
Flight deck Powell is a type of skateboard deck made with a unique construction process that's top secret (well, not really, but it sounds mysterious). These decks are incredibly strong, lightweight, and durable, making them perfect for shredding like a pro.
Is Powell-Peralta Flight worth it?
Powell-Peralta Flight decks are like the VIP experience of skateboarding. They're pricier than traditional decks, but totally worth it for the superior performance, pop, and durability you'll get. It's like upgrading from economy class to first class – you won't want to go back.
What is a Flight deck on a skateboard?
A Flight deck on a skateboard is like the super-powered version of a regular deck. It's made using a fancy construction process involving fiberglass and epoxy, resulting in a deck that's tougher than nails and lighter than air. Think of it as the Iron Man suit of skateboarding – it'll take your skills to the next level.