Skateboarders know the struggle of finding the right wheels for their skateboards because they come in different types for every riding style. Some wheels are designed for cruising on streets and some are better for performing tricks at skate parks. That's why in this article, I'll be sharing my expertise on the best skateboard wheels for different riding styles and terrains.
I mostly ride in streets and skate parks, so for me – Spitfire Formula Four wheels is the top choice. They are perfect to perform landing tricks on stairs and rails, and shredding in the park.
Also, read how long does skateboard wheels last and when to replace them.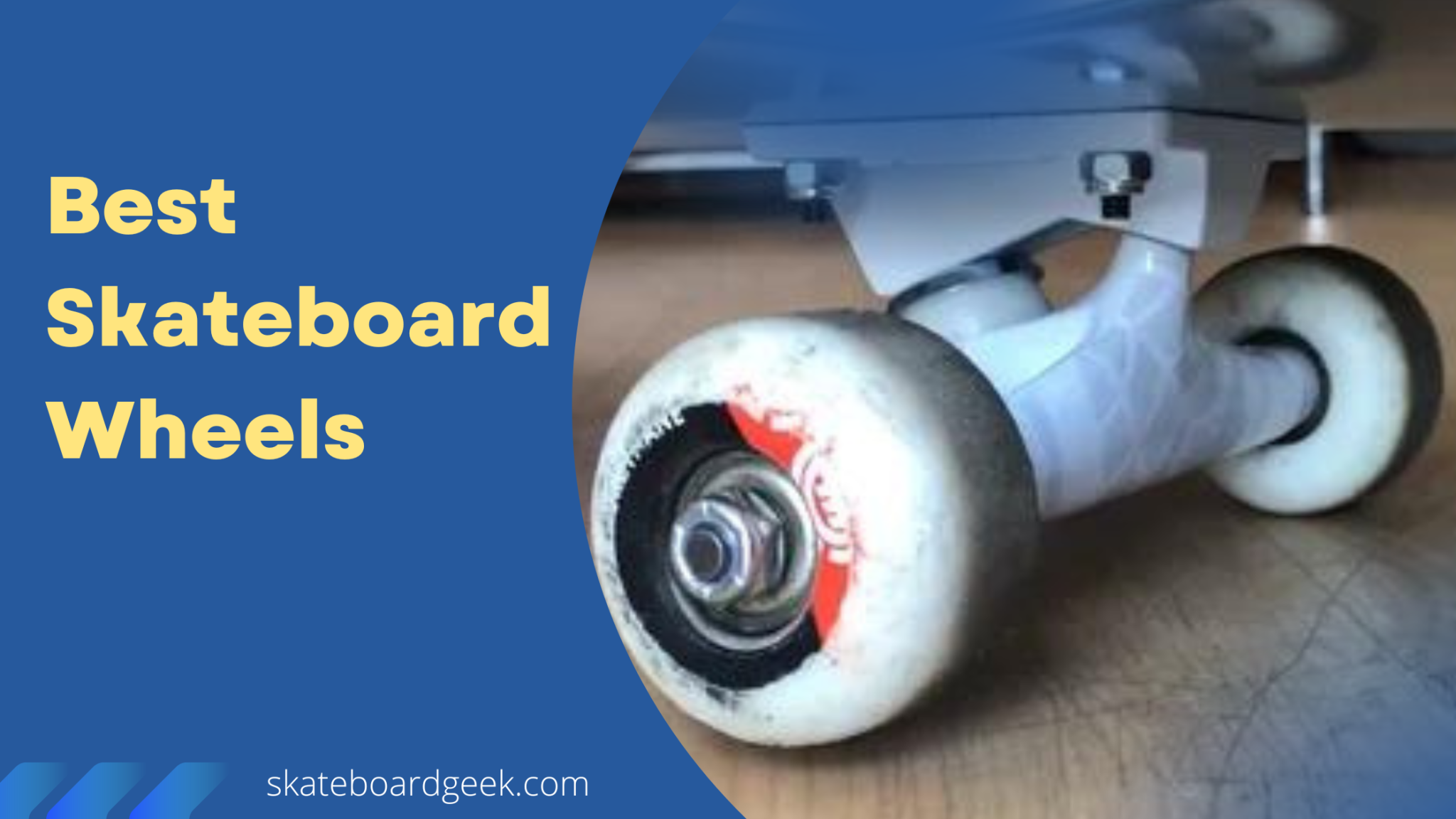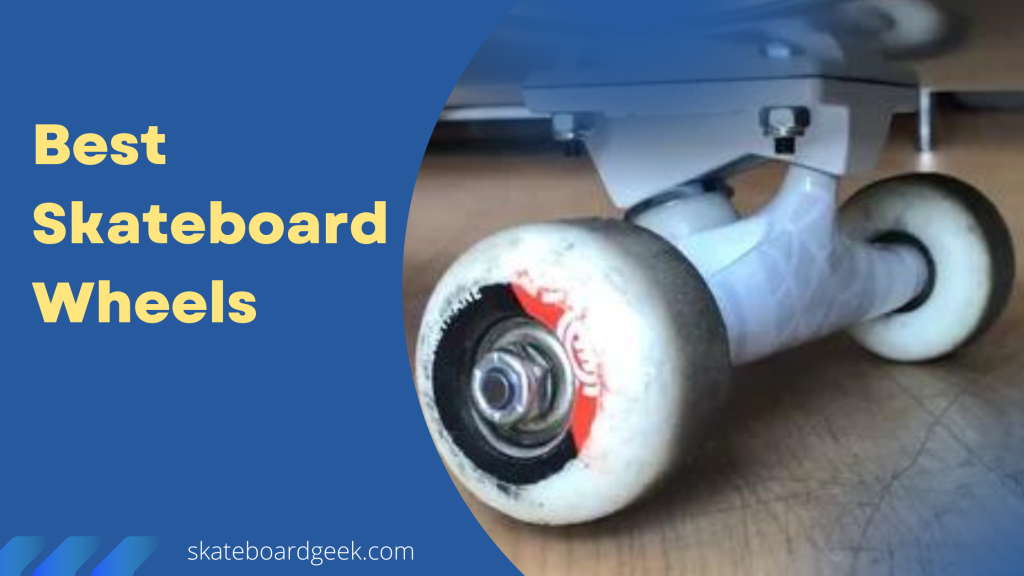 Top 10 Best Skateboard Wheels In 2023
Here is a list of the 10 best skateboard and longboard wheels of 2023 with their qualities and prices. These wheels are durable and perform best for the purpose they are made. Plus, they ensure comfortable and smooth rides.
| No. | Skateboard Wheel | Quality | Price |
| --- | --- | --- | --- |
| 1 | Spitfire Formula Four | Best Skateboard Wheels for Street | |
| 2 | Sector 9 Nineballs | Best for Beginners | |
| 3 | Orangatang Stimulus Freeride | Best for Cruising | |
| 4 | Spitfire F4 99D | Best Skateboard Wheels for Tricks | |
| 5 | Bones ATF Riders | Best for Rough Roads | |
| 6 | Fireball Tinder | Best for Longboard Cruising | |
| 7 | Sector 9 Slide Butterballs | Best for Powerslides | |
| 8 | Powell Peralta G-Bones | Best for Speed | |
| 9 | MBS All-Terrain Wheels | Best for Asphalt | |
| 10 | FREEDARE Stimulus | Cheap Skateboard Wheels for Smooth Rides | |
Top Picks
"Best Skateboard Wheels for Street"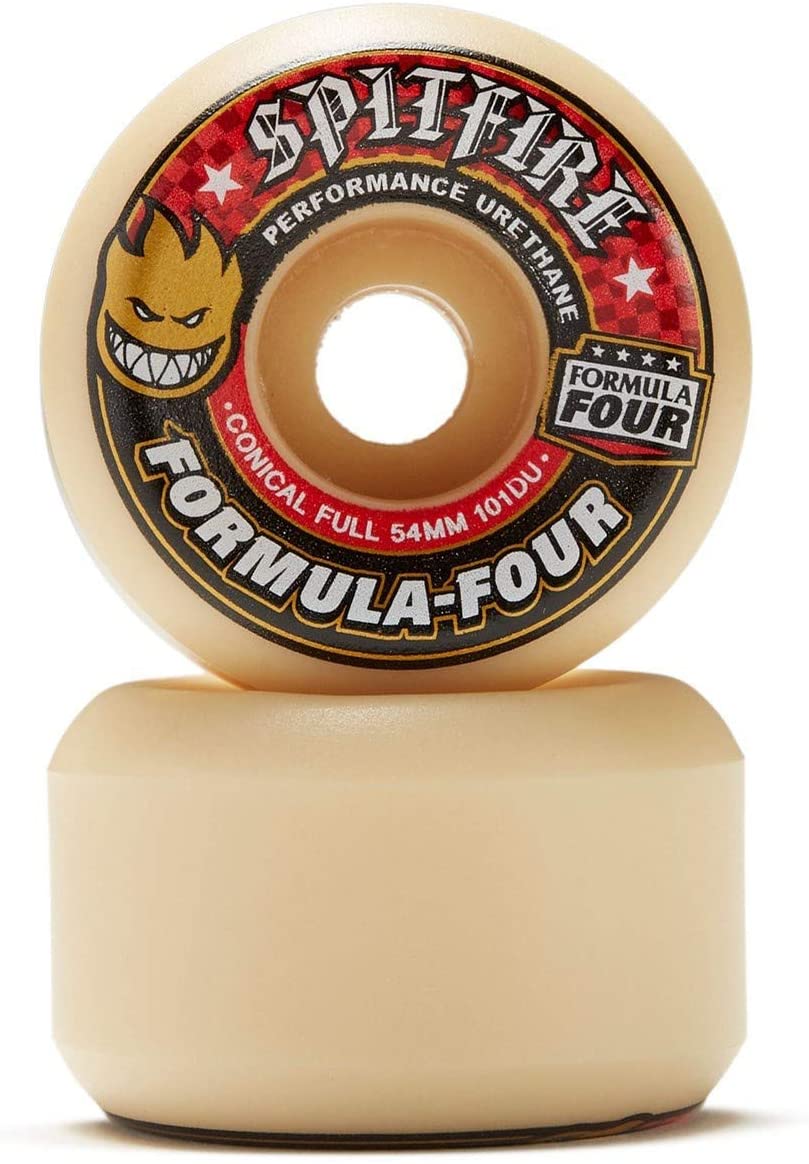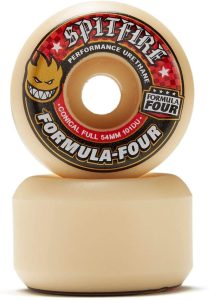 The Spitfire Formula Four Conical are the best wheels for skating on the streets. They are made of an innovative mixture of urethane that provides speed, stability, and durability on all types of terrain.
The Conical wide-shaped wheels are especially molded to maintain good stability even at high speeds. These wheels are designed with 100% performance Urethane to maintain the shape for longer.
We like the fact that the Spitfire Formula 4 Conical wheels are lightweight, extremely strong and have unmatched flatspot resistance. They have a perfect amount of grip while offering smooth powerslides and easy spinning.
The wider contact area also ensures balance and stability while grinding. These are optimum-sized wheels – less prone to wheelbite.
Specs:
Diameter: 54mm
Hardness: 101DU (Durometer)
It is made of 100% performance Urethane
Innovative wide-shaped Conical shape
Pros
Offers smooth speedy rides
Good control on all types of surfaces
Offers anti-slip powerslides
Multi-terrain skateboard wheels
Reliable material, holds the shape for long
Cons
Require brake-in period, we felt them slippery over the first ride
Our Experience:
We love these wheels' performance, they hold up pretty well! We did not find any missing chips or chunks even after beating the extremely good. Just make sure the bearings are of good quality to spin these wheels nicely. Indeed these are smooth, reliable and ever-lasting skate wheels!
"Best for Beginners"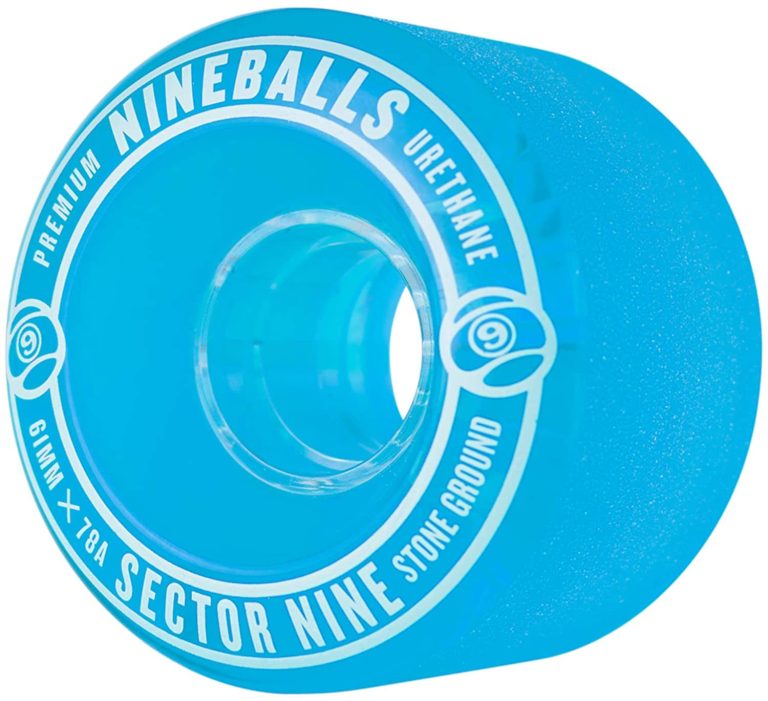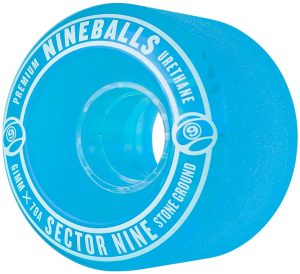 Sector 9 Nineballs longboard wheels are a great choice for beginners as well as pro riders. They provide good roll speed and great grip.
The Nineballs are available in three different sizes to accommodate different riding styles. Choose the size that best suits your needs and you'll be cruising in no time.
We selected these wheels because they come in two different finishing, either a natural finish for speed and grip, or a stone-ground finish for immediate slides.
Its smooth surface and lipped shape enhance the grip to experience controlled rides. And, the offset core provides good roll speed.
I personally recommend them for beginners because of the anti-skid grip and control they provide. We advise new skaters to find a complete skateboard for beginners to learn how to ride.
Specs:
Diameter: 61mm
Hardness: 78A Durometer
Made of high-quality premium Urethane
Classic shape with 35mm contact patch for maximum support
Pros
Good for longboard cruising
Soft wheels to absorb bumps
Smooth rides
Available in multiple colors and sizes
Cons
Not too good for speedy rides
Our Experience:
These are soft and smooth wheels and are great on downhill and freestyle rides. They are one of the most comfortable and softest skateboard wheels I have ridden on. I literally felt like floating on a surface. Considering their performance and ground support, we highly recommend them for beginners.
"Best for Cruising"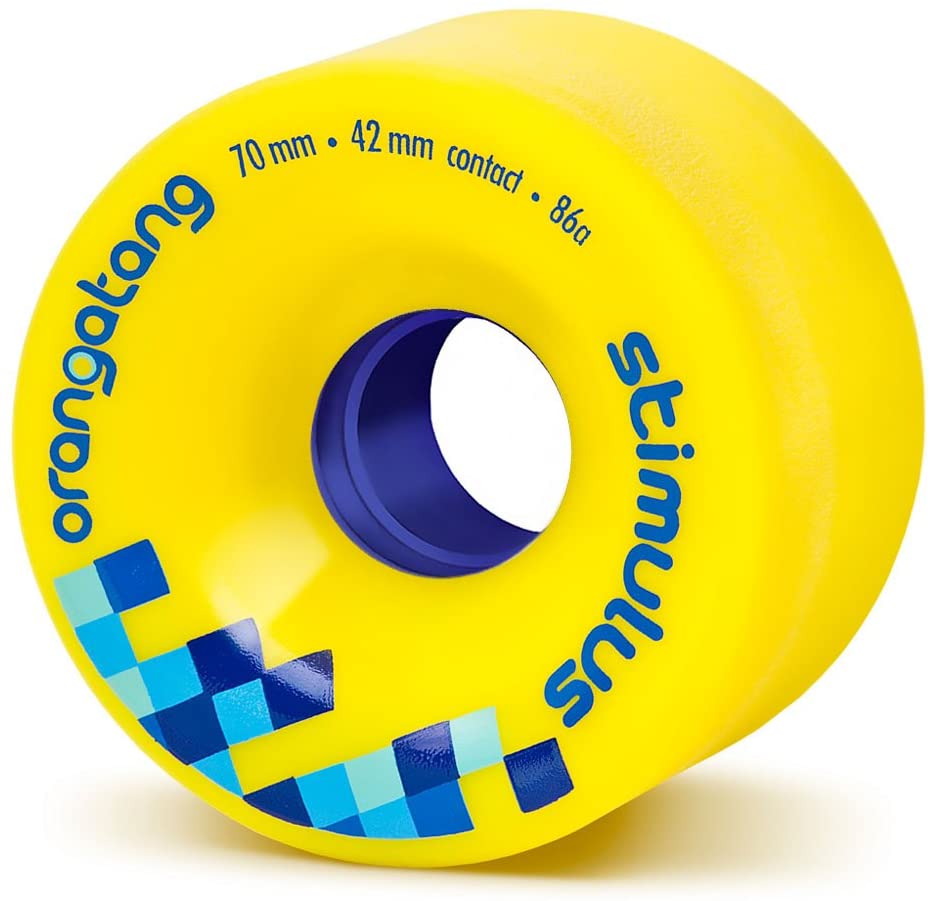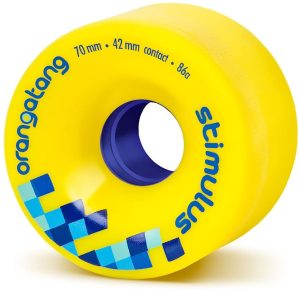 The Orangatang Stimulus is a versatile skateboard wheel that is perfect for cruising, freestyle tricks, dancing, and freeriding. With a diameter of 70mm, the Stimulus is large enough to carry plenty of speed and roll over debris while still being light and quick for tricks and slides.
The Happy Thane formula provides high roll speed, plush feel, and smooth drifts. The Stimulus is available in four durometers: 77a, 80a, 83a, and 86a.
We experienced smooth and predictable slides while test rides, thanks to the rounded lips and stone-ground contact patch. We did not see cuts or scratch marks even after multiple powerslides, quite durable!
Specs:
Diameter: 70mm
Hardness: 77a, 80a, 83a, 86a
Width: 49mm
Contact Patch: 42mm
Bearing Seat: offset
Made of heat-resistant durable Urethane
Pros
Extremely smooth wheels
Versatile longboard wheels
Good for cruising and carving
Provides good balance and grip
Ready to roll out of the box
Cons
Cost more than the classic skateboard wheels
Our Experience:
These Californian made skate wheels have a nice feel for cruising and a strong grip for carving. These rounded edge wheels are hard enough for sliding but still grippy enough for cruising. We immediately put them on the board and started rolling, it required no break-in time. Best of all, these wheels come pre-equipped with fast, smooth and quiet bearings.
"Best Skateboard Wheels for Tricks"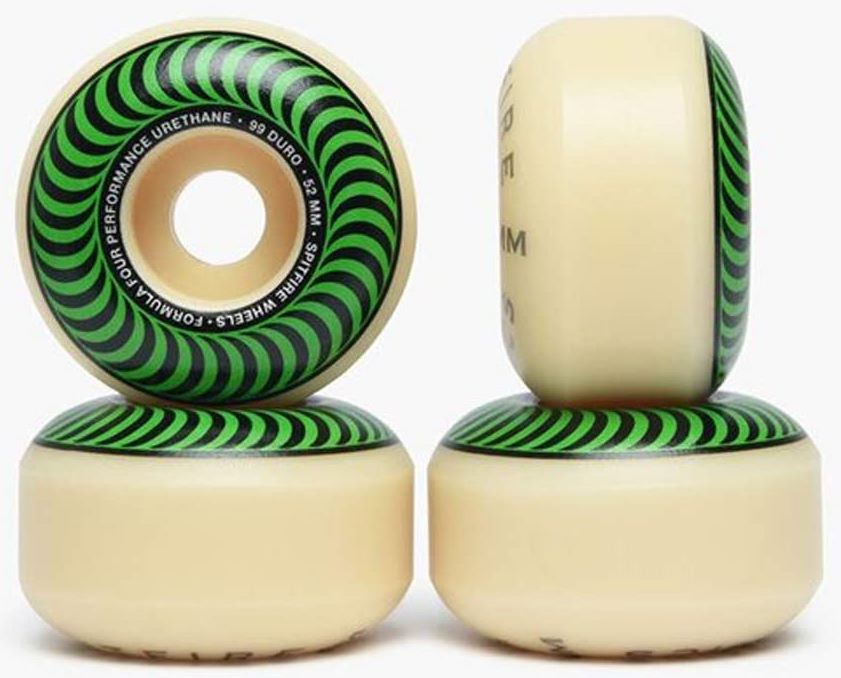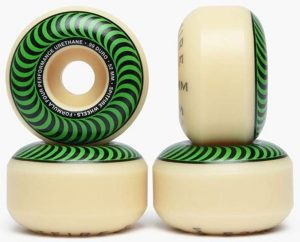 If you are looking for a wheel that can handle all skating tasks, the Spitfire F4 99 classics wheels are a great option. These wheels are formulated for a harder and faster ride, giving you more speed and control.
With unmatched flatspot resistance, these wheels will keep you going no matter what surface you are skating on.
Speaking of the experience, a skateboarder should definitely have a set of Spitfire F4 wheels. They are so versatile that you can use them for controlled rides and to perform tricks on stairs, rails and parks.
In addition, they do not bounce when you land while practicing tricks. They are adaptable enough to handle any skating situation.
Specs:
Diameter: 54mm
Hardness: 99D (Durometer)
Made of Formula Four Performance Urethane
Classic shape with lightweight – 0.57 pounds only
Pros
Suitable for street and skateparks
Good to perform tricks
Extremely smooth rides
Hard enough to absorb landings
Cons
A bit louder
Graphics could be better
Our Experience:
These are perfect everyday wheels to ride around town. The F4 99D wheels are strong, fast and extremely smooth. We found them great for performing flip tricks on flat smooth surfaces, but they were not so good on the rough ground because of the hardness – poor at absorbing bumps.
"Best for Rough Roads"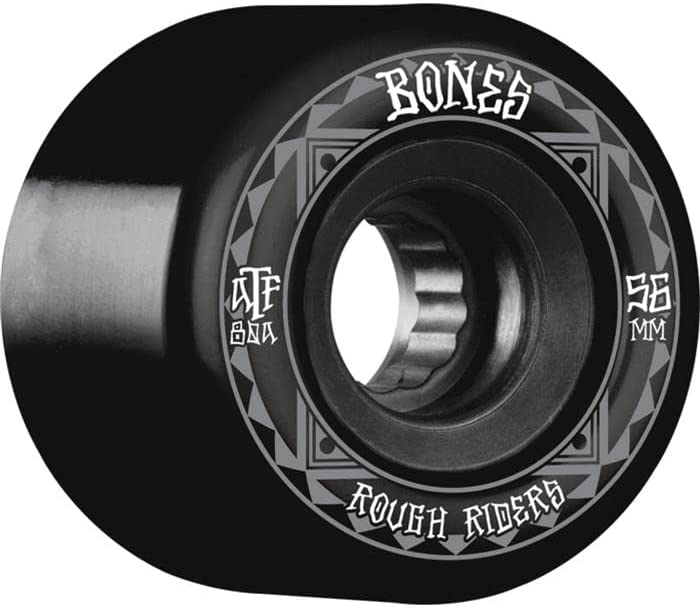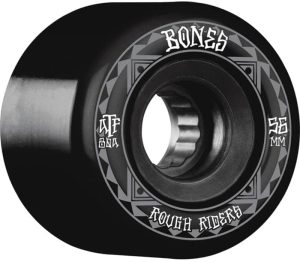 If you are looking for a set of skateboard wheels that can withstand rougher terrain, the Bones ATF wheels are an excellent choice. These wheels are made with a special soft urethane called All-Terrain Formula (ATF), which makes them ideal for skating regardless of road quality.
They are especially designed considering non-perfect roads, so you can be sure they'll hold up to some serious abuse.
These wheels are well built with Bones' flatspot resistance technology. So, you won't have to worry about damaging them easily even on rough roads.
Moreover, these wheels are perfectly sized with a low-key profile that allows higher pop and quick flipping. We found them rolling fast with smooth gliding.
"It is also rated as Amazon's Choice for skateboard wheels."
Specs:
Diameter: 56mm
Hardness: 80a
Made of revolutionary formula Urethane
Low-key profile for speed and easy to perform tricks
Pros
Suitable for all skating terrains
Good to ride on rough roads
Perfectly sized
Very comfortable while shredding
Cons
Limited choice of size and colors
Our Experience:
These skateboard wheels are soft and ensure comfortable cruising on the city streets. We found them forgiving the small pebbles and cracks nicely. These are a little faster than mini logo wheels, but aren't good for gliding and hard tricks.
"Best for Longboard Cruising"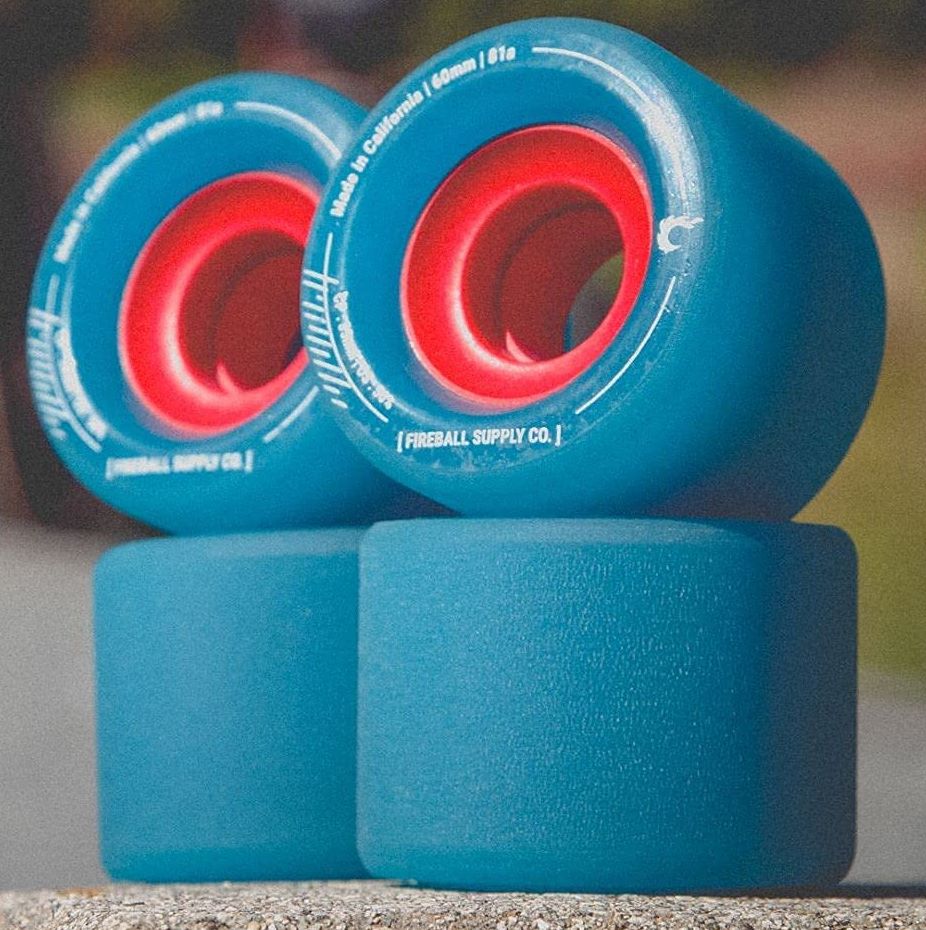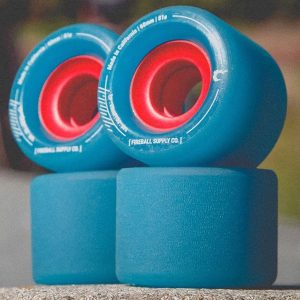 Experience a smooth and fast ride with the Fireball Tinder longboard wheels. These cruiser skateboard wheels are made of soft urethane that is perfect for cruising, skateboard dancing, or freeriding.
The rounded lips ensure the progressive slides all the way to the core. The urethane fiberglass core provides maximum strength for consistent slides throughout the entire life of the wheel.
These wheels wear even and we experienced predictable moves, perhaps that is because of more control due to the 35mm contact patch. We enjoyed smooth rides even on bumpy and rocky tracks.
Are you afraid of speeding? Here's how you can overcome the fear of skateboarding.
Specs:
Diameter: 60mm
Hardness: 81a
Width: 40mm
Contact Patch: 35mm
Made of high-rebound polyurethane
Pros
Suitable for double kick skateboards and mini cruisers
Super durable skateboard wheels
It offers smooth rides even on pebbled tracks
Strong grip
Cons
It was difficult to install the bearings, too tight!
Our Experience:
We were by the quality of these longboard wheels. They are grippy, comfortably smooth, sturdy and extremely fast. Best of all, they ignore the street debris, gravel and cracks and run over them as if they are not even there. We highly recommend them for downhill longboarding.
"Best for Powerslides"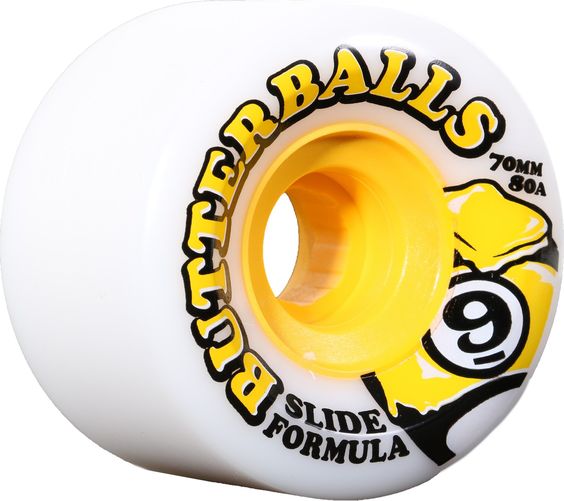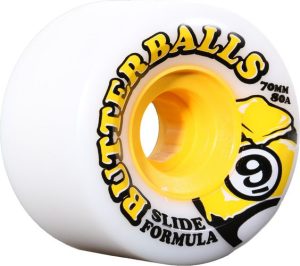 The Sector 9 Butterballs wheels are perfect for anyone looking to get into skating or powerslides. These wheels are made of only the finest thane and are designed for long, consistent slides. The 70mm size is perfect for double kick skateboards and the stone ground finish provides a smooth slide right out of the box.
As the name predicts, these wheels ensure a smooth riding experience just like butter. They are perfect for freeride skating and provide a chatter-free ride.
We particularly like their smaller contact patches and rounded lips that enhance the rotation of the wheels to promote even wear and a longer lifespan.
Specs:
Diameter: 70mm
Hardness: 80A Durometer
Contact Patch: 40mm
Made of highest-quality Urethane with stone-ground finish
A Cosmic Core for maximum support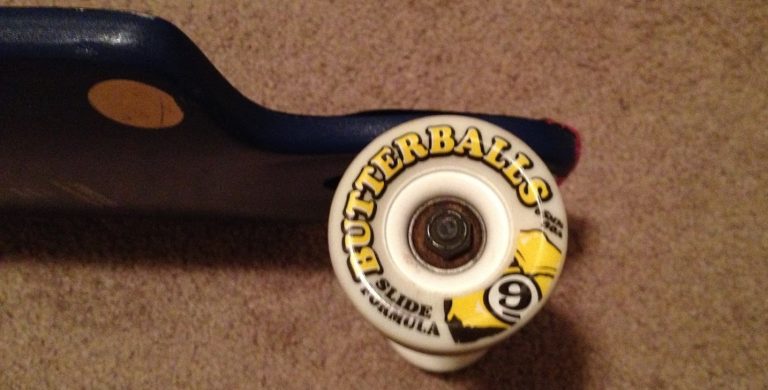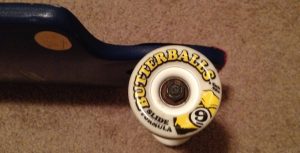 Pros
Perfect for slides
Suitable for beginners and professional skateboarders
Smooth, effortless slides
A good amount of grip
Cons
If you are buying just for powerslides, these wheels will not last long!
Our Experience:
We heard that these wheels are perfect for sliding so we performed a few powerslides. No doubt they were fast, grippy and good for sliding. However, the build quality is poor – we found corner chipped after a few slides. They feel fun for sliding as you start going faster and offer a good amount of control. Still, we do not recommend them for beginners as these gain speed suddenly.
"Best for Speed"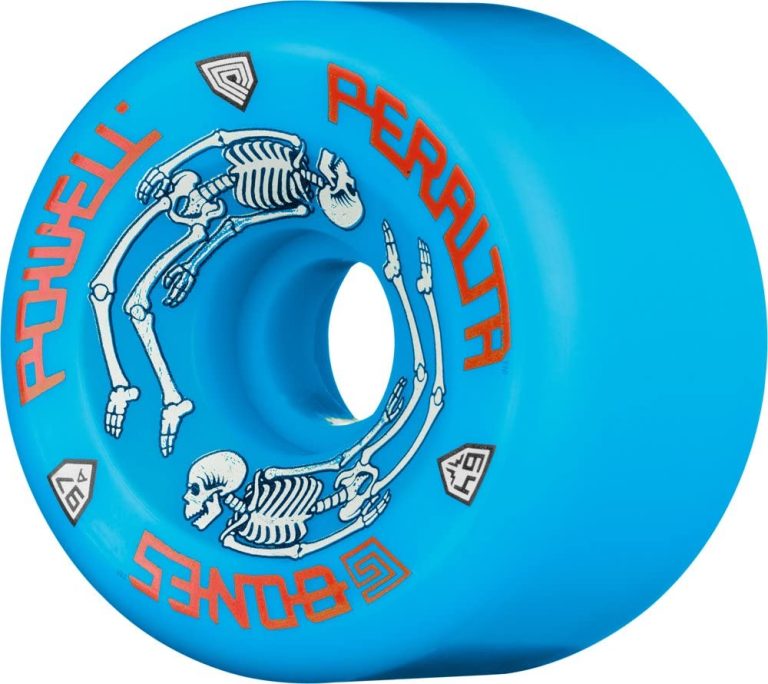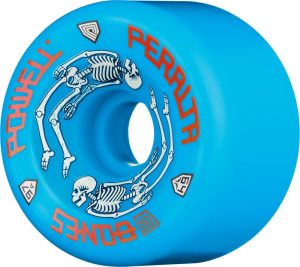 Powell Peralta G-Bones wheels are a great choice for those looking for speed and precision. These wheels are made with quality in mind, and the graphic is a cool rotating duel skeleton.
Compared to modern harder wheels, the 97A formula will give you a smooth and forgiving ride on rougher terrain like asphalt and pavers.
In addition, the PP G-Bones is not only good for speed but also provide anti-skid control on smooth surfaces. We recommend this set of wheels to beginners if they are going to practice for speed rides.
See how fast a skateboard can ride on flat ground and downhill.
Specs:
Diameter: 64mm
Hardness: 97a Durometer
Width: 42mm
Contact Patch: 34mm
Made of Polyurethane
Pros
Great for cruising around town
Super smooth and provide a good balance
Not too soft, good for old school skateboarding
Effortless rides on cracks and pebbles
Cons
Not good to perform tricks in skate parks
Read a detailed guide on how to make skateboard faster!
Our Experience:
Keep in mind before ordering them, these wheels are hard, loud and fast! These wheels offer good speed and balance, the perfect thickness for a retro skateboard. We recommend these nice wheels for downhill speedy rides because they offer nice control, and they are perfect for popping curbs or bombing hills.
"Best for Asphalt and Off-Road"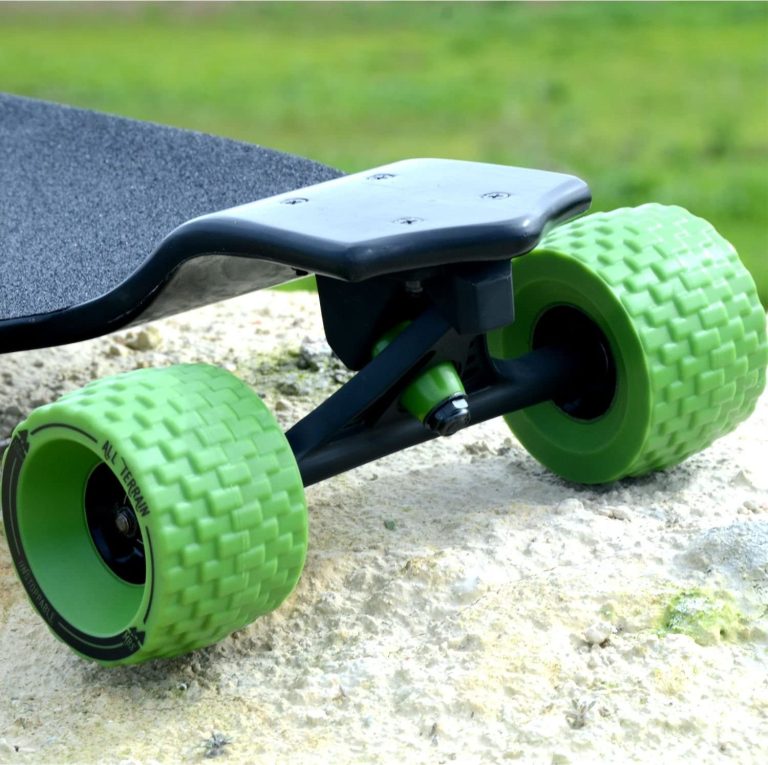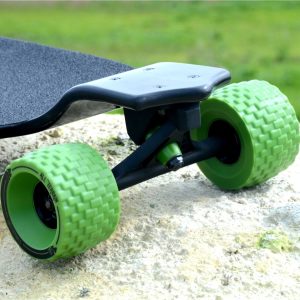 The MBS All-Terrain skateboard wheels are perfect for those who want to explore what lies beyond the beaten path. Made with high-rebound urethane, these wheels are a perfect choice for anyone looking to add off-road capabilities to their existing longboards.
Whether you are a seasoned skater looking for a new challenge, or a beginner just looking for a way to cruise around campus, these wheels are the perfect addition to your setup.
Who does not want a set of wheels that can make him/her ride on all terrains including streets, pavements, parks, and off-roads! These are must-have wheels – period.
In addition, these wheels provide unparalleled speed and are compatible with traditional skateboards and longboards using the MBS Riser Lift Kit.
So, whether you are a seasoned shredder looking for a new challenge, or a beginner just trying to get around campus, these wheels will make you ride any surface to get you where you need to go.
"Present this set of skateboard wheels as a gift to your beloved skater and put a smile on his/her face."
Specs:
Diameter: 100mm
Hardness: 78a
Width: 65mm
Core Width: 20mm
Made of high-rebound Urethane
Pros
Best all-terrain skateboard wheels
Suitable for longboard and drop-through style skateboards
Perfect to ride on pavements, gravel and short grass
Super durable
Cons
These wheels require break-in time to obtain the strong grip
Large, not suitable for tricks
Our Experience:
We admire the all-terrain great build but they are heavy, and require extra force to push them. They have a good amount of street traction and it improves as the wheel wears down. To be noted, we experienced better traction over rough pavement. I would say the grooves are designed to ride on dirt and sand. Also, they ride well on downhills but get slippery when carving.
"Cheap Skateboard Wheels for Smooth Rides"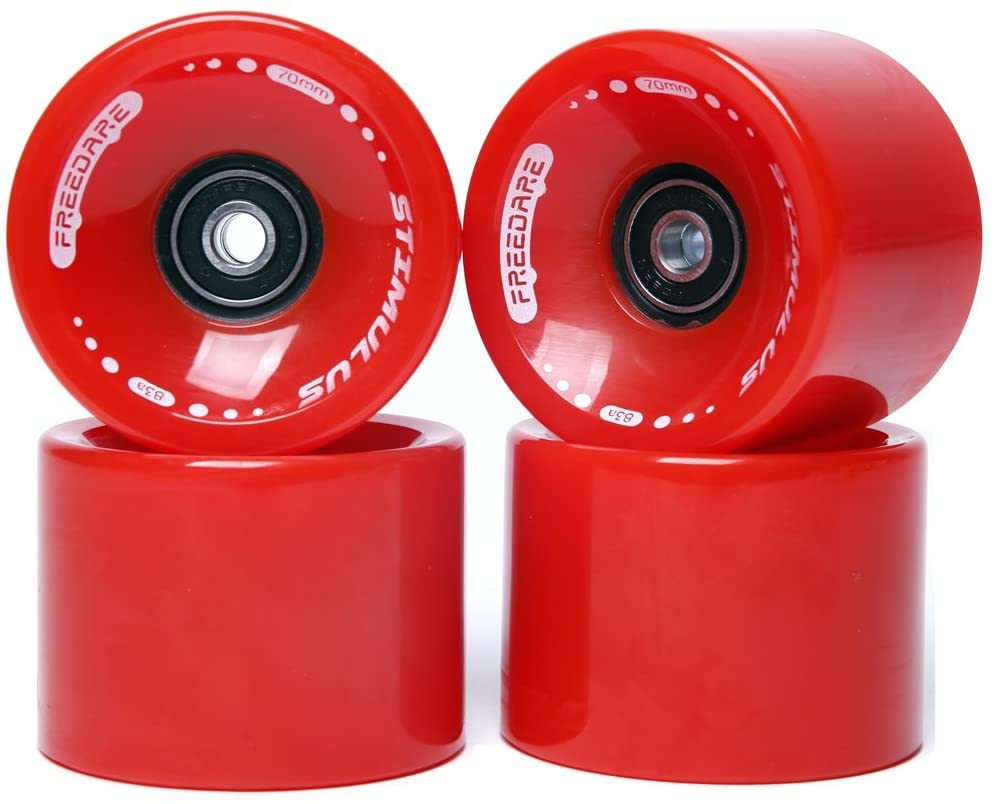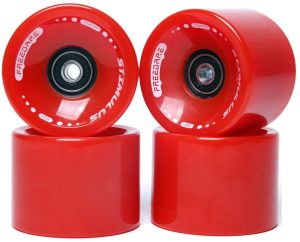 Freedare's heels are perfect for those looking for cheap yet durable and high-performing wheels. Made of durable PU material, these wheels offer a fast and smooth ride, making them great for skating in streets and parks.
They also come with pre-installed ABEC-7 high steel bearings and spacers, ensuring a smooth and efficient ride.
We first left this set of wheels for the price, thought they were cheap because of the poor quality or performance – but we were wrong. The wheels are of good quality, and great value for the money but we had to replace the bearings after a few rides, were not so smooth.
And the best part, they come in a variety of colors, so you can find the perfect look to match your skateboard.
Specs:
Diameter: 70mm
Hardness: 83a
Width: 51mm
Bearings: ABEC-7 high steel (pre-installed)
Made of fine polyurethane
Pros
Affordable price
Come with pre-installed bearings
Good for regular skateboarding
Good grip while carving
Available in multiple colors
Cons
We had to replace bearings after a few downhill speedy rides
Not for pro-skaters
Our Experience:
These are starter skate wheels and are not suitable for professionals. Although they ran smoothly and quietly but we had to replace the bearings after a few speedy rides. However, they are worth every penny and deliver good value for the money. Large diameter and medium softness make them suitable for cruising.
Guide to Choose the Best Skateboard Wheels
The modern skateboard wheels are mostly made of Polyurethane for endurance and performance. Whether you are assembling your first skateboard as a beginner or want to upgrade your board, you need to consider the following factors when buying the right skateboard wheels;
Also, read a brief guide on cleaning skateboard wheels properly.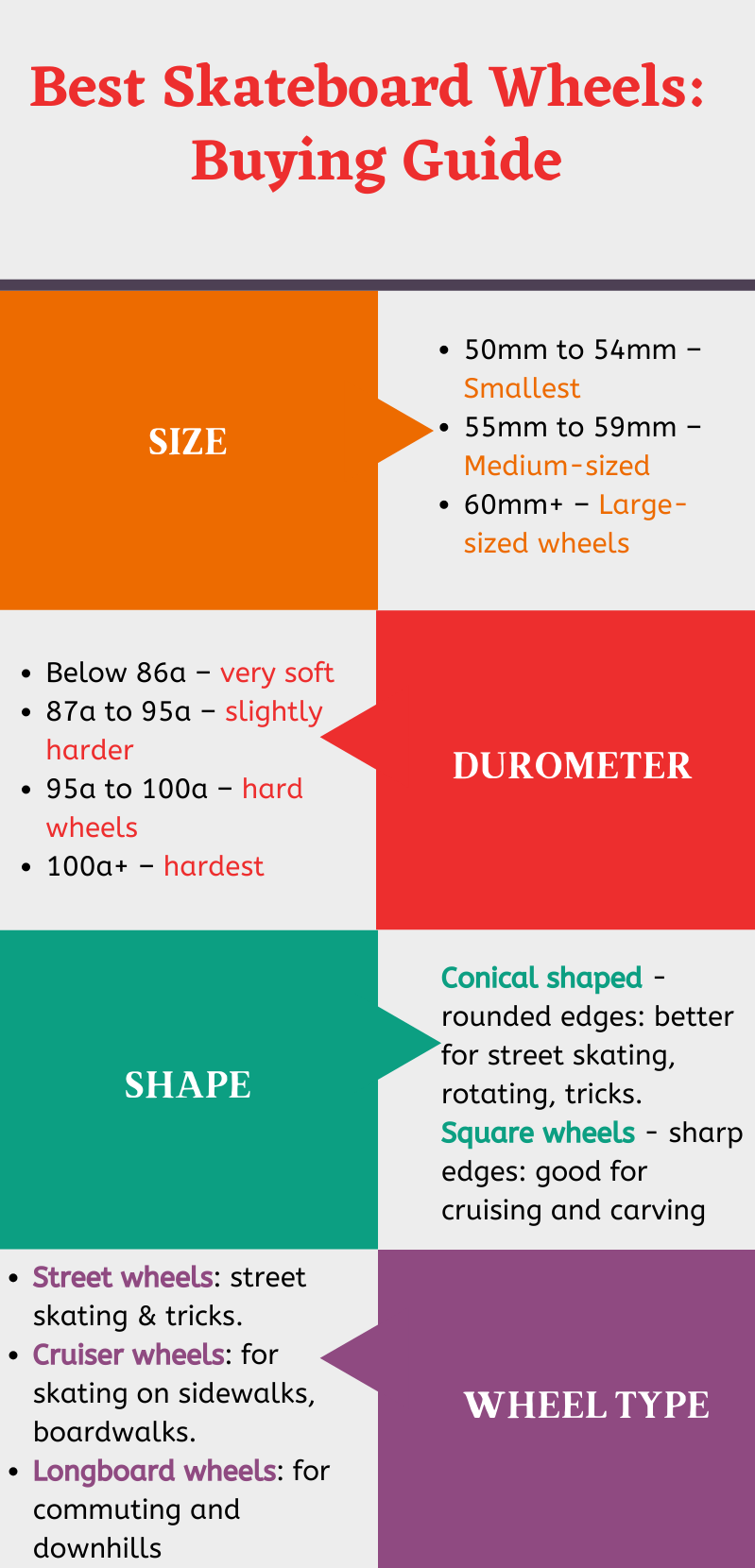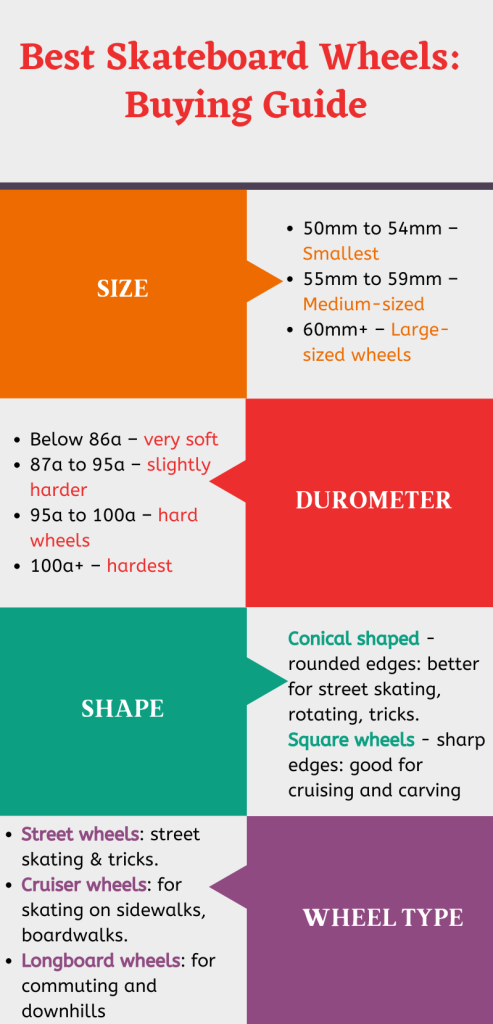 1. Size
The sizes of wheels are shown in diameters which are measured in millimeters. The most common sizes are 50mm, 52mm, 54mm, 56mm, and 60mm.
Larger wheels provide more grip, speed and stability while riding, but you will also lose some maneuverability. Small wheels with round edges are good for tricks and rotating.
We recommend choosing a smaller wheel if you are a beginner and not aiming to speed for now. Large-sized wheels are for experienced players who can control the board better even at fast speed.
Here's a quick guide on sizes and how they'll perform;
50mm to 54mm: Smallest skateboard wheels: these wheels are suitable for new skaters, and provide good stability while learning and performing tricks.
55mm to 59mm: Medium-sized skateboard wheels: these wheels are good for both, beginners and experienced riders. You can use these wheels for almost every skateboarding style.
60mm+: Large-sized wheels: These wheels are designed for speed rides, cruising and commuting. They are especially designed for professional riders. 60mm+ wheels can roll on all terrains comfortably.
Also, look for the width, wider wheels have larger contact patch that provides more stability and grip. on the other hand, narrow wheels are good for more agility.
We recommend choosing a set of wheels depending on your skateboarding level. Most people intend to fall in the medium-sized range because they can be used for various riding styles.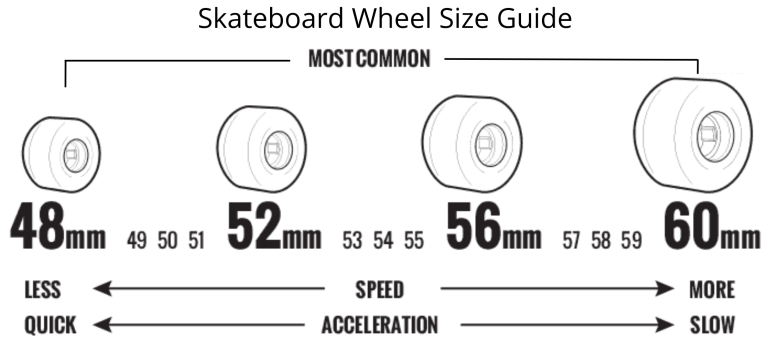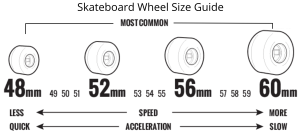 2. Durometer: (Hardness)
Durometer is the hardness of a wheel which is commonly measured on a scale from 1 to 100 (a few 100+). However, there are some manufacturers of modern day skateboard wheels that are using the "B" scale – harder wheels than the A scale.
The lower the number, the softer the wheel! Wheels with a durometer of 78a or below are good for cruising and street skating as they provide a smooth ride because they can absorb cracks and pebbles. Harder wheels, with a durometer of 80a and above, are better for skate parks and performing tricks as they provide more speed and stability.
Note: Bones mostly uses D for the durometer.
Here's a quick guide on durometer and how it affects the performance;
Below 86a – very soft: these wheels are extremely soft, ride relatively slow and have the most grip. They offer a smooth ride even on rough surfaces – suitable for longboarding, cruising and commuting.
87a to 95a – slightly harder: these are a little harder and run faster as compared to soft wheels. They have less grip but are good for speed and maneuvering – suitable for street and hill skating.
95a to 100a – hard wheels: these wheels are good for beginners and experienced riders – suitable for speed rides and tricks on ramps and pools.
100a+ – hardest: these are the hardest wheels with the least grip, good for professional riders – suitable for fast skateboarding.


3. Shape
Skateboard wheels come in two shapes: conical and square. Conical shaped wheels have rounded edges that are better for street skating, maneuvering, rotating, tricks and pool skating.
Square wheels have sharp edges, and are good for cruising and carving. So it all comes down to what you want to use your skateboard for.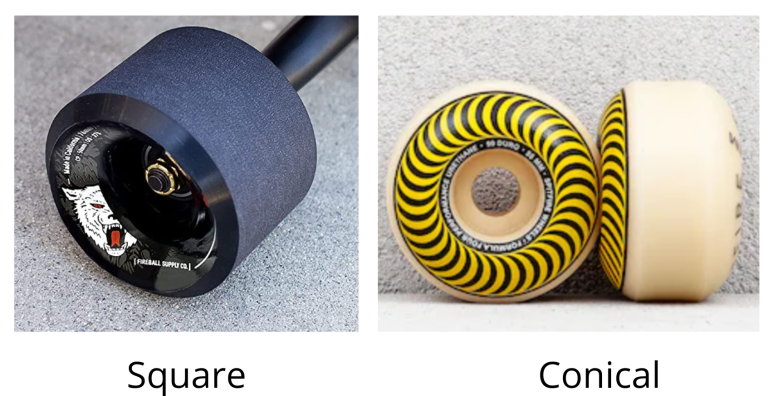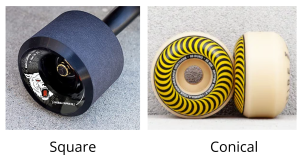 Also, read about different types of skateboards and how they perform.
4. Wheel Type
There are three types of wheels: street wheels, cruiser wheels, and longboard wheels.
Street wheels are the most common type of skateboard wheel. They are designed for street skating and performing tricks. Street wheels are typically made of polyurethane (PU), small in size and a bit harder to bear grindings on concrete and rails. These wheels have a round lip shape that helps with easy maneuvering, quick rotation and powerslides.
Cruiser wheels are designed for skating on sidewalks, boardwalks and other smooth surfaces. Cruiser wheels are usually made of polyurethane (PU) and are a bit softer to allow for a smooth ride. They are also larger in size which makes them stable and fast. Cruiser wheels have a sharp lip shape that is good for carving, cruising and slaloming.
These wheels are best for beginners if they are learning to ride because they offer more grip and stability. Plus, they are good at absorbing bumps and can roll over almost every terrain comfortably.
Longboard wheels are generally bigger than street and cruiser wheels. Their softness depends on the riding style. If they are meant for commuting, they'll be as soft as the cruiser wheels. On the other hand, harder longboard wheels are made for speed sliding down the hills.
Note: always choose the wheels according to your riding style and not by looks!
Difference between Streets, Tricks and Cruising Wheels
The best skateboard wheels for street skating are typically smaller and harder than wheels designed for other terrains. This is because street skating generally requires more speed and maneuverability than other types of skating. Harder wheels also tend to last longer when used on rough surfaces like concrete. However, smaller and harder wheels can make it difficult to perform tricks.
If you plan on doing a lot of tricks at the skate park, then you will need wheels that are larger and softer than street skating wheels. The larger size will make it easier to land tricks, and the softer material will absorb the impact of hard landings. However, softer wheels will wear out more quickly than harder ones.
Cruising wheels are typically larger than street skating wheels but not as large as park skating wheels. They are also softer than street skating wheels, which makes them more comfortable for cruising around town.
Best Skateboard Wheels Brands
The market is saturated with emerging brands since the skateboarding sport is extremely popular now worldwide. And the best part is, it has taken space in the official Olympics. Not only do athletes participate in X-games but also use a skateboard as a means of transportation.
There are multiple brands that claim to produce quality accessories, however, not every company fulfills its promises. Beginners mostly get confused about picking up the right wheels.
Therefore, we have listed down the top 10 best brands of skateboard wheels; pick a set of wheels manufactured by any of these companies to enjoy your riding experience.
Conclusion:
In conclusion, the best skateboard wheels for you will depend on your skating style. If you plan on mostly skating on streets, then you will need harder and smaller wheels. For cruising around town, larger and softer wheels are best. And if you want to do a lot of tricks at the skate park, then you will need larger and softer wheels as well.
Whatever your skating style, there is a wheel out there that is perfect for you. Generally, we advise picking up a set of wheels sized 54mm to 58mm with a durometer of 90a to 95a. These types of wheels are considered versatile and can use for almost every type of skateboarding.
First choice: Spitfire Formula Four 
Second option: Orangatang Stimulus
Third recommendation: Bones ATF Riders
Frequently Asked Questions: (FAQs)
What are the best skateboard wheels for park?
Spitfire Formula Four are the best skateboard wheels for parks. With 54mm diameter and 99a durometer, they are perfectly able for maneuvering and speedy tricks. Plus, they can be used for cruising and skateboard dancing.
Is 99a durometer good for street skating?
Yes, skateboard wheels with a 99a durometer are good for street skating because they are hard enough to withstand the roughness of asphalt. Furthermore, these wheels are hard enough to ride fast and perform powerslides. 99a harness wheels are also good at absorbing landing impacts.
What are the best wheels for street skateboarding?
Spitfire Formula Four Conical are the best skateboard wheels for streets. They are perfectly sized at 54mm which is good for speed and tricks skating in the streets. With 101a hardness, they are extremely strong and solid to absorb the hard impacts of the tricks.