Shredding at high speeds on an electric skateboard is great fun. However, heavy riders often get scared of stepping on it because of their overweight. But fear not, there are some heavy-duty e-boards that can handle extra pounds of larger body types. Here, I'll guide you to find the electric skateboard for big guys.
It's so unfortunate that most electric skateboards can handle up to 220 lbs. of weight – but what about those who weigh above? Some e-boards that claim to withstand 250+ lbs. weight often wobble at high speed (now who to believe?).
Don't worry, I have carefully selected some electrifying rides that can handle your weight with ease. I've reviewed these after riding a dozen popular ones.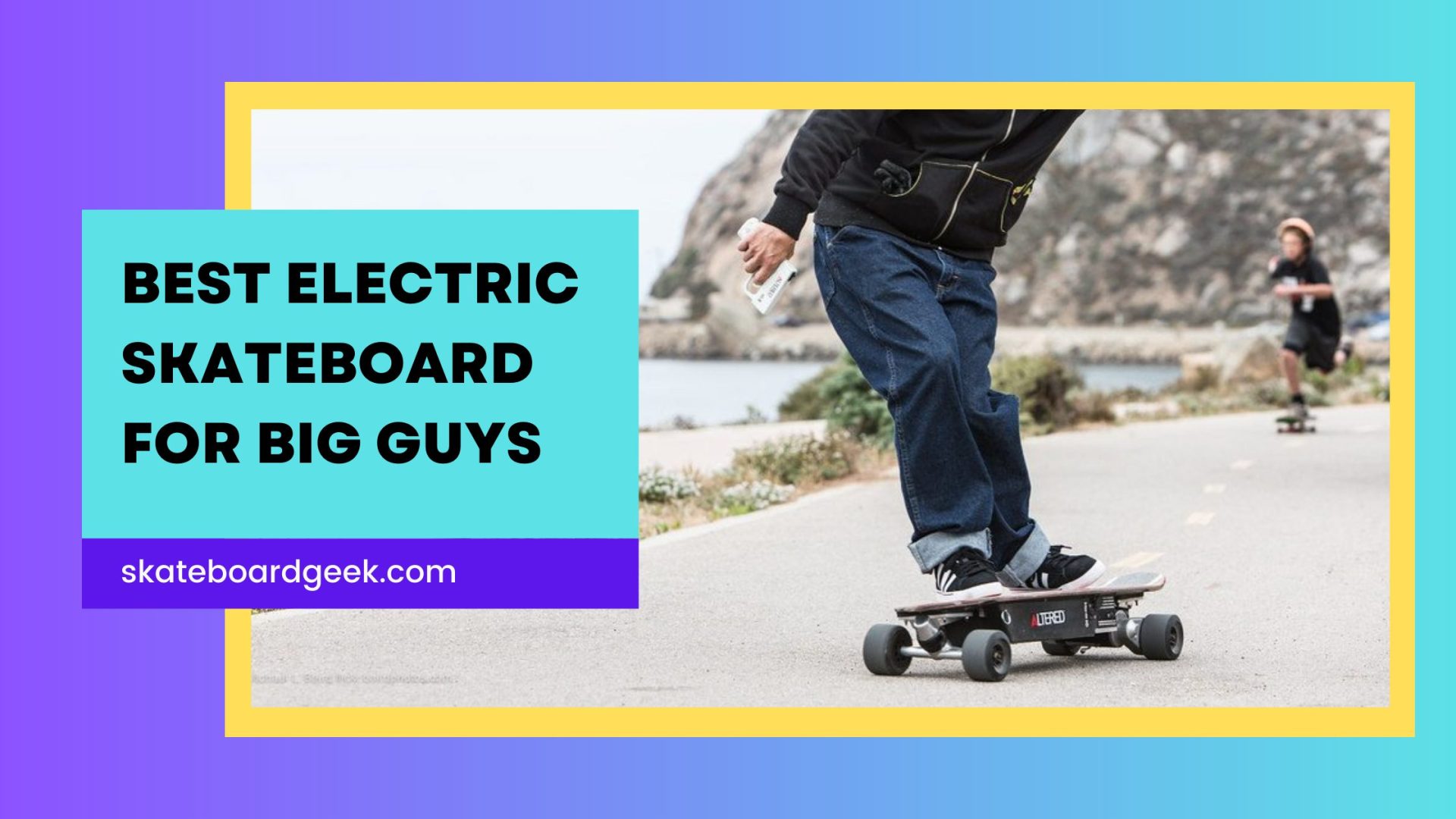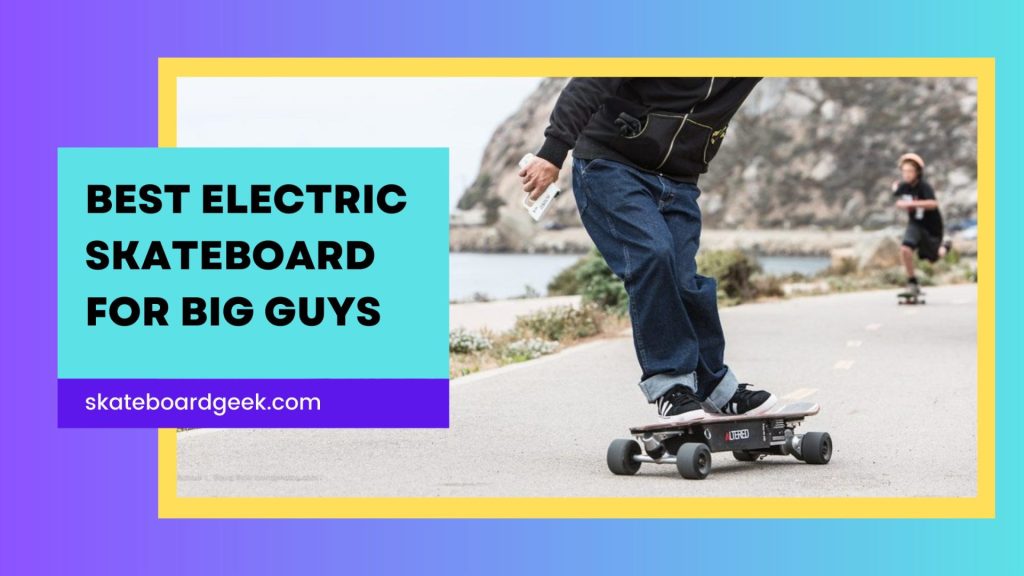 Best Electric Skateboards for Big Guys in 2023
Picture this, heavy adults: cruising down the streets with a sense of power and agility. These heavy-duty electric skateboards have been put to the test, and I'm excited to share my personal experiences with each one.
| No. | Electric Skateboard for Big Guys | Weight Capacity | Motor | Price |
| --- | --- | --- | --- | --- |
| 1 | MEEPO V5 Electric Skateboard | 330 lbs. | 500W x 2 hub motors | |
| 2 | JKING Electric Skateboard | 330 lbs. | 450W x 2 hub-motors | |
| 3 | WowGo Mini 2 | 331 lbs. | 340W x 2 hub motors | |
| 4 | TeamGee H20mini | 286 lbs. | 900W super motor | |
| 5 | Caroma H2B | 300 lbs. | 350W x 2 hub motors | |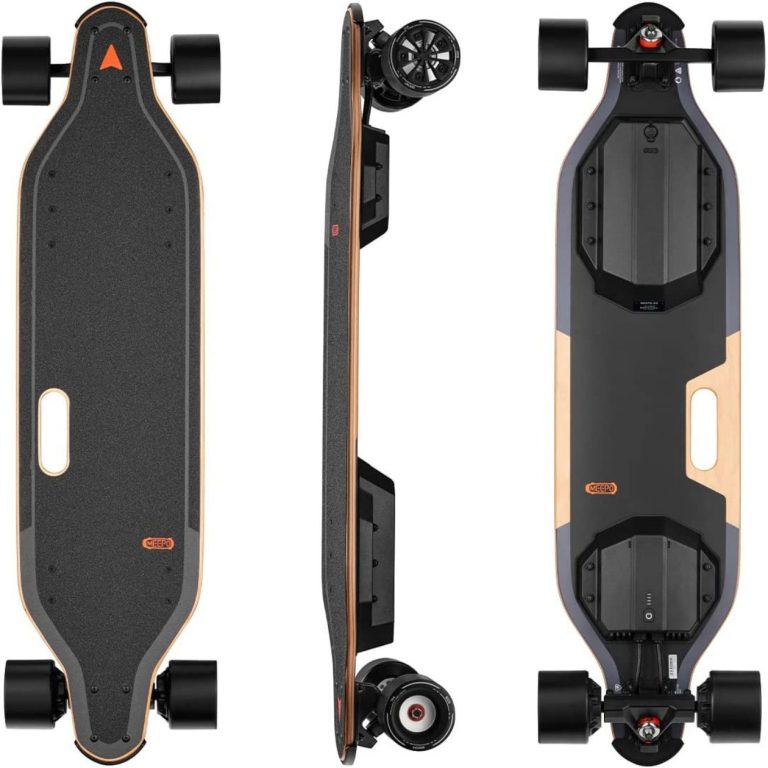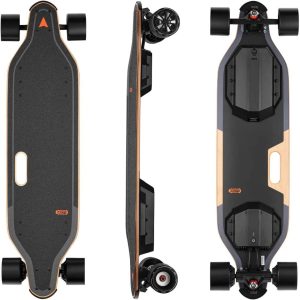 Let's kick things off with the MEEPO V5, a heavyweight champion built to handle up to 330 lbs. With its robust motor power, impressive load capacity, and extended range, this board will have you zipping around town with ease. It's a true powerhouse that delivers an exhilarating ride.
Meepo boards are rated as one of the best electric skateboards currently.
Weight Capacity
The MEEPO V5 Electric Skateboard boasts an impressive weight capacity, allowing big guys (like the previous version of myself) to confidently hop on and enjoy the ride.
With its sturdy construction and thoughtful design, it can easily handle up to 330 lbs. without wobbling and compromising on performance.
Motor Power
Equipped with 500W x 2 hub motors, the MEEPO V5 delivers a thrilling burst of power. Trust me, the acceleration is smooth and swift, giving you that power you crave. Whether you are zipping through city streets or cruising on campus, the motor power ensures a thrilling and dynamic ride.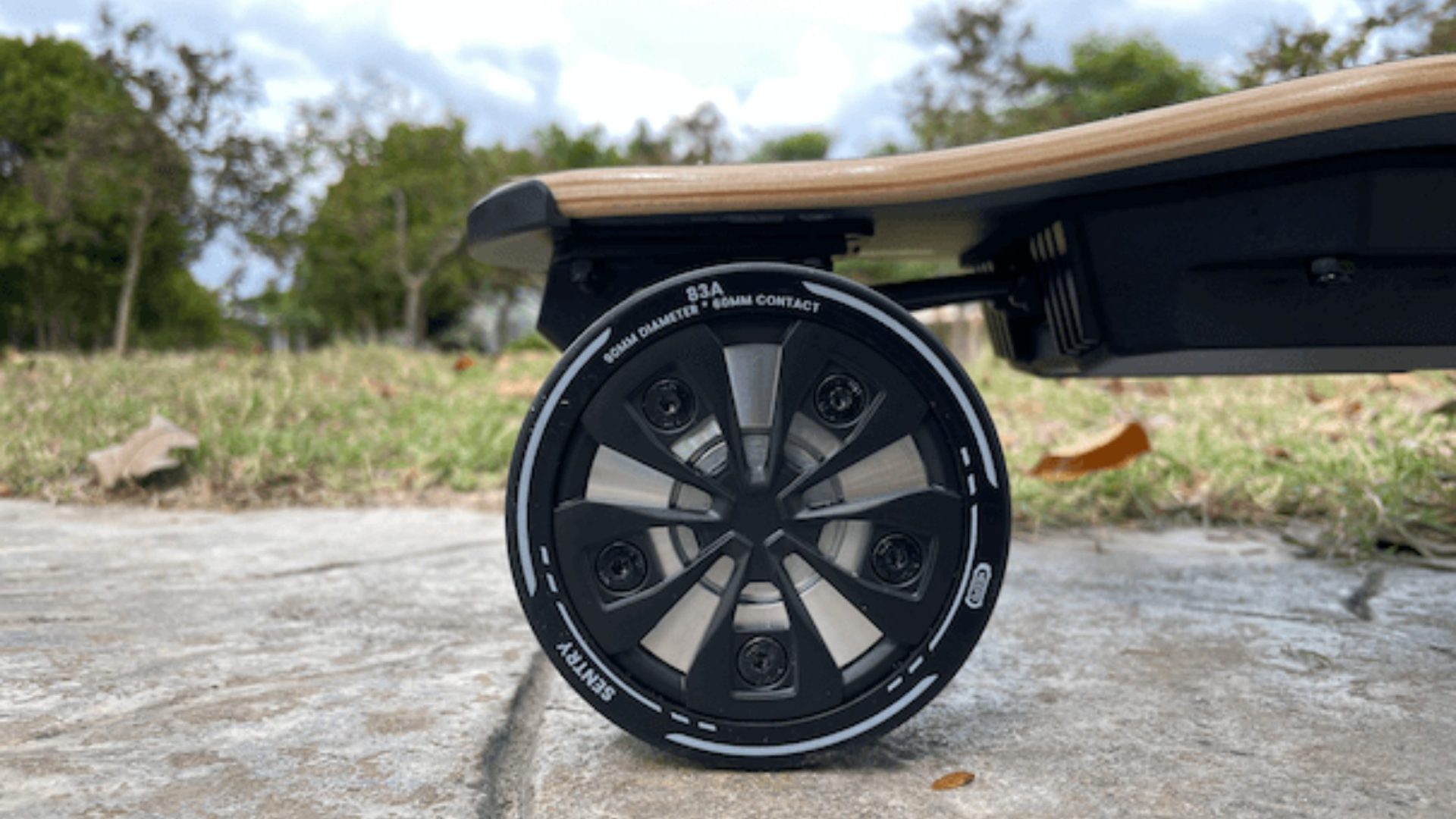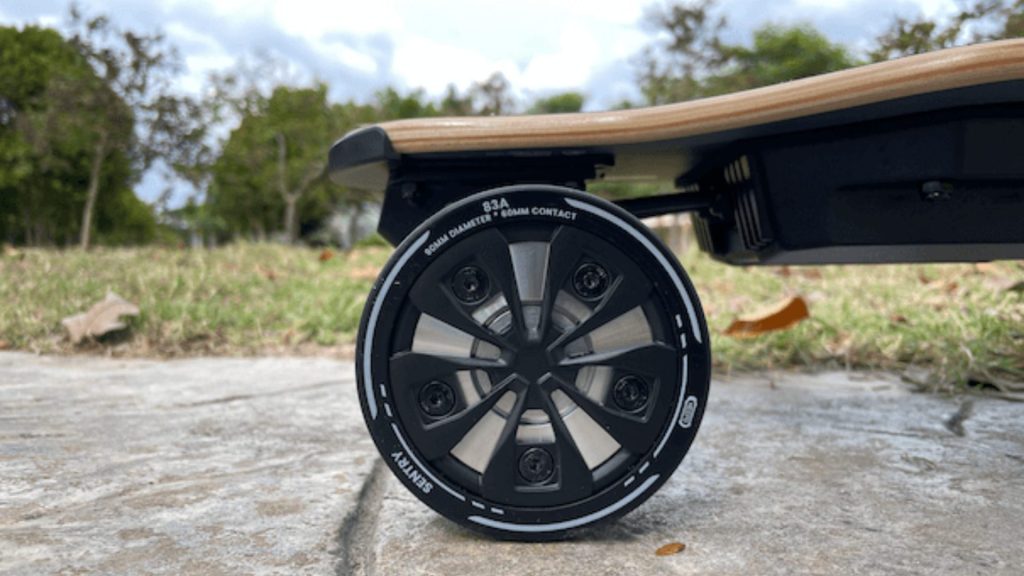 Best of all, the board is good for hilly areas too. I usually ride to visit Emmanuel (who lives up the hill – lucky him), oh man – Meepo V5 is smooth. The plus size riders may experience low speed on up hills, but that can be compromised, stability and efficiency matters which it delivers.
Battery
The battery life is nothing short of impressive. With its efficient power management, I found myself covering a solid range on a single charge.
Plus, the safe charging feature allows you to quickly juice it up in just around 2.8 hours, so you spend more time shredding and less time waiting.
Range
One of the standout features of the MEEPO V5 is its range. Clocking in at approximately 11 miles, this electric skateboard offers ample distance for various activities. From commuting to hanging out with friends, I never had to worry about running out of battery midway through my adventures.
Top Speed
Hold on tight because the V5 can reach a top speed of 29 mph! And the top speed remains the same for big boys too (on flat surfaces). I couldn't help but push the limits and feel the wind rushing past me as I zoomed down the streets.
Riding Performance
Performance is unmatchable. The smooth brakes and intuitive M5 remote control system ensure a responsive and enjoyable riding experience. I felt confident and in control, effortlessly cruising through tight turns and busy urban environments.
The only issue I felt was with the quick acceleration. Pro tip: just learn to lean forward while you accelerate.
But remember, this board is not designed to ride off-road.
Strength and Durability
The MEEPO V5 is built to last. With its 8 layers of Canadian maple, the deck offers both flexibility and durability. It can withstand the rigors of daily use, even for riders on the heavier side.
This board is designed to handle the bumps, vibrations, and demands of the urban landscape, providing a reliable and sturdy platform for your riding adventures.
Pros
Powerful Performance
Strong maple deck to accommodate the extra weight
Comes with hard bushings – good for heavy riders
Smooth and responsive braking
The handle deck design makes it easier to carry
IP55 waterproof rating provides protection against water splashes
Cons
The V5 only performs well on city streets and smooth surfaces, not suitable for rough or uneven terrains due to its hub motor design
The wheels are unsafe for avid riders
Personal favorite: I think the mini version of Meepo V5 is better for big guys (but not the taller ones). This is because the mini V5 also supports the same weight 330 lbs. but with a shorter wheelbase. It will be better for speedy rides on bumpy terrains because of a more stable and sturdy deck.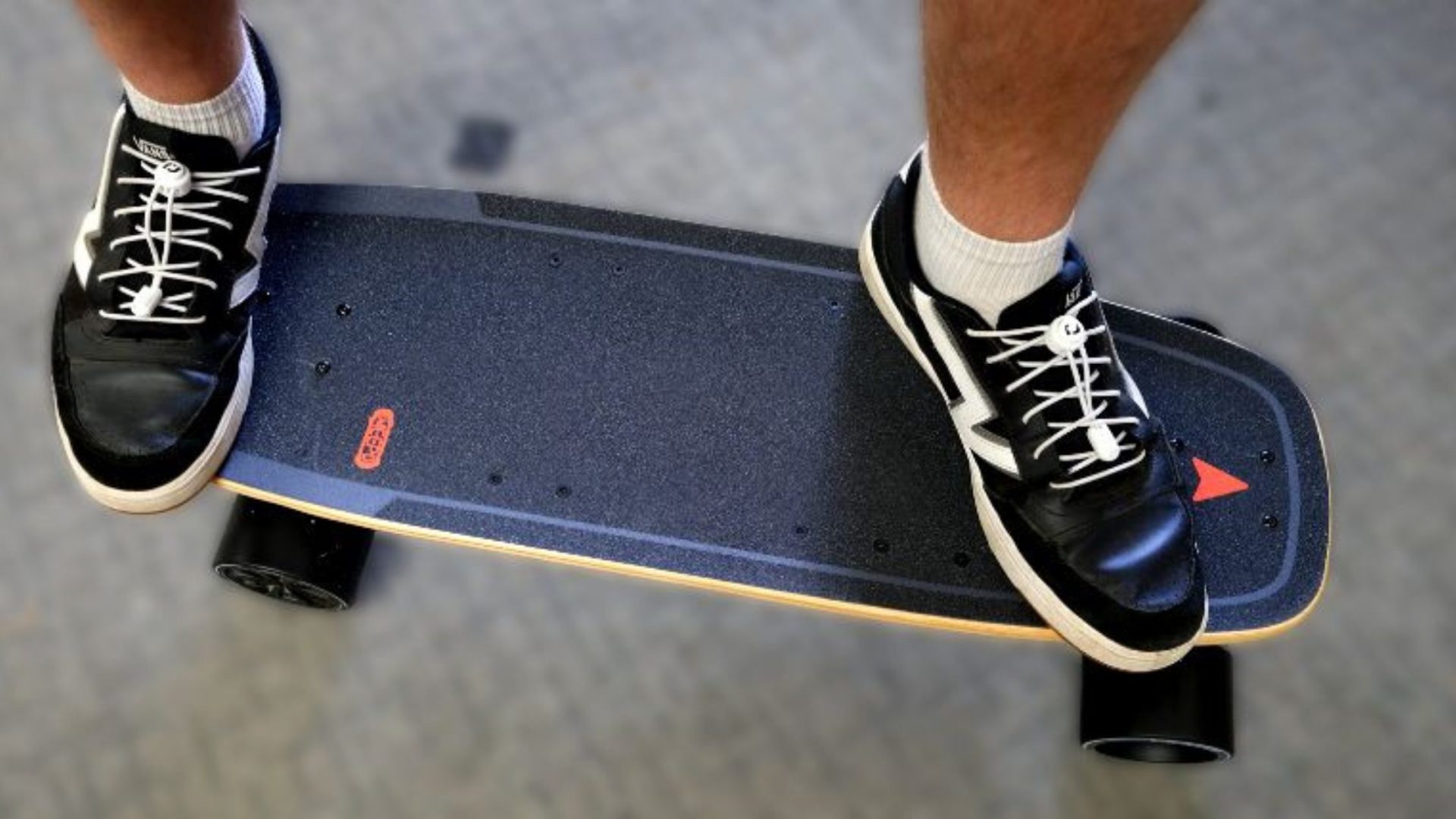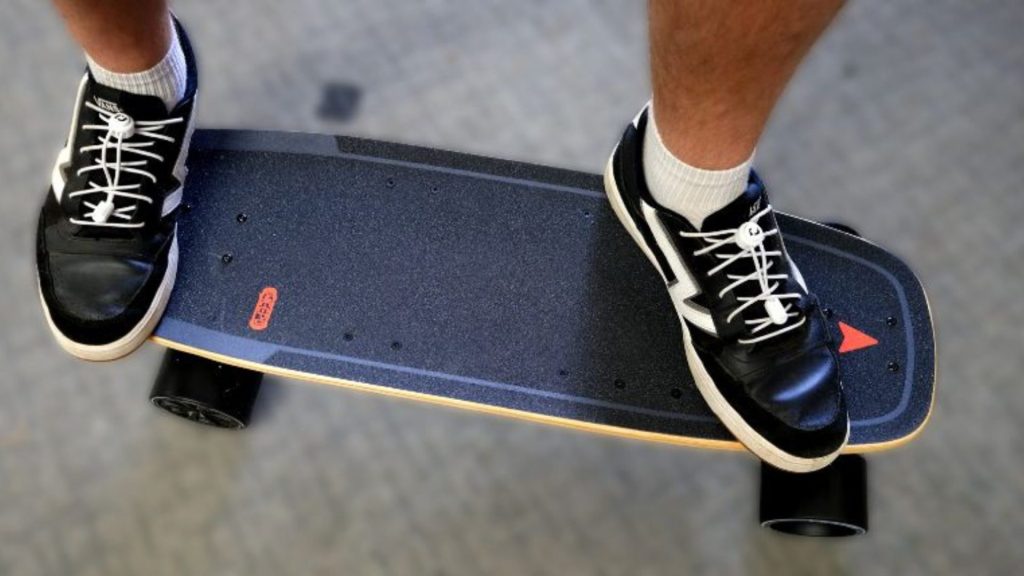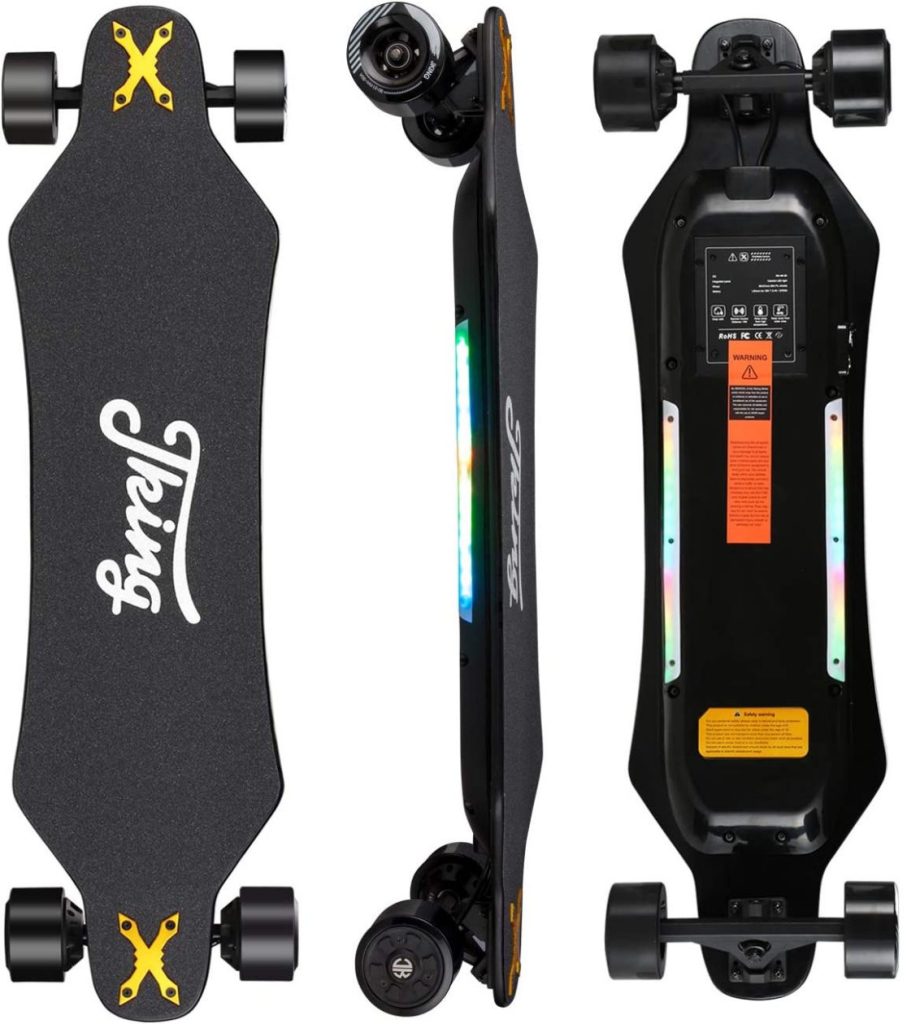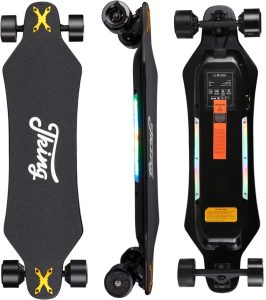 When it comes to heavy-duty e-boards, the JKING Electric Skateboard stands tall. Designed with a focus on stability and durability, this board can handle up to 330 lbs. with ease.
With its powerful motor, impressive load capacity, and smooth riding experience, it's a reliable companion for big guys on their electric skateboarding adventures.
Best of all, it is super affordable compared to other famous electric skateboards.
Running low on budget? Here are some cheap electric skateboards to choose from.
Weight Capacity
As a rider on the heavier side (previously), the JKING Electric Skateboard truly impressed me with its robust weight capacity.
With a maximum supported weight of 330 lbs., this board provides a secure and stable riding experience, ensuring that riders of all sizes can confidently hop on and enjoy the thrill of skateboarding.
Motor Power
Equipped with a powerful 450W dual brushless hub motors, the JKING e-skateboard delivers exceptional performance. The motor provides reliable acceleration and a maximum speed of 26 mph, allowing for thrilling rides that will get your adrenaline pumping.
I found the motor to be smooth, responsive, and capable of tackling inclines of up to 20° without breaking a sweat.
Battery
This is where it outcasts even most of the popular brands. The JKING electric board is powered by an impressive UL 2272 certified 36V 7500mAh and 270Wh Lithium-Ion battery.
This battery provides ample juice to keep you going for an impressive range of up to 21.8 miles on a single charge (quite impressive).
However, there is a downside, the battery does not get charged quickly - it takes around 4 hours to reach a full charge.
Range
With its long-range capability, the board allows for extended rides and exploration. It can travel up to 21.8 miles on a full charge.
I was able to confidently venture out for longer trips, knowing that the skateboard's battery would keep me going for a substantial distance. This makes it an ideal choice for commuting or leisurely rides around town.
Top Speed
The JKING board offers a top speed of 26 mph, which provides an exciting and exhilarating riding experience. This top speed remains the same even for big guys (acceleration slows down a little because of the heavier weight).
Whether you are cruising through the city streets or enjoying a thrilling ride in an open area, this board delivers the speed needed to keep the excitement levels high.
Riding Performance
I was thoroughly impressed with the overall riding performance. The shock-absorbing PU wheels and wider deck provide stability and a smooth ride, even on rougher terrains.
The high-density Emery non-slip and waterproof surface adds an extra layer of safety, ensuring a secure grip while riding.
Additionally, the LED safety light bars not only enhance visibility but also add a stylish touch to the board.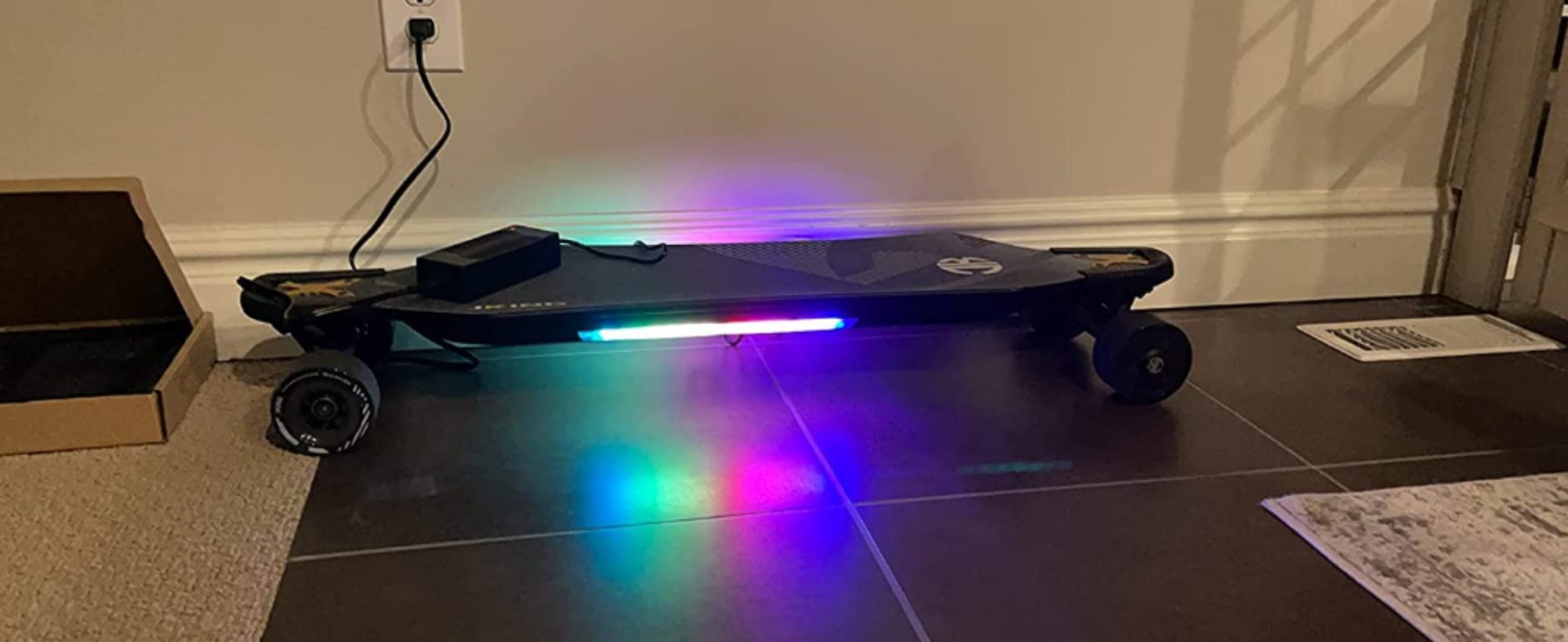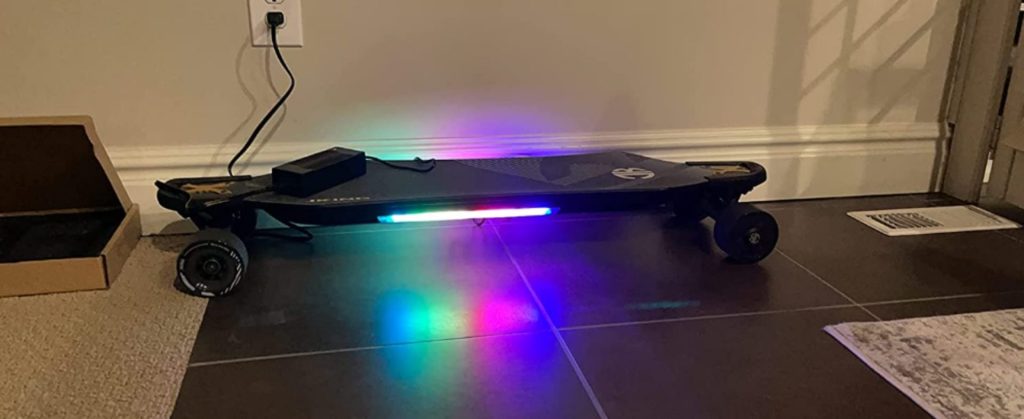 Strength and Durability
The deck is built with a sturdy 8-ply maple deck, offering superior strength and durability. I felt confident that the board could withstand the demands of the daily use of larger individuals without compromising its performance.
The brushless hub motor design not only provides reliable power but also eliminates the need for motor replacements when the wheels wear out, making maintenance easier and more cost-effective.
Experience: "Sharing a little experience here about the customer service: the first board I received wobbled a little on speedy rides, it could have been a problem with loose trucks (I am assuming). I contacted the customer service office and asked for a replacement.
Usually, the attendee asks for a problem and suggests some solutions over the call, but I was surprised that he asked me to pack the board back in its packaging and wait for a replacement – it was shocking! I received the replacement on the 8th day of the complaint."
Pros
The board is very sturdy and stable
Battery lasts as promised
Pretty fast even on slight hills
Affordable option for big guys
Smooth acceleration, it feels natural
Great customer service
Cons
The board is a little heavy and not convenient to carry around
No fast battery charging option
The braking system is quite hard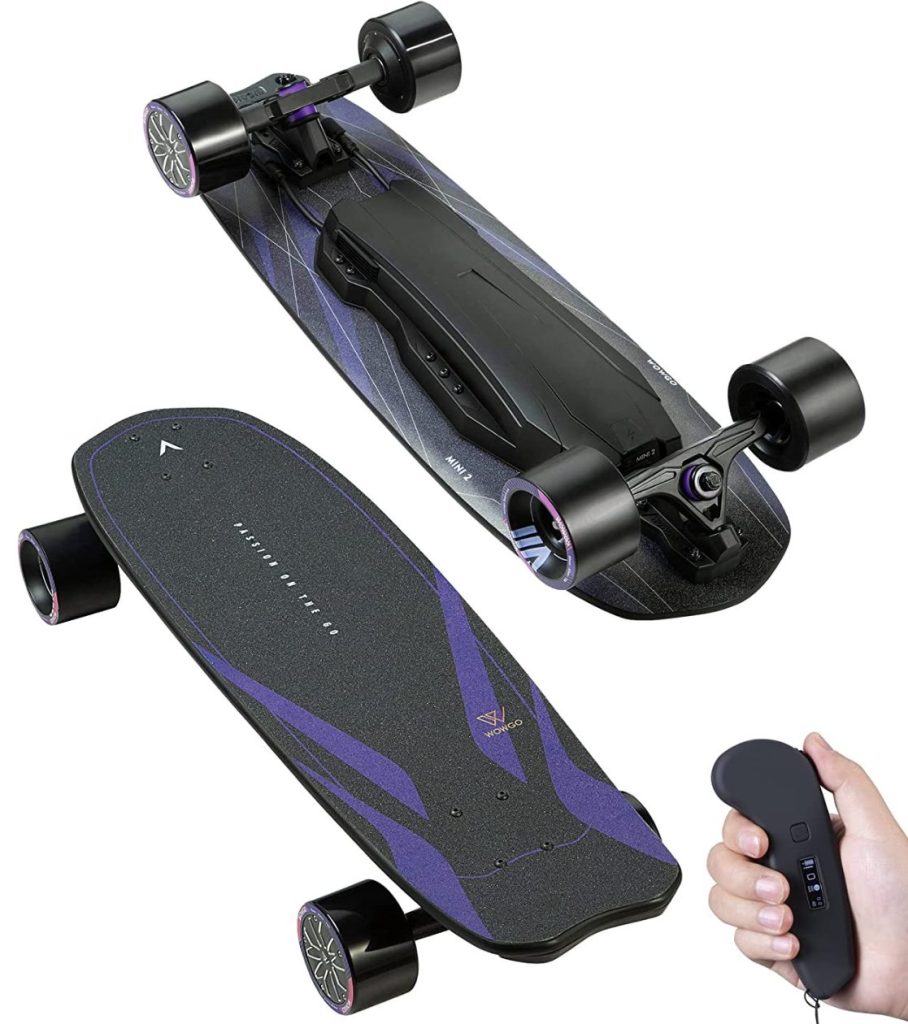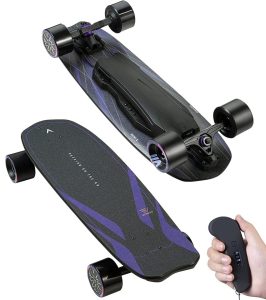 The WowGo Mini 2 is a beast in a compact package and a perfect electric skateboard for big guys. Don't be deceived by its size; this board can handle riders weighing up to 331 lbs.
Having had the pleasure of riding it, I am excited to share my experience with this impressive board. Its impressive hub motor power, generous load capacity, and solid construction ensure a thrilling and sturdy ride.
Weight Capacity
The WowGo board boasts a sturdy construction, allowing it to support riders of various sizes up to 331 lbs. With its durable build, the board can handle the weight of riders comfortably, ensuring a stable and secure ride.
Motor Power
Equipped with powerful 680W hub motors, the WowGo delivers an impressive performance. These hub motors are not only lighter and quieter but also offer smoother acceleration and braking even to overweight riders.
I found them particularly capable of tackling inclines of up to 30°, making uphill and downhill rides smooth like a breeze.
Battery
With a high-quality 180Wh battery, the WowGo e-skateboard provides enough riding time. Whether you are commuting to work, the grocery store, or enjoying a leisurely ride, the battery ensures you can reach your destination with the power to spare.
Range
Well, I'll consider it an average range. This board offers a respectable range of approximately 15 miles on a single charge.
This range is ideal for cruising around town or exploring beach paths without worrying about running out of battery. It provides enough flexibility for daily commuting or leisurely rides.
Top Speed
Not too fast and not too slow, with a top speed of 25 mph on a flat surface, this e-board is okay-ish to experience safe-speed thrills.
Riding Performance
I found the WowGo electric skateboard to be beginner-friendly, thanks to its four riding modes and adjustable speed settings. Plus the reasonable speed and smooth acceleration make it easier to ride for new riders.
I suggest plus size beginners should start electric skateboarding on WowGo Mini 2 because it has the perfect balance of speed and control. The sensitive braking system adds an extra layer of safety and ensures a smooth riding experience.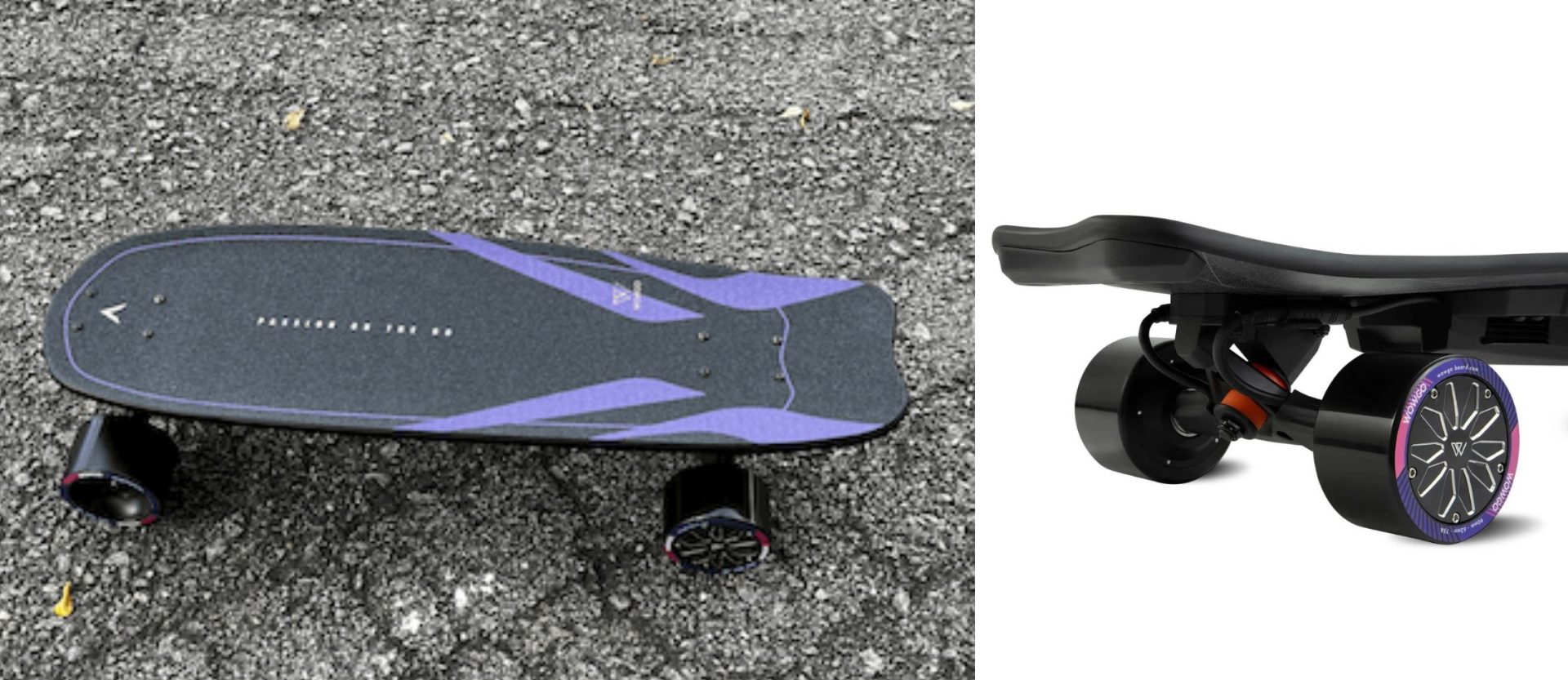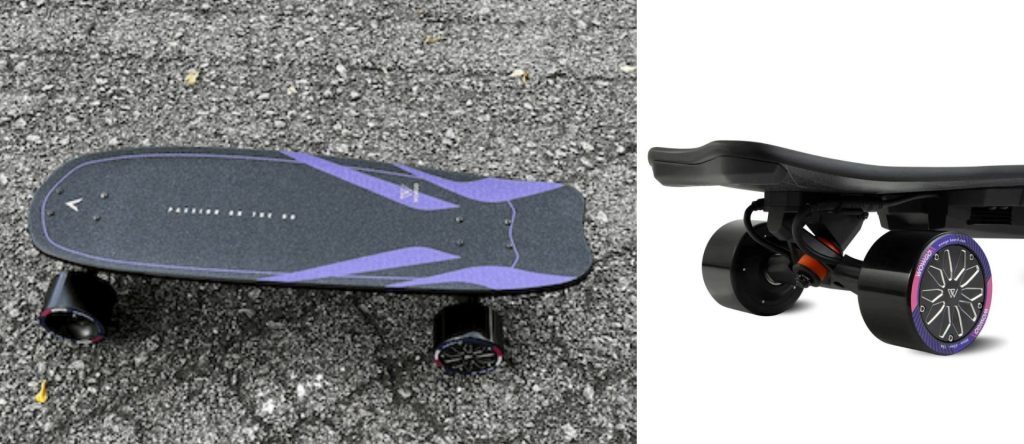 Strength and Durability
The deck of this board is crafted with 8 layers of maple wood. Its superior craftsmanship makes it extremely durable to withstand various impacts and crashes without deformation, ensuring long-lasting and reliable performance.
The lightweight design, weighing just 15.32 lbs., adds to the board's portability and ease of use.
I personally loved its construction and quality of the maple, a solid board for guys with 300+ lbs. weight.
Pros
Powerful hub motors for excellent performance
High-capacity battery for extended riding time
Excellent choice for heavy weigh beginner boys and girls
Perfect choice for short commuting
Lightweight and sturdy construction
Cons
Not suitable for rough terrains
Not good for taller riders because of the short wheelbase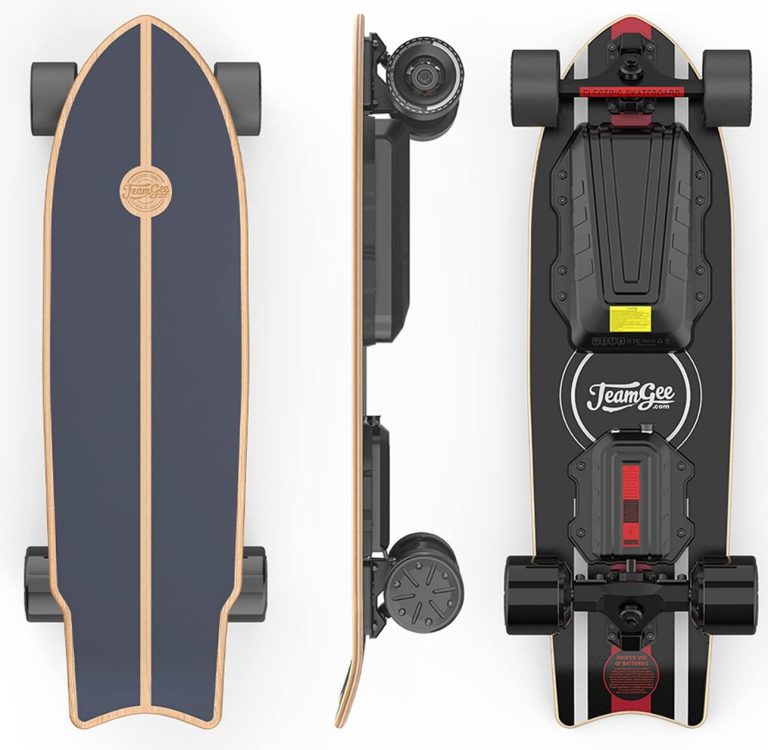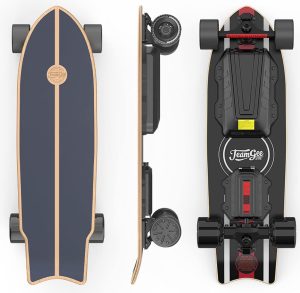 Last but not least, we have the Teamgee H20mini, designed specifically for riders up to 286 lbs. This board boasts a strong deck, impressive load capacity, and exceptional stability, making it an excellent choice for big guys seeking a smooth and secure ride.
Having had the pleasure of riding it, I can confidently say that it offers an exceptional riding experience with its powerful motor, impressive battery life, and durable construction.
Weight Capacity
The Teamgee H20mini boasts a weight capacity of 286 lbs., making it a good choice for larger body types. I found the board to be sturdy and stable, providing a comfortable and reliable ride even for riders on the heavier side.
The 7-ply maple wood construction contributes to its durability, ensuring that it can withstand weight and pressure while maintaining its performance.
Motor Power
Absolutely impressive power and performance due to a 900W super motor. This single high powered mote can push the higher weight with ease.
This powerful motor allows the skateboard to climb inclines of up to 25% with ease, making it suitable for various terrains and challenging rides.
Battery
The H20mini features an upgraded 7500 mAh battery that provides a good range on a single charge. This upgraded battery ensures that heavyweight guys can enjoy extended rides without worrying about running out of power.
Additionally, the high-current charger allows for fast charging, taking only 3-4 hours to fully recharge the battery. This fast charging option is always a plus to save time and get back on the board quickly.
Range
Impressive range of 18 miles on a single charge, and it does not compromise because of extra pounds on the board. This range allows for a decent ride, whether it's commuting to work, cruising around the city, or exploring new skate spots.
Top Speed
The H20mini reaches a top speed of 24 mph, providing a thrilling ride for all body types. The powerful motor allows for quick acceleration, allowing riders to cover distances efficiently and effortlessly.
However, it's important to ride responsibly, the board reaches top speed within a few seconds. Always lean forward a little while pushing acceleration to avoid dangerous falls.
Riding Performance
From the moment I stepped on the board, I could feel the power of the 900W super motor propelling me forward with remarkable speed and acceleration. The board effortlessly tackled inclines of up to 25%, allowing me to conquer hills with ease and maintain a thrilling pace.
One of the standout features of this electric skateboard is its smooth and responsive riding performance. The remote's ergonomic design made it comfortable to hold, and the intuitive controls made maneuvering through busy streets and crowded paths a breeze.
Whether I was cruising along city streets or carving through winding paths, the board's stability and grip instilled a sense of confidence in my riding.
I also appreciated the board's braking system, which allowed for controlled and responsive stops. The smooth braking mechanism, combined with the board's stability, ensured that I could come to a halt quickly and safely whenever needed.
Strength and Durability
Constructed with 7-ply maple wood, the H20mini exhibits excellent strength and durability. It can withstand the weight and pressure of big guys while maintaining stability and performance.
The high-quality PU wheels (88mm) offer excellent ground grip, contributing to a smooth and enjoyable ride. The overall build of the board gives a sense of confidence in its durability.
Pros
Super sturdy and reliable board
Compact enough to easily carry around
Smooth and stable riding without wobbles
Good range and fast charging
.
UL certification for safety and a 90-day warranty for peace of mind.
Cons
Wheels are nearly unusable on rough terrains
The first board I received was overheating, there could be an issue with the motor or battery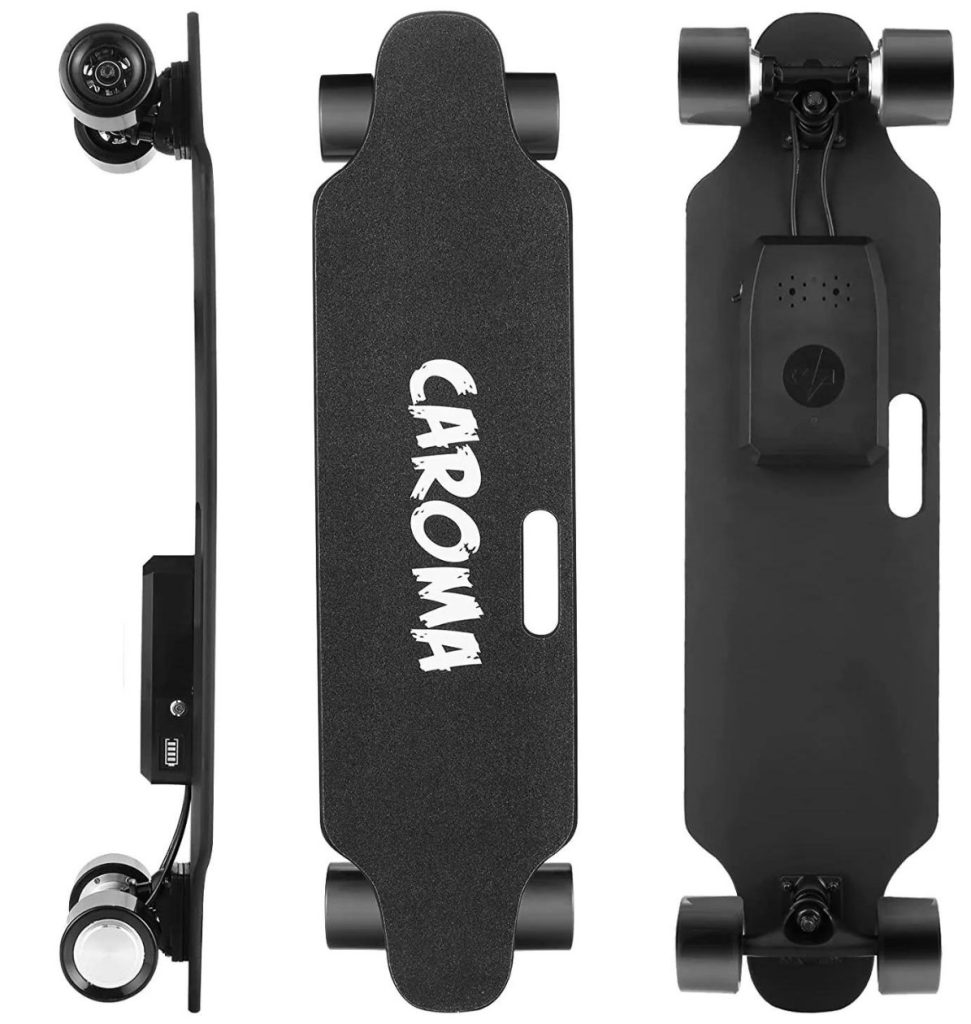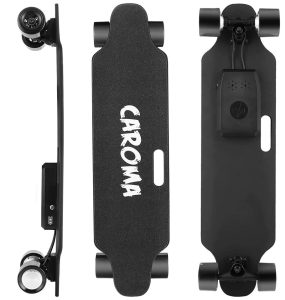 Big guys need a board that combines strength and style, and the Caroma delivers just that. With a load capacity of 300 lbs., this heavy-duty e-board is built to withstand the test of weight.
Having had the pleasure of riding the Caroma board, I can confidently say that this board provides a smooth riding experience without wobbling. Its powerful motor, excellent battery life, and sleek design make it a top contender for big riders who value both performance and aesthetics.
Weight Capacity
The Caroma is designed to accommodate riders of different sizes and weights. With a maximum weight capacity of 300 lbs, this board provides stability and support, allowing both big-sized teenagers and adults to enjoy a comfortable and secure ride.
I found the board to be sturdy and reliable, effortlessly supporting my weight during my rides. I think heavyweight is a plus here because the board has an easy turning ability, and weight plays just an optimal role in it. Slightly lean towards the side you want to turn and see it taking curves.
Motor Power
The Caroma is equipped with two 350W brushless hub motors, strong enough to push extra load efficiently. With a combined power output of 700W, this board provides excellent acceleration and can reach a maximum speed in a few seconds.
The instant power-on function adds convenience, allowing you to start riding the skateboard by simply sliding it.
Battery
The high-capacity 29.4V/4000mAh lithium battery provides a long-lasting and reliable power source. With a single charge, the battery allows for extended rides without the need for frequent recharging.
The impressive feature of the battery is its high capacity – 100wh!
I was pleased with the battery life, as it allowed me to explore various destinations without worrying about running out of power.
Additionally, the quick charging time of approximately 1.5 hours minimized unnecessary downtime. I could charge the battery quickly and get back on the road again within a couple of hours.
Range
With its efficient battery system, the Caroma board offers a respectable range of 10-12 miles on a single charge, depending on the speed. This range allows for enjoyable rides, whether it's commuting to work, running errands, or simply exploring your surroundings.
I found the board to be reliable and consistent in maintaining its performance throughout the entire range, ensuring that I could reach my destination without any interruptions.
Top Speed
This electric skateboard offers an impressive top speed of 18.6 mph, providing a thrilling riding experience.
The ability to cruise at high speeds added an extra level of excitement to my rides, allowing me to cover distances quickly and efficiently. However, I recommend riders should wear helmets regardless of skill level.
Riding Performance
The wireless remote allows for easy control of the board. With the remote, I could effortlessly navigate forward, backward, and control acceleration and braking.
The three-speed modes - low speed (6.2mph), medium speed (9.3mph), and high speed (18.6mph) - catered to different riding preferences and skill levels.
The LED indicators on the remote kept me informed about the skateboard's battery level, ensuring that I was always aware of the remaining charge.
Strength and Durability
The Caroma deck is constructed with high-density Canadian maple wood, which provides excellent durability and strength.
The 8 layers of hard maple boards are pressed together to ensure that the deck remains sturdy and resistant to deformation, even after encountering multiple impacts.
I found the board to withstand various terrains and bumps without compromising its performance or structural integrity.
Pros
It handles bumps or rough terrains smoothly
Powerful motors provide quick and smooth acceleration
Quick charging time of 1.5 hours
Well suited for tall and big riders weighing up to 300 lbs.
Consistent speed even on uphills
Professional after-sales service and 180-day free return guarantee
Cons
No information was provided about water resistance
Some users claimed that the battery stopped charging after a few weeks (did not experience it personally)
Features to Consider while Purchasing Electric Skateboards for Big Guys
Now that we've explored some outstanding electric skateboards, let's dive into the key features that make a board suitable for big guys. When choosing your electric skateboard, keep these features in mind:
Strong Deck
The first feature heavy riders should look for in an electric skateboard is a strong deck. Trust me, you don't want to feel like you are riding on a flimsy plank of wood that's about to snap under your weight.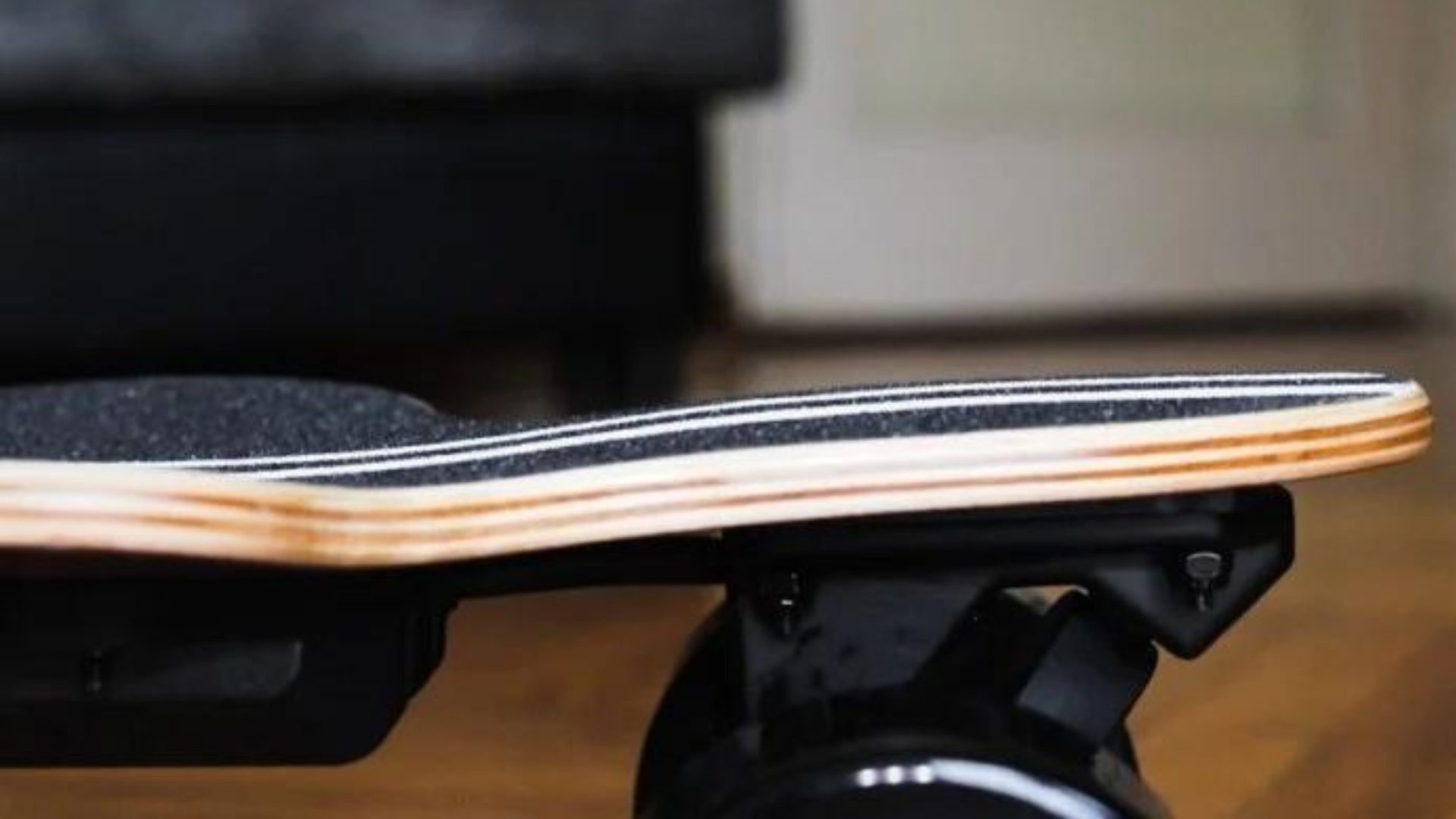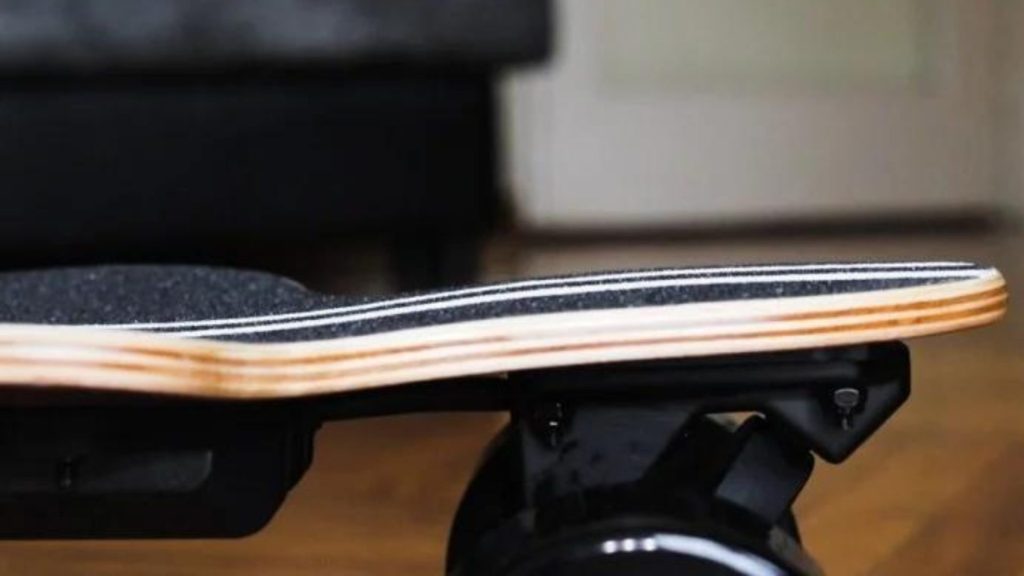 Look for skateboards with a deck made from sturdy materials like Canadian maple or high quality bamboo, preferably with multiple layers for added strength.
A solid deck will provide the stability and support you need to confidently cruise around without worrying about any unpleasant surprises.
Strong Brakes
When you are zooming along on an electric skateboard, it's essential to have reliable brakes that can bring you to a smooth and controlled stop. As a heavy rider, you'll need brakes that are up to the task of handling your weight and stopping power.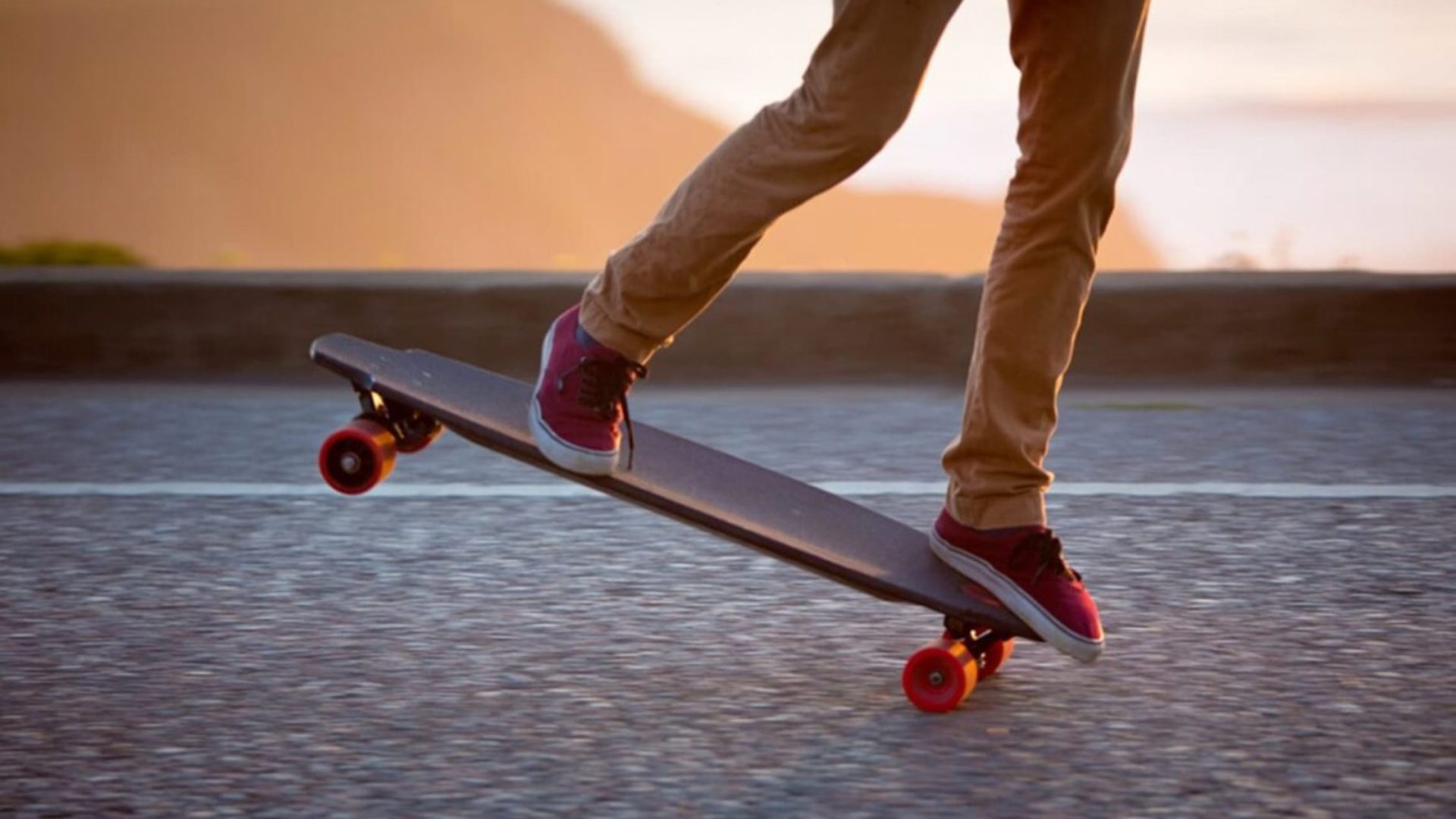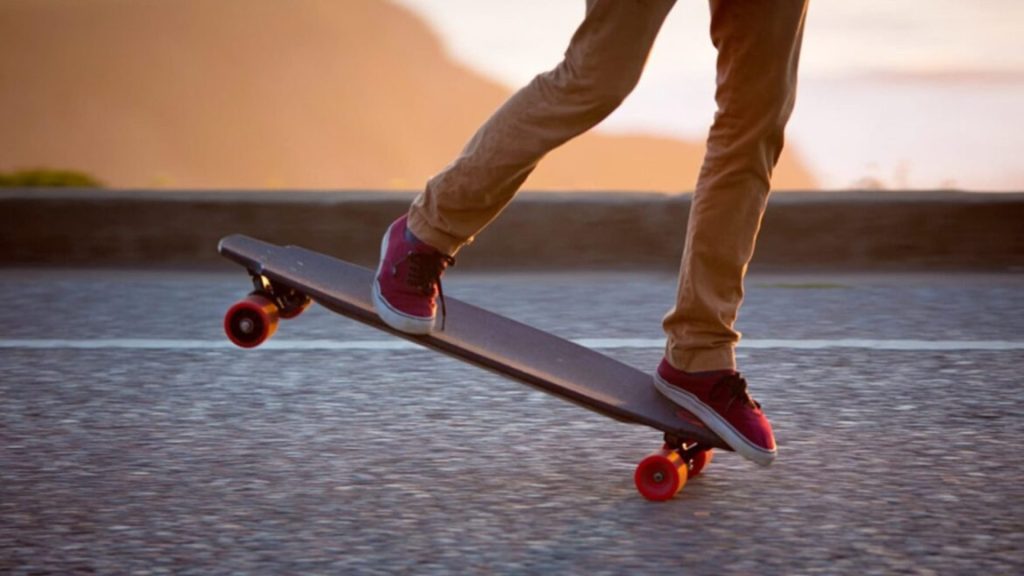 One should pick an electric skateboard with strong braking systems that can handle the extra force without compromising safety.
Nobody wants to be rushing down a hill with brakes that feel like they belong on a tricycle. Stay safe and choose a board with brakes that can handle your heavy-duty rides.
Structural Strength for Durability
Heavy riders put more strain on their electric skateboards, so choosing a board with structural strength and durability is crucial.
Look for features like reinforced trucks, sturdy wheels, and solid overall construction that can withstand the extra weight. None of us wants to invest in a flimsy skateboard that's going to crumble under the pressure.
Opt for a board that's built to last, so you can enjoy many smooth rides without any worries about structural integrity.
Powerful Motor
When it comes to electric skateboards for heavy riders, a powerful motor is your best friend. A robust motor will provide the necessary torque and acceleration to propel you effortlessly, regardless of your weight.


An electric skateboard with high wattage motors is essential, preferably hub motors, as they tend to be more reliable and efficient. A powerful motor will ensure you can zip through the streets with ease, conquering inclines like a champ.
Don't settle for a wimpy motor that struggles to handle your weight – let the power of a strong motor be your driving force.
Good Battery Life
As a heavy rider, you'll want an electric skateboard with a battery that can keep up with your adventures.
A reliable battery will give you the freedom to explore your surroundings and take on longer journeys with confidence. Keep an eye out for boards with high-capacity batteries and efficient energy management systems to ensure you get the most out of every charge.
How Much Weight Can an Electric Skateboard Hold?
Generally, electric skateboards are designed to accommodate a range of weights, typically between 200 lbs. (90 kg) to 350 lbs. (159 kg). There are some electric skateboards (mostly off-road) that can handle weights up to 500 lbs.
However, it's important to note that each skateboard will have its specific weight limit, so it's crucial to check the manufacturer's guidelines before making a purchase.
As a heavy rider, it's advisable to choose an electric skateboard with a higher weight capacity to ensure optimal performance and safety.
Can You Use an Electric Skateboard as a Regular Skateboard?
Yes, you can definitely use an electric skateboard as a regular skateboard. One of the great advantages of electric skateboards is their versatility. When the battery runs out or if you simply prefer a more traditional riding experience, you can switch off the motor and ride the board manually, just like a regular skateboard.
This means you can enjoy the benefits of both electric-powered and traditional skateboarding depending on your mood or preference.
However, keep in mind that you won't be able to perform tricks on electric skateboards that you can perform easily on a regular skateboard. It is because of the additional weight of battery and motors in e-boards
Can Electric Skateboards go uphill?
Absolutely! Electric skateboards are designed to handle various terrains, including uphill slopes. However, the capability to go uphill will depend on several factors, such as the power of the motor, the weight of the rider, and the steepness of the incline.
However, it's important to note that the performance of electric skateboards on inclines can be influenced by factors such as the rider's weight, the skateboard's weight capacity, and the steepness of the hill. Steeper inclines may require more powerful motors or limit the maximum speed achievable while climbing.
In my experience, electric skateboards equipped with powerful motors, particularly hub motors, tend to perform better when climbing uphill. They can generate enough torque and provide sufficient power to conquer moderate to steep inclines.
It's worth noting that the maximum incline an electric skateboard can handle will be specified by the manufacturer, they mostly range between 10 - 30 grades.
Final Verdict
Well, finding the best electric skateboard for big guys is crucial to ensure a safe and enjoyable riding experience. The battery-powered skateboards mentioned above have been put through their paces, and I can attest to their performance and reliability after riding them multiple times.
First choice: MEEPO V5 Electric Skateboard
Second choice: JKING Electric Skateboard
Third choice: WowGo Mini 2
Remember, being a big guy doesn't mean we have to miss out on the exhilaration and freedom of riding an electric skateboard. With the right heavy-duty e-board, we can embrace the thrill and enjoy the ride to the fullest.
Frequently Asked Questions: (FAQs)
Can anyone ride an electric skateboard?
Absolutely! Electric skateboards don't discriminate based on age or experience. Electric skateboards are designed to be enjoyed by riders of various skill levels, from beginners to seasoned pros.
So, whether you are a seasoned pro or a rookie just starting out, anyone can hop on an electric skateboard and experience the electrifying thrill of cruising around.
What is the weight limit for the Meepo Shuffle S V4s?
The Meepo Shuffle S V4s is like the Hulk of electric skateboards, designed to handle heavier riders with ease. With robust construction and solid engineering, this mighty board can support riders weighing up to an impressive 330 pounds (or 150 kilograms).
Do electric longboards have brakes?
Yes, they most certainly do! Electric longboards come equipped with brakes, ensuring that you can bring your wild ride to a controlled stop whenever you need to. These brakes are like superhero sidekicks, giving you the power to slow down, stop, and avoid any obstacles that come your way.