The Meepo V3 is a fast, waterproof and a great e-board for anyone who wants an affordable electric skateboard with some serious power. Don't you believe me? Well, it is one of the best-selling electric boards in 2023 (it depicts the quality). Here, I'll review Meepo V3 and share true specs, and see why most skaters prefer it.
After riding Meepo V3 on different terrains, I can attest to its impressive performance and stability. With its powerful dual motors, long-range, flexible deck, and responsive controls, this e-board is a great option for anyone who wants to experience the thrill of electric skateboarding without breaking the bank.
But before you make your purchase, you probably want to know more about this board's features, pros, and cons. So, let's get to it's unbiased and detailed reviews, so you can decide if this board worth your money.
Here is a deep analysis of the cheap electric skateboards of 2023.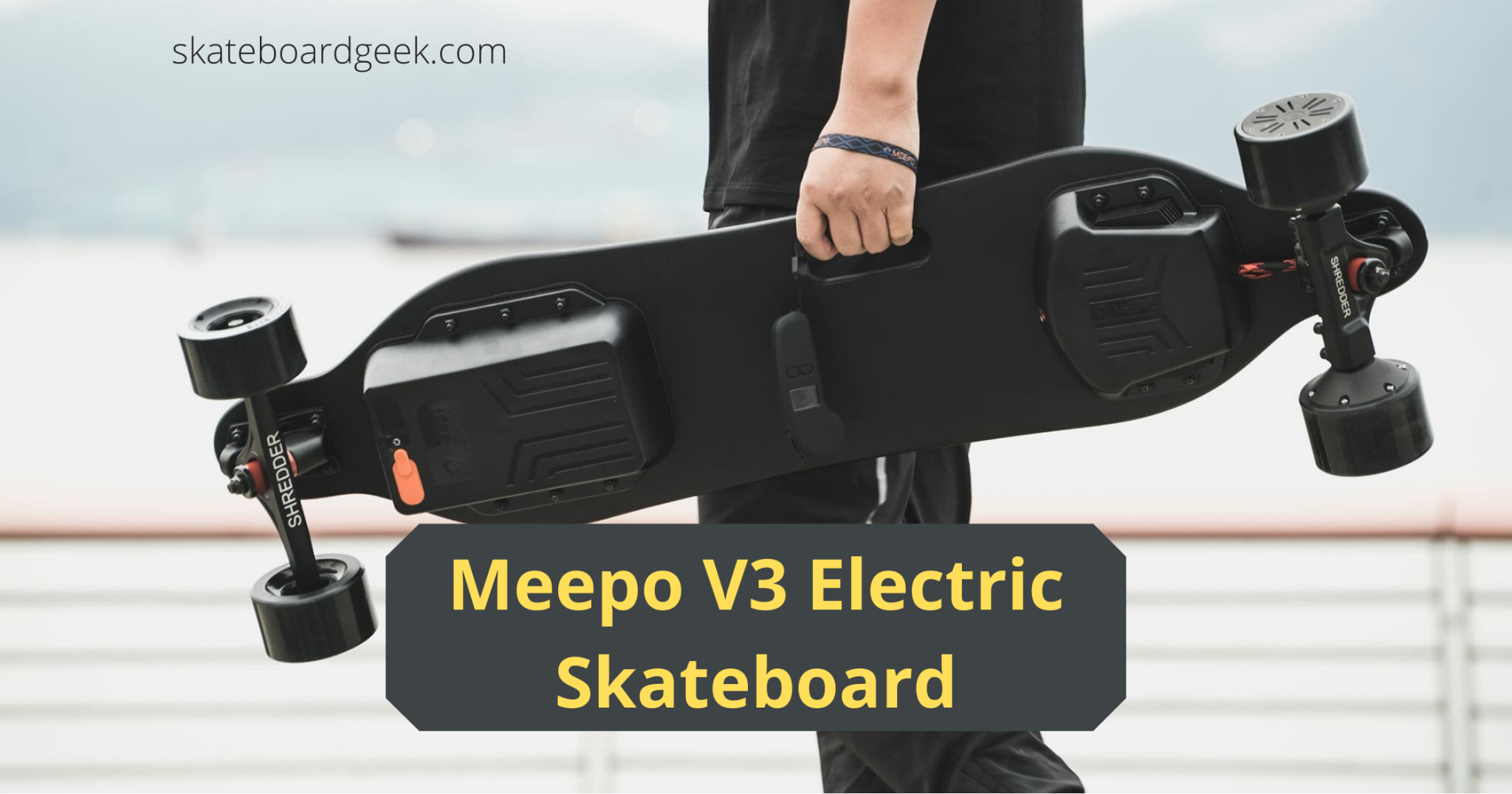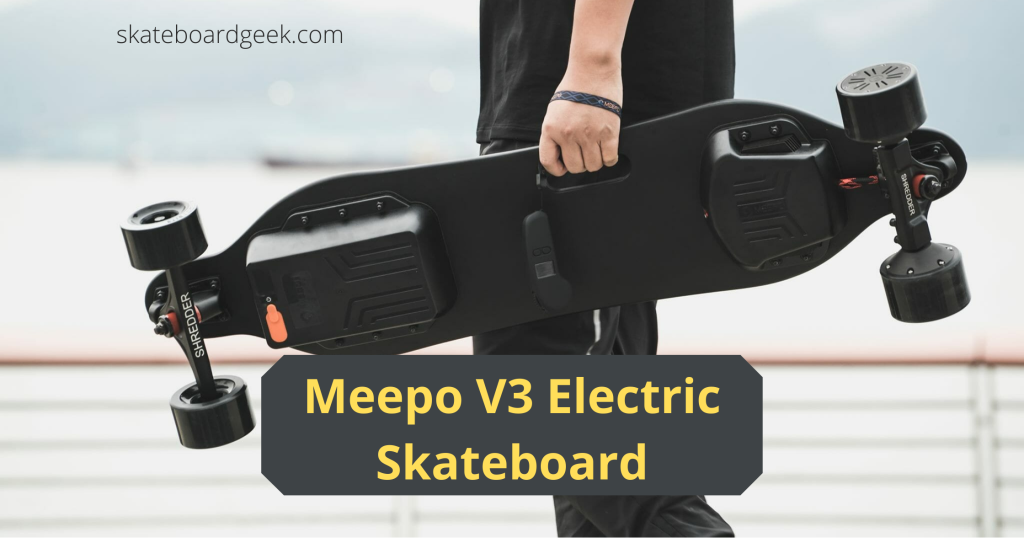 Meepo V3 Electric Skateboard – Reviews and Specs Guide
Specs
Top Speed: 28 MPH | 45 KMH
Range: 11 miles | 17 km
Battery: 8000mAh Lithium-ion
Motor: 2 x 540 Hub Motors
Climb: 30% Steep Hill
Size: 38″ x 9″
Charging Time: 2 hours
Remote Connectivity: RC 2.4GHz
Wheels: 90mm, 78A
Load Capacity: 300 lbs |136 kg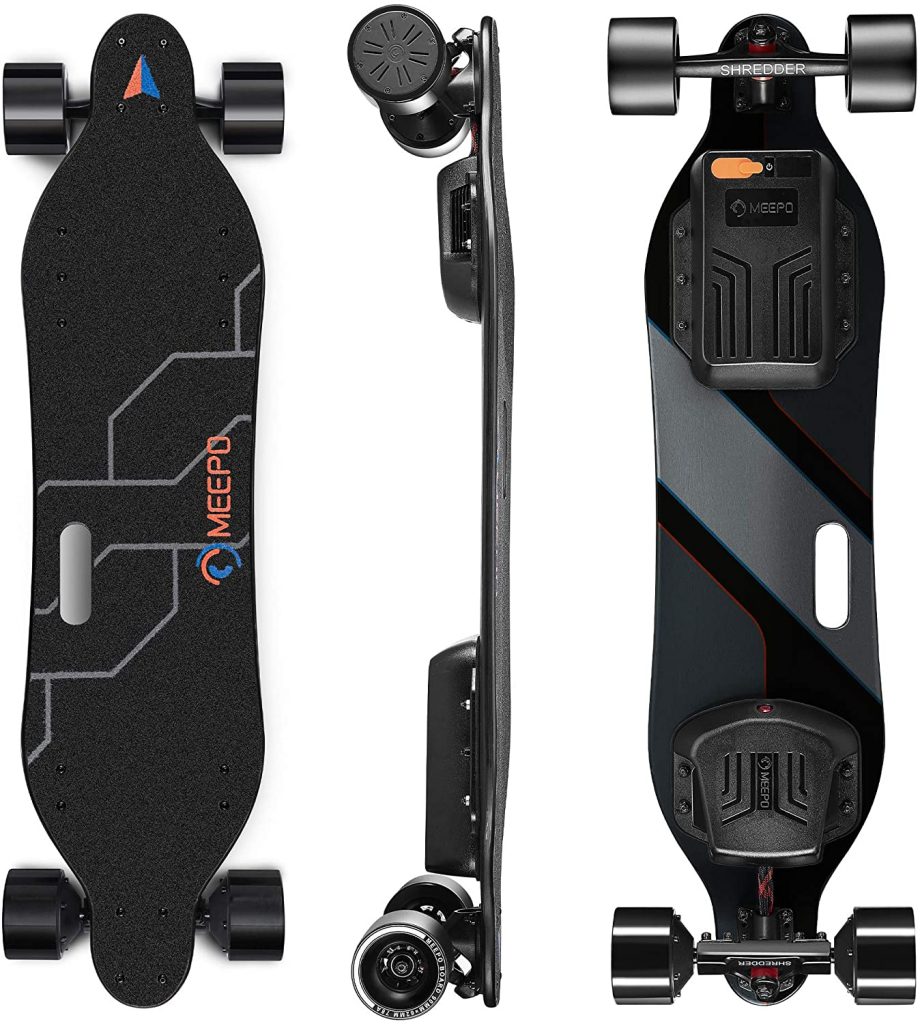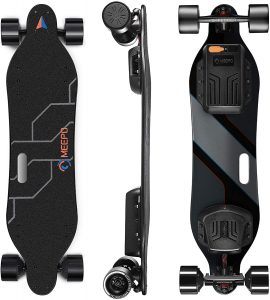 Deck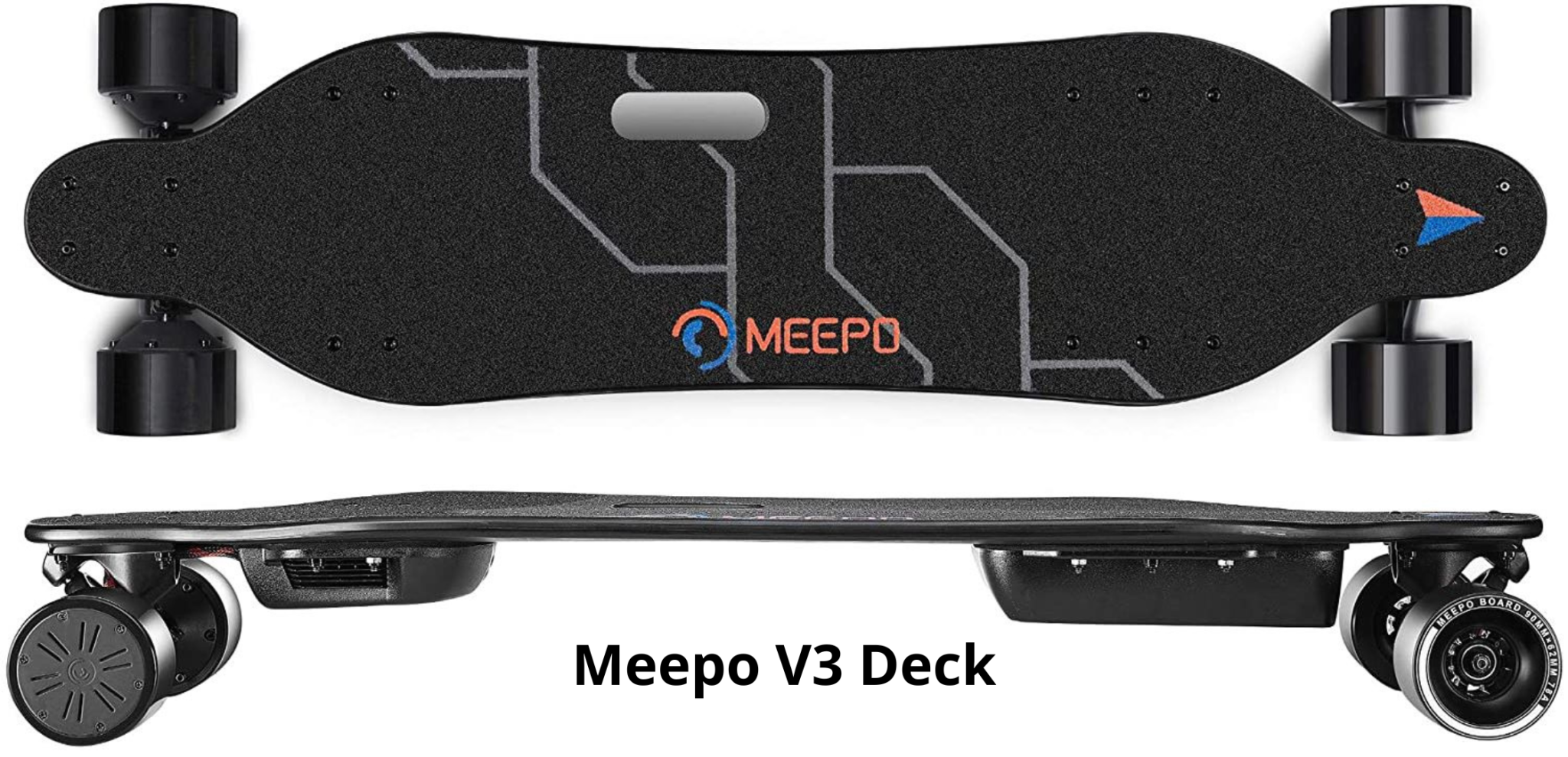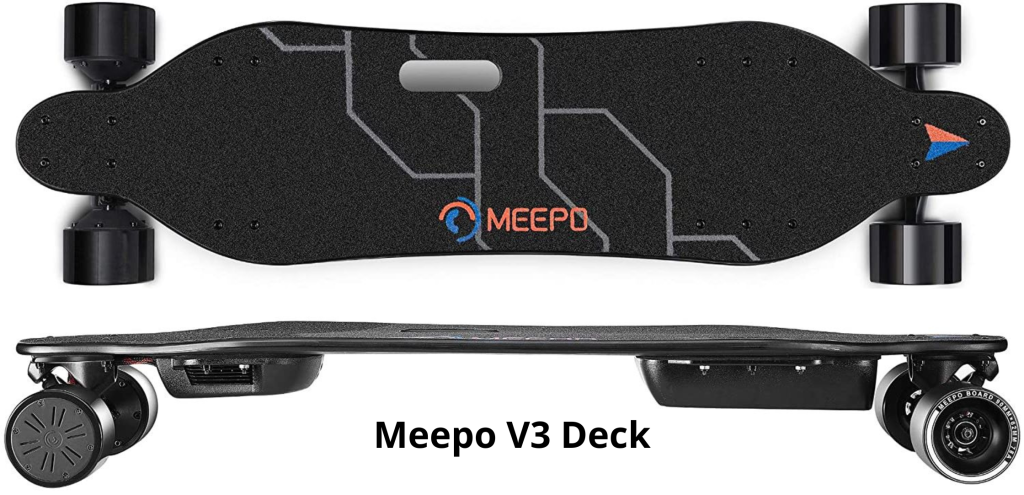 Meepo v3 deck is made of 7-ply Canadian maple wood that is flexible and light, yet sturdy. It features a clear grip tape on top of the deck to allow you to place your feet easily and firmly.
To sum it up, the Meepo v3 deck is an all-around solid piece of equipment suitable for various riding styles.
The wheelbase measures 18″, which is shorter than other electric skateboards. This allows the rider to turn more sharply and control the ride better than standard boards, but it will take some time to get used to if you are used to longer or wider boards.
Read about the best skateboard decks.
Motor & Speed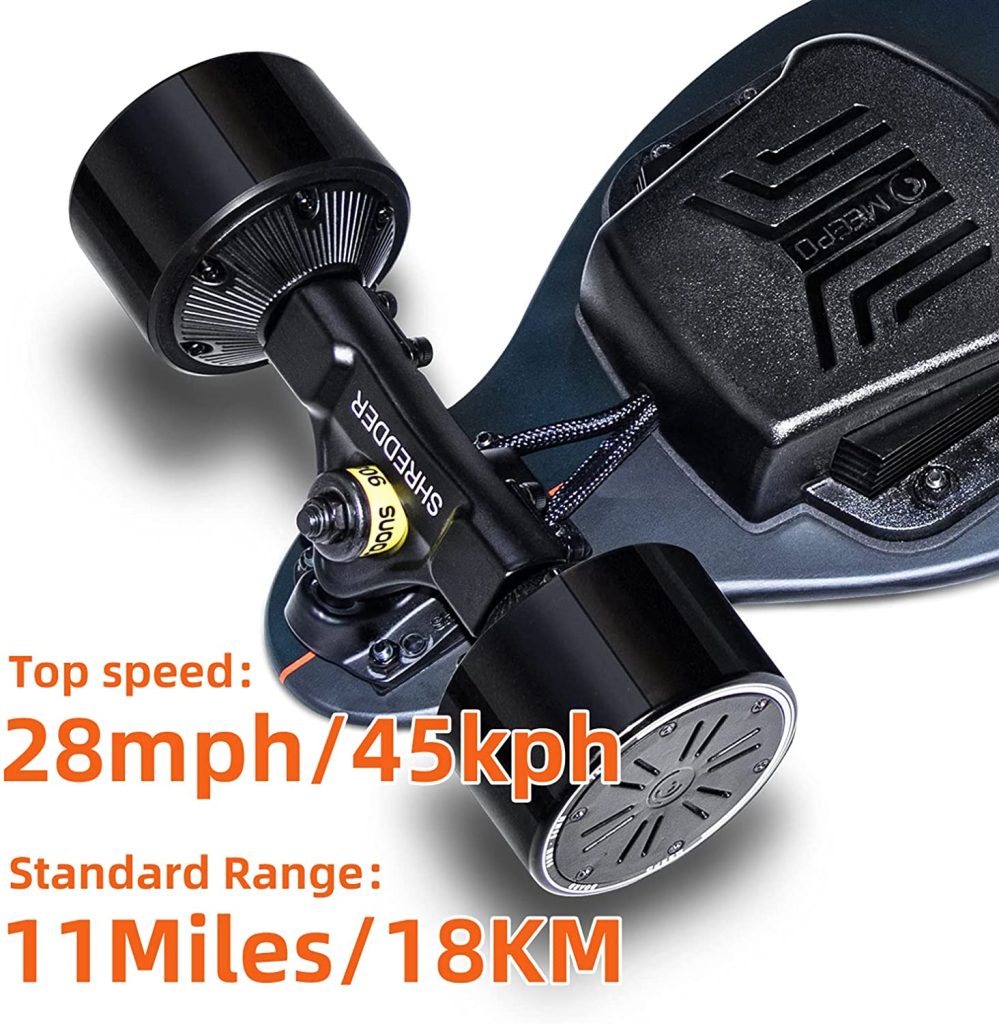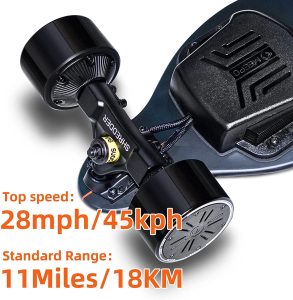 The Meepo V3 e-skateboard features 2 x 540W powerful brushless motors. This type of motor is less prone to failure than the cheaper belt drive motors. These hub-driven motors are efficient and powerful that accelerate the speed from 0 to 19mph in just 5 seconds.
It's perfect for beginner riders due to its smooth torque response at slow speeds. You won't have to worry about them struggling when they are in the learning curve phase.
They will be able to start at low speed with less effort, which lets them gain confidence in their riding skills faster.
The e-board features 4-speed modes (low, medium, high, pro) with a top speed of 28mph, 4 brake modes are also named the same.
Battery & Range
Meepo V3 is equipped with an 8000mAh lithium-ion Samsung battery that provides 11 miles smooth speedy ride on a full charge. The range may vary depending on the speed.
A common complaint about the Meepo V3 board is that it has a short-range, only 11 miles on a single charge. This would be fine for those who mostly ride in town or rely on public transportation to get around, but not to travel longer distances without charging it.
It takes approximately 2 hours for the battery to get fully charged, and that depends on how drained it is when you plug it in. The LED lights blink while charging, once they are all lit up then you know it's done!
Wheels & Trucks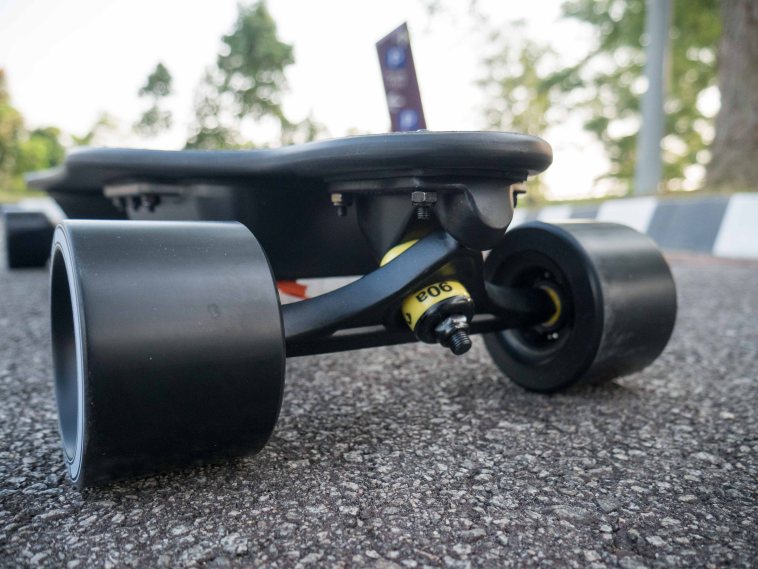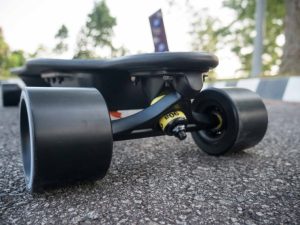 Meepo PU 90mm wheels are good for riding. They have low noise, better grip, and less resistance than traditional rubber. The sleeves can be changed so you can upgrade your hub motors without changing the whole wheel.
The Meepo V3 uses a one-piece cast aluminum alloy hanger and baseplate. This construction makes the shredder trucks very light yet strong, making the board perfect for carving around town without having to worry about weak points.
The center of gravity on this board is also low, which means it can be effortlessly navigated at high speeds.
So if you are looking for an e-board that won't lose its speed because of worn-down wheels, then the Meepo v3 electric skateboard may be perfect for you!
Remote Control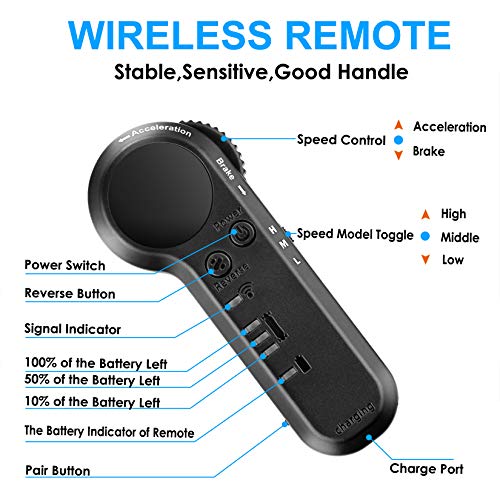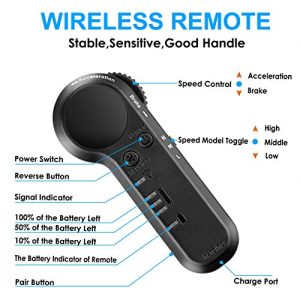 The Meepo V3 has a wireless remote control with an LED display, and is quite easy to hold. The remote has 4 acceleration modes: low, medium-low, medium-high and high. These modes are indicated by the color of the LED light on the remote.
The Meepo V3 also has a 'cruise control' mode that allows you to hold down the throttle and go at a set speed for as long as your thumb is holding it down.
Once you let go, the board will resume control. This means that if you are going 25 km/h and want to cruise at 20km/h without having to keep pressing down, you can just hold it there once, and then let go when you feel like accelerating again.
It saves time and effort, especially helpful during transportation or longer rides so that your thumb doesn't get tired.
Have you just started skateboarding? Read how to ride a skateboard.
Ride & Board Control
The Meepo V3 electric skateboard is extremely squirrely at high speeds (above 25 mph). This can make it difficult to ride for anyone with less than-perfect balance, and an even bigger problem for new riders who may be tempted to lean forward when they lose their balance.
The deck is quite flexible, and at high speeds this will amplify any vibrations that would normally be absorbed by the suspension, making for a bumpy ride.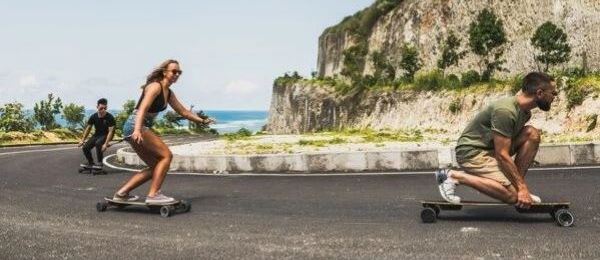 The controls can be difficult to master for anyone who has never used an electric skateboard before. Unlike most gas-powered vehicles, electric skateboards require you to stop braking as you start to go.
There is a big delay between the times you step on the throttle and when your board actually starts going, so new riders may fall forward or backward as they try to apply pressure to the throttle only, without having already released their brakes.
If you are new to electric skateboarding I would recommend using rookie mode until you get comfortable riding the board, then switching it up to eco-mode when you are ready for more power, but still want longer battery life.
The most powerful mode is the Pro mode and should only be used by experienced riders who know how they can handle speeding up and slowing down.
Pros
Powerful hub driven back wheels
Easy to carry around due to cut out handle
Provide smooth rides
Fast charging
Extendable battery
Comes with a 6-months warranty
Cons
Remote can be problematic sometimes
Not suitable for sharp carving
Read tested reviews of Skatebolt Breeze 2, it is also easy to ride.
Final Verdict
The Meepo V3 electric skateboard is a decent option for those who live in metropolitan areas and would mainly be riding their board around town. If you think this best matches your lifestyle, then it could be a great fit for you.
However, if you ride outside of city limits or want to travel longer distances than the range of the Meepo V3, this board may not be for you.
It's important to remember that there is no one-size-fits-all when it comes to electric skateboards, so ultimately your needs will determine which is best for you.
See which companies make the best skateboards.
Frequently Asked Questions: (FAQs)
Is the Meepo V3 a good board?
Yes, the Meepo V3 is a good board, especially at this price point. Right now it's one of the best electric skateboards for under 500 dollars. It rides well, it's powerful enough to keep up with the likes of Boosted Board and Evolve, and is relatively inexpensive.
Is Meepo V3 good for beginners?
Meepo V3 is a great option for beginners! It's cheap and easy to ride, so it's perfect for those who are new to electric skateboards. Meepo boards have a reputation for being both high-quality and affordable. It's also even easier to carry around than other e-skateboards
Is Meepo better than boosted?
There is a always heated debate about Meepo vs Boosted board. On one hand, boosted board has been in the market longer and therefore this brand has more data to back up its effectiveness and performance. On the other hand, Meepo boasts better specs than Boosted board on paper and therefore may get more enthusiast on-lookers.
The Meepo board provides efficiency, fast charging times and excellent torque at an extremely competitive price compared to other boards in its class. It also has a good reputation in its Amazon product reviews.
The Boosted board has a higher top speed at 22 mph compared to Meepo's 18 mph. It has a slightly better hill-climbing performance weighing at least 30 pounds lighter than the Meepo boards.
How fast is the Meepo V3?
The Meepo V3 reaches top speed of 28 mph (45 kmh) which means it's legal to ride on the street or cycle paths in the USA, Australia, UK, etc. The powerful acceleration takes the board from 0 to 15mph in just 4 seconds. This board is able to climb inclines of 15 degrees and goes over grassy surfaces easily.