Are you looking for a reliable and user-friendly electric skateboard that is eco-friendly too? The Skatebolt Breeze 2 e-board might be just the answer to your prayers!
As an avid skateboarder and eco-warrior, I was thrilled to test this board out and see if it lived up to its hype. And let me tell you, I was not disappointed! With a top speed of 28 mph and a range of up to 15 miles, this board delivers an exhilarating ride that's sure to satisfy.
Plus, its exceptional looks with long-lasting battery make it one of the best electric skateboards. In this review, I'll go into detail about the features and benefits of the Skatebolt Breeze 2 along with pros and cons, and why it's a top choice for both beginners and experienced riders.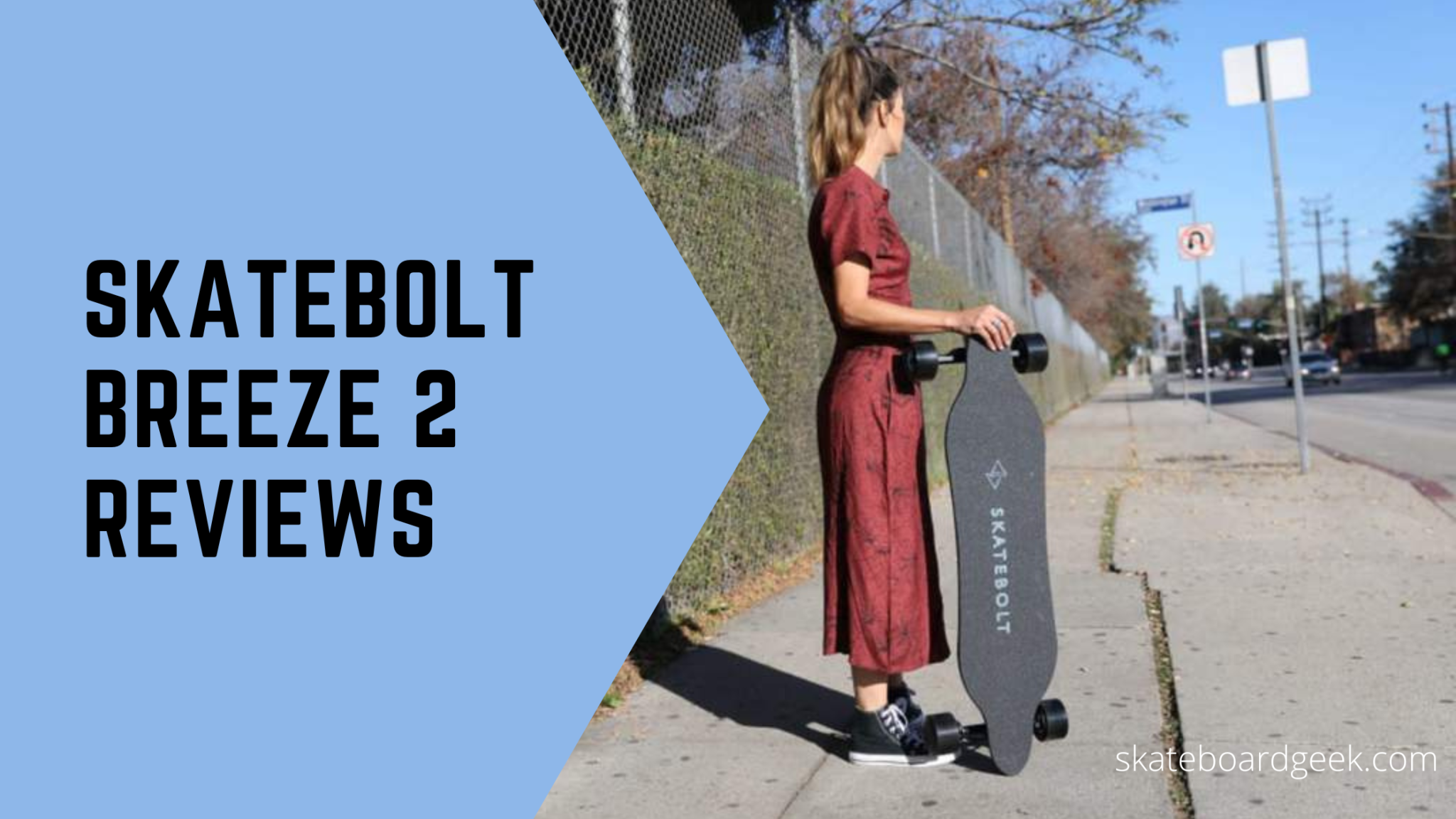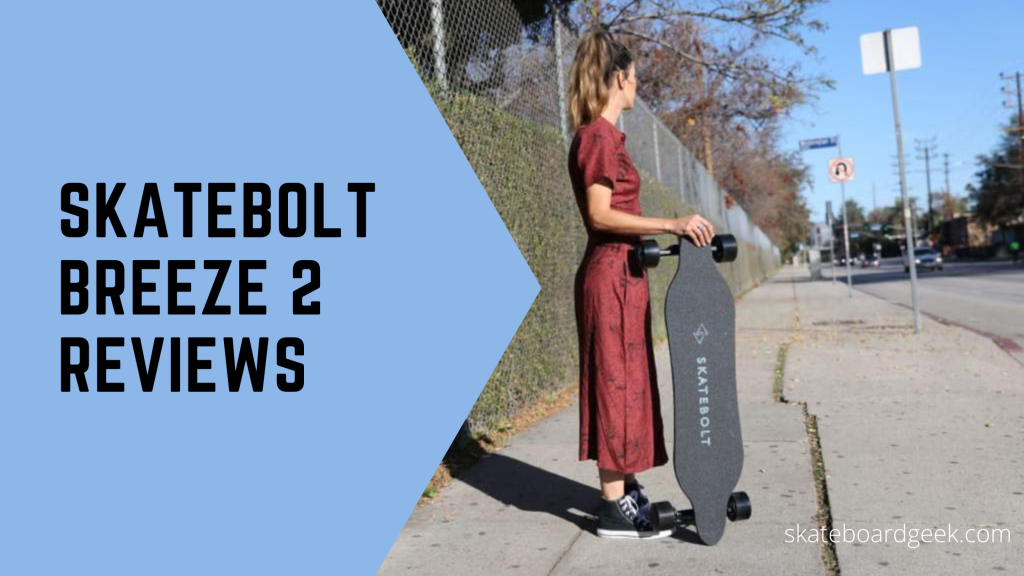 Skatebolt Breeze 2 Electric Skateboard – Reviews and Specs Guide
The Skatebolt Breeze 2 has been gaining popularity over the past few years and has become the first choice of skaters who want an electric skateboard that is both stylish and functional. It has a sleek design that will turn heads when you ride it around town.
And, its excellent performance will offer a joyful riding experience for miles. The following are the top reasons why Breeze 2 is an ideal electric board for you;
Specs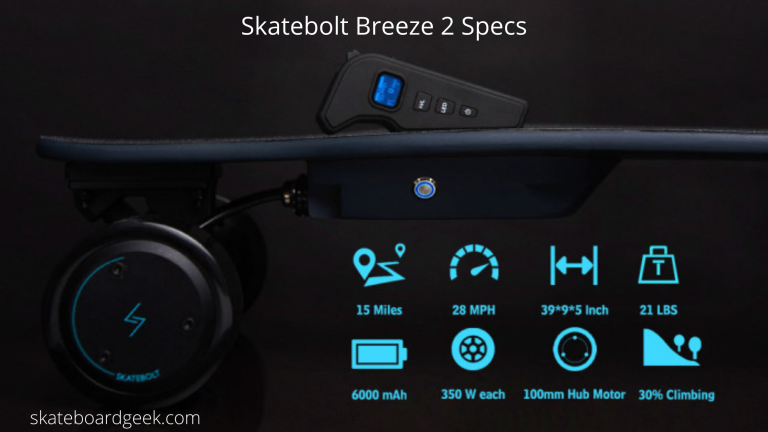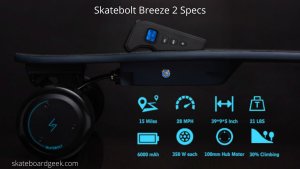 Top Speed: 28 MPH | 45 KMH
Motor: 900W Dual Motors
Battery: 6000mAh Lithium-ion
Range: 15 miles | 24 km
Climb: 30% Steep Hill
Load Capacity: 264lbs | 120kg
Size:

39″ x 12.5″ x 5.5″

Charging Time: 1 hour
Remote Connectivity: RC 2.4GHz
Wheels: 100mm' AT wheels
Deck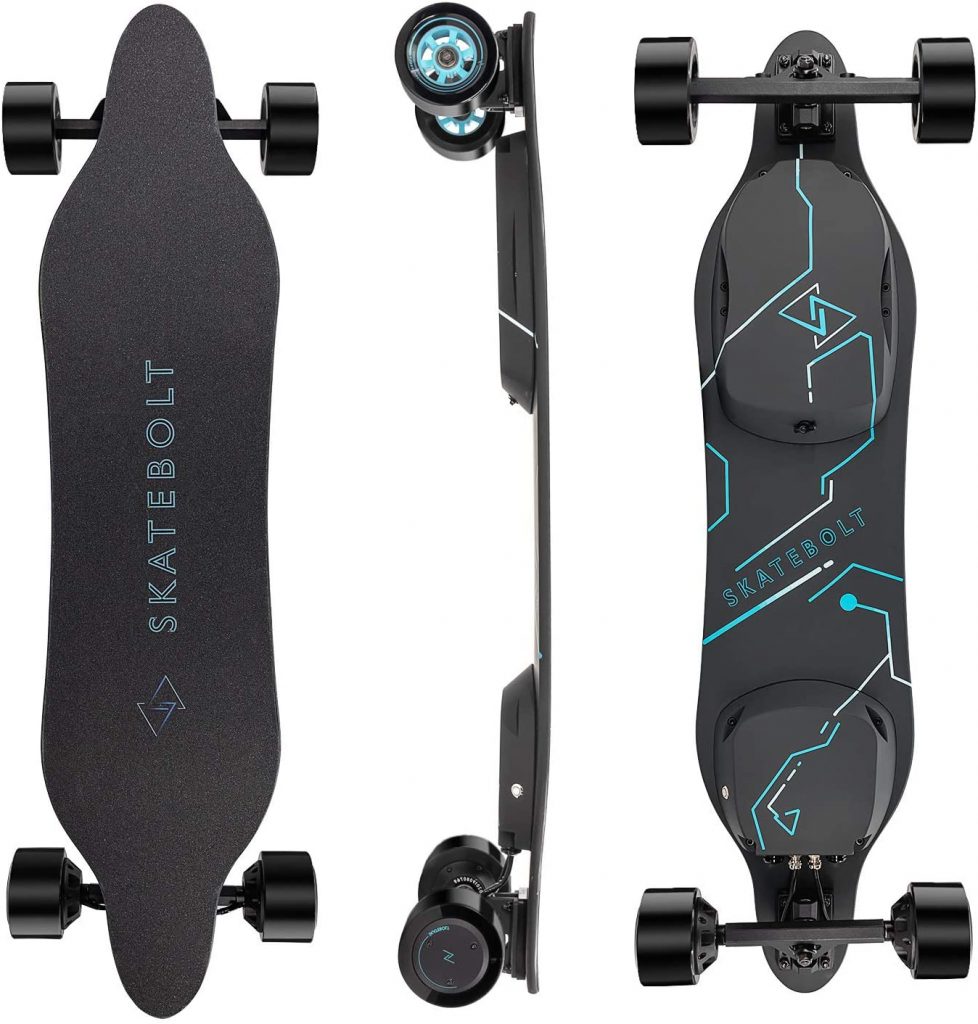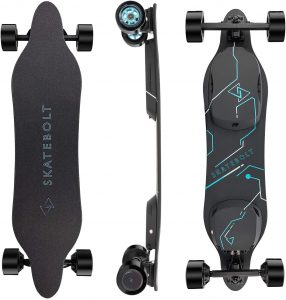 The Breeze 2 deck is made of solid bamboo and two layers of 11mm glass fiber. This composition makes it highly flexible and durable while providing comfort and stability.
The deck has a very durable construction which means it will last for years without warping. It can support up to 264 pounds, which means that even heavy riders can use it without any problems.
The board is equipped with a bright tail-light to indicate the skateboard's presence to everyone around and ensure safety.
A Skateboardgeek team member, "Sean" (weighs 240lbs) says, "I was surprised with the amount of flex and support on bumps. The board did not wobble at all even at top speeds and sharp turns. I am glad that the electric skateboarding industry has finally started to accommodate heavy-weight skaters."
Read about the best skateboard decks of 2023.
Motor & Speed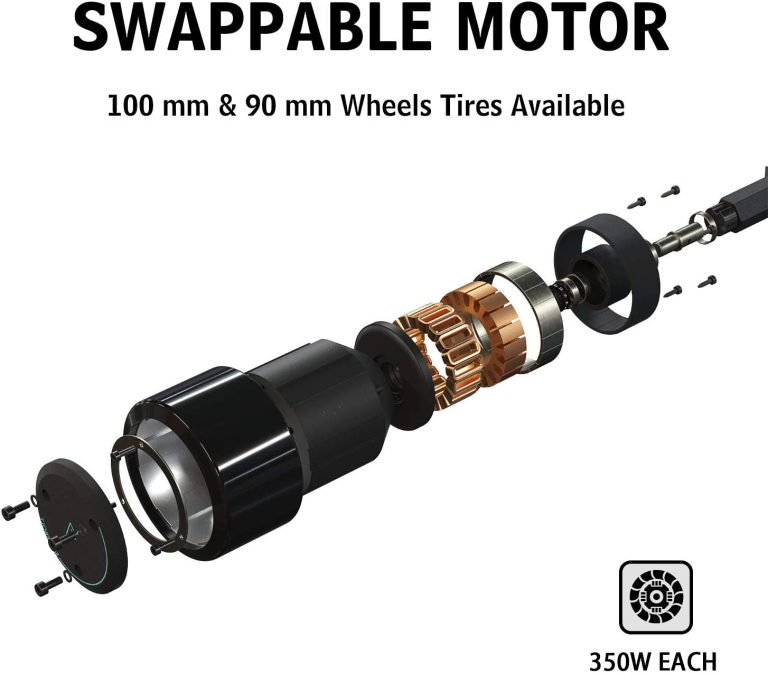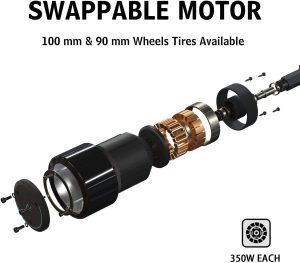 The Skatebolt Breeze II has 900W dual motors that are based on the latest technology. These powerful motors can push the board to speeds up to 28 miles per hour, making it one of the fastest electric skateboards on the market.
This e-board features 4 speed and braking modes. These motors are strong enough to offer a smooth riding experience even on a 30% gradient easily.
Its IP67 waterproof design assures safety even when riding for hours in rain or on dusty trails. You will have a great time riding this board at high speeds -thanks to its excellent balance and stability.
I can confidently say that this board is perfect for anyone who wants to ride fast and have a lot of fun.
Battery & Range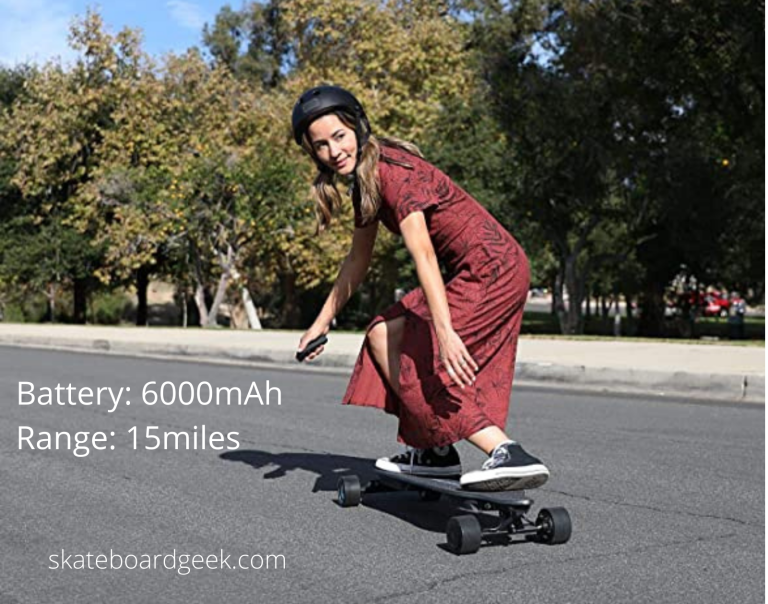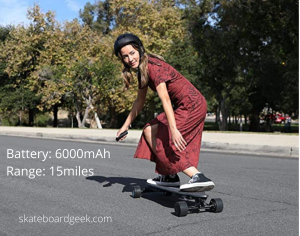 The most important part of any electric skateboard is its battery. This e-board comes with a highly efficient 6000mAh Samsung 30q lithium battery, which offers 15 miles/24 kilometers range per charge at medium speed. It takes about 1 hour to recharge the board fully.
And you can also use your phone's USB port or any power outlet using an adapter for recharging the board when needed. These batteries are replaceable and easily available in the market.
One of the best things that Skatebolt introduced is the Breeze 2 smart charger, it is UL certified and works with both 110v and 220v outlets while reducing energy usage by 90%.
If you don't want to get stuck without an electric skateboard because you forgot to charge its battery, this is the perfect charger for you.
Scared of falling from a board? Here is a guide to get over the fear of falling.
Wheels & Trucks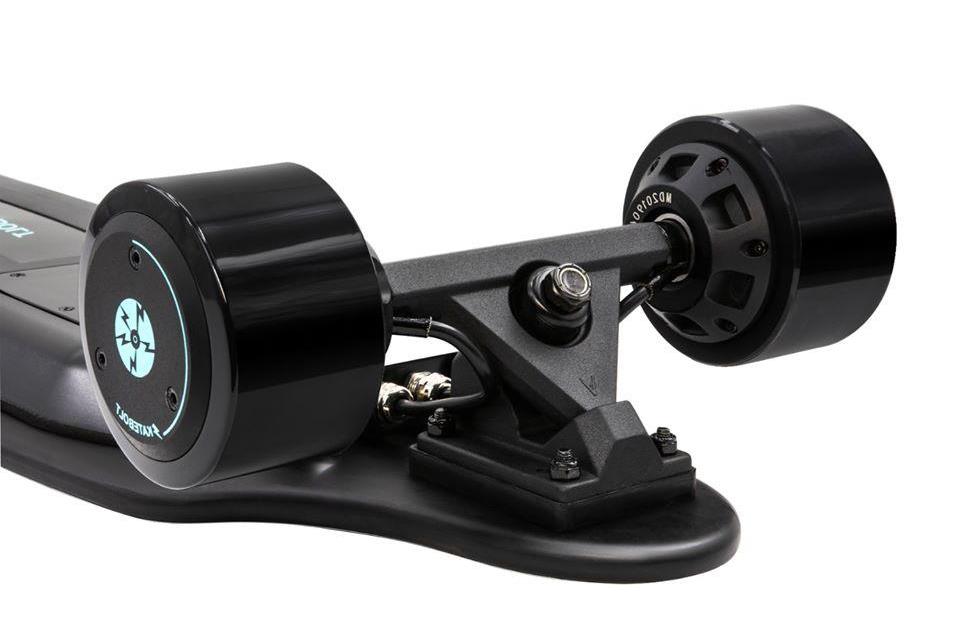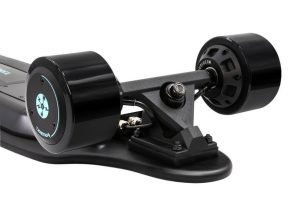 The Breeze 2 e-skateboard comes with pre-installed 100mm AT wheels and ABEC 9 bearings, and an extra set of 90mm as replacement wheels. These wheels are made of tough urethane material for superior durability.
Skatebolt wheels are resistant to damage from chips or cracks even after years of rigorous use by riders on various surfaces- be it road or graveled paths, grassy hillsides, bumpy sidewalks, pebble-ridden pathways, etc.
The 7-inches trucks are made of aluminum alloy. This combination makes the board perfect for riding on different types of surfaces without losing any traction.
We experienced that this board was able to handle small bumps and cracks in the road with ease. These premium components make Breeze 2 perfect for anyone who wants to cruise around town or go on longer trips without having to worry about the condition of their board.
Remote Control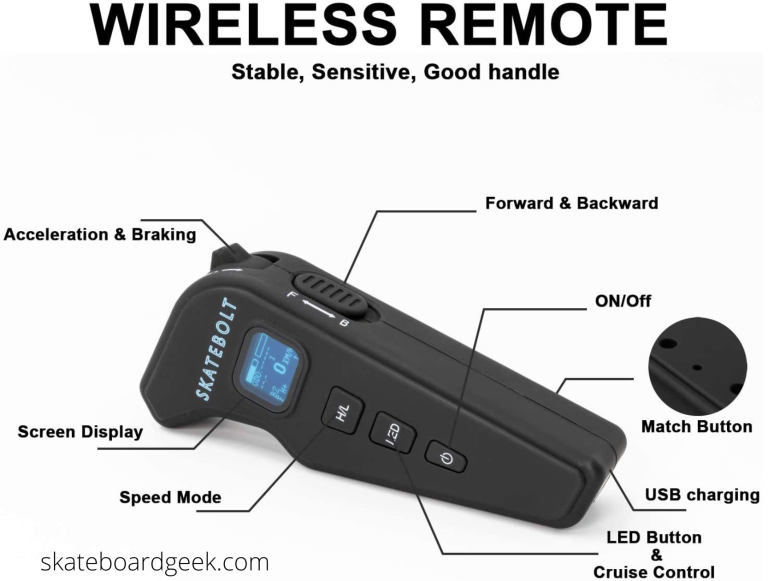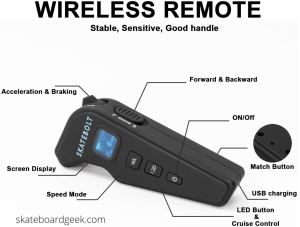 The Breeze 2 has an upgraded Bluetooth-enabled remote control that works at a range of about 30 feet, and the sleek design makes it easy to use even when you are in motion.
You can also use it to track your board's remaining power, the distance you have traveled and many other things. This smart device is quite portable which makes it easier to carry around when you are not using the e-skateboard.
Skatebolt wireless remote control provides great speed along with ultimate braking safety enabled by front LED lights that signal the rider's presence to all obstructions ahead.
The remote is made of high-impact ABS plastic which ensures durability.
Just starting with skateboarding? Here are the best skateboards for beginners.
Ride & Board Control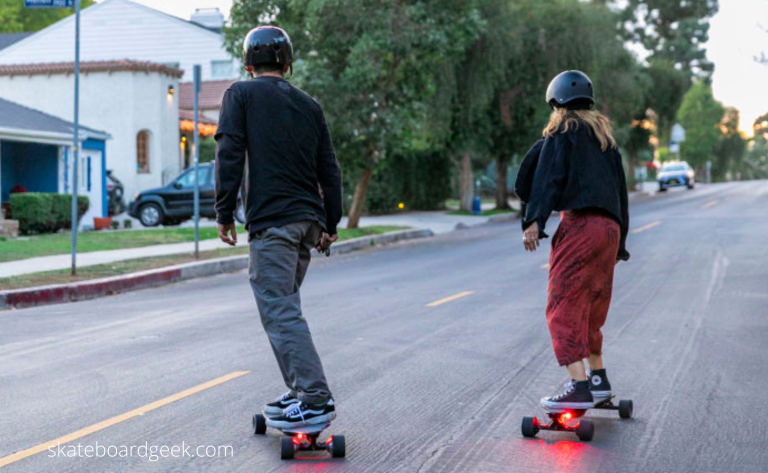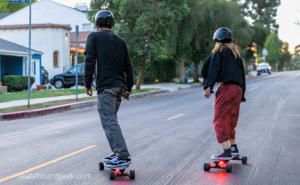 We found the Skatebolt Breeze 2 very responsive and easy to control. The board features four riding modes that allow you to switch between speeds and braking depending on the situation and your skill level.
It is suitable for beginner and advanced riders. Beginners will enjoy the slow mode while experts get more out of controlling their boards at faster speeds using either Bluetooth connectivity or a wireless remote
It's easy to learn how to use it since there are no complicated controls or difficult maneuvers required.
All in all, this electric skateboard is a perfect choice for everyone who wants a safe and stylish electric skateboard to commute around places without wasting time in traffic jams.
Construction & Durability
The Skatebolt Breeze 2 is made of high-quality materials that make it durable and able to withstand long periods of use.
Its IP67 waterproof design ensures that the board remains in good condition even when exposed to rain or other wet conditions. This makes it a great choice for anyone who wants an electric skateboard that can be used for daily commutes without the risk of damage due to exposure to rain or wet conditions.
The Breeze 2 is made of superior ABS and the board's battery is lightweight and compact. This makes it easy to carry around and ride even for extended periods of time. The wheels are also quite durable which means you won't have to worry about wearing them out anytime soon.
Pros
Replaceable dual motors
Durable design with IP67 waterproof level
Extremely fast with maximum range electric skateboard
Regenerating brakes that charge the board
Bright tail light for safety at night
Comes with a 6-months manufacturer warranty
Offers balanced rides while speed cruising
Cons
Bit pricey – high performance comes at a high price
Some users complain about poor after-service
Final Verdict
If you want an affordable electric longboard that's stylish and easy to ride, the Skatebolt Breeze 2 should be at the top of your list. It comes with several great features like a Bluetooth connectivity mode as well as different riding modes which make it perfect for anyone, regardless of their skill level.
The skateboard is able to handle different types of surfaces with ease due to its superior wheel construction. You can take it anywhere you want without having to worry about the condition of the ground. And thanks to its durable construction, you can rest assured that the board will last for a long time.
So, if you are in the market for an electric skateboard to experience fast and smooth rides, be sure to check out the Skatebolt Breeze 2.
Frequently Asked Questions: (FAQs)
How do you pair a Skatebolt remote?
To pair your remote, you will first need to turn on the skateboard. Next, hold down the power button for 3 seconds until you see an orange LED light. Then press and hold both of the brake buttons at the same time until you see a red LED light appear after 5 seconds. Once it is paired successfully, you will then be able to control the skateboard with the remote.
How do you turn on a Skatebolt?
To turn on a Skatebolt, hold the power button for 3 seconds. The LED light will turn blue when it is turned on. You can then use the remote or your phone to control it. To pair it with your phone, you will need to download the Skatebolt app and follow the instructions in the manual provided with your order.
What is the fastest electric skateboard?
NGV Nextboard is the fastest electric skateboard out there right now but it is quite expensive. However, in the midrange electric boards, Skatebolt Breeze 2 is the fastest electric longboard with a top speed of 30mph.
How long does Skatebolt take to ship?
Skatebolt generally takes 1-3 business days to ship, but may take up to 7 business days during peak times depending on the area you live. You will receive an email notification when your order ships.