Skateboarding is more than just a sport – it's a lifestyle. And for those who live and breathe skateboarding, choosing the right setup of deck and wheels is crucial. One brand that has been making waves in the skateboarding world for over two decades now is Girl Skateboard. Here, we'll explain honest reviews of their completes and decks to help you decide if they're the right choice for your next ride.
From the brand's humble beginnings to being one of the best skateboard brands, we'll explore what makes Girl Skateboards so special and why it's a brand that every skater should know about.
So, let's conduct a thorough analysis of the Girl Skateboard brand.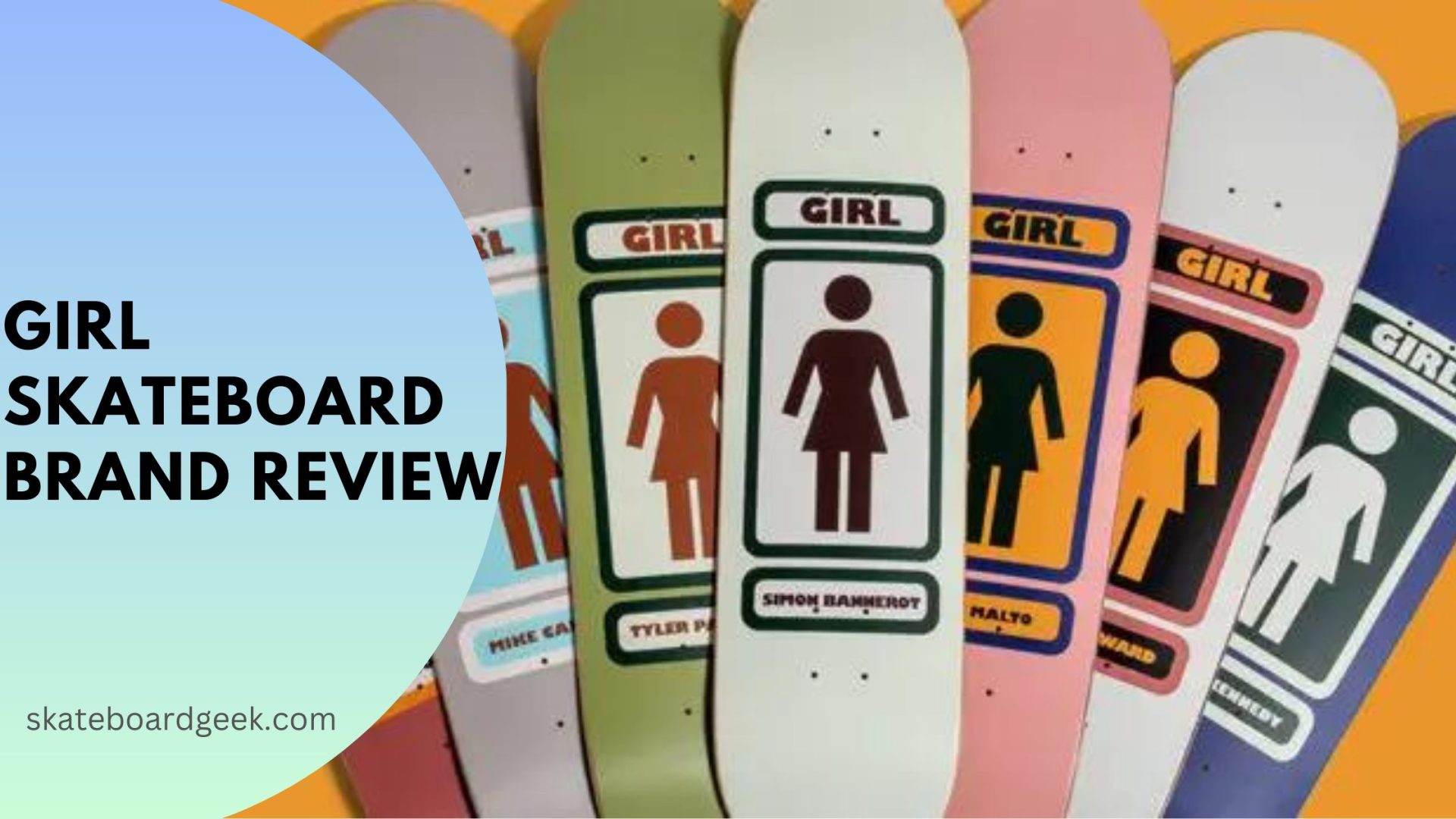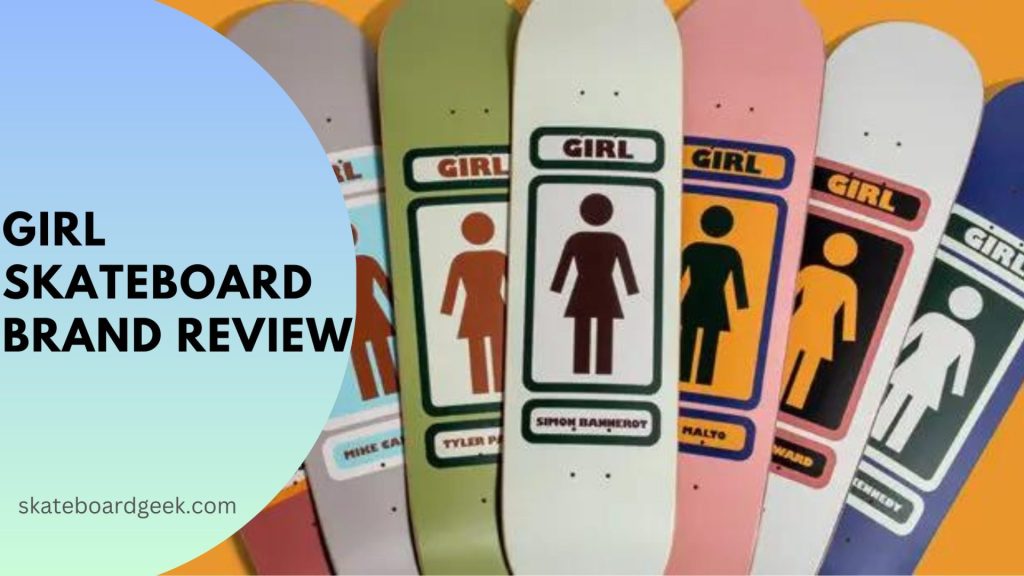 Girl Skateboard Brand History
Girl Skateboard Brand is one of the most iconic and recognizable brands in the skateboarding industry. The company was founded in 1993 by professional skateboarders Rick Howard, Mike Carroll, Megan Baltimore, and Spike Jonze.
The founders wanted to create a brand that reflected their own personalities and interests, rather than trying to fit into the mold of what a skateboard company was supposed to be.
Since then, the brand has become known for its high-quality skateboards, innovative designs, and commitment to the skateboarding community.
The brand started with a series of decks that featured simple graphics and bold colors. Later on, it expanded its product line to include clothing and accessories. The brand's clothing line featured t-shirts, hoodies, and hats, all of which were designed to reflect the brand's unique aesthetic.
Girl skateboarding company got a significant boost after releasing several popular skateboard videos, including "Mouse" and "Yeah Right!", which featured some of the biggest names in skateboarding, including Rick Howard, Mike Carroll, Eric Koston, and Guy Mariano.
In 2001, the Girl brand was acquired by the distribution company, Crailtap. The acquisition allowed the company to expand and also entered into several partnerships and collaborations.
Since we are talking about girls, see which are the best female skateboarders of all time.
Girl Brand Logo
The Girl skateboard brand logo is like a supermodel on the runway – it's hard to miss and impossible to forget. This sassy logo features a flowing-haired female figure, affectionately known as the "Girl logo."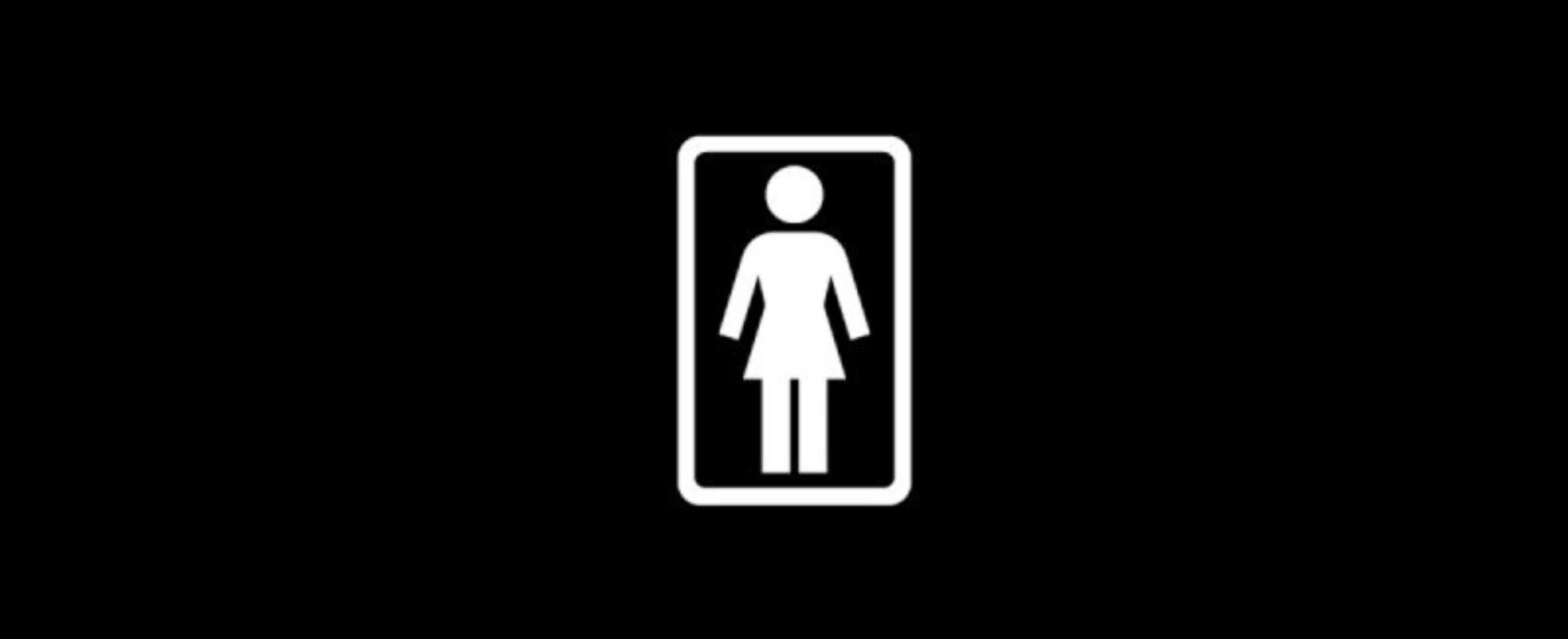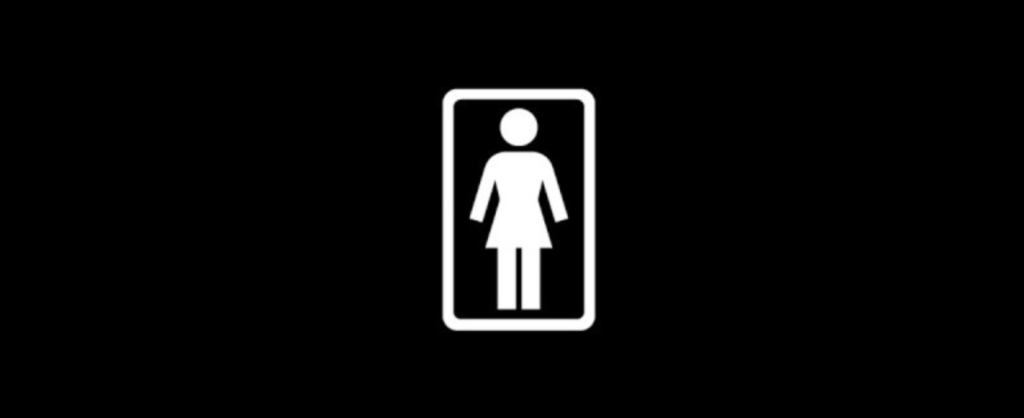 Designed by the talented artist and designer, Andy Jenkins, the Girl logo is more than just a pretty face. It's been an integral part of the brand's visual identity since its inception. And, like a good pair of jeans, it's only gotten better with time by representing skateboarding culture, and symbolizing fierce and power.
Girl Product Line
Girl Skateboard Brand has a product line that's as varied and exciting as a rollercoaster ride. From their iconic skateboard decks to clothing, accessories, and more, this brand has got you covered.
Here's a rundown of the most popular products of the Girl skateboard company: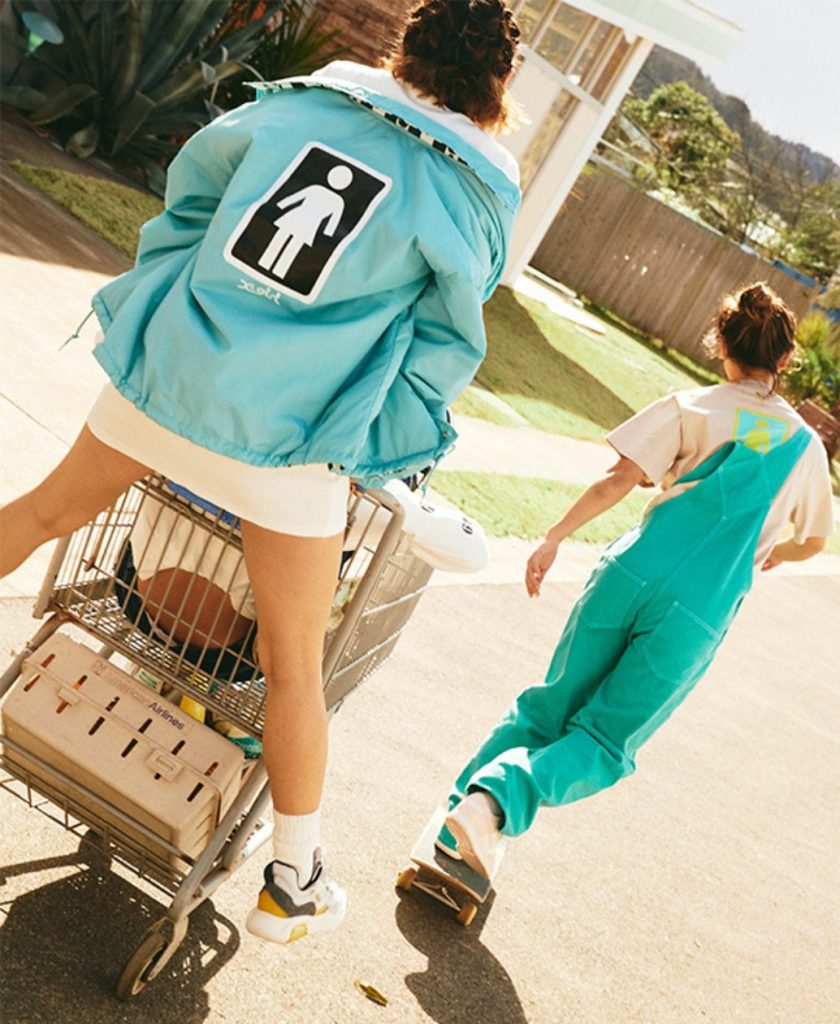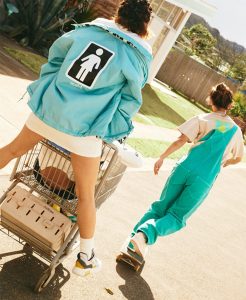 Complete skateboards
Skateboard decks
Trucks
Wheels
Grip tape
Bearings
Clothing
Accessories
Girl Skateboards Review
I've had the pleasure of riding on several different brands of skateboards over the years, and I have to say, the Girl is one of my absolute favorites.
The quality of the decks is unparalleled. They're sturdy and durable, able to withstand the wear and tear of daily use. The designs are also pretty sweet – I love the simple graphics and bold colors that the brand is known for. And of course, the Girl logo is just iconic.
But what really sets the Girl skateboard brand apart, in my opinion, are the smooth and responsive wheels. They provide excellent grip and control on the board. I've ridden on a lot of different wheels in my time, but Girl's wheels are some of the best I've ever used.
Just starting out with the sport? Here are the best skateboards for beginners in 2023.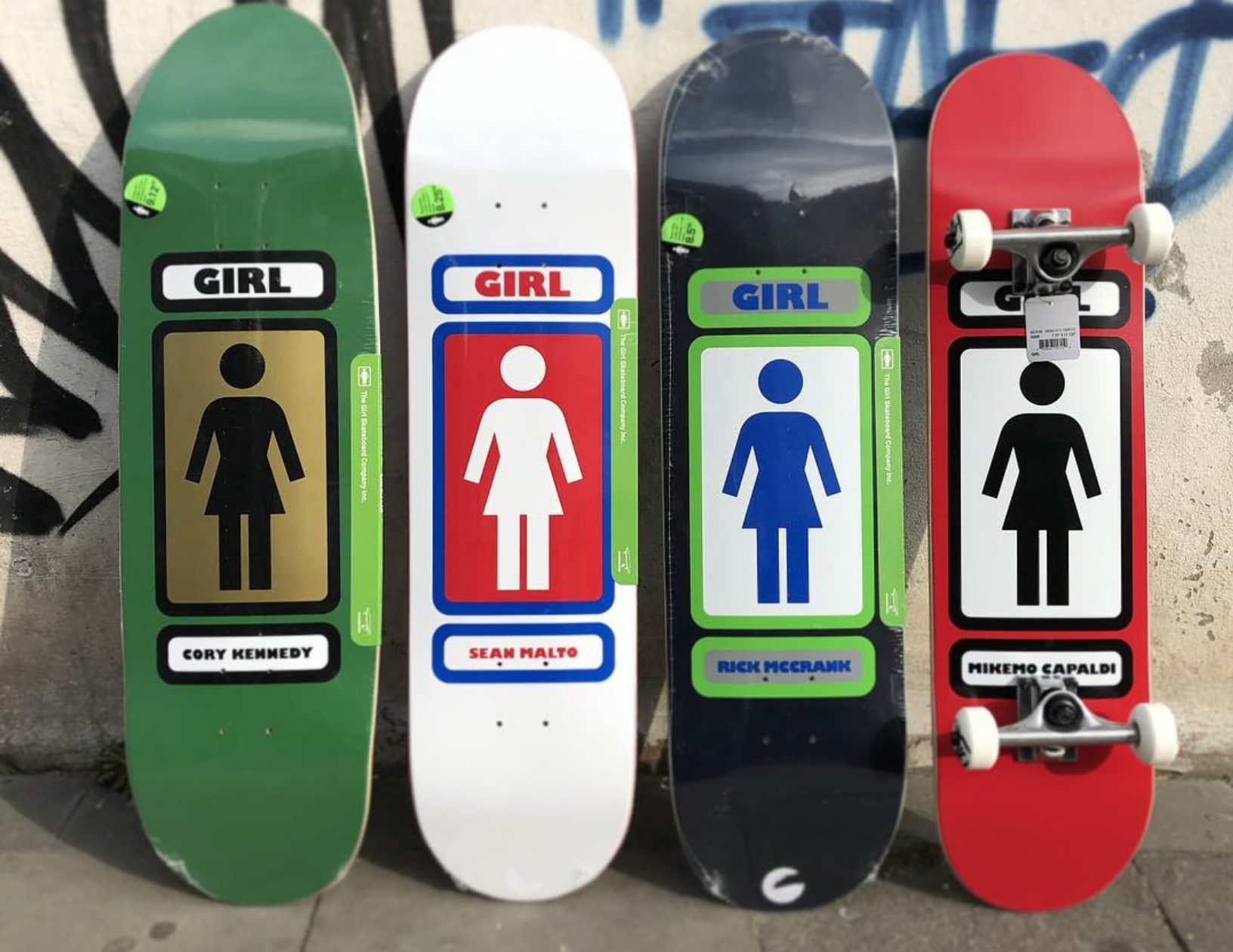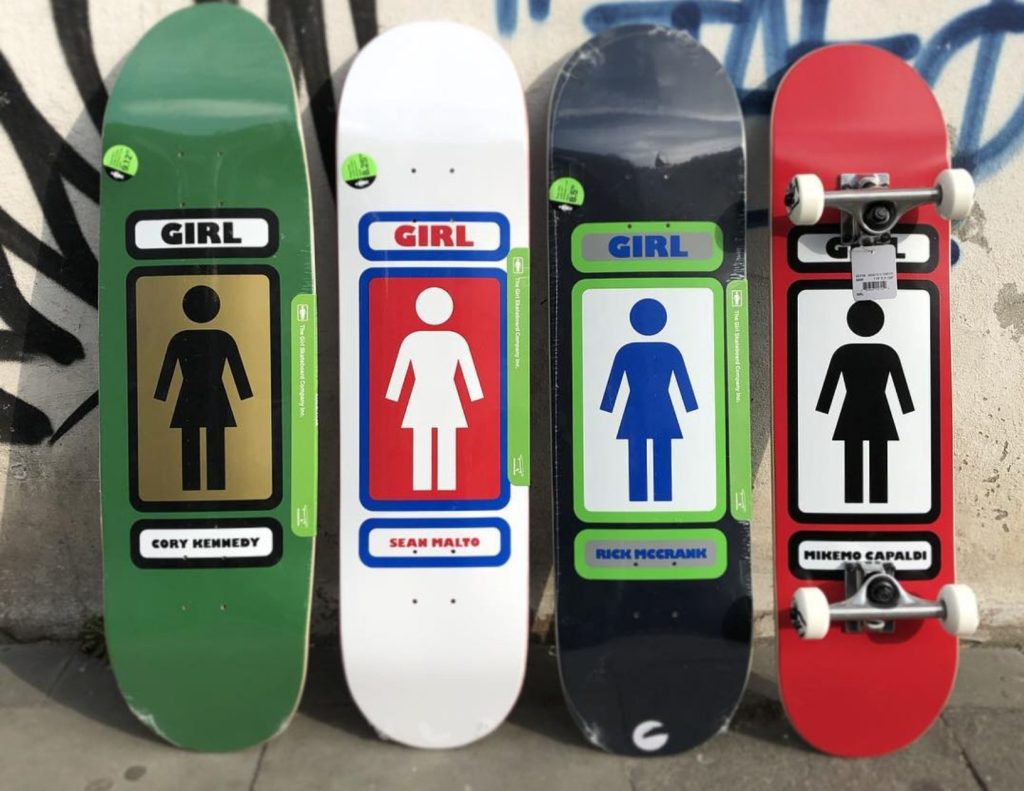 Most popular Girl complete skateboards are:
Girl Carroll Skull of Fame Skateboard
Girl Kodak 93 Til Skateboard
Girl Mike Carroll Complete Gold Skateboard
Girl Biebel Overdose Skateboard
Girl Malto Torn Signature Skateboard
Girl Skateboard Deck Review
Girl skateboard decks are known for their durability, pop, and responsive feel. They are available in a variety of sizes, shapes, and designs, making it easy for riders to find the perfect deck for their riding style.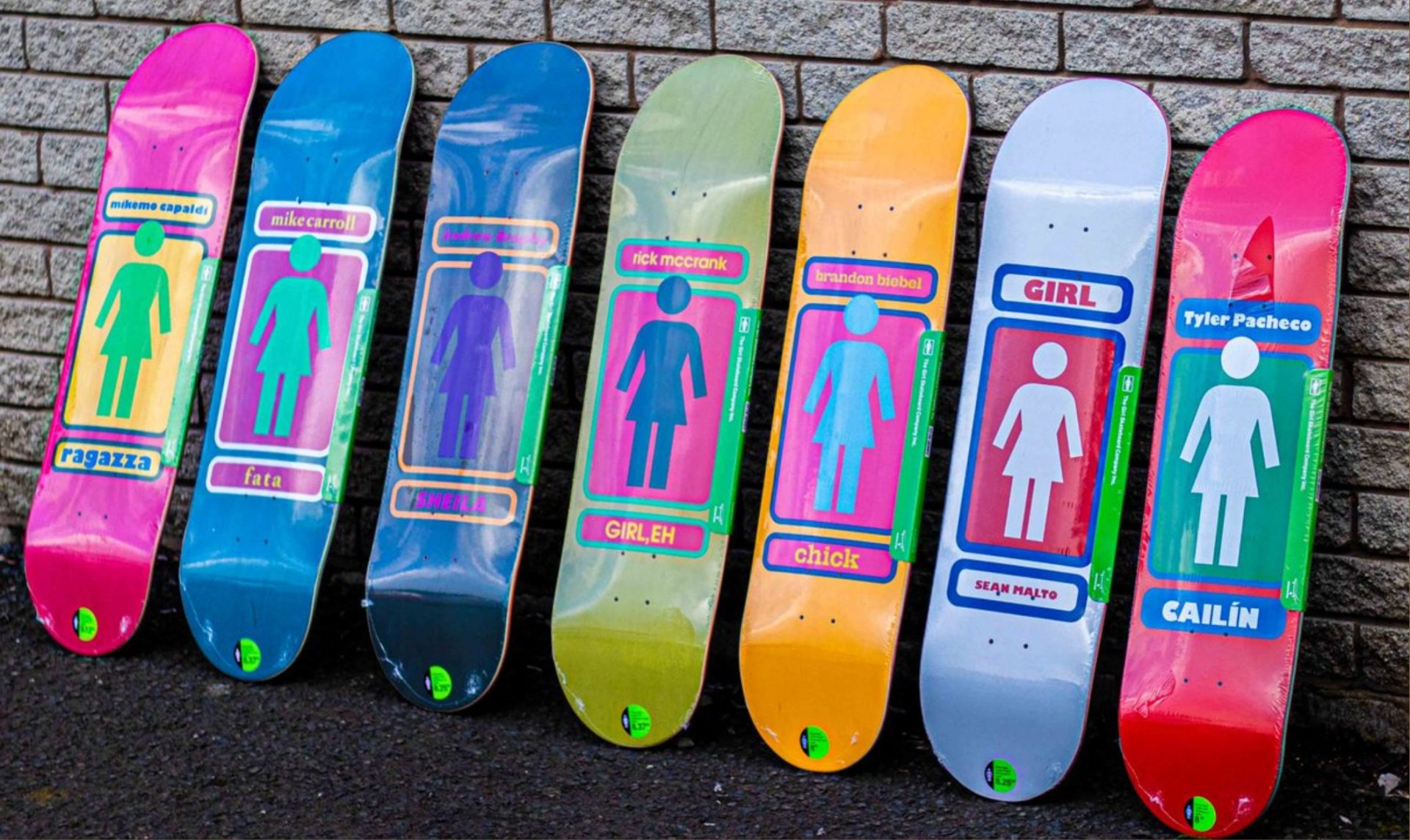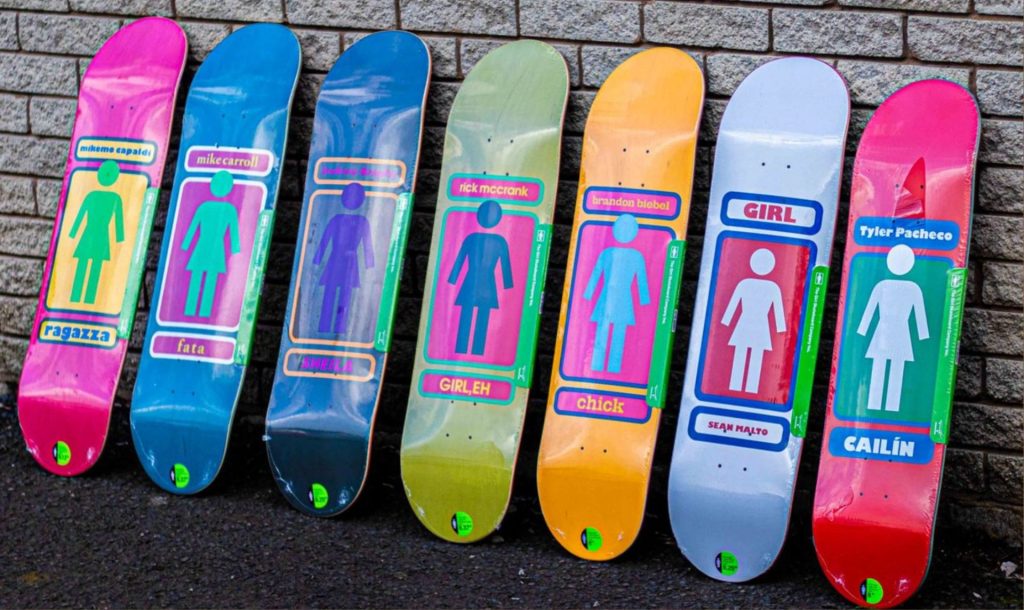 Here are some of the key features of Girl skateboard decks:
Materials: Girl skateboard decks are made of high-quality, seven-ply North American maple wood. The decks are lightweight, yet strong enough to withstand the wear and tear of skateboarding.
Designs: These decks are available in a range of designs, from classic graphics to bold, contemporary patterns. The brand also collaborates with artists and designers to create limited-edition decks. Their medium concave provides a comfortable and responsive ride.
Sizes: A variety of options to cater to different skating styles and preferences. They have deck widths ranging from 7.5 inches to 8.5 inches, with lengths ranging from 31.125 inches to 32.375 inches. This means that skaters of all sizes and skill levels can find the perfect deck for their needs.
Most popular Girl skateboard decks are:
Cory Kennedy – 93 Til Infinity
Sean Malto – Fullfill The Dream
Rick Howard – Carroll OG
Brandon Biebel – Diamond OG
Mike Carroll – Micro OG
Check reviews of the best skateboard decks of 2023.
Girl Skateboard Wheels Reviews
Girl wheels are the perfect combination of style and performance. Made from premium urethane, these wheels are built to last and provide a smooth ride. With a range of sizes and durometers available, you can easily find the perfect wheels to suit your skating style.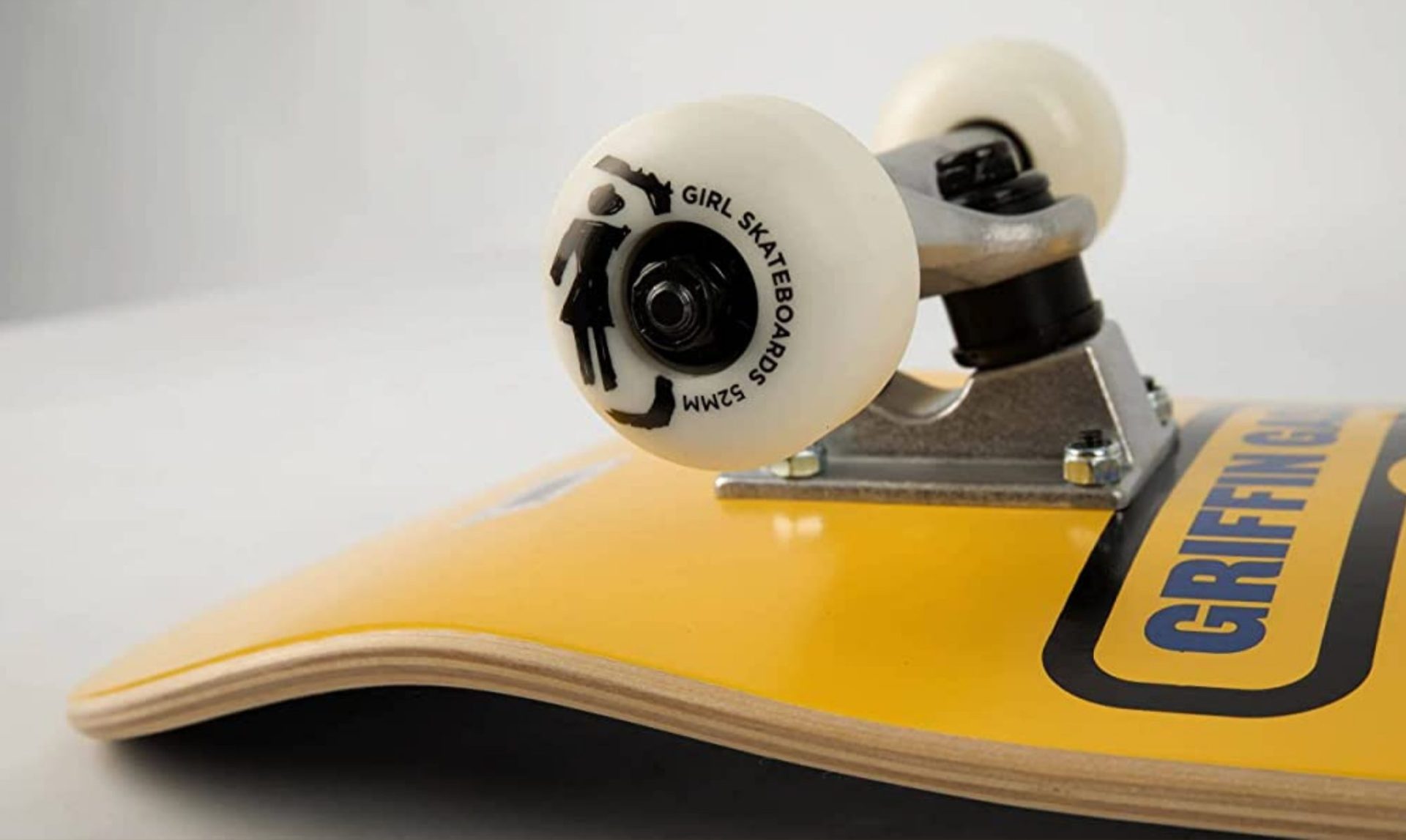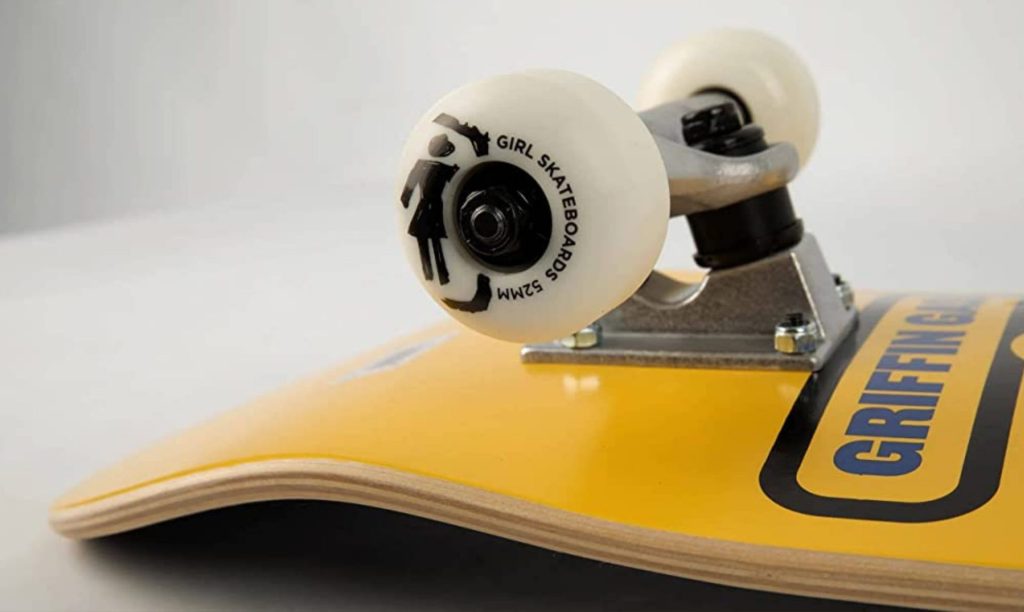 Speaking of sizes and durometers, Girl brand wheels have got it all. From 49mm to 56mm, there are plenty of sizes to choose from, and each size comes with different durometer options. Whether you are a park skater or a street skater, you can find the perfect wheels to match your style.
Check the best skateboard wheels and pick a set for your board to enjoy smooth rides.
Girl Pop Secret Deck Review
Recently, I got my hands on the Girl Pop Secret Deck, and I have to say, I'm thoroughly impressed. This deck has quickly become one of my go-to options, and I'm excited to share my thoughts with you in this review.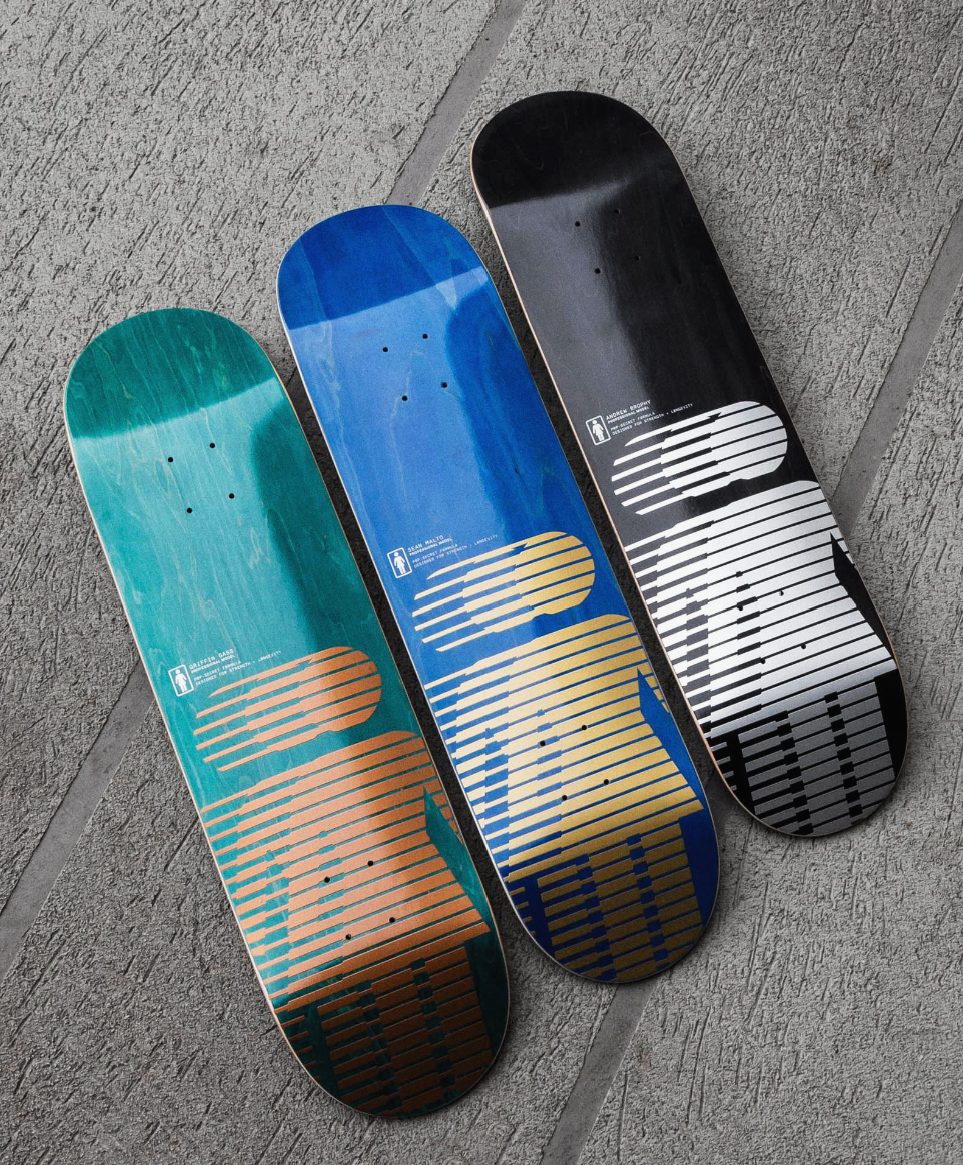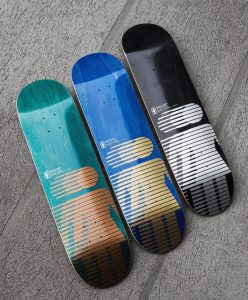 Deck: Let's start with the basics. The Girl Pop Secret Deck is made from 7-ply Canadian maple wood with a medium concave shape and a traditional popsicle design. The deck's dimensions are 8.0 inches wide by 31.63 inches long, making it a great option for both street and park skating.
One of the things that immediately stood out to me about this deck is how lightweight it is. Despite being made from sturdy maple wood, the deck is incredibly light and easy to maneuver. This makes it an excellent option for skaters who like to get technical with their tricks.
Trucks: The deck comes with Girl-branded trucks that are made from aluminum alloy, making them strong and durable. The trucks have a traditional kingpin design and are sized at 8.0 inches, which is a perfect fit for the deck's dimensions.
Wheels: The 52mm diameter urethane wheels with 99a durometer wheels. These wheels are great for both street and park skating, providing a good balance of speed and grip.
Graphics: It features a playful design with bright colors and a fun, cartoonish character. The graphics are screen-printed onto the deck, ensuring that they'll last for a long time without fading or peeling.
Performance: The real test of any skateboard deck is how it performs on the street or in the skatepark. And let me tell you, the Girl Pop Secret Deck does not disappoint. The medium concave shape gives you just the right amount of control without feeling too restrictive, and the popsicle design makes it easy to do flip tricks and other technical maneuvers.
Are Girl Skateboards Good?
I can confidently say that Girl skateboards are more than good – they're freaking awesome! These boards are built to last, with high-quality materials and solid construction that can handle even the toughest tricks and terrain.
One thing that really sets the Girl brand apart is its attention to detail. The graphics on their decks are always on point, and the wood grain is just beautiful. But it's not all about looks – the construction of these decks is rock-solid.
Don't just take my word for it – Girl skateboards has been one of the most respected and sought-after brands in the industry for over two decades. From their durable decks to their innovative product designs, Girl has set the standard for what a skateboard brand should be.
They have a strong reputation in the skateboarding community and have won numerous awards for their skateboards and accessories. In fact, the brand sponsors some of the best skateboarders in the world, including Cory Kennedy, Sean Malto, and Rick McCrank.
Are Girl Skateboards for Guys?
Absolutely! Girl skateboard brand may have the word "girl" in the name, but that doesn't mean their products are only for women, they are for all riders, regardless of gender.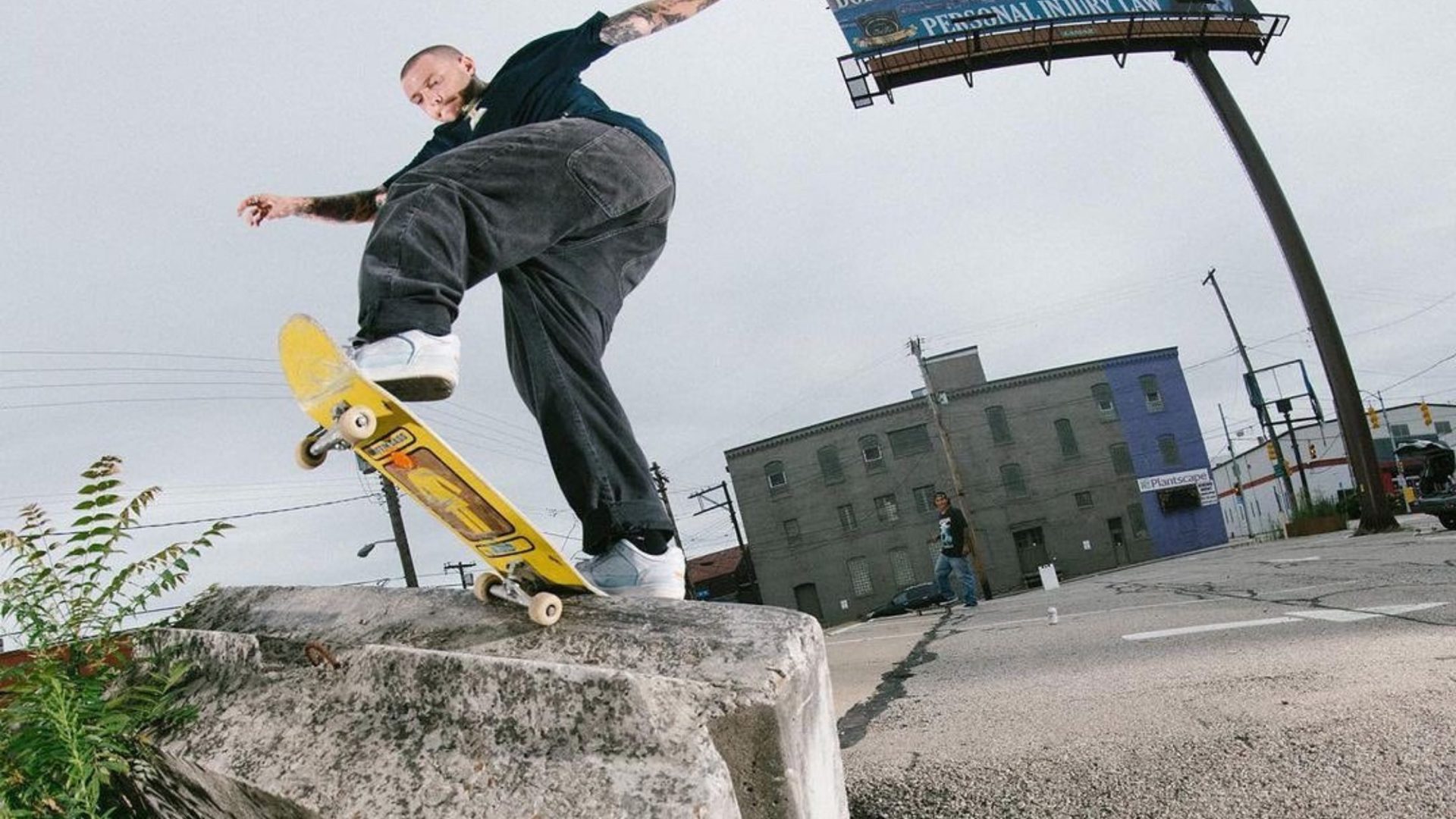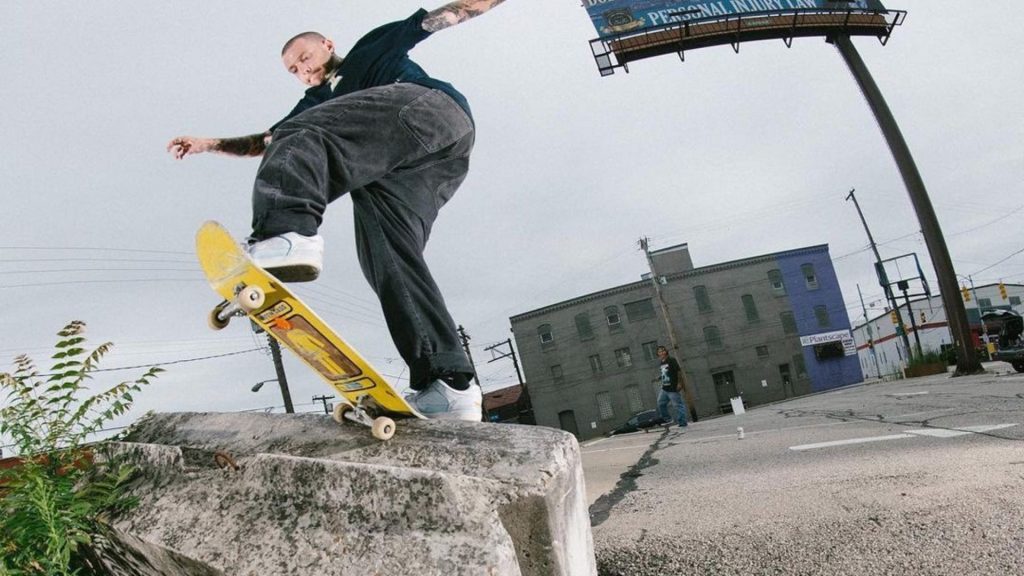 In fact, some of the best skaters in the world (including guys) ride for Girl Company. And why wouldn't they? Their skateboards are designed to fit a range of riding styles and preferences, making them a great choice for both male and female skateboarders.
Chocolate vs. Girl Skateboards
Both brands are owned by the same parent company, Crailtap. While both companies produce high-quality skateboards, there are some key differences between them.
Here is a comparison of Chocolate and Girl skateboards:
Shape
Both companies offer a variety of deck shapes, from classic Popsicle sticks to more unique shapes like cruisers and pool shapes.
Girl is known for their wider and more mellow concave shapes, while Chocolate decks tend to be a bit narrower with a steeper concave.
Style and Graphics
Girl skateboards tend to have a more playful and whimsical style, with graphics that range from cute and cartoonish to bold and graphic.
Chocolate, on the other hand, leans more towards a classic and refined aesthetic, with graphics that often feature bold typography and classic imagery.
Performance and Durability
Both brands use high-quality materials and put a lot of care into their construction, so you really can't go wrong in terms of durability.
As for performance, it's all about finding the right shape and size for your skating style. If you are into technical street skating, a narrower and steeper concave like the one found on Chocolate decks might be more your speed.
If you are into cruising and carving, a wider and more mellow concave like the ones found on Girl skateboard decks might be a better fit.
Conclusion
I can confidently say that when it comes to quality, style, and durability, the Girl skateboard brand is a clear winner. Whether you are a beginner or a seasoned pro, the brand offers a wide range of decks, wheels, and apparel that are sure to suit your style and skill level.
Their decks are durable, poppy, and stylish, while their wheels offer excellent control, good grip, and performance. Whether you are a beginner or a professional skateboarder, Girl Skateboard Company has a skateboard that will meet your needs and preferences.
Frequently Asked Questions: (FAQs)
Do Girl Skateboards have good pop?
Girl Skateboards definitely have that "pop" you are looking for. With their high-quality materials and expert construction, these decks are built to give you that satisfying snap you need to land those sick tricks.
Which skateboard is best for girls?
The best skateboard for girls? That's like asking what flavor of ice cream is the best – it really depends on your personal tastes.
But one thing's for sure – Girl Skateboards offers a range of decks and wheels that are designed to cater to skaters of all levels and genders.
Who is Girl Skateboard made by?
Girl Skateboards was founded by two legendary pro skaters, Rick Howard and Mike Carroll, way back in 1993. These guys knew what they were doing, and their expertise and passion for skating are evident in every Girl Skateboard product.
Are Girl Skateboards made in China?
While Girl Skateboards are primarily manufactured in Mexico, the company does use factories in other countries, including China, for some of its products. Hey, as long as the quality is top-notch and the boards are built to shred, does it really matter where they are made?