Finding a good quality deck is every skater's dream and we always wonder which skateboard brands make the strongest decks. Here we'll discuss features and reviews of the best skateboard decks of 2023. We ranked these decks after performing tricks and hardcore rides in the streets, parks, skate bowl, and vert.
I've realized from experience that one should pick a deck depending on two things – skill level and whether you want to cruise in the streets or perform skateboarding tricks. The deck's shape, size and pop are also essential to consider. We recommend that a beginner skateboarder should not fall for popular skateboard decks.
Let's jump to find a perfect skateboard deck that compliments your skating style. It should be durable to hold up your weight and flexible enough to perform skating tricks.
Check out tested reviews of the best electric skateboards of 2023.
Best Skateboard Decks – Top 10 Popular Skate Decks
Here is a list of the best skateboard decks of 2023 with their qualities and prices. These good quality decks are rated as the strongest skate decks by professional skateboarders and consumer reviews. So, pick one if you are searching for the most durable deck for street, park, or vert.
| No. | Skateboard Deck | Quality | Price |
| --- | --- | --- | --- |
| 1 | Powell Peralta Flight Deck | Best Skateboard Deck | |
| 2 | Alien Workshop Spectrum | Strongest Skate Deck | |
| 3 | Bamboo River | Best Pop Skateboard | |
| 4 | Element Section | Stylish Skateboard Deck | |
| 5 | enjoi Spectrum White Panda | Most Durable Skateboard Deck | |
| 6 | Santa Cruz Jackpot Hand | Best Quality Skateboard Deck | |
| 7 | Element Team Seal Black | Best Skate Deck Brand | |
| 8 | Powell Golden Flying Dragon | Best Looking Skateboard | |
| 9 | Baker Complete Logo | Best Cheap Longboard Deck | |
| 10 | GLOBE Big Blazer Cruiser | Popular Skateboard Deck | |
Top Picks
Do not ride a skateboard without grip tape, here's how to apply.
"Best Skateboard Deck"
Powell Peralta is famous for making the best skateboard decks, especially engineered to deliver great performance and indestructible durability. The Powell Flight decks are relatively thinner, lightweight and yet the strongest decks in the market.
These boards are designed to improve your skating skills such as fast flipping, high jumps, Ollie, and slide down the stairs, etc. They are robust and easily hold up against extreme stunts and hard landings on the ground.
Powell Peralta Flying Dragon is also rated as one of the best complete skateboards.
Main Features:
The deck is constructed with 5-ply maple wood and 2-ply premium fiberglass held together with high-quality epoxy glue
Size: 8.45″ x 31.8″
Popsicle shape board, both nose and tails are angled at 18˚
Reinforced carbon fiber layers protect the deck from cracking
Solvent-free eco-friendly inks used for branding
Pros
Extremely strong, it will not break even if a car runs over
Thin and lightweight, perfect for skating tricks
Awesome snap and rebound
Non-solvent eco-friendly paints
Suitable for all skating levels
Available in different sizes
Comes with warranty (T&Cs apply)
Cons
A bit costly, but it worth every penny
A verified purchaser "Tyler McBride" speaks about Powell Peralta Flight Deck, "I weigh about 200 pounds I don't land bolts and I have broken many boards this thing is the real deal it has lasted me much longer than any board and I can trust it and Andy Anderson created a very cool custom shape that is fun to learn freestyle tricks on even if that's not your thing love this board."
The Flight Deck is leading the world of the lightest skateboard decks.
"Strongest Skate Deck"
Alien Workshop is one of the Best Skateboard Brands and makes good quality decks. Indeed, the Specturm deck is a complete package of quality and performance. The deck is available in different meaningful graphics. You can also get it customized with your own artwork and graffiti.
Main Features:
The deck is manufactured with seven ply Canadian hard rock maple wood
Size: 7.75″ x 31.625″
Moderate concave shape, slightly tapered and pitched kick tails
Branded with Alien Workshop logo and traditional graphics
Pre-applied black grip tape on top of the deck
Pros
Lightweight and good deck for flipping
Good deck for smaller feet
Concave shape for better control
Strongly constructed and resistant to chipping
Suitable for beginners and professionals
Cons
Available in only one size
Expensive customization

Note: You can also purchase the complete longboard assembled by the Alien Workshop skilled team.
"Best Pop Skateboard"
Bamboo decks are of top quality and are made of eco-friendly material. A blend of bamboo and maple wood improves sustainability and durability. These decks have more pop than other brands' decks. Even if you are going bigger, the flexibility of the board will let you perform tricks the same as before.
Bamboo claims, "Once you experience the pop of a bamboo board, you'll never want to go back to brittle maple decks. Try out one of our bamboo decks and you'll be skating bamboo for life.
Main Features:
The Bamboo deck is manufactured with a mixture of the highest quality bamboo and maple wood
Deck sizes: 7.75″ x 31.5″ ; 8″ x 32″ and 8.25″ x 32.13″
Deep concave design decks are good for all skating levels; from beginner to pro
These decks are flexible and absorb shock effectively due to more pop
Water-based glue complies with European Standard EN71
Pros
Strong and flexible deck
Awesome pop
Lightweight and durable
The perfect deck for beginners and professionals
Cons
It does not come with grip tape
Board top looks like wood which is odd for some customers
The Bamboo Graphic is also a great looking and solid deck.
"Stylish Skateboard Deck"
The Element brand is the most respected skateboard brand that makes good quality decks using cutting-edge technology. Section decks are made of the best quality materials to ensure durability and performance.
These decks are super poppy and designed for intermediate and pro skaters. Especially engineered to withstand 360˚ flips, front and backside flips. Indeed, Element Section decks are perfect for streets, parks, pools, and vert.
Main Features:
Constructed with 7 layers of 100% maple wood veneer strongly held together with epoxy glue
Sizes: Size: 7.75″ x 31.7″ ; 8″ x 31.75″ and 8.2″ x 32.25″
Pre-drilled holes for precise and easy installation of trucks
Classic signature branding at the bottom features wind, water, fire and earth
The slight concave design makes it suitable for all style riders
Pros
Thick but lightweight deck
Extremely solid yet have great flexibility
Perfect for hardcore rides and tricks
Classic branding
Available in multiple sizes
Cons
Expensive customization
Some skaters found the logo on the nose slightly annoying
Read about the best performance coolest skateboard decks of all time.
"Most Durable Skateboard Deck"
Enjoi is especially known for making high-quality decks at relatively low prices. The Specturm white model is rock-solid, stable, and designed to survive hardcore rides and staircases. You can perform any skating trick on any track on this durable deck.
Here is the experienced-based Enjoi skateboards review, read it before making the final decision.
Main Features:
The deck is constructed with 7-ply 100% Canadian maple wood
Layers are glued together with an epoxy resin glue
Deck Size: 9″ width x 32.4″ length
More space for better stability and control due to full shape, fuller nose and tail
medium concave design with steep kicks
Pros
Single-press construction makes it durable
Stable on hard skating
Suitable for all skill levels
Comes with a sheet of black diamond grip-tape
Affordable price
Cons
Poor graphic paint
Simple artwork
"Best Quality Skateboard Deck"
Santa Cruz is famous for manufacturing skateboards for streets. The Jackpot Hand expresses the ambition of the skater. The top-quality materials make the deck withstand hardcore street rides and extreme stairs landings. Best of all, this board is suitable for beginners, intermediates and professionals to polish their skating skills.
Main Features:
The deck is made with 7-ply North American maple wood
Layers are held together using epoxy glue, a robust deck
Size: 8.25″ x 31.5″ (available in other sizes)
Medium concave with standard popsicle shape, 6.8″ long nose and 6.5″ long tail
High-quality professional grade grip tape
Pros
Metallic ink graffiti
Perfect for street skating
Great pop
Tapered nose, best to perform tricks
Available in multiple colors
Cons
A little more expensive than other standard skate decks
"Best Skate Deck Brand"
Element is ranked as the best skate deck brand and its Seal model is famous for feather-light construction. The Element's professional team rides on these decks to ensure performance, stability and durability. Being a lightweight board, it is perfect for all skill-level skaters.
Element Seal Decks are strong enough to hold up even big-size skaters.
Main Features:
Constructed with 100% USA-grown hard maple wood
7 thin layers strongly held together using high-quality epoxy glue
Deck size: 8″ x 31.25″
Modern concave with a standard popsicle shape
Especially designed veneer is used to keep the weight as light as possible
Pros
Great pop
Suitable for new and pro skaters
Element logo branding, classic look
Extremely lightweight, best for skate tricks
Comes with a set of Phillips Hardware
Cons
It does not come with the grip tape
"Best Looking Skateboard"
Particularly designed for serious hardcore riders, the Golden flying Dragon deck is perfect to handle grinds of streets and vert. Along with a phenomenal look, this deck is free from wear and tear.
The deck is made with quality material and is available at an affordable price. Thus, it is perfect for beginners and price-conscious advanced-level skaters.
Steve Caballero (a professional skateboarder) recommends Powell Golden Complete Skateboard for smooth and stable rides.
Powell Peralta makes one of the best skateboard decks for street skating.
Main Features:
The deck is made in China using maple veneer and AirLam presses
Deck size: 7.625″ x 31.625″
K12 concave style board with pre-applied grip tape for better control
Extra polymeric strap to protect the deck from cracking or breaking into two pieces
Intense screen-printed branded graphics at the bottom of the deck
Pros
Super durable and lightweight deck
Suitable for beginners and elite riders
Reasonable price
A good amount of pop
Pre-applied grip tape
Cons
The grip tape starts to peel off after a few months
"Best Cheap Longboard Deck"
The classic style Baker deck has a logo printed on the complete deck. The company's main focus is to put all the effort to make its decks comfortable to ride. So, if your feet get sore after skateboarding, get a Baker Logo deck and enjoy comfortable skating. These decks are a bit wider, stronger and easy to recognize – thanks to branding.
Main Features:
The deck is made with 100% Canadian hard rock maple wood
Size: 8.125″ x 31.5″
Traditional shape with mellow concave for easy control while landing
Pitched kick tails offer great pop and comfortable liftoffs on Ollie
Authentic black and white branding on the bottom of the deck
Pros
Made for smooth and heavy riders
Classic board
Available in two colors
Wide deck, suitable for big feet skaters
Great pop
Cons
The deck does not come with grip tape
Paint comes off on hard rides
"Popular Skateboard Deck"
One of the most popular skateboard brands in the world, the Globe Cruiser decks are famous for their longevity. These boards are designed to ensure control while performing tricks. Made with high-quality materials, Globe decks provide smooth rides without wobble even while landing from a hilltop.
Main Features:
7-ply Canadian hard maple veneers held together using durable epoxy resin glue
Size: 9.25″ x 32″
Classic cruiser shape with a nice kicktail for easy kick turns
Built-in bottle opener at the bottom
Pre-applied printed grip tape on top of the deck
Pros
Ideal for easy cruising and performing tricks
Pre-applied grip tape
Built-in bottle opener
Durable and responsive
Cons
Flat nose, some users find it odd in the beginning
Globe Goodstock Deck is also a durable skateboard deck.
Guide to Buy the Best Skateboard Deck
Whether you are a beginner or a pro skater, there are certain factors to consider before buying a perfect skateboard deck. Professional skateboarders are aware of the technical lingo of boards, however, beginners and some intermediates lack. But, this comprehensive guide will explain everything you need to know before buying the best deck.
Read the social, health and mental benefits of skateboarding.
Check out the following significant features in a deck before you pick one;
Deck Size
Deck size is a crucial factor to consider and it plays a vital role in the performance of any level skater. Choose the width and length of the deck wisely by considering your riding style and the area where you are going to use that particular board.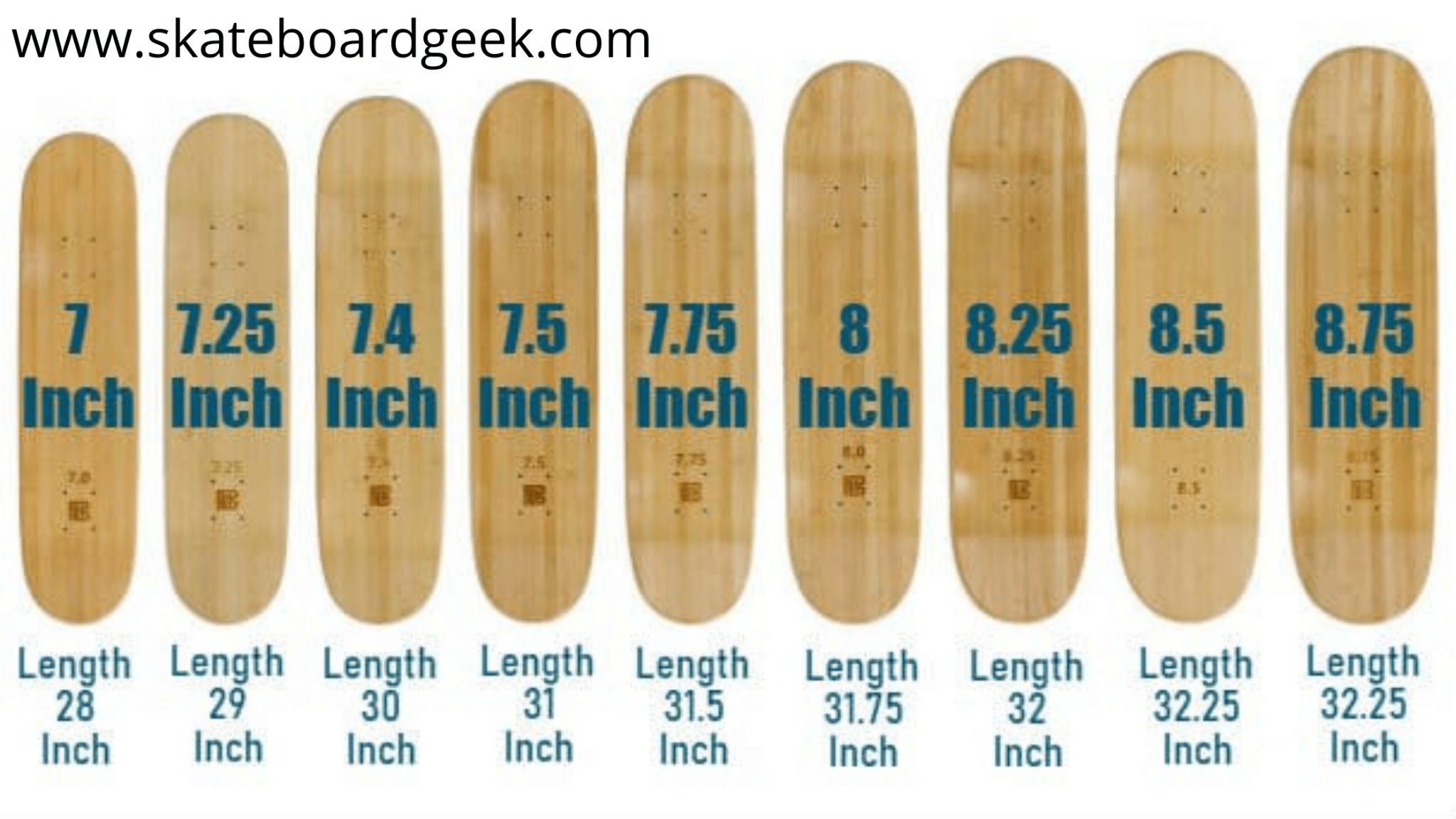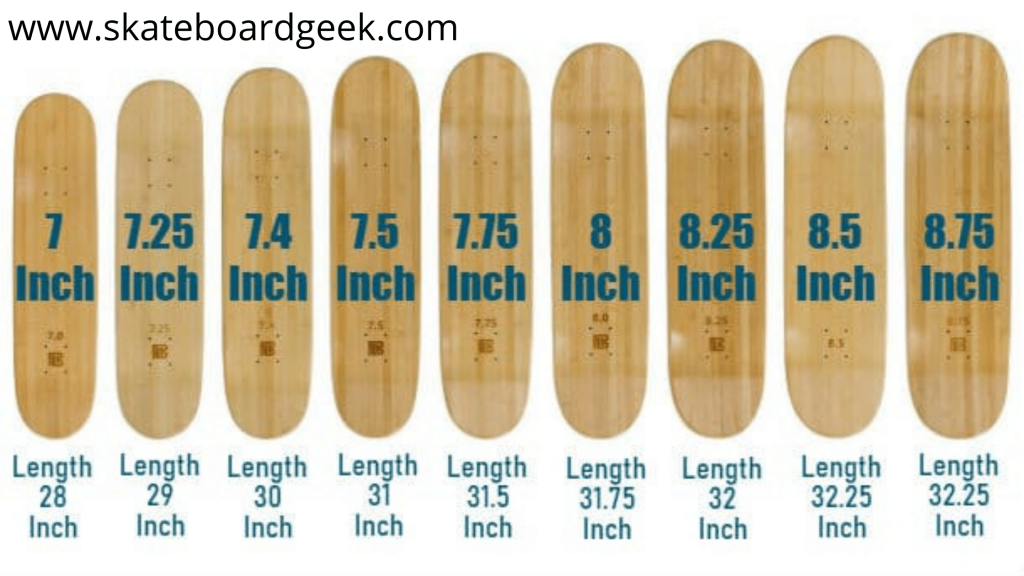 Width
Deck width is the most important factor to consider for comfortable rides. The standard width of decks ranges between 7.5″ to 8.75″, and there are some classic style boards that are up to 10″ wide. It is known as the wider decks perform better than the narrow ones. But that does not mean that wide boards are going to be the best choice for everyone.
So, how do you decide the width? Technically, it depends on your skating plan – whether you are going to perform street skating or transition skating.
Choose a lightweight and relatively narrow deck if you are going to skate in the street and perform flip tricks on pavements, stairs and benches. Lightweight decks are easier and simple to maneuver.
If you are planning to skate in vertical ramps, skate parks, bowls, and pools – pick a wider deck. Wide decks offer more space for stable control while speed drops and shoot-ups vertically.
And the good news: A large number of decks are between standard width that is suitable for both – street and vert skating.
Length
Length is also a crucial factor and choosing the right length also depends on the skating plan. The standard length of the deck is between 28″ to 32″ long. There are a few longer boards that are designed for professional skaters only.
Shortboards are good to perform skating tricks and stunts in a street. They are better for quick moves and turns. On the other hand, longboards are difficult to perform tricks but they are good with stability and balance.
Wheelbase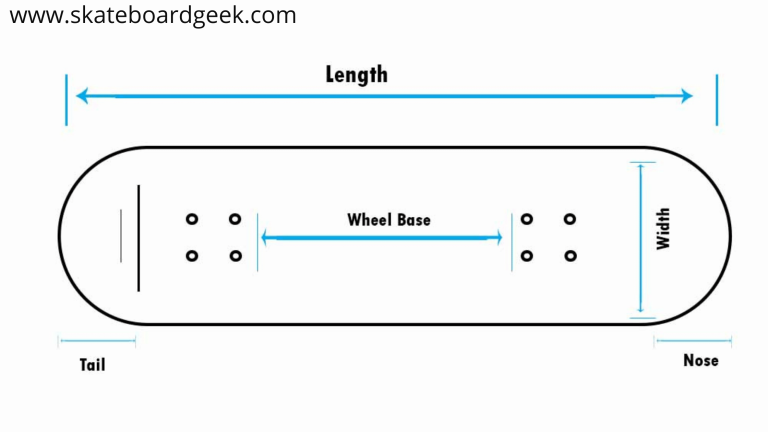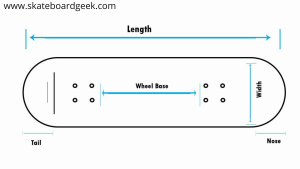 The wheelbase is the area between two sets of holes where you mount trucks. Most of the decks have a wheelbase range between 13″ to 15″, however, the distance can be more than that depending on the skater's choice.
The selection of a wheelbase depends on the height of the skater. Short riders should go for a narrow wheelbase for stable rides. Such boards have a small radius and are good for sharper turns and quick moves. However, you will have to compromise on stability.
On the other hand, tall skaters should purchase a deck with a wider wheelbase for good standpoint and balanced rides. Such skateboards are hard to take quick turns due to their larger turning radius, but these are the most stable boards.
Deck Shape
It is important to know the shape of your skateboard because your riding experience depends on the deck style. Although every board is designed to ride on, but not every design is to ride for any skating style. There are four common shapes and each shape is made to support a specific style of skateboarding;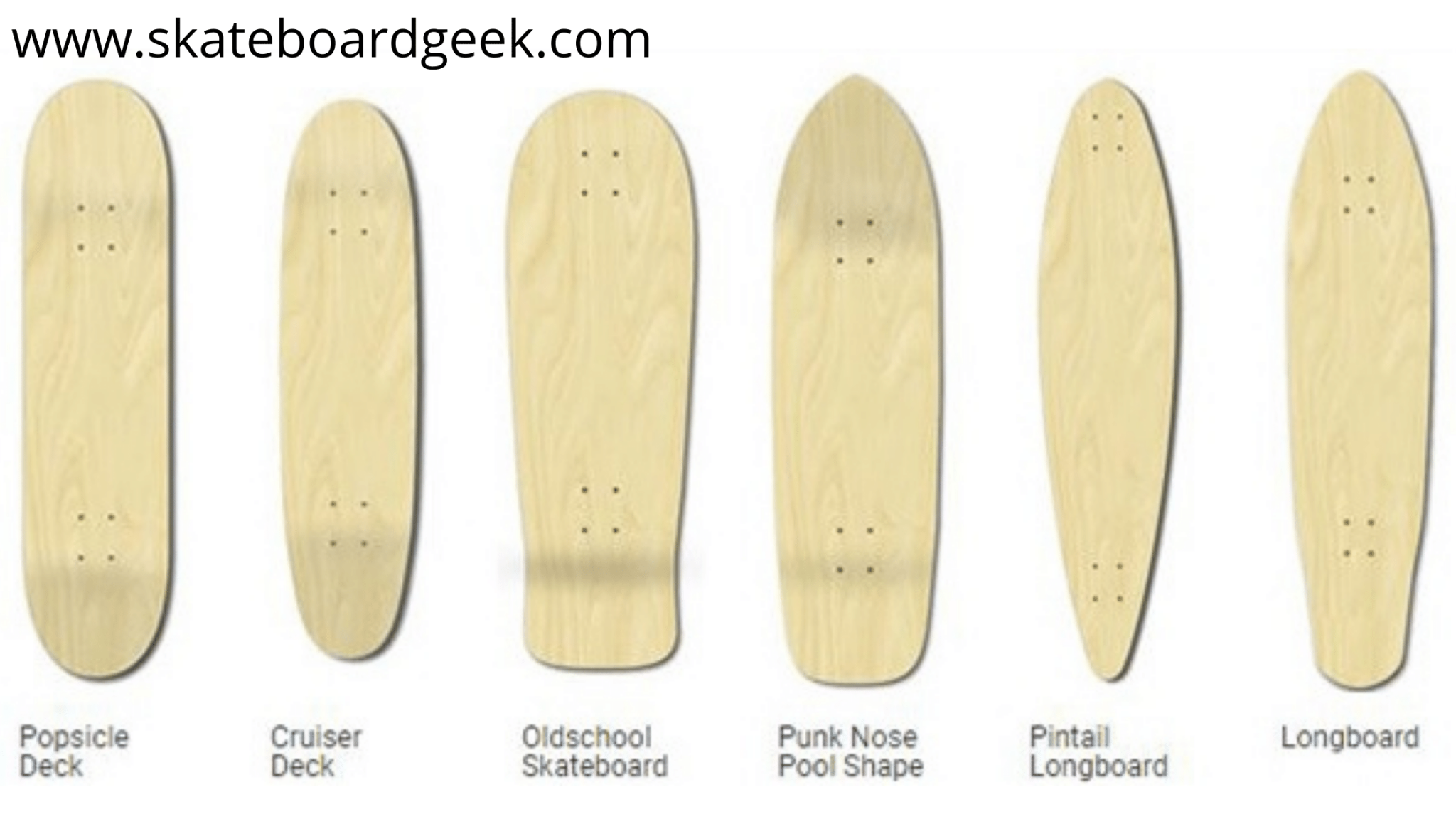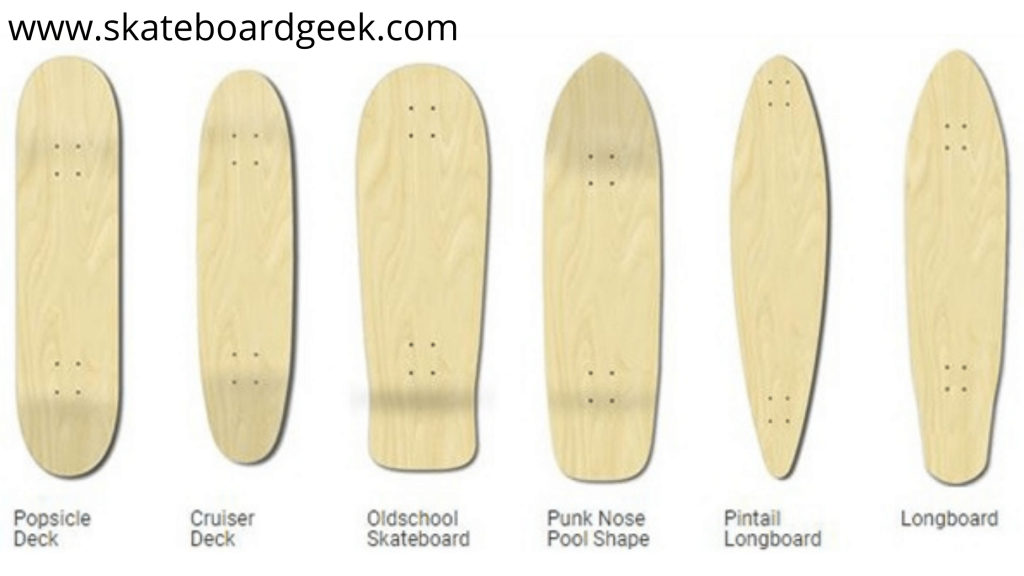 Shortboard: These boards are also known as Popsicle shapes. One of the most used skateboards with a symmetrical shape and alike nose and tail. These skateboards are lightweight and sturdy. Shortboards are good to perform skating tricks in streets and parks.
Longboards: These boards are suitable for professional skaters. They are not good for stunts and tricks due to their size and pointy nose and tail. Longboards sit low and are perfect for downhill speedy rides.
Cruiser: These decks are designed to cruise around the town. Mid-range length with a pointy tail and cruiser decks are considered versatile for stable rides and maneuvering.
Old School: These decks are different than modern boards and look vintage with a unique shape. They feature a flat, wide nose with a sharp kicktail. Particularly good for street tricks, ramp and pool skating.
Read a detailed difference between the nose and tail of a skateboard.
Concave Shape
Concave is curvature across the width of the deck and a crucial factor to consider before buying a deck. It plays a vital role in the performance and control of a skateboard. Not only does concavity affect the foothold and stability, but they are designed for different skating styles;


Radial Concave: The most common concave shape, the formation looks like the alphabet U. this concave style ensures a better foothold in almost any type of skating.
Progressive Concave: An upgraded shape of the radial board, this board has a more steep area between the concave. Thus, it offers a nice locked-in secure foot placement while ensuring stability.
W-concave: Just as the name represents, these decks have an extra concave in the centerline performing a W shape. These decks enhance the control for sharp turns and better precision. Due to easy energy shifting from heel to toe, W-concave decks are considered to be more responsive.
Flat-cave: Also known as Tub, these decks also look similar to radial but with sharp angle rails. These decks are good for flatter foot placement and quick pinpoint turns.
Convex: Totally opposite concave, these decks have upward facing arch in the middle. We do not recommend beginners should choose a board with a convex concave. These decks are only designed for professional skaters for downhill rides.
Flat: Zero or minimal concave shape. Some of the longboards have a flat shape to offer more space to step on and perform tricks more comfortably.
Body Size
If you are new to skateboarding and choosing your first deck, the easiest and most convenient way is to choose according to your body size. That being said, it is better for skinny and petite skaters to pick a small board for comfortable rides. Moreover, a smaller board will be easier to control and adjust to skating movements.
On the other hand, you should go for a large deck if you are a tall or big guy. Large skateboards have a bigger wheelbase that allows skaters to stand with extra-wide foot placement for better stability.
But wait; do not forget the body weight. As we know that there is no weight limit in skateboarding sport. However, a heavier person is more likely to break the deck while learning tricks. We recommend going for more plies if you are a heavy skater.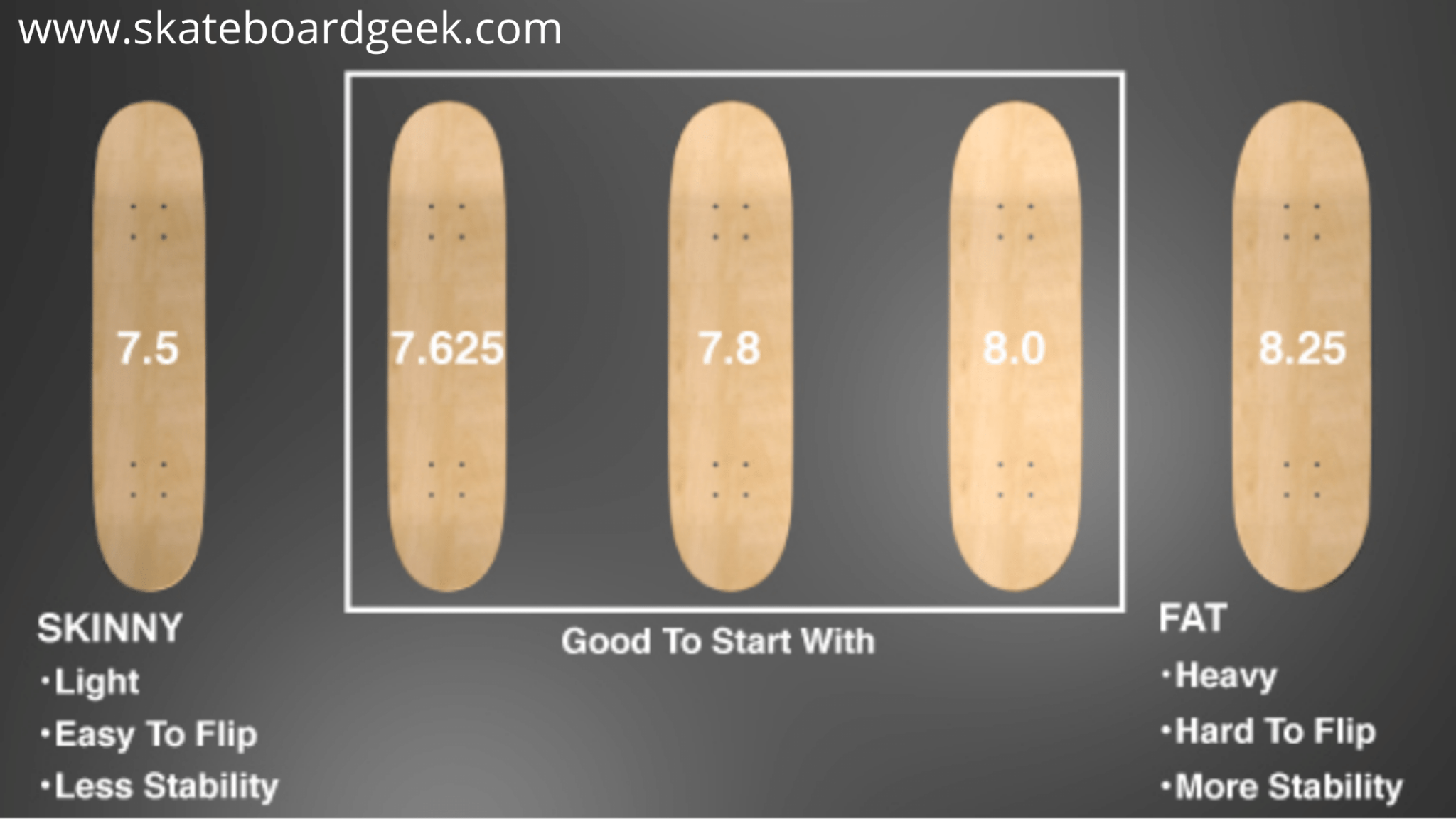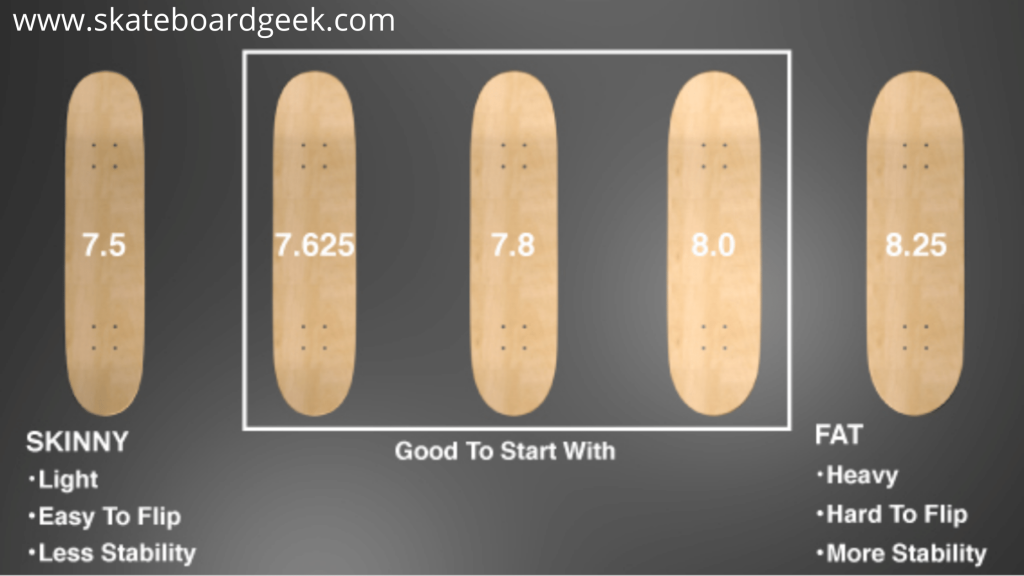 Other Good Skateboard Decks
We chose the above-mentioned decks as the top skateboard decks after testing them on different skating tracks for hours. However, skating has evolved from a sport to a hobby and fashion symbol. You may have seen multiple types of skateboards with differently shaped decks. Some look simple and some have funky stylish graffiti.
There are a few other boards that we found well-performing and read good reviews by skaters. Moreover, these are the most loved decks these days by beginners and intermediate skateboarders. Somehow they could not make their way to the list of top ten skateboard decks.
Below is a list of good skateboard decks. If you like a board from this list and are confused about whether you should purchase it or not, go ahead and buy – you will not be disappointed by the performance.
Final Words
Skateboarding is a thrilling sport and choosing a strong deck to withstand hardcore rides is difficult. Select a board wisely after considering deck size, concave, wheelbase, and body type described in the buying guide. Furthermore, we have explained honest reviews of the top skateboard decks after testing them on different skating tracks such as pool, bowl, skate parks, street and vert.
Powell Peralta Flight Deck is our first choice. This board is the most durable, constructed with a mixture of maple wood and high-quality fiberglass. The deck comes in different sizes and is suitable for all skating levels. "Powell Peralta is famous for making the best skateboard decks in 2023″.
Our second recommendation is Bamboo Deck. This eco-friendly board is very popular among beginner skaters. These boards are lightweight and flexible with great pop. Bamboo decks are one of the most selling skateboard decks on Amazon.
We ranked Element Section decks third in the list of best skateboard decks. These decks are popular among intermediate and professional skateboarders due to their good quality construction and are perfect for hardcore rides. "Element is also famous for making the best skateboard decks for streets".
Want to know what the first skateboard looked like? Read skateboard history and evolution!
Frequently Asked Questions: (FAQs)
What is the best skateboard deck brand?
Element is the best skateboard deck brand. Top 10 skateboard deck brands of 2023 are;
Element
Powell Peralta
Baker
Bamboo
Girl
Santa Cruz
Alien Workshop
Enjoy
Globe
Birdhouse
Who makes the best skateboard deck 2023?
Powell Peralta makes the best skateboard deck in 2023. Top 10 skateboard decks of 2023 are;
Powell Peralta Flight Deck
Alien Workshop Specturm
Bamboo River Deck
Element Section
Enjoi Specturm White
Santa Cruz Jackpot Hand
Element Team Seal Black
Powell Golden Flying Dragon
Baker Complete Logo
GLOBE Big Blazer Cruiser
What are the top 5 best skate brands?
Top 10 best skate brands of 2023 are;
Element
Powell Peralta
Zero
Girl
Blind
Birdhouse
Plan B
Santa Cruz
Enjoi
Alien Workshop
What is the best quality skateboard?
Powell Peralta Flight is the best quality skateboard. Top 10 best quality skateboards of 2023 are;
Powell Peralta Flight Skateboard – Best Quality Skateboard
Alien Workshop Specturm – Strongest Skateboard
Bamboo River – Best Pop Skateboard
Element Section – Stylish Skateboards
Enjoi Specturm White – Most Durable Skateboard
Santa Cruz Jackpot Hand – Best Rated Skateboard
Element Team Seal Black – Best Skate Brand
Powell Golden Flying Dragon – Best Looking Skateboard
Baker Complete Logo- Best Cheap Longboard
GLOBE Big Blazer Cruiser – Popular Skateboard